If you ask any Indian about why Varanasi is one of India's most sought travel destinations, they would probably mention its vibrant festivals that garner large crowds, shops adorned by beautiful glass bangles, and, of course, the depths and length of the Ganges. But what they'll stress more on is the festivities held during Dev Deepawali. Out of the many festivals celebrated in this fascinating city, Dev Deepawali in Varanasi is surely something you don't want to miss out on.
Thought of visiting Varanasi during the Dev Deepawali season? Continue reading our article to know more about the vibrance and diversity this festival brings to the homes in Varanasi.
What Is Dev Deepawali All About?
First things first, we should let you know that Dev Deepawali and Diwali are separate festivals celebrated altogether. Although, they may share similar elements like the lighting of diyas (earthen lamps) and the designing of rangolis. What makes Dev Deepawali, or Dev Diwali distinct is the fact that it has different rituals followed and is celebrated 15 days after Diwali in November. It signifies Lord Shiva's triumph over evil by annihilating the demon Tripurasur. And to commemorate this event, it is believed that the gods descend to bathe in the Ganges every year on this day.
This day is observed on Kartik Purnima (full moon day of the Hindus) and also goes by the name Tripurotsav. On Dev Deepawali, thousands of devotees bathe in the waters of the Ganges, signifying the cleansing of sins and rejuvenation of the soul. To welcome the gods, thousands of diyas are lit and released along the banks of the Ganges. This tradition of lighting clay lamps dates back to 1985 which was then started at the Panchganga Ghat.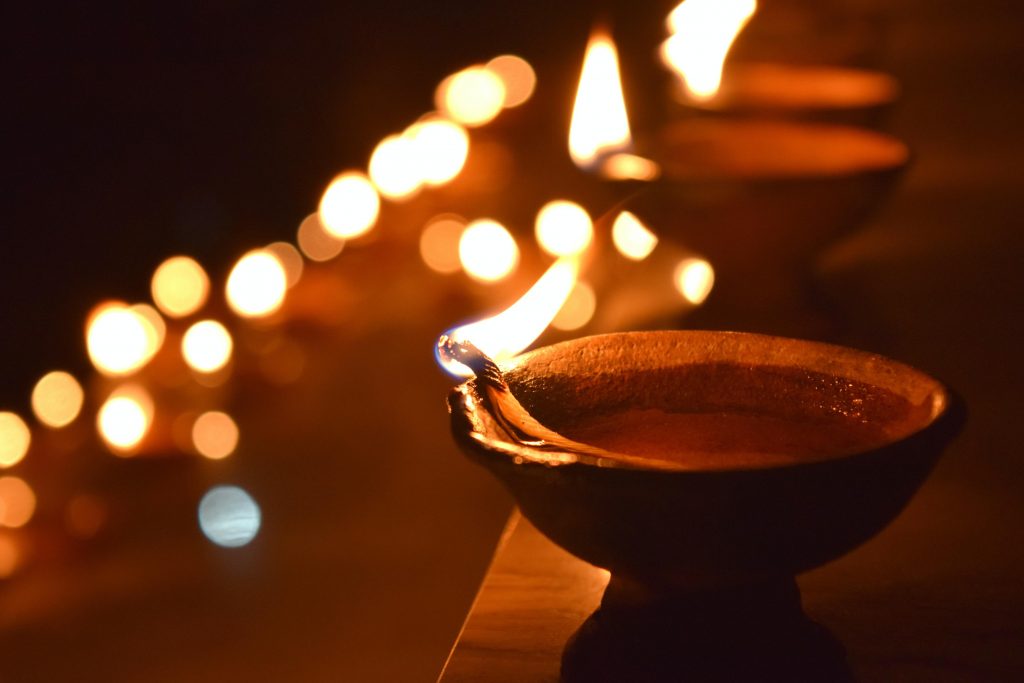 Varanasi's visual aesthetics on this auspicious day will transport you to a different realm altogether. You'll see thousands of diyas released on the waters of the Ganges alongside fireworks that burst in the open sky. You won't even feel intimidated by the large crowd if you direct your gaze to all those aesthetically pleasing elements of the festival.
The Rituals
You will come across two significant rituals being followed by the devotees during Dev Deepawali: Karthik Snan and Deepdan. Early in the morning, pilgrims take a dip in the holy waters of the Ganges, wishing for pain and suffering to be replaced by prosperity.
A different alternative to engaging with the Ganges is by participating in Deepdan. Here, people take a cup made up of dried leaves with fresh flowers and a candle lit inside. They then release it on the frothy waters of the Ganges. If you participate in this ritual, make sure to make a wish before letting go of your cup. 
There are numerous aartis conducted across the 87 ghats Varanasi has, some of which have some pretty peculiar names such as Pandey Ghat, Maan-Mandir Ghat, Lalita Ghat, Manikarnika Ghat, Tulsi Ghat, and Kedar Ghat. What makes the festival even more special is that each ghat has its own set of rituals and traditions, thus bringing even more diversity and vibrance to the land.
However, the Ganga aarti at Dashashwamedh ghat has to be experienced at least once whenever you're in Varanasi during Dev Deepawali. Since it is Varanasi's most vibrant and spectacular one, you will find thousands of tourists and devotees alike being present, either witnessing or participating in the rituals. Here, you will see priests holding multi-tiered lamps, performing rituals in front of the Ganges while chanting Vedic mantras to the rhythmic beats of the drums and to the loud resounding sound of conch shells blowing.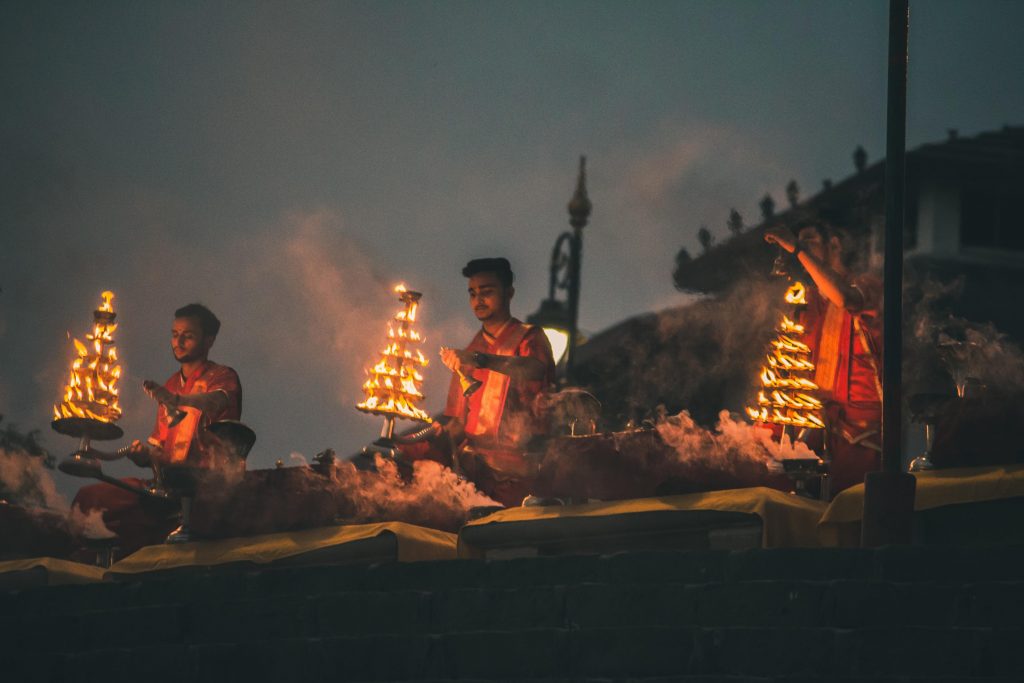 A Festival Beyond Religious Dimensions
Dev Deepawali in Varanasi is commemorated not only to satisfy religious beliefs but also to celebrate the lives of martyrs, bringing out a more patriotic side to this festival. Organized by the Ganga Seva Nidhi, the sacrifices and lives of the martyrs are respected by placing wreaths at Amar Jawan Jyoti at Dashashwamedh Ghat. This is followed by a closing ceremony conducted by the Army, Navy, and Air Force which is then soon followed by the lighting of sky lamps. Now that's a sight you should not miss! Thankfully, goSTOPS Varanasi is just a stone's throw away from the river bank.
Getting To Varanasi
Varanasi is an easily accessible city from almost every metropolis in India. And with its well-integrated flight, road, and air travel system, getting to the "Land of Moksha" is much more of a breeze.
By Air
Formerly known as Varanasi Airport, Lal Bahadur Shastri Airport has many flights from India's main cities such as Mumbai and Delhi. Domestic airlines such as Indigo and GoAir offer affordable ticket rates from other travel destinations such as Chennai, Goa, and Kolkata as well. For even cheaper rates, try booking your air tickets some months before the prime season (November – December).
By Train
Your best bet for train travel is from Delhi as 5 weekly trains connect to Varanasi Junction. Dibrugarh Rajdhani Special and Swatantrta Sampark Special are two of the many prominent rail services shuttling between New Delhi and Varanasi Junction. On average, these trains take approximately 10 hours to reach the main station, so you better stack up on snacks and beverages before enduring the long journey. After you've reached Varanasi Junction, local rickshaws and taxis are always available at the entrance of the station.
By Road
Nothing is more exciting than planning a road trip to the holiest city of India with your friends. In fact, road trips are the second-best method of savoring some of that scenery after train journeys.
If you're coming from Delhi, you can either travel via the NH19, or the NH 30 route and they are roughly around 821 km to Varanasi. The former option is the fastest (13 hours) and shortest route with less traffic; as a result, many commuters prefer traveling by this route. The latter option is slightly longer (13 hours 15 minutes) but is more scenic since it passes two of Uttar Pradesh's quintessential cities: Lucknow and Bareilly.
Pointers To Bear In Mind When Experiencing Dev Deepawali In Varanasi
Visiting one of India's extravagant events can be a bit daunting and challenging for those experiencing Indian culture for the first time. However, to help you with the process, we have curated some pointers that you need to bear in mind while enjoying the festivities of Dev Deepawali in Varanasi.
Beware Of Scams: Just because Varanasi is India's spiritual capital, doesn't mean it's free from scamsters. Boat rides, shops, and even taxi drivers will quote exorbitant amounts on their services and will try to earn a commission from you. So be vigilant and smart! Also, if you feel the taxi rates are too ridiculous, you can always Uber or Ola your way through the city.
Keep Your Valuables With You At All Times: Large crowds mean even more opportunities for pickpockets to just slip their hand in your backpack and steal something valuable. To have a more carefree experience, we'd suggest leaving your valuables in your hotel room.
Choose Hygienic Places To Have A Meal: Don't let the congested traffic and litter surprise you when you reach Varanasi. Here, the garbage problem is poor and perhaps worse than megacities such as Delhi or Mumbai. So it's better to research some clean and hygienic restaurants for food on any travel app and trust positive reviews from past customers. You can also give the street food in Varanasi a try – several areas are famous for their street food, so you can rest assured that these are safe to eat. Also, a friendly reminder: please wash your hands before eating!
Conclusion
Dev Deepawali in Varanasi is an enthralling exotic festival that has to be experienced at least once to understand the culture and values Varanasi stands on. Also, you can call it the last piece to your puzzle of exploring the richness of Varanasi. If you need a place to crash, visit the goSTOPS property in Varanasi. We offer some of the best deals and we are pretty sure you will not be disappointed by them.
FAQs
How Is Dev Deepawali Celebrated?
Dev Deepawali is not restricted to just one particular type of celebration; commemorating this festival goes beyond that. You have two of its poignant rituals: Karthik Snaan and Deepdan alongside the designing of rangolis, and bursting of crackers. Adding to that, numerous martyrs are honored on that day as well.
How Many Lamps Were Lit On Dev Diwali In Varanasi In 2020?
Around 51,000 lamps were lit on the auspicious day of Dev Diwali in Varanasi in 2020!
Why Is Dev Deepawali Celebrated In Varanasi?
To celebrate Lord Shiva's triumph over evil, it is believed that the gods bathe in the waters of the Ganges. To get a feeling of what it's like to worship something divine, thousands of devotees choose to dip themselves in the Ganga's holy waters, or light lamps along the banks of the river.