"Benaras is older than history, older than tradition, older even than legend and looks twice as old as all of them put together" – Mark TwainSituated on the banks of river Ganges, Varanasi or Benaras is famed as the oldest living city in the world. Considered to be the spiritual capital of India, the Holy city captures the fascination of backpackers all around the globe. From devouring the scrumptious delicacies and watching heavenly sunsets while walking the ghats, to enjoying the pleasurable evening aartis and unraveling the city's enigmatic charm, the bucket-list for this city is a never-ending adventure. Therefore, we've put together a list of the best places to eat in Varanasi, so that the most important part of your exploration is deliciously taken care of! (And if you decide to stay at goStops in Varanasi, you can experience it all with a bunch of backpackers at the goStops Food Walk in Varanasi )
 
1. Deena Chat Bhandar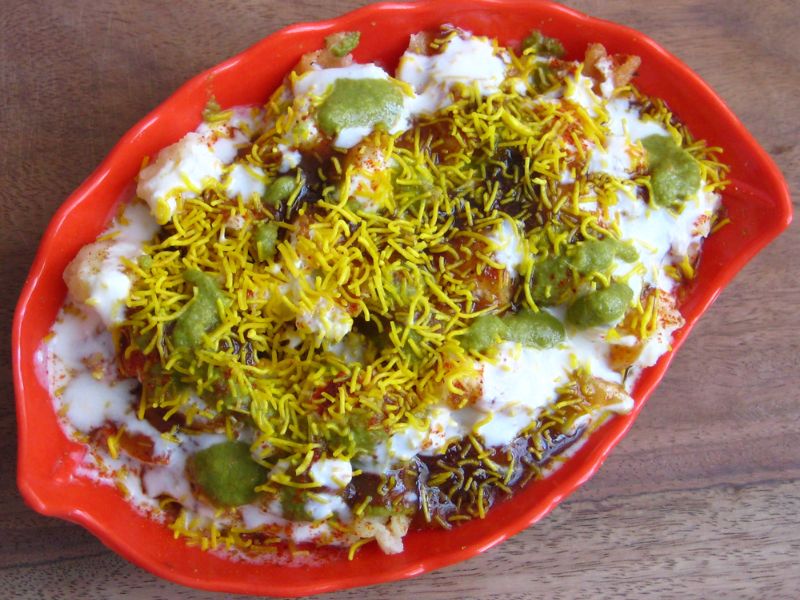 If you're in Varanasi and you haven't been to Deena Chat Bhandar, you're really missing out on the tangy, lip-smacking delicacies that will leave you wanting for more every time! Deena Chat Bhandar on Dashwamedha Road tops the list of best places to eat in Varanasi. This chat shop serves some of the tastiest chats and quick snacks you'll ever have. Tamatar Chat and Palak Chat are two of the most famous dishes on the menu. So, head to Deena Chat Bhandar and indulge in this tangy affair!
Where : D-47/184, Luxa Road, Dashaswmedh Road
Price for 2 : INR 10
2. Blue Lassi Shop
Dealing with the scorching heat is an important part of traveling in India. But when it comes to Varanasi, even this problem has a perfect solution! The Blue Lassi Shop, one of the best restaurants in Varanasi, offers a variety of seasonal fruits and flavors to suit your taste buds. Another place that serves the best lassi is the famous Lassiwala near Assi Ghat. This refreshing fusion of creamy lassi and cardamom, garnished with a sweet layer of malai (cream) is definitely something you need to try!
Where  : CK 12/1, Kachowri Gali Chowk, Bangla Tola
Price for 2 : INR 30
3. Ram Bhandar, Kachori Gali and Madhur Milan
The mouth-watering aroma of Kachori and puri-sabzi fills every ghat and galli of the city each morning. As a typical Benarasi breakfast, these round and crispily fried kachoris are served with flavorful gravy called 'Aloo Sabzi'. These joints open at 7 am and may run out of Kachoris, as early as in the afternoon, depending on the season. So, start your day like a Benarasi!
Where : Ram Bhandar in Thatheri Bazaar, Kachori Gali in Lahori Tola, Madhur Milan in Dashaswmedh Ghat Road
Price for 2 : INR 5
4. Shops Across The Dashaswmedh Ghat
The breakfast in Varanasi is incomplete without a hot portion of crispy, syrupy jalebis. The heavenly taste of these sweet, fried rings soaked in sugar syrup can cure your sweet-tooth cravings in just one bite. But honestly, you'll never get enough of them!
A typical Benarasi breakfast can be summed up with a hot khullad of Malaiyyo, a local milk delicacy, garnished with pistachios and saffron. A treat available only during the winters and can be seen served by Malaiyyo walas around every ghat and galli.
Where : Dashwamedha Ghat
Price for 2 : INR 6
5. Brown Bread Bakery
Tucked away on the Deshwamedha Road, is a small cozy café that serves the city's freshest, warm bread made with various organic grains and natural products. In addition to an air-conditioned indoor space, this organic café hosts a roof top area where you can relax and fancy the panoramic views of the Ganges. Brown Bread bakery is one of the few places around ghats that serve non-vegetarian food and offers a delicious European breakfast buffet. This place will definitely take you on a different ride for a while!
Where : Pandey Ghat, Bangali Tola
Price for 2 : INR 38
6. Open Hand
If you want to try the best coffee in Varanasi, take off your shoes at the door and enter Open Hand! This cozy, dreamy cafe tucked away on Assi Ghat offers a variety of delicious cuisines; Indian and European. Along with vegan and gluten free options, this little café has it all! It's friendly and amiable ambiance turns out to be a perfect place for millennial hippies. Also, their comfortable bedding and cushions will make you feel like home while you try their scrumptious muffins and famous carrot cake!
Where : B1-128-3, Dumraun Bagh Colony, Near Assi Ghat
Price for 2 : INR 400
 
Tell us about your favorite places to eat in Varanasi. Oh, and if you're planning to take a trip here, stay with us!