If you thought that Varanasi or Benares is just a traveler's delight and nothing more, then you are in for a pleasant surprise.  

This city is quite like many other north Indian cities where the local food also defines their identities. Not surprisingly, the Varanasi cuisine also acts as a strong magnet and attracts the outstation travelers. This article will not only help you find the local food in Varanasi but also the places where you can enjoy it.
1. Puri Sabzi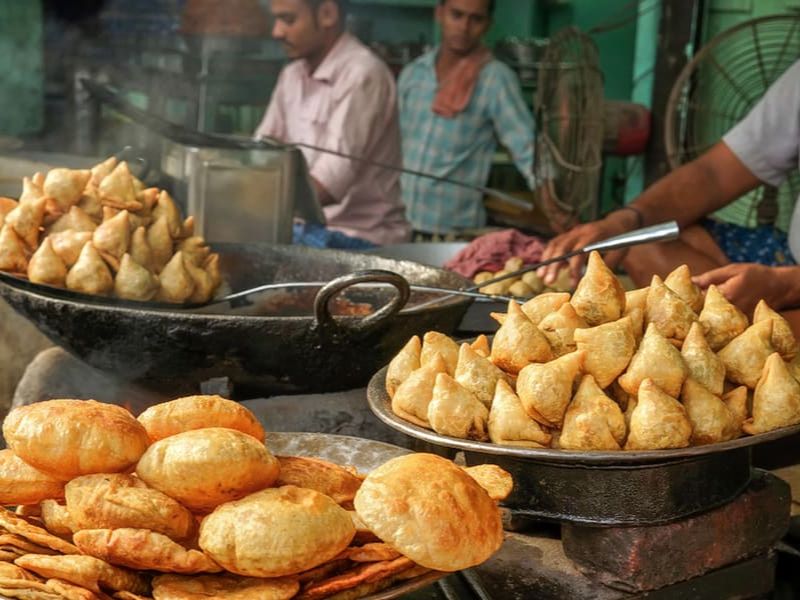 Image Courtesy: Thrillophilia
Most Banarasis start their day with Puri-Sabzee. Puris are made of dough and later deep fried. Typically, the diameter of these circular bread is 2-3 inches and after being fried, they develop a crackling skin. Puris or Pooris are complemented by Sabzis or vegetables. Sabzis typically comprise fried potato dipped in a thick gravy laced with spices and other assortments.
Where?

The Puri-Sabzi combo can be had in the Ram Bhandar at Chowk or at Madhur-Milan restaurant in the Dashashwamedha area.  
 
2. Jalebis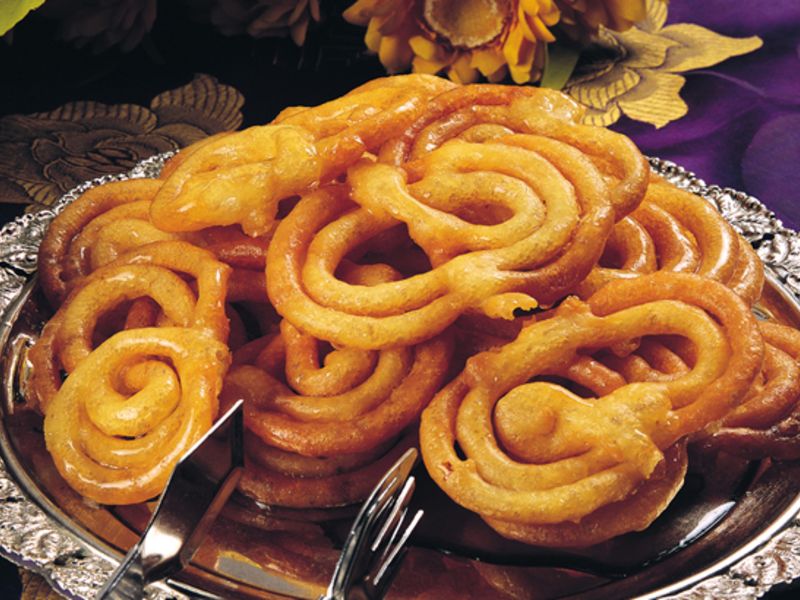 Image Courtesy: MakeMyTrip
If you are talking about food in Varanasi, then how can you leave the jalebis aside? This delicacy literally drips with sugary syrup and is highly sinful to eat (pun intended). The best time to have jalebis is in the early morning when our bodies and minds are shouting silently for something delectable to eat. Jalebis are best had with hot milk; this combination not only makes this sweet meat a little less sweet, it also makes the entire eating experience more fulfilling.
Where?

You can enjoy this delicacy in any restaurant in Varanasi.
 
3. Lassi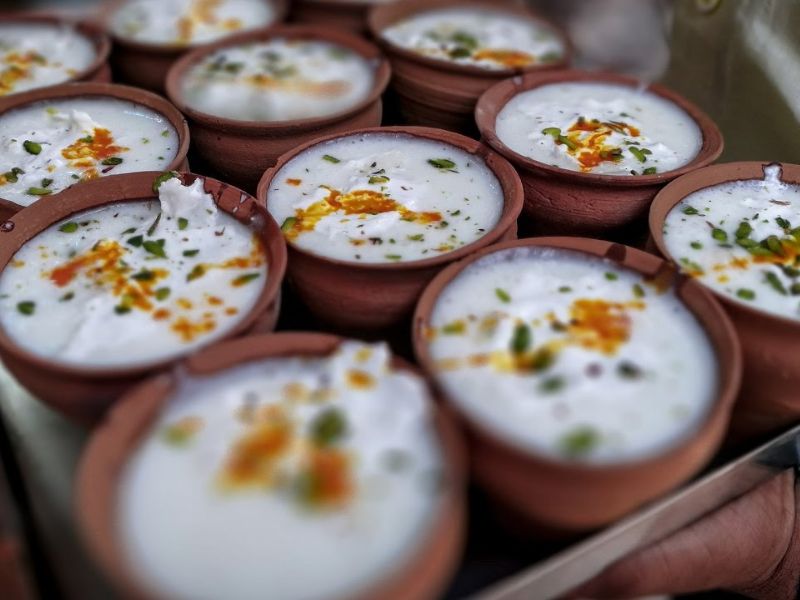 Image Courtesy: YouTube
When you are done with sightseeing in Varanasi, then one of the best street foods in Varanasi that you can have is the Lassi. It's basically concentrated buttermilk and depending on your taste, it can be made sugary or salty. It's kind of like the Indian version of Yogurt! This delicacy is not specific to Benares, please note. You can find Lassi in almost all the parts of North India.
It is best taken in a kullhad, or a vessel that is made of fired clay. After you are done drinking your Lassi, you can throw away the kullhad in the trash can. Kullhads are environmentally friendly; they decompose in no time. Having a Lassi is the best way to fight off fatigue and thirst.
Where?
You can slurp this delicious drink at one of the best places in Varanasi that serve it; Blue Lassi near Vishwanath Temple.
4. Chaat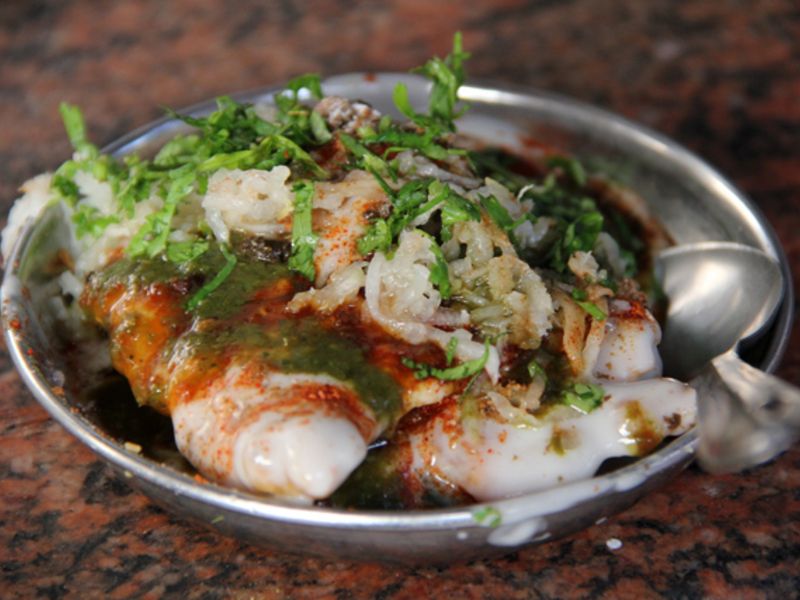 Image Courtesy: Migrationology
Another street food in Varanasi that is popular with travelers and locals alike is the Chaat. If you are adventurous and not afraid of eating deep-fried food, then you must have chaat which comprises Aaloo-Tikki, Paani-Puri, and of course the local Bhelpuri. Aaloo-Tikki is made of deep-fried potatoes. If you want then these can be topped with a sweet or salty Chatnee, which is a paste made of several Indian fruits and vegetables.
Paani-Puri is a very popular street food in Varanasi. Also known as Gol Gappas, this dish essentially comprises small spheres made of dough but inflated with air. You break the outer skin of these Gol Gappas, and fill them with spicy, salty or turmeric-made gravy. Now you are ready to pop these balls in your mouth! Golgappas are often enjoyed in the company of your friends and relatives and it's a social exercise!
Bhelpuris, as we all know, are a North Indian import of a very traditional Maharashtrian street food. The Bhelpuri has undergone several modifications over a period and is actually an assortment of boiled potato, turmeric paste, fried rice (also known as murmura), coriander leaves etc. It is best enjoyed in a cup made of dried leaves from the peepul tree.
Where?
The best places to eat all this food in Varanasi are right next to you, actually. The city is replete with so many small and medium-sized restaurants, that you won't have any trouble in settling down and devouring these tasteful dishes. However, if you are indeed looking for a recommendation from us then please head over to the Kashi Chaat Bhandar in the Dashashwamedha Ghat area of the city. This restaurant serves your Varanasi street food in a clean, and hygienic environment.
 
5. Safed Makhan Toast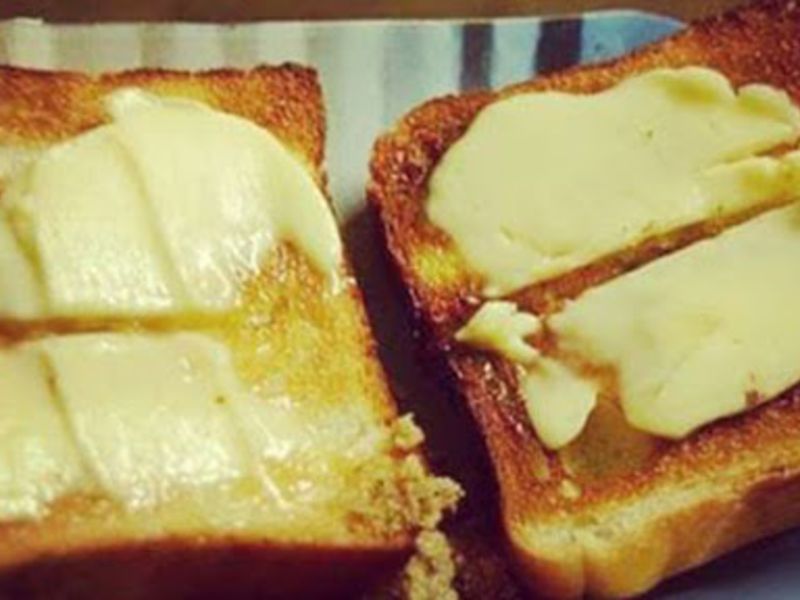 Image Courtesy: Taste of City
A very interesting food in Varanasi is the Safed Makhan Toast, which is essentially local bread that has been slathered over with 'Makhan' or butter. First, the bread is roasted over a coal oven and then it is covered by a thick layer of white or yellow butter. The butter is freshly made and thick in consistency. You can have sugar added to it or have it salty.
Where?

One of the best places to eat Safed Makhan Toast is the Laxmi Chai Waley restaurant near Maldahiya. The chai or tea concocted in this restaurant is like God's gift to you. The uncle- ji who prepares this broth does his job with love and care and what you get is a thick tea that smells divine. We are sure that you will never be satisfied with just one helping of your toast and tea.
 
Oh, if you are planning to visit Varanasi soon, you can also stay with us!
Featured Image Courtesy: Goats On Road