India's topography has given us many gems in the form of hill stations. They're the most preferred place to kick back and relax after finishing a heavy work schedule since the climate is just so favorable. While listing out potential hill stations to vacation in, you must have included Manali, Shimla, Mussoorie, Haldwani, and the strawberry haven Mahabaleshwar. But, has Nainital featured on this list?
And if you're planning to visit a place during the winter months, then Nainital must surely be on the list! Want to know why should should try to visit Nainital in winter? Keep reading our guide to explore 5 reasons why this Himalayan resort town should be on your checklist.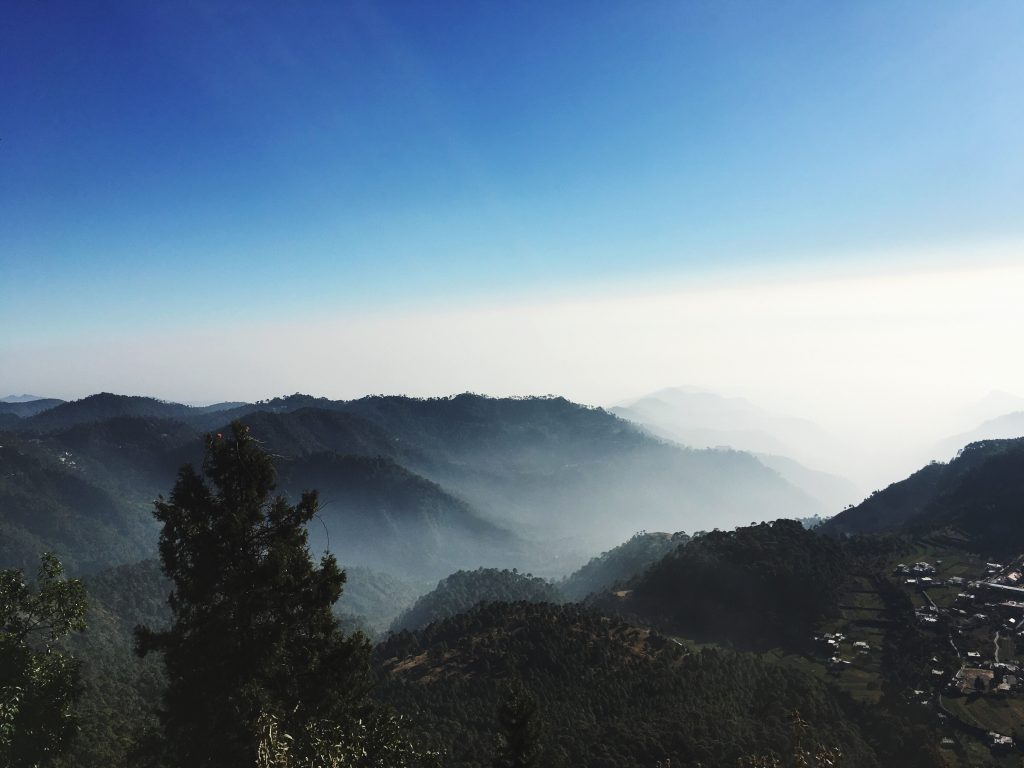 Cable Car Rides To Snow View Point
If you want to have an aerial view of Nainital below, then a cable car ride to Snow View Point will certainly not disappoint you. While journeying, you will traverse over snow-covered roads and trees. Seeing this will surely make you feel like you're included in the shooting of the music video of "Ishq Wala Love." And for those who have a Hollywood upbringing, think of yourself as James Bond being set out on a wild ski chase. Riding a cable car may not give the same experience as skiing, but it somehow captures some element of the emotion. 
Although you can hire a taxi or pony-ride your way to Snow View Point, we suggest renting a cable car since it's a whole different experience altogether. A one-way trip to Snow View Point is just 2.5 minutes from the foothills of Nainital. Enjoy those few minutes to the fullest, since they're a big reason to visit Nainital in winter!
Snow View Point is one of Nainital's most visited tourist attractions. It is so famous that even during the off-season, which is in summer, the place still sees a healthy amount of visitors. Over there, the stunning view of the lofty Himalayan ranges is a real treat. So, don't forget to carry your binoculars along. While you inhale some of that scenery, sip on a cup of chai or coffee from any of the small shops present.   
The Expanse Of Naini Lake
Naini Lake is shaped like an eye, and that's where it gets its name from. Since this place is so peaceful, serene, and relaxing, you will find many tourists bustling around this area. Many people have claimed that Naini Lake looks even prettier during the winter. Along with the trees being shrouded in snow, you will see a thin layer of ice being formed on its waters.
Of course, boat riding is out of the question during this time, but you can certainly chill near the area of the lake. Hurl snowballs, make snow angels, and if you prefer something less exerting, carry a flask of your favorite hot beverage. And of course, enjoy the view of the snow-capped mountains surrounding the lake!
Shop Till You Drop On Mall Road
If you feel you haven't packed adequate woolens for your trip, then you can always purchase more by shopping on Nainital's most frequented shopping destination, Mall Road. The street is filled with shops selling souvenirs, toys, footwear, woolens, bags, and much more. If you have the gift of the gab, you will be able to buy items at a much cheaper rate. Although some shops may have fixed prices, you can still haggle and try your luck! 
If you're searching for something more exquisite, some shops sell fancy jewelry, homemade artifacts, and gorgeous wall hangings. Purchase some to take a piece of Nainital back home along with you. 
Ideal Place For A Staycation/Workation
If you are ever feeling burnout or slowly losing yourself to your workload, planning a staycation in Nainital will be one of your best decisions yet. With snow-capped mountains adorned with snow-topped trees, you will certainly be waking up to beautiful scenic views. On the other hand, if you have to work, a workation in Nainital will be ideal as well. Send a couple of pictures to your friends and make them feel jealous of your new working place!
The Nainital Winter Carnival
If you happen to be in December in Nainital, do catch this three-day carnival event. From cultural performances, parades, and adventure sports, to folk music, much of Nainital's cultural background is showcased through these events. Some events involve active crowd participation as well, and it's good for those who want to join in on the fun. All of this participation is bound to make you feel hungry. This is where you can relish some of the best mouth-watering local dishes to finish your day at the Winter Carnival.
A Few Pointers To Bear In Mind
Certain minor precautions have to be followed before or while visiting Nainital during winter. Following them will not only enrich your traveling experience but also your safety. Here are a few points we have curated for you.
While packing for the journey, make sure to carry an extra set of gloves, scarves, hats, and sweaters as the temperatures are really freezing. An extra covering of woolen fabric will certainly help in reducing the risk of frostbite.  
If you plan on driving around Nainital, it's advised to carry a shovel and a bag of sand as well. The snow can sometimes be a killjoy while driving since it blocks roads and makes them slippery. Therefore, be vigilant! Use the sand for slippery stretches so that the tires get enough friction. 
Don't forget to carry umbrellas and raincoats as well. When it gets too cold, you can expect sudden showers and hailstorms. This is why it is essential to be prepared with your rain gear beforehand. You surely don't want to return to your hostel cold and soggy. 
Last but not the least, carry a first aid kit with all the necessary medicines (painkillers, cough drops, bandaids, etc). It can take a while for someone to adapt to such extreme temperatures, so it's better to take care, especially if you can't find any doctors around. 
Pick your accommodation wisely when you visit Nainital in winter. You ideally want someplace that isn't too heavy on the pocket, and has great access to the sights around. Plus, make sure you get to see the mountains from your window! This is where goSTOPS Nainital can come to your rescue!
Chill In A Winter Wonderland
If you have been pondering over whether Nainital is a good place to vacation, then we hope our guide has answered all your questions. Looking for cheap accommodation with suitable amenities? Then drop into the goSTOPS Nainital property. You will find hostel-styled dorms and even private rooms that will surely suit your budget. And the best part is, we are away from the bustle of the town, yet closer to popular attractions such as Naini Lake and Mall Road. By choosing our stay, you can be sure that vacationing in Nainital will be more enjoyable and convenient. 
FAQs
Which Month Does It Snow In Nainital?
Winters in Nainital begin in November and continue till the end of February. On its coldest days, you will see temperatures dropping to 0°C. Otherwise, you won't feel the winter sting on most of its days as the temperatures are lenient and bearable. If you want to see snow, try traveling in December or January
Is It Safe To Travel By Car To Nainital?
The road conditions in Nainital are good, so driving will be a bit easier. If you're not an experienced driver, then it's best to avoid driving in the hills because the roads are tricky to maneuver. Since Nainital sees an ample amount of snow, the roads get icy, so it is better to avoid driving fast.  
What Is Nainital Also Called?
Nainital also goes by "The Lake District of Uttarakhand" and is christened after the goddess, Naina Devi.