If there's one word that we associate with India, it's 'diverse'. Kids as small as first graders are taught that if it's one thing that our country effortlessly nails, it's diversity. And the beauty of this diversity is that it has a little something for everyone, all within our geographical boundaries. From water sports to admiring the water, to drenching yourself in it, you aquaphiles can find several thrilling spots in the country. Read up on these 8 places to visit in India for the aquaphiles.
Scuba Diving In Andaman
The Andamans have resorts that will pamper you, beaches out of a dream, and boat rides to skim over the sea. But a whole world awaits below the waves, and these islands have scores of spots from where you can discover it. Wrecks, reefs, macro sites, and more – with so many dive sites to head to, rest assured there's one for every kind of aquaphile.
Beginners can head to Aquarium and M4, both of which are easily accessible from Neil Island, while The Wall and Johnny's Gorge are best left to the experts. There are several scuba organizers scattered across the islands, so finding one will be the least of your hassles.
In terms of costs, a dive for a beginner can cost between INR 3,000 to INR 8,000. Certified divers who frequent the expert dive sites have a bunch of fun dives they can choose from. These start as low as INR 4,500 and can go all the way up to INR 35,000. Your final cost should include the boat transfer, the scuba equipment you'll be using, your basic training session, and your dive itself.
Nothing beats good visibility, calm waters and thriving undersea life on a dive, so if you want this ultimate combo, head here from January to March. These are the best months to go scuba diving in Andaman since the weather conditions both above and below water are ideal. October to December are shoulder months, which means fewer crowds and cheaper dives but conditions that may or may not be the best. Beginners are advised to stick to the peak months with the best conditions.
Surfing in Mahabalipuram
Sun, sand and… surf? That's right, you can now catch the waves on India's shoreline, a mere 50 km away from Chennai. Known for several years as a renowned UNESCO World Heritage Site, Mahabalipuram is now on the radar of surfers. Its fame is both national and international, and it's now one of the places to visit in India for excited surfers.
Mahabalipuram beach has waves to accommodate every kind of aquaphile. On one end, high waves form near a breakwater, put there to prevent erosion. On the other end, the waves form much smaller, consistent waves for learners. The best time to catch the waves is during the summer season, with the best month being July. Avoid coming any later than August since this is when the seas start to get rough.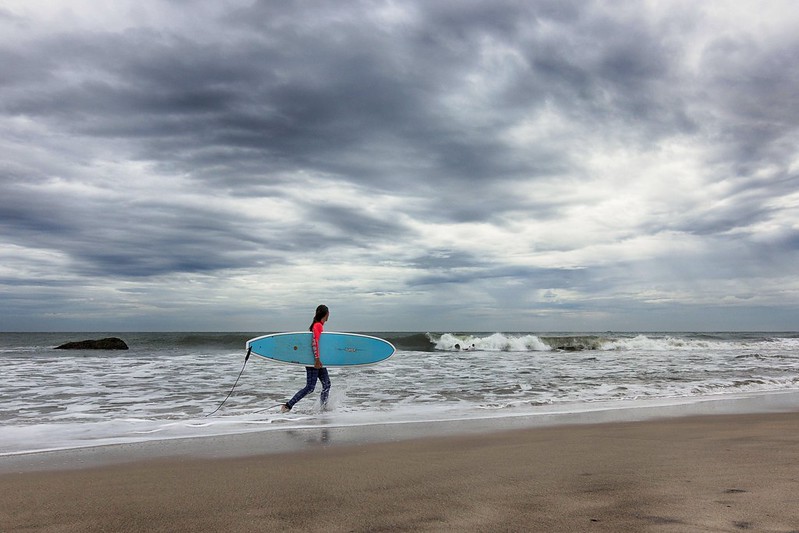 You won't need to turn to a 'Surfing for Dummies' book to figure out how to tackle the waves since there are a couple of surf schools already set up in the area. Of these, the most famous is arguably Mumu's Surf School, where a beginner's session for an hour and a half costs INR 1500. There are also plenty of quality surfboards around for you to rent on an hourly or daily basis. Hourly rates are INR 300 on average, while rent for an entire day can be around INR 1200.
Water Skiing In Kashmir
If you're wondering whether we've made some sort of typo or error, we haven't! Kashmir is one of the prime places to visit in India when it comes to skiing, and people flock to the slopes of Gulmarg each winter. But a much lesser-known sport that is just as thrilling is water skiing. Water skiing is known as a 'surface water sport' in which you'll be pulled behind a boat, skimming over the surface on skis.
Kashmir has not one but two lakes where you can water ski. These are Dal Lake and Nagin Lake. Nagin Lake also has a government-owned Institute of Water Sports where you can hire trained professionals to take you water skiing. The best time to go water skiing in Kashmir is the summer, from May to August.
Sea Kayaking In Goa
Palolem beach is not your average Goa beach. For one, it has fewer tourists, cows, and dogs wandering around. Your view of the sunset won't be interrupted with a bunch of parasailers being towed around. In short, it has managed to escape a lot of the consumerism that has made prey out of a lot of Goa's beaches. But all of these pale in comparison to the one activity it is known for – sea kayaking.
Kayaking on calm bodies like lakes sure is peaceful, while navigating river currents is thrilling from start to finish. But sea kayaking gives you the perfect merge of the thrill and the calm. Hop into a sturdy kayak after a few instructions are given to you, and head out. Getting over the breakers is the challenging part, and requires patience and determination. But once you're out on the open waters, you forget all about the struggle. Paddling around and getting a view of the shore from afar is an unforgettable experience.
Small kayaks bobbing about on the open sea may seem daunting, but there isn't much to fear. For one, never stray too far away from the shore, keeping it in clear view at all times, and you will be fine. For another, this is the perfect group activity, so you'll always have the company of your pals around you. You can also choose a two-person kayak for the sake of closeness and the security of having someone share the kayak with you.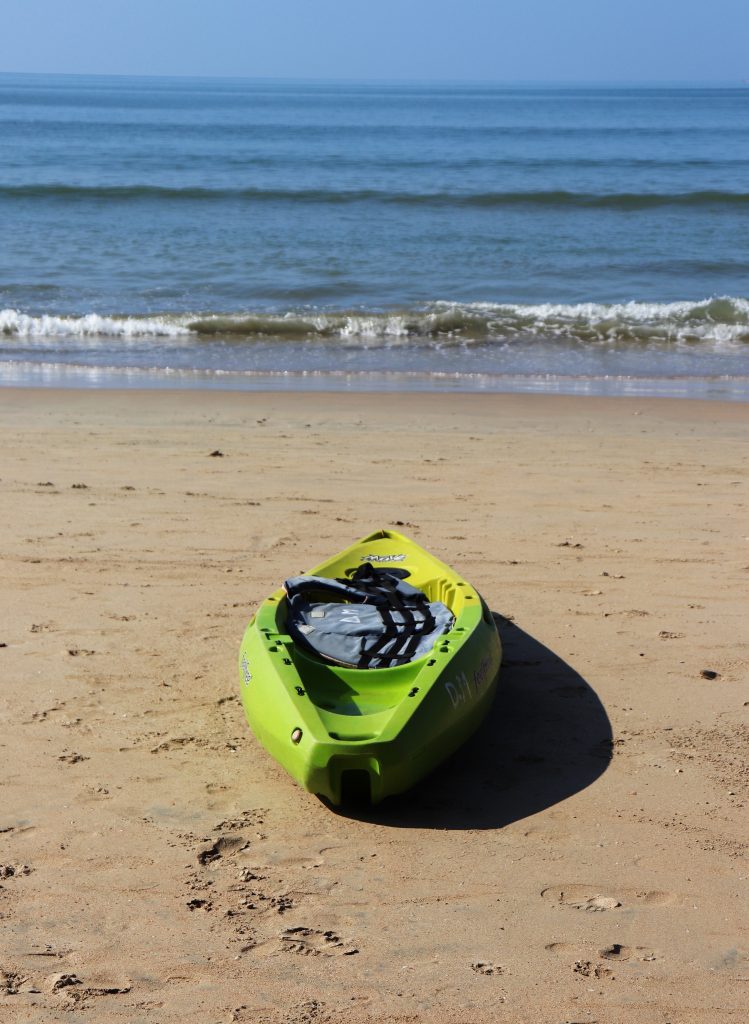 Getting back to shore is thrilling without the tiredness since the breakers will push your kayak forward. Don't be surprised if you topple over and emerge soaking wet – you're bound to be laughing watching your friends topple over as well.
The best time to experience this is in late May and early June when the heat of the summer has simmered down but the monsoon has yet to arrive in full force. Alternatively, visit in winter from November to February for the best weather. Most beach shacks rent kayaks for INR 100 per hour.
River Rafting In Leh
River rafting is that one activity that finds its way into every adventure lover's bucket list. And why wouldn't it? (Clumsily) navigating your way down a fast river, getting drenched with the water splashing everywhere, putting most of your trust if not all into the trained people aboard who are actually doing all the hard work… It's exhilarating! River rafting is that perfect thing for the adrenaline-junkie aquaphiles, and there are a few places to visit in India that can fulfill this dream.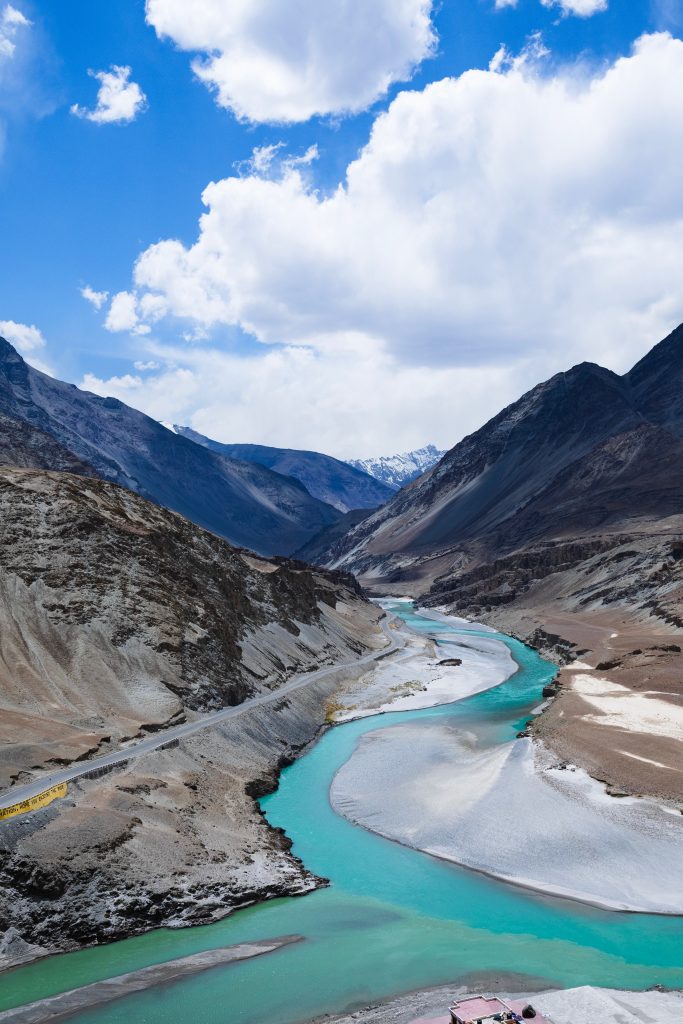 If you want a true sense of adventure, head up to Leh, where river rafting down the Zanskar and Indus rivers is a major activity. There's a range of routes to fit any comfort level, from the beginners to the pros. Upshi to Kharu on the Indus river is perfect for beginners with Grade I and II rapids, as is Phey to Saspol. Saspol to Khaltsey and Phey to Indus via Zanskar are two routes for the professionals since these have Grade I, III, IV, and V levels.
The months from April to September are the best time to enjoy river rafting in Leh. Your final cost will depend on the route you've picked and the Grade of difficulty, but it'll likely be between INR 1,500 and INR 2,000. Make sure you're well versed with all you need to know before you set off on this adventure.
Beach Bumming In Pondicherry
You didn't think we'd write an article for the aquaphiles and not include a beach, did you? After all, heading to the beach and jumping into waves is a fond childhood memory for many of us, and is still enjoyed by many more. Our hunt for an ideal beach to spend a day took us not to Goa or to Lakshadweep, but to Pondicherry.
Pondi's French Quarters and cafés are a must for anyone headed there, as are walks along the Promenade. But heading to Paradise Beach has to be on the list of all the beach bums looking for that perfect escape. Getting here involves either a boat ride or a longer still road journey, but we promise it's worth it. Head to the Chunnambar boathouse, from where you can get a boat ride that takes you to the beach.
However, the boat rides are erratic, and signs of a potentially stormy sky lead to all boat rides being canceled. But don't feel discouraged if this happens to you, since you can also access the beach by road.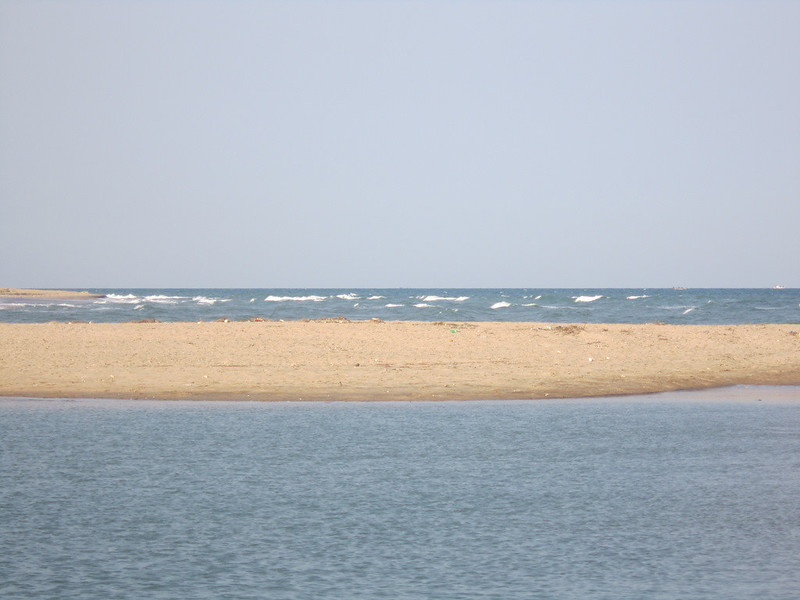 If the weather is still dry and there isn't a weather/storm warning, head off onto the streets; Google Maps will help you find the beach from wherever in Pondicherry you are. Once you turn off the main road, you'll have to navigate your way through a few back lanes, following your sight and sound of the beach alongside Google Maps. You'll pass a few beach resorts, after which the beach will unfold right before your eyes.
The beauty of Paradise beach is that it rarely ever has crowds that swarm most other beaches. The sand is clean and white, while the waves are reasonably big yet enjoyable.
Chasing Down Waterfalls In Manali
Waterfalls aren't the first thing that come to mind when thinking of Manali. But chasing down waterfalls here has to be something every aquaphile would like to do. You don't have to be a pro-level trekker with high stamina, since a lot of these are quite easily accessible. After all, we know you're here for the thrill of water, and not for the sweaty, tiring treks!
The best time to see the waterfalls gushing down in Manali is in the month of August. Jogini falls are the most popular and can be reached with an hour's hike. On the way, you'll pass through thickets of trees and apple orchards, after which you will reach the base of the falls. This is where the water comes crashing down from a height of 160 feet. Chill here for the rest of your trip, or regain some energy and climb up another hour to get to the top of the falls.
The second waterfall isn't as big or majestic, but we have a pretty good feeling it'll make it to your 'must visit' anyway. What's so special about it? Food! The Jana waterfall, around 1.5 hours out of Manali, has a walkway stretching across it. A little below are a number of restaurants offering some tasty food, where you can taste a range of authentic pahari dishes. Some even have a thali system, so look out for them. We bet a meal by a waterfall is something you never knew you needed; thank us later!
Lagoon Swimming In Goa
Yes, Goa makes it a second time on our list of places to visit in India for aquaphiles. And yet again, it isn't for a beach! Few of you must have heard of Cola Beach in south Goa; an elusive spot that's hard to find and harder to get to. Of course, the sand is clean and the beach is relatively empty, but the real jewel here is an Emerald. This is the Emerald Lagoon, a freshwater stream emptying itself out into the sea. The water is cool and clear, and the lagoon has palm trees arching overhead to form a green, leafy roof that filters out the sun.
The water isn't fast enough to sweep you off your feet, and you can spend hours simply wading around and splashing the water. The best time to enjoy the lagoon is summer, but come when summer is fading into the monsoon or in winter for cooler temperatures. Avoid coming here in the peak monsoon season since the currents can easily drag you out into open waters.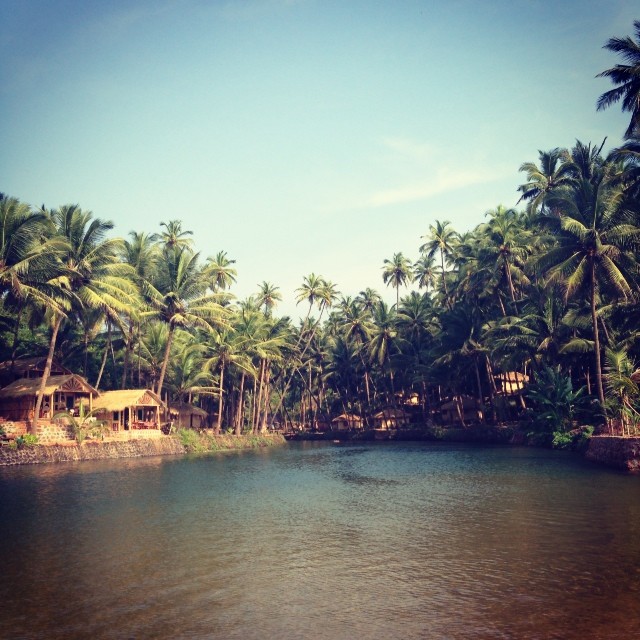 Emerald Lagoon is around 2 hours away from Calangute, and getting here is a bit of a challenge. You can take a boat ride here from Agonda Beach, but you'll have to pre-arrange your return. Either make an arrangement with the boatmen who dropped you off, or arrange a pickup by road. Alternatively, you can also drive here by road. The beach is between Palolem and Agonda beach. To get here, you'll have to turn off the main road and onto a muddy one.
Conclusion
We've tried to cover a bunch of water-related activities when writing about these 8 places to visit in India that will make the aquaphiles squeal with excitement. But like we said, India is effortlessly diverse, so if you feel like we should have a second edition of this blog with a few more places, make sure you write in to us! And while you're at it, check out goSTOPS hostels for some great accommodation. We're in over 19 locations across India, keeping pace with its awesome diversity, and promise to give you an unforgettable experience at an affordable price.
FAQs
Which Is The Best Place In India To Visit In Monsoon?
Pondicherry, Goa and Kerala each have a charm of their own in the monsoon season, as does Coorg in Karnataka. Visiting Jaipur and Udaipur in Rajasthan means you get to see the sites in a rainy avatar, and you skip the sweltering heat of the summer.
Which Is The Best Place For Adventure In India?
Rishikesh has some thrilling white water rafting, and in fact, Uttarakhand as a whole has a range of adventure activities from trekking to rafting. Meghalaya has a lot of spelinking, while Kashmir has skiing and paragliding. Finally, Pondicherry and Andamans are good for scuba divers.
Where Do Most Foreigners Visit In India?
A lot of foreigners like to visit the 'Golden Triangle', which is Delhi, Agra and Jaipur. Andaman & Nicobar and Lakshadweep are both famous for people seeking an island getaway. Kerala is also a frequent tourist hotspot for its backwaters and Ayurveda.
Which Is The No 1 Tourist Place In India?
The most popular and almost-always most visited destination in India is the Taj Mahal in Agra. It attracts around 7 to 8 million tourists each year.