The pandemic certainly stole away all our travel plans, forcing everyone to stay put wherever they were. But hey, now that things are coming back to normal, we can start looking forward to it all again. Whether you're still dreaming about Leh, or whether you've already got booked tickets and are looking forward to joining us, don't you want to know what awaits you? Here's a great introduction to goSTOPS Leh, so you can get even more excited about your Leh trip!
Where Is goSTOPS Leh?
goSTOPS Leh is nestled at the base of a mighty hill that is famous enough to be spotted on Google Maps. In fact, if you've read our Leh bucket list blog to make that perfect Leh plan, you'll even find the name a bit familiar. This is the Namgyal hill, towering up over the city of Leh and known to be a big landmark of the region.
Our address is: goSTOPS Leh, Khasara No. 3107, Chubi, Leh, 194101.
Contact us: 7428882828
goSTOPS Leh is 2.5 km from the city center.
Rooms & Spaces At goSTOPS Leh
We understand that everyone's got different preferences and travel styles. While some of you are social butterflies through and through, some of you may want to retreat to a quiet corner with a book for company after a while. goSTOPS Leh has the perfect combination of it all, so everyone can feel at home.
Our mixed dorms are exceedingly spacious, whether it's the 4-bed or 6-bed dorm. Two is company and three's a crowd, and we have rooms for both. Our triple bed and deluxe private rooms ensure you have a bubble of privacy. And of course, lockers keep your belongings nice and safe. Our modern bathrooms are kept sparkly clean because hey, we know the importance of creature comforts!
And then, of course, is the comfy, aesthetically pleasing common area! With fairy lights and cute lamps hanging overhead, couches and mattresses to laze around on, and plenty of colorful cushions, it makes for the perfect spot to make some new friends. The competitive Monicas can bring it on over foosball and carrom, while the more laid-back Chandlers can try to win at Jenga.
Head to the shared lounge and TV area to lounge around and catch up on some tele with other travelers. Or, head down to the courtyard to stretch those feet after a night's sleep. And of course, this being Leh, there's no way we'd leave out a balcony and terrace! As dusk settles over the town, head up here to feel the cold night air and to take in the views of a starry night sky.
Amenities At goSTOPS Leh
Apart from lockers to stash away your stuff, goSTOPS Leh also has secure baggage storage. Plus, 24×7 security ensures you stay as safe as your belongings! If your boss isn't the understanding type and you have to log in to work, no worries since our high-speed free WiFi will come to the rescue. Trekking around Leh is a fun thing to do, and our laundry services ensure you have a fresh set of clothes to head out at the start of each day.
If at any point you need something, our 24×7 front desk can take care of it. goSTOPS Leh also has parking facilities for guests who bring their own vehicles.
Hey, we're not done yet. In fact, this is the best part – your furry friends can join you on your Leh trip! We know it's unfair to leave our precious pals behind when we go off on trips, which is why we have a Pet-Friendly policy at goSTOPS Leh. Enquire here to know more.
We can understand if reading this has you keen on joining us, so Book Now for that unforgettable experience!
How To Get Here
Making your way to goSTOPS Leh is fairly easy, but in case you haven't figured it out, here's some information on getting to Leh.
Getting To Leh By Air
Leh's Kushok Bakula Rimpochee Airport (IXL IATA) shares fairly good connections with other major airports nearby. Several flights make their way to the airport throughout the year, and in fact, flying in is your only option in the winter. Delhi, Chandigarh, and to an extent, Srinagar, are your three best bets. Our recommendation is to book your flights before all else and make sure your travel itinerary has a few days of flexibility. Leh's weather can be erratic, so it's important to account for delays.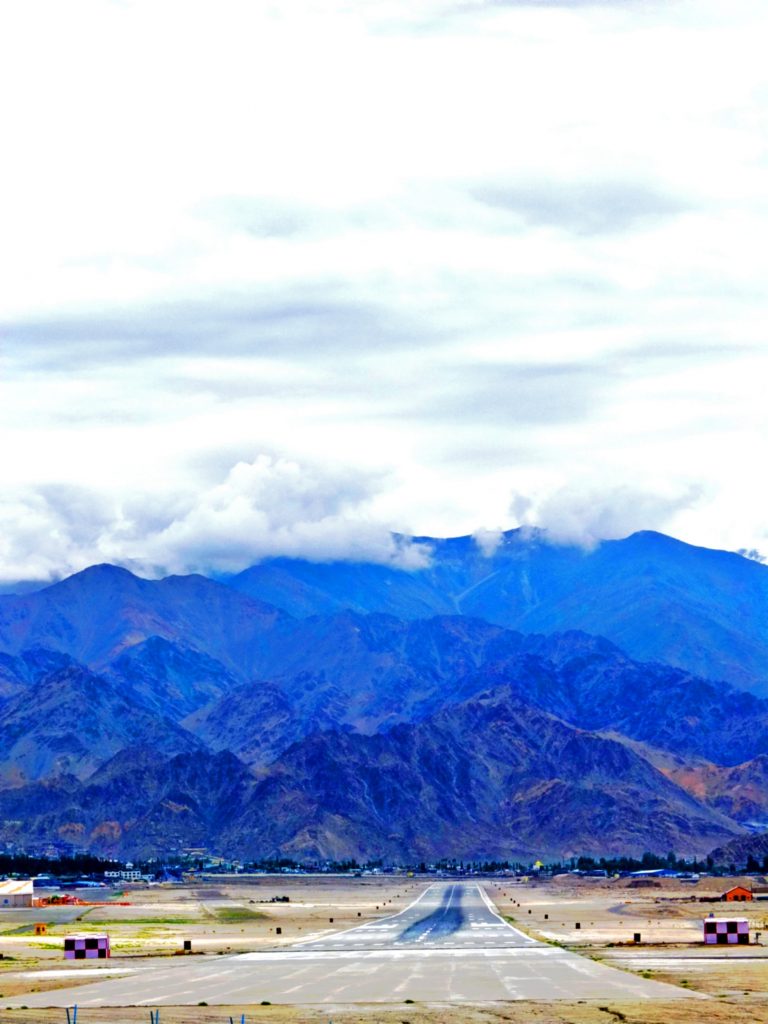 Getting To Leh By Train
Traveling to Leh by train isn't the most feasible of options. For one, Leh itself has no rail line or station, neither local nor inter-city. The closest train stations are in Chandigarh and Pathankot, neither of which are exactly close by. It takes a long, tiring three-day journey for you to get to Leh from both destinations.
Getting To Leh By Road
One of the common road trip routes mentioned frequently is the drive from Manali to Leh. It takes over 12 hours, and while it can be quite scenic, it comes with several cons. For one, the drive is long and the sharp curves of the road are tricky to navigate. If you still want to get here by road, consider the state and private buses. From July to September, you can hop onto Himachal Pradesh Tourist Development Corporation (HPTDC)'s Deluxe bus from Manali. State-run buses also ply these routes from Manali and Srinagar during the open months.
Getting To goSTOPS Leh
goSTOPS Leh is a convenient 10 minutes away from the Leh highway for those coming by road. Better yet, it is 15 to 20 minutes away from the Kushok Bakula Rimpochee Airport!
How Far Is goSTOPS Leh From Sites & Attractions
goSTOPS Leh ticks all your wants and needs. After all, fairy lights, foosball, and comfy aesthetics are just three of the fantastic things we've got in store. But the perfect accommodation isn't all you need to make your Leh trip memorable. Thankfully, we've covered it all – goSTOPS Leh is conveniently located, so you can go around sightseeing to your heart's content.
Leh Palace – This centuries-old wonder is a must-see sight in Leh, and is actually a stone's throw away! In fact, goSTOPS Leh is located on the base of the Namgyal hill, the same one on which the mighty Leh Palace stands. You can reach the base of the palace with a 15-minute walk, or a simple one-minute drive.
Namgyal Tsemo – The Namgyal Tsemo Gompa was founded all the way back in 1430, and along with the hill and the palace has stood the test of time. It rests proudly atop the Namgyal hill, boasting a commanding view of the land. Head up there on the Namgyal Tsemo trail that starts from the Palace, from where you'll even be able to see the ridge of the Stok mountain.
Shanti Stupa – The Shanti Stupa is one of those unmissable Insta-worthy places in Leh that will take your breath away. Well, literally as well as figuratively since there's a pretty winding climb to reach the Stupa. Lucky for you, the Stupa is 7 minutes away by road.
Pangong Lake – This famous tourist attraction is on many people's bucket lists, and understandably so. A 6-hour drive from goSTOPS Leh will get you to the lake.
Alchi Monastery – Leh is filled with gorgeous monasteries, but in our opinion, the offbeat Alchi is one of the things you can't miss when in Leh. It lies 1.5 hours away from goSTOPS Leh.
Conclusion
If this isn't enough to convince you to stay at goSTOPS Leh, consider this – you get to experience all our warmth and exuberance at a cheaper rate than staying at a stuffy hotel. Leh is all about discovering the life and color that thrives in a desolate and barren landscape, and that's just the spirit that goSTOPS Leh fosters. We're also located in several other fantastic places across the country, so make sure you look us up.
FAQs
Does goSTOPS Leh Have Options For Long Stay Accommodation In Leh?
Yes, not only can we help you out with long stay accommodation, but you can get our dorms plus all the regular services at discounted rates. Who needs a PG in Leh when you can just bask in our comfort instead?
What Is The Age Limit To Stay At goSTOPS Leh?
All hostels around the country require people below the age of 18 to be accompanied by an adult. There's no upper limit however, so no matter your age, we'll be there to greet you!
How Can I Make A Group Booking In goSTOPS Leh?
Our various dorms are perfect for groups, no matter how big or small. Simply head here for group bookings.
What Is The Cancellation Policy?
We have a no-hassle cancellation policy at goSTOPS. You must give us a minimum of 72 hours' notice before your check-in date to cancel/modify the booking. Our check-in time starts at 1300 hrs. If you were to join us on a Wednesday but have to cancel your plans, you must do so before 1300 hours on the previous Sunday.