Leh, capital of Ladakh? More like capital of our wanderlust hearts! The huge mountains, vast landscapes, crystal clear rivers, mirror-like lakes, the food! We could go on and on… and on. Leh has tons to offer, and honestly, not one of these many experiences is worth missing out on. From getting a bird's eye view to digging into apricots, every last aspect is part and parcel of truly exploring Leh and soaking up its many experiences like sponges. Read on for the 6 things you can't miss when traveling to Leh, and hey, if you find something missing, make sure you write to us like the responsible traveler you are!
The Many Monasteries
Ladakh has a rich history, and was once a crossroad junction for three main trade routes – the Tibetan route, the South Asian route and the trans-Karakoram route. With trade comes the exchange of culture, and long story short, Buddhism is a living, breathing example of that cultural exchange. There are several breathtaking monasteries to be admired when in Leh, the oldest of which is said to be the Lamayuru Monastery. It's also fairly large, and boasts a brilliant collection of murals, sculptures and paintings. The distance from Leh to the monastery is a good 2.5 hours, so you can make a neat vlog about the journey there and back.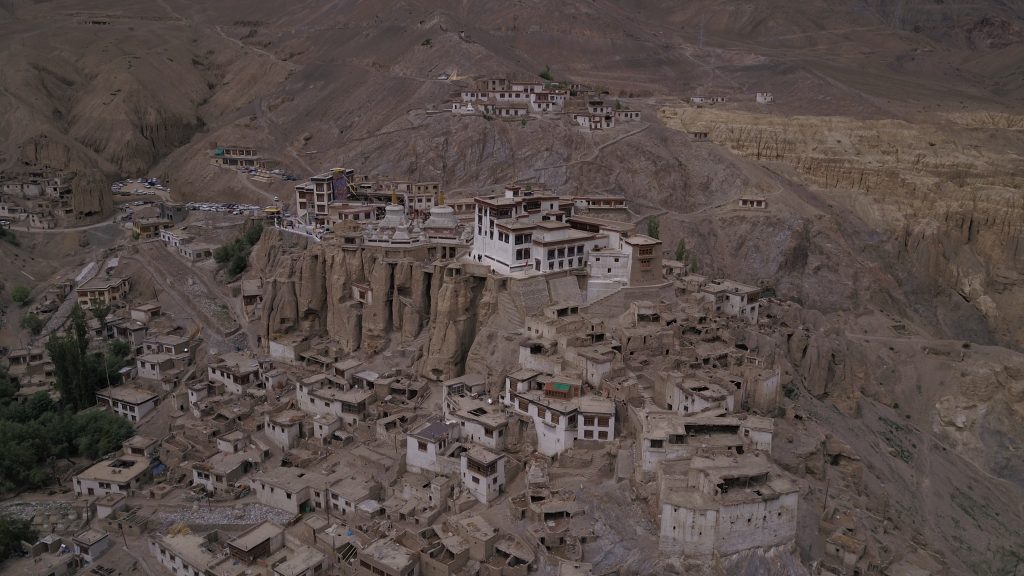 Lying at half the distance and off the beaten track, the Alchi monastery is an hour away from Leh. The Alchi gompa rests on the banks of the flowing jade that is the Indus river, and the sense of peace and serenity here is unbeatable. Alchi is a monastic complex, over 900 years old, yet you'd never guess by looking at it just how deep its roots run. "Fascinating" is the word we'd use to describe the sights that await once you get there– don't expect grandeur or glimmer, instead, colored patterns crawling across the wood beams and colorful Buddhas on the walls are what greet you. If there's only time for one visit to a monastery, let it be this.
Remember, these are just two of several other monasteries. Traveling to Leh and not visiting at least one mystical monastery simply makes for a wasted trip! What matters is you making the time to visit at least one of them to truly appreciate the beauty and culture they have to offer.
The Mouth-Watering Food
Missing out on the local food fare to stick to more mainstream food is a cardinal sin when traveling to Leh. The food in Leh is tasty, nutritious, and will win over the fussiest of eaters. Make sure you get to at least taste a bit of everything we mention.
There are so many momos in Leh it's like walking into momo wonderland, if at all there is such a place. Momos are just one result of a heavy Tibetan influence, and the other is the delicious thukpa, a rich soup. Considering the cold climate, thukpa isn't the only soup on the block; there's also chhutagi (soup with bow-tie shaped dough) and sky (rich broth served with dough balls). There's also yak cheese and local beer, soft tingmo bread, and local gur-gur chai.
Of course, we won't leave you high and dry by just dropping the names of the best dishes in Leh. Here are some of the best places to find them:
The Tibetan Kitchen: The Tibetan Kitchen is on every list of recommended restaurants in Leh. Located in the center of Leh, the place is constantly crowded because of the fame it has garnered. Make sure you book a table in advance. Hot tip: Enquire about traditional Tibetan dishes and make your request a day in advance for them to have enough time to prepare them.
Alchi Cuisine: Located in Leh's main market, Alchi Cuisine has an unbeatable local, simplistic yet cozy vibe. The food here is traditional Ladakhi but with a contemporary twist.
Namza Boutique & Cafe: In the middle of Leh yet removed from the bustle, Namza is a must-see. When you're not munching away on food, browse through their studio of Ladakhi-inspired clothing that you can also buy. Hot tip: try the Yarkhandi pulao, the recipe of which is traced to back when Yarkhandi travelers (present-day China) took the Silk Route to get from Leh to Srinagar.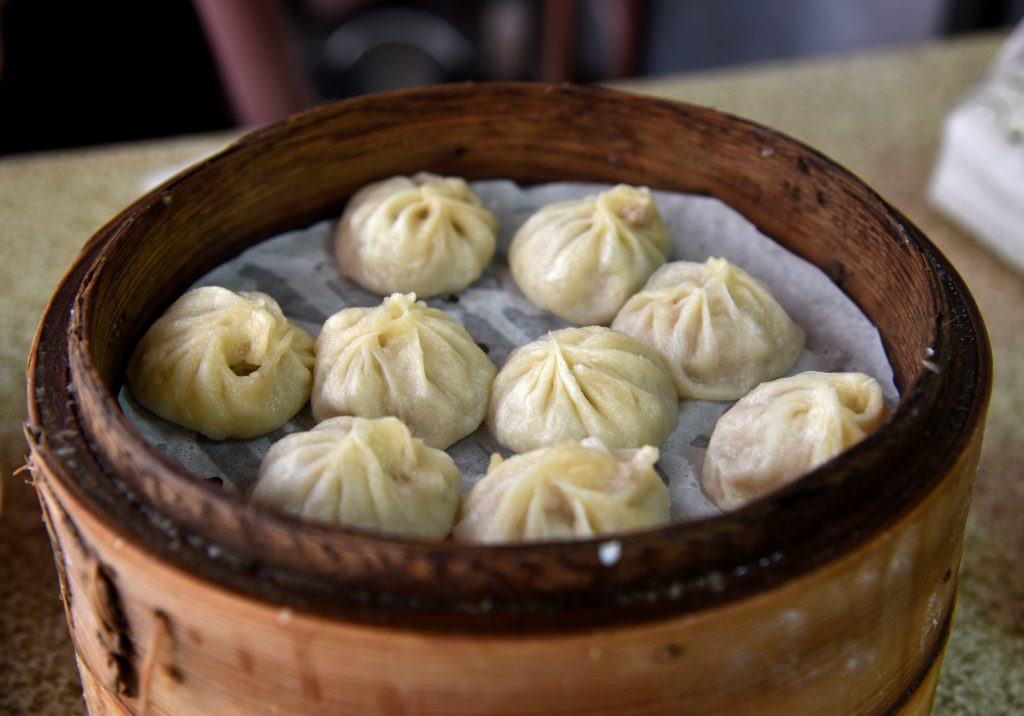 Some other suggestions are
Summer Harvest: Delicious momos, arguably better than the ones at Tibetan Kitchen.
Il Forno: Il Forno is a multi-cuisine restaurant, but is a good stop for some hot, fresh oven-fired naans and pizzas. Hot tip: beer isn't on the menu, but ask nicely enough, and you'll get served some with your meal.
Bon Appétit: Head here not so much for the continental cuisine as much as for the sweeping view and for chocolate momos.
The Markets & Trinkets
There's no way you can miss out on taking a bit of Leh back with you, and the colorful markets are just right for this. There are loads of things for you to poke through in the many markets in Leh, some of which are Tibetan souvenirs, prayer wheels and singing bowls, pashmina shawls and of course, apricot jam! The places to head to are:
Main Bazaar Road: Tibetan handicrafts, pashmina shawls, carpets, rugs.
Moti Bazaar: Gems, traditional turquoise Ladakhi jewelry with turquoise gems.
Changspa Road Market: Clothes, garments, silver and copper trinkets.
One funky little place that isn't a market but is worth the visit is Dzomsa. Located near the Zangsti Car Park, Dzomsa is an organic store that has a fair bit of character. You can get local products like preserves, jams, apricot kernels, sun-dried tomatoes, Himalayan pink salt, fresh apricot juice, and fresh sea buckthorn juice. But that's not it – you also get an environment-friendly laundry service and a fill-up drinking water bottle service!
The Magical Lakes
Some of the scenery in Leh is so breathtaking, it looks like a scene out of a Studio Ghibli movie. A great way to experience this feeling is by heading to one of the many lakes in Leh. Of course, the most famous of the lot is the Pangong Tso, a major tourist attraction ever since its cameo in '3 Idiots'. For many, traveling to Leh is incomplete without heading to the Pangong Tso.
By all means, head there to tick 'posing with the 3 Idiots yellow scooter' off your Leh bucket list. But on the way, look out for the yellow safety instruction signboards by the Border Roads Organisation. From "Darling I like you, but not so fast" to "Be gentle on my curves" to a smattering of dark humor with "Let your insurance policy mature before you", the signs make for great entertainment.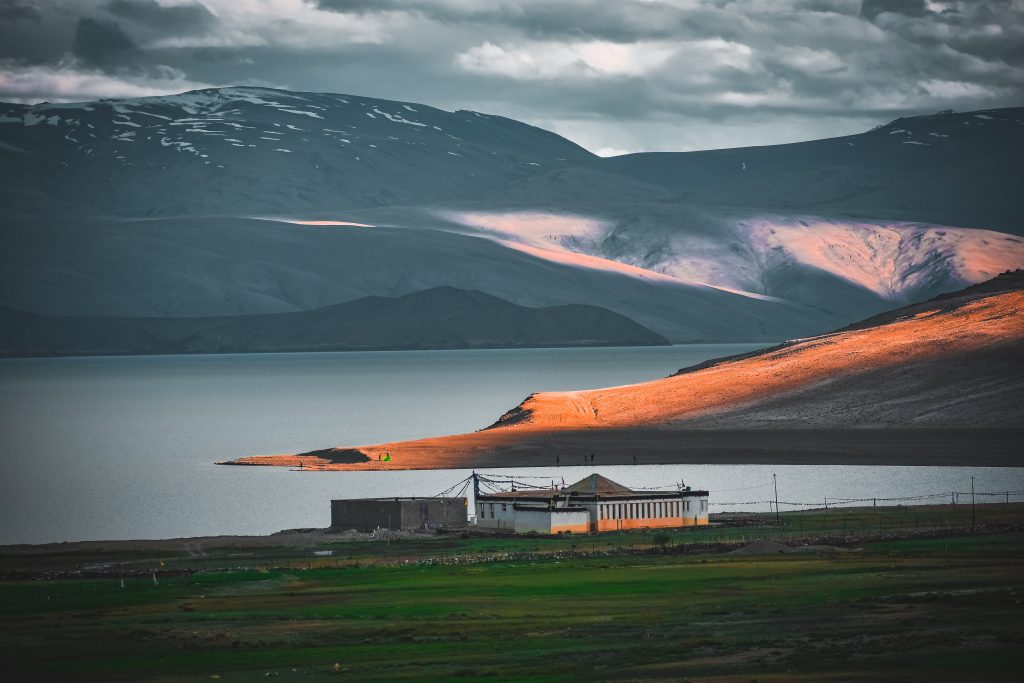 If you'd prefer the road less traveled, head to Tso Moriri. This is where that movie feeling truly sets in. Tso Moriri is a paradise for bird-lovers, who can spot up to as many as 225 species here. It's the highest altitude lake in India, and boy oh boy, the views will leave you mesmerized. Tso Moriri is located in the Changthang region and is around a 5.5-hour drive from Leh. Tso Moriri can be breathtaking, figuratively and literally – make sure you look out for any symptoms of altitude sickness.
At a shorter distance (around 4 hours away) lies Tso Kar, yet another relatively offbeat lake in Leh. The lake is flanked by high mountains home to the elusive snow leopard, and the lake has deposits of salt on its banks. This makes for a fairly picturesque image, one that'll have people wondering how much Photoshop you've used to enhance it!
The Yarab Tso, also known as the Hidden Lake, is completely offbeat. It happens to be a sacred lake and holds crystal clear waters that shimmer like silver with the mountain breeze. Yarab Tso is near the Nubra Valley.
The Mind-Blowing Adventures
Ladakh is jam-packed with tons of adventure activities, each better than the last. Adrenaline-junkie? You can opt for the more exciting river rafting or paragliding. Those of you who are more 'low-key' can keep it simple with treks and biking. Traveling to Leh and not trying at least one adventure activity is a wasted opportunity, so read on!
Trekking: There are easy to difficult treks you can choose from, each with different durations as well. The most famous and difficult is the Chadar trek that takes you over the frozen Zanskar river. A trek perfect for beginners is the 4-day trek from Spituk to Stok. A famous and moderately difficult route is through the Markha valley, which takes 8 days. The Kang Yatse trek, in a way an extension of the Markha valley trek, is a lot more challenging. Several other treks exist, taking you to places like the Nubra valley and to Tso Moriri in the Changthang region.
River rafting: There are a couple of rafting spots and routes in Leh, with difficult difficulties or grades. The Indus is generally preferred by beginners since it has routes with Grade I and II rapids. However, both Indus and Zanskar rivers have routes of varying grades, so choose accordingly.
Paragliding: Paragliding at Khardung La is a famous adventure activity. But now, you don't need to leave Leh to go paragliding. Head to Sakti-Tagar below the Changla Pass, where the Ladakh Paragliding Company has licensed tandem paragliding.
Biking: Whether it's cycling or on a motorbike, you can do both in Ladakh. Motorbiking on the Rohtang Pass is a dream for many, but if you have smaller dreams, hop onto a mountain bike.
The Millions Of Stars
Normally, you'd have to head far away from the city to some isolated location to get a glimpse of the stars. But in Ladakh, the sky is so crammed with stars that you can make out where the pitch-black shapes of the mountains loom up against them. This wild terrain has managed to keep away from the hazardous light pollution that has taken over practically every other inch of the country. The result? A sky full of stars so enthralling that you'll never again the Coldplay hit without thinking of Leh.
The skies over Leh and Ladakh are so promising that the world's second-highest observatory is located here, tucked away between the folds of the high mountains. This is in Hanle, Nubra, but it isn't a spot for tourists; only scientists and astronomers are allowed to go up to this desolate spot. Luckily, there are several other options to get a glimpse of the constellations, many of which include camping options.
A popular site is the Nubra Valley, where you can set up camp and watch as the night sky unfolds before your eyes. You might be waiting to see a mention of Pangong Tso, however, camping on the banks of the famed lake has been banned since 2019. Don't be disappointed though, since it won't take too much to spot the stars. You may not get that Milky Way photo you so desire, but stepping out of your room anywhere in the wee hours of the night should give you a pretty great view. Thank the lack of light pollution for this, and remember what's at stake the next time you light up a firework!
Conclusion
Leh is truly an unbeatable, unforgettable experience, but visiting just to take in the usual sights like a typical tourist is an incomplete experience. These 6 things you can't miss when traveling to Leh are what makes the journey worthwhile, but what also makes it amazing is the company you share. Dropping in to the goSTOPS Leh hostel is a great way to bond with travelers like you, who would do what it takes to soak in the experience of traveling. Plus, you can even admire the stars from our cozy outdoor seating area!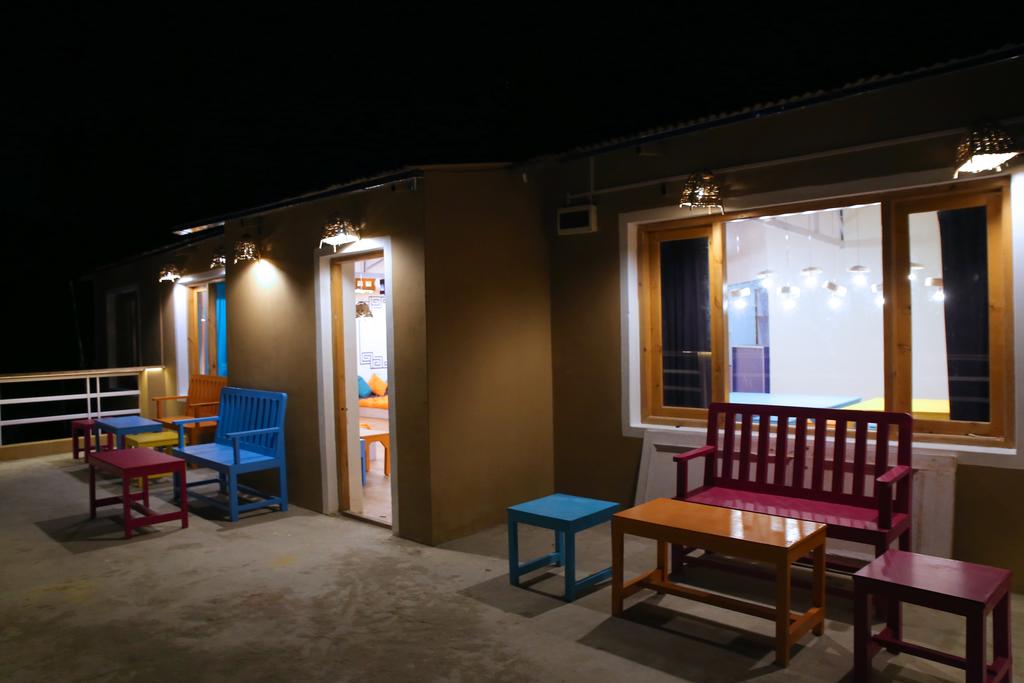 FAQs
Is Leh Safe For Tourists?
In terms of crime, Leh is quite a safe destination for tourists and you have little to fear. However, don't underestimate the weather and the altitude. Educate yourself on Acute Mountain Sickness so you go prepared, and avoid visiting in the peak monsoon season. When in Leh in winter, heed snowstorm and landslide warnings.
Which Month Is Best To Visit Leh Ladakh?
The months from April to mid-July are the best to visit Ladakh. This is the summer season, and the bright sunshine and cold winds ensure the climate is ideal for you to go sightseeing. However, this can change if you're keen on other activities. For instance, June to September is best for river rafting, while the Chadar trek only takes place in January and February.
How Do I Plan A Trip To Leh?
When traveling to Leh, your trip depends on your budget and what you want to do. You can drive up from Manali, but your other option is flying. Once your transport is finalized, chart out the sights you want to see since pre-planning is a must for Leh. This determines how much time you spend traveling up and down each day. Finally, make sure you get the Inner Line Permit if you're heading anywhere outside Leh.
Which Is The Coldest Month Of Leh?
The coldest months in Leh are generally January and February. This is when temperatures can drop to as low as -29°C.