A hill station tucked away in the Himalayan foothills, Dalhousie feels like waking up into a dream. No matter where you go, towering deodar and pine trees surround you. Sunlight is filtered through onto the ground, and you can enjoy unhindered views of the snow-capped mountains. Here's a guide to exploring Dalhousie and its many treasures, so you can truly soak in the experience of being here.
The Lay Of The Land
Dalhousie is spread across 5 hills in the state of Himachal Pradesh, and the river Ravi winds its way through the base of the town. This region has always held a charm to people who lay their eyes on it. No surprise then, that in 1854, the British acquired 5 hills from the Chamba ruler and established Dalhousie. It was named after Lord Dalhousie, the then British governor general who allegedly never even visited his namesake.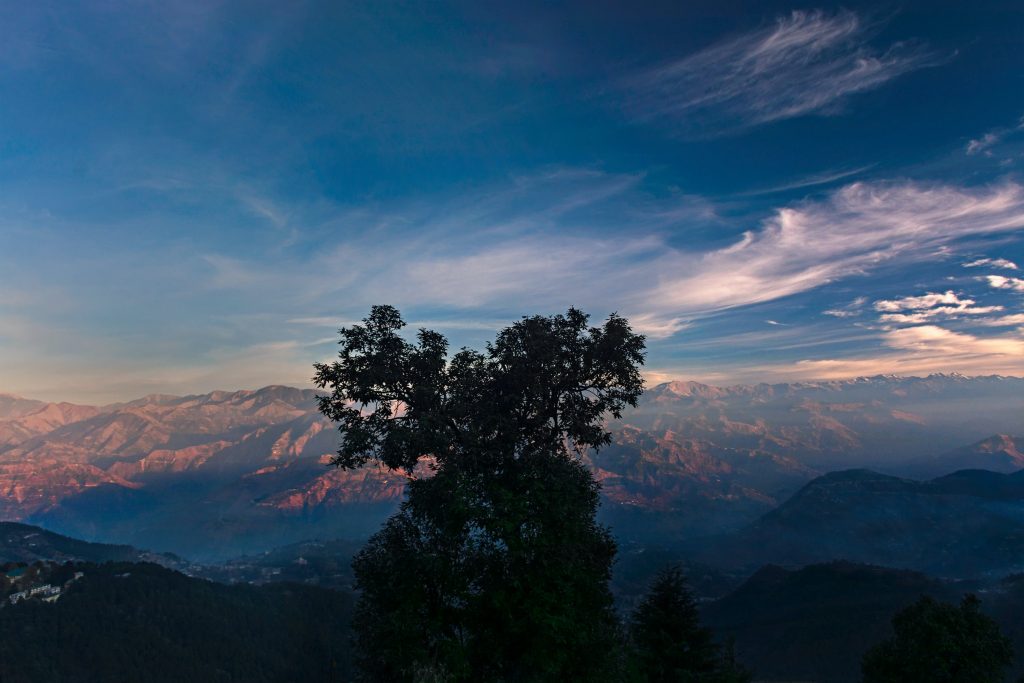 Despite being this old, Dalhousie still retains some of the magic that first drew the British here. Alongside this are remnants of its colonial past in the form of fascinating architecture. Throw in a smattering of adventure activities and an abundance of nature, and you have yourself something that can only be described as "ideal".
Dalhousie is fairly easy to navigate: there are two main roads, Garam Sadak and Thandi Sadak. And no, you won't be singing any songs of fire and ice, since the streets have next to nothing to do with the significance of their names. Garam Sadak is a path for pedestrians who'd prefer to plod around town, while Thandi Sadak is exclusively for cars. Both streets connect the two main chowks in town – Gandhi chowk and Subhash chowk.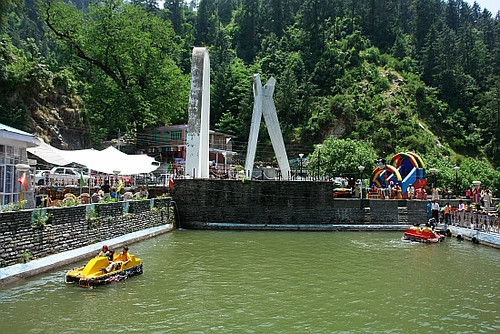 The 'entertainment and amusement' lies at Panchpula, an area with rappelling, zip lining, boating, and loads of stores selling all kinds of tourist knick-knacks. And just like every other hill station in India, Dalhousie has a Mall Road. Head here for when you want to stroll around and buy souvenirs to take back home. Exploring Dalhousie is made easier once you find your way around these specific landmarks.
How To Get Around In Dalhousie
Dalhousie is made up of several narrow winding streets crawling their way across the hills. Undoubtedly the best way to get around is by foot, since that also gives you the most 'local' way of getting around Dalhousie. An alternative is hiring a bike, since their maneuverability can help with navigating the streets. If you have plans on going sightseeing, you can take taxis or hire a car. A lot of the sightseeing in Dalhousie is 30 to 60 minutes away by road, so transportation would depend on your itinerary.
Places To Visit In Dalhousie
Dalhousie has a handful of gorgeous places to visit, each with their own flair and charm. From places so pretty you know they're #Instaworthy, to simply so breathtaking that you'll forget about your phones for a while.
St. John's Church (1863) -The oldest church in Dalhousie, boasting Victorian architecture. The solitude is astonishing, especially considering it's right off the noisy Mall Road.
The Raizada Hans Raj Memorial Trust Library – Perfect for history buffs and bibliophiles, this library is right next to the church. It houses loads of books, from hardbound classics to historical accounts of the Dalhousie of old.
Khajjiar Lake – Surrounded by cedar trees and located in the middle of a grassy clearing, Khajjiar is an ideal picnic spot. And if laying around soaking in the sun isn't your thing, then go zip-lining or zorbing instead!
Rang Mahal – Built by Raja Umed Singh in the 18th century, this palace is an interesting merge of British and Mughal architecture. Visitors can also shop around for some handicrafts to take back home. Find it in Dalhousie's Surara Mohalla.
Chamera Lake – Definitely one of Dalhousie's most famous tourist attractions, Chamera lake offers boating activities for everyone to indulge in.
Satdhara Falls – As the name suggests, these falls are a culmination of water from seven springs located in the hills. You can find this scenic waterfall on the way to Panchpula.
Shopping In Dalhousie
There's an amalgamation of things to shop for when exploring Dalhousie, so if you're the shopaholic type, hold on tight to that cash!
Head to Gandhi Chowk, where the Tibetan sector gives you all things Tibet. There are handbags, dolls, handiwork, you name it. More keen on the handicrafts? Head to the Tibetan Handicraft Center, around 2 kms from Dalhousie at Lower Bakrota Hill. You can go gaga on the many ornaments, carpets and mementos you find here.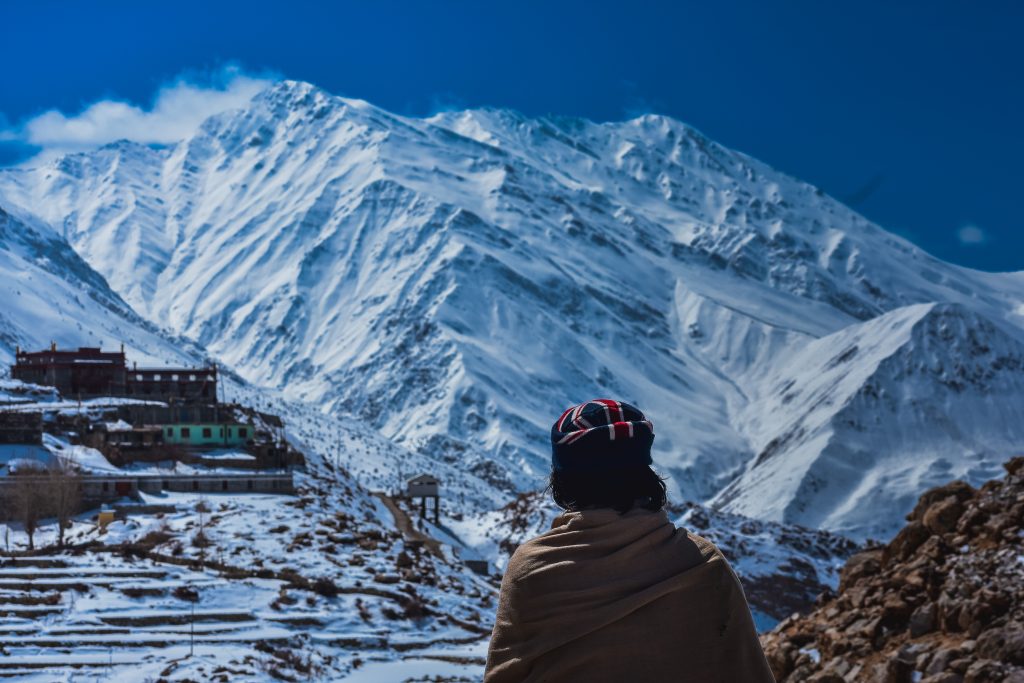 If you're looking for something more local and Himachali, the Himachal Handloom Industry Emporium will wow you beyond measure. Head to Thandi Sadak to find the emporium, from where you can purchase some excellent Kashmiri shawls. They are truly a reflection of the fine craftsmanship of the people who painstakingly made them.
Stopping over at Bhuttico is a must when exploring Dalhousie; it was founded in 1944, and is one of the oldest and most established places to shop in Dalhousie. Bhuttico is renowned for fine Kullu shawls, each made of authentic material like pashmina, angora and lambswool. Understandably, a bit of doubt creeps in when things like 'pashmina' are mentioned, but Bhuttico's ISO 9001: 2008 certificate for maintaining quality and conforming to international standards should put that to rest. Find it on G.P.O. Road.
Finally, head to the DC Khanna store for a selection of jams to take back for your family to enjoy, all made without preservatives from locally sourced ingredients. A special mention goes out to the bhuira jam from here. Just make sure you don't finish it off with some hot buttered toast before you actually get home!
Food In Dalhousie
Unlike Manali, the food in Dalhousie caters completely to the tourists that drop by to visit. Which means, you'll rarely find any local delights as compared to things like pasta, pizza and fries. This is a definite bummer for the true foodies who hope to discover their destinations through morsels of local grub. But hey, let's not discredit the food available! The best place to head to to get your filling of food in Dalhousie is the Mall Road. And the best time? The evenings.
"As dusk falls over Dalhousie, all the hungry humans emerge onto Mall Road, desperately seeking to fulfill their hunger pangs…" we may have gotten carried away there, but that's truly the sight that meets your eyes! All tourist destinations have that hole-in-the-wall restaurant that doesn't have much seating but has mouth-watering food, and Bon Appetit is that place in Dalhousie. There's no seating at all, but the sandwiches, grilled toast and fries here are unbeatable.
If you want to park your bottoms somewhere, head to the Mogas Café at Gandhi Chowk. With warm interiors and delicious food, you can spend your time here unwinding after walking around exploring Dalhousie.
And for you foodies looking for that one special place to head to, that would be Café Dalhousie. One of the oldest cafes around, it is located on the ground floor of Hotel Dalhousie. You can pick from South Indian, Chinese and Indian dishes, both vegetarian and non-vegetarian. But we recommend trying out the cakes and pancakes, and their breakfast menu.
Conclusion
Exploring Dalhousie does take a little bit of planning, since many of the sites require transportation to and from the main town. But don't let that stop you – now that you know how to go about it, you can plan out your holiday as best as possible.
Just like the food, Dalhousie's accommodation options are largely touristic; hotels are lined up one after the other with barely any character. If you want a better, more fun, and cheaper option, simply hop on over to goSTOPS Dalhousie! Cozy rooms, plenty of entertainment, loads of like-minded travelers to bond with, and some amazing views – could you even ask for more?
FAQs
What Is Famous In Dalhousie?
Dalhousie has plenty of pretty places to visit, like the Chamera lake, Khajjiar lake, Dainkund peak, and a number of heritage churches. While it isn't known for adventure activities, you can go zip-lining at Panchpula, zorbing at Khajjiar and boating at Chamera lake.
How Many Days Is Enough For Dalhousie?
Around 3 to 4 days is enough time to explore Dalhousie. This gives you enough time to take in the sights without tiring yourself. However, feel free to stay on for longer.
Is There Snowfall In Dalhousie?
Yes, it does snow in Dalhousie. You'll see snowfall in Dalhousie in winter, from December to February. The areas at higher altitudes may have leftover hardened snow even in summer.
Why Is Dalhousie Famous?
The British established Dalhousie in the 19th century, and today, it is one of India's most beloved and popular hill stations. It has heritage structures and plenty of natural marvels to visit. People visit in both, summer and winter season, which also adds to its fame.