A summer retreat and sanatorium during the British era, Dalhousie is still the place where the clean forest air and unpeopled woods can help you recharge. Warm sunlight, clear skies, birdsong and views of the Himalayas – you'll be spoiled. There's no doubt that Dalhousie is a mystical landscape. When you treat yourself to a trip here, make sure you visit the top 8 breathtaking places to visit in Dalhousie.
Kalatop Wildlife Sanctuary
Finding an entirely green pocket in a city can be difficult but that's not the case in Dalhousie. You look to your right? Trees. Left? Yep, more greenery. Anywhere you look, nothing but greenery, and at no point do you get tired of it! One such place that's the epitome of this exact quality of Dalhousie is the Kalatop Wildlife Sanctuary.
The sanctuary is the ideal spot to take a hike under the shelter of towering deodar and fir trees that selectively let sunlight filter through. For company, you'll have deer prancing around and the sound of birds chirping to themselves or possibly babbling about you.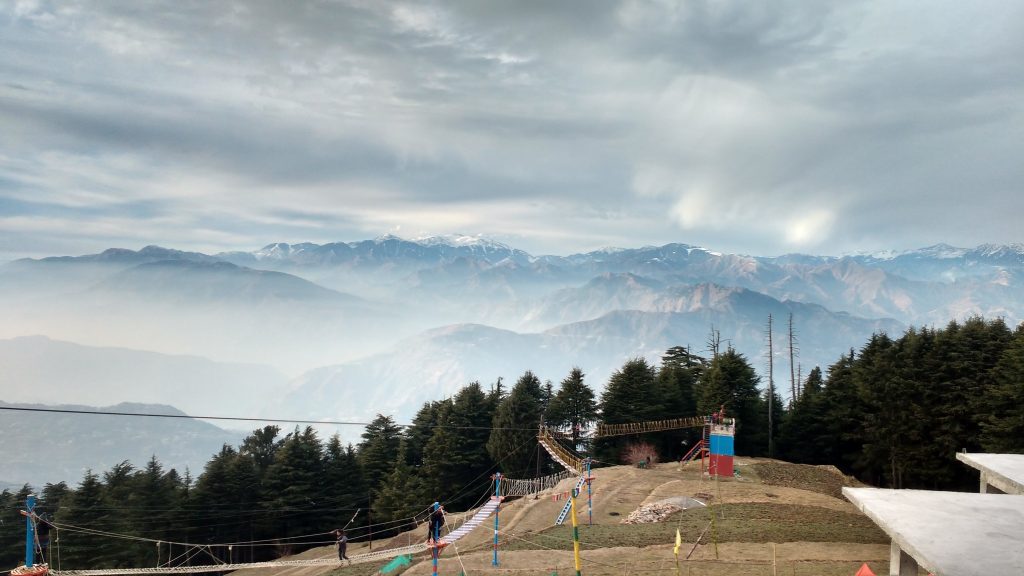 The entire sanctuary covers a space of 30.69 km and there are specific marked trails that are safe to go on during the day. December to February is also a great time to visit Kalatop Wildlife Sanctuary to feel like you're actually part of a winter wonderland only seen in snowglobes. Make snow angels, post a billion stories, Kalatop is the perfect little place for it all.
Distance from Gandhi Chowk, the central hub of Dalhousie – 10.8 km (approximately 45 mins away)
Dainkund Peak
Dainkund Peak is the highest point in Dalhousie, giving visitors an unobstructed 360° view of the entire place. The trek to the peak falls in the beginner level category so even if you've not exercised in forever, you'd still be able to make it to the top without struggling. It's one of those places to visit in Dalhousie that make you truly appreciate nature.
'Life is about the journey not the destination' – that old saying certainly applies here. Hiking to Dainkund Peak is like the 'don't rush' challenge for real, since the trail is too scenic to ignore. Also, keep in mind that if you visit anytime from December to February this place would be covered entirely in snow and bears a complete change of scenery.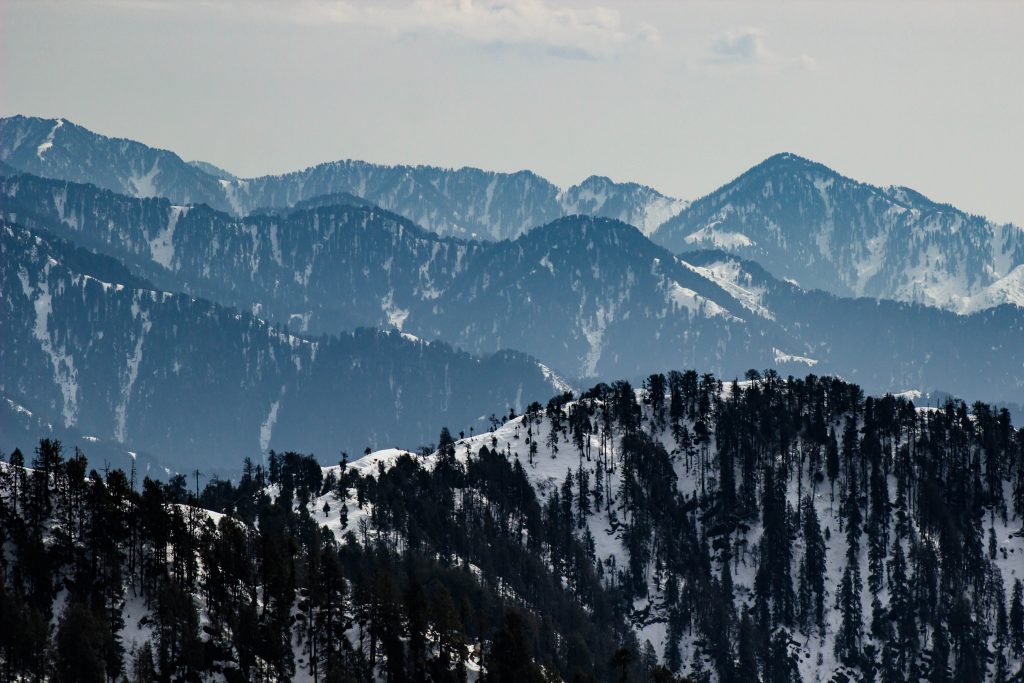 Did you know? – The hills are alive with the sound of music in Dainkund, literally! Dainkund Hills are referred to as the 'singing hills' of India. When the wind passes through the serene hills and valleys, it creates a sound that makes it seem like it sings. It's not like actual musical, but more like the wind here is being super talkative.
Distance from Gandhi Chowk, the central hub of Dalhousie – 12.1 km (approximately 30 mins away)
Chamera Lake
The view of this picturesque lake would easily remind you of a picture from a desk calendar at a tourist office. What's the view? A pristine snake-shaped lake cutting through a mountain belt, pretty much a visual treat.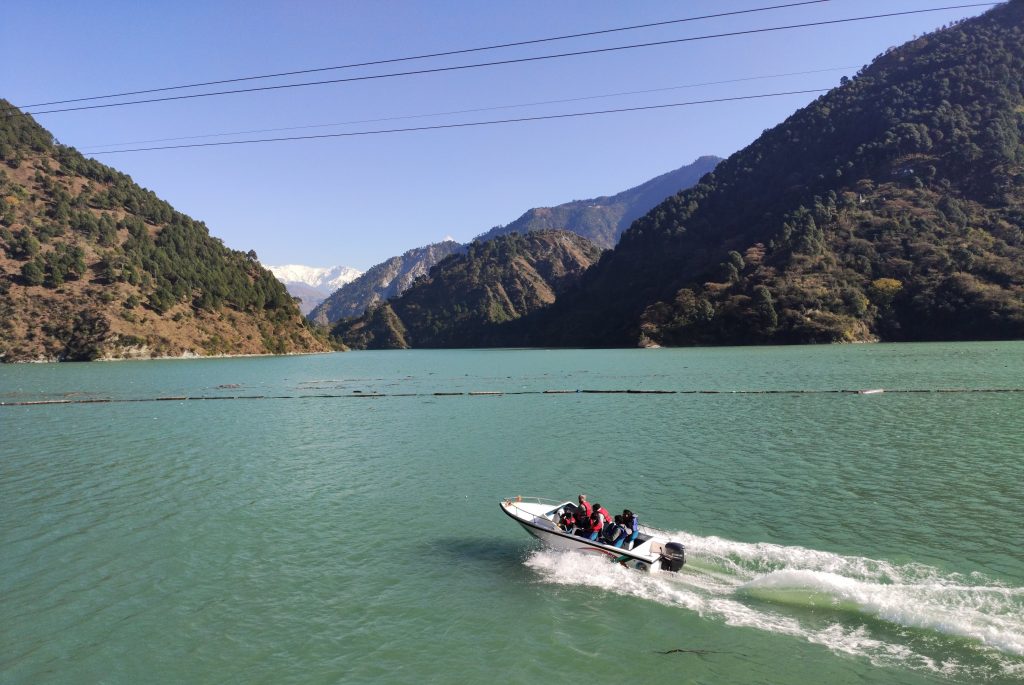 Chamera lake is a famous tourist spot and when there, indulge in activities like trying some snacks from the food stalls around or taking a boat ride. There are powerboats and speed boats available, so pick the ride that is suitable to you. We'd say Chamera is that perfect picnic spot where you can chill with a book, stroll around and take in that relaxing lake view.
Distance from Gandhi Chowk, the central hub of Dalhousie – 52.6 km (approximately 2 hours away)
Jot Pass
Jot Pass is a spot where tourists take a break from the road to digest the view of the scenic Dhauladhar chain of mountains. But we must warn you – it can get so scenic that it tempts you to take your eyes off the road. Do that for too long and you'll find yourself plunging over a cliff edge. You need to be careful just like you would be extra careful while maneuvering through any other mountain pass. Do your best to avoid getting distracted with the scenery. Always stop your vehicle at the side of the road at a tourist junction where you see benches with sheds to sit and capture the view.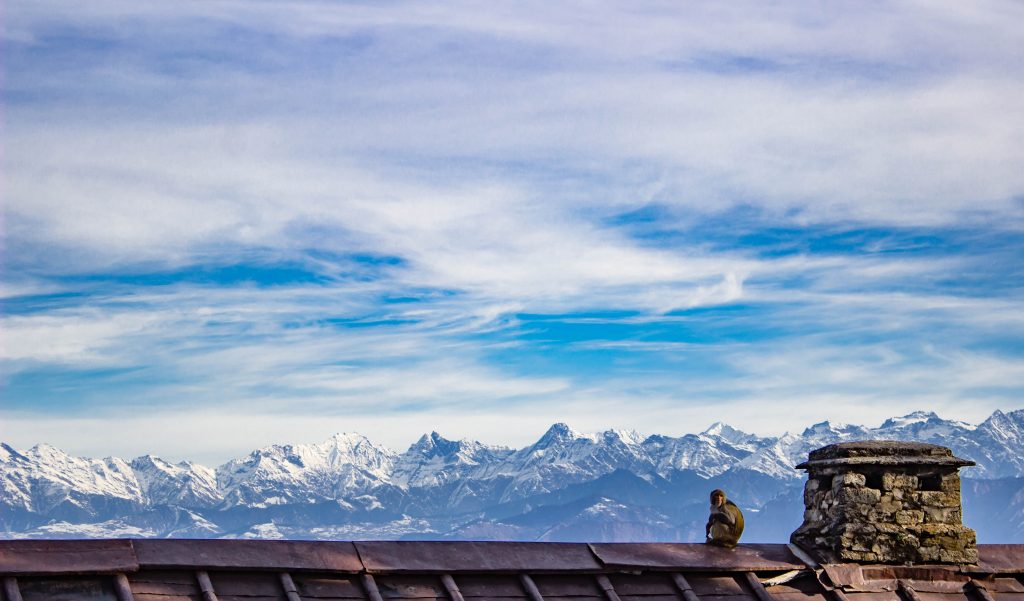 Jot also gets less attention from the usual places to visit in Dalhousie so it won't be as crowded. There is an 'I Love Jot' sign that you can pose with for that classic touristy pic. If you want to just stretch your legs and relax, you can consider dropping by the Jot Nature Park too.
Distance from Gandhi Chowk, the central hub of Dalhousie – 37.7 km (approximately 1.5 hours away)
Bakrota Hills View Point
This is the point in Dalhousie where you'll probably want to bottle up the fresh air and take it back home with you. Bakrota Hills is a refreshing place to see for stunning views of the majestic Himalayan mountain range. It's definitely a luxury to stroll here aimlessly, giving your legs the freedom to wander without a plan.
You can easily walk to these hills and don't need to plan much for the hike. It's a fairly easy one that even the not-so-young can attempt. That's one of the beauties of Dalhousie, none of the day excursions are stressful, but have just the right amount of relaxation for your mind and body.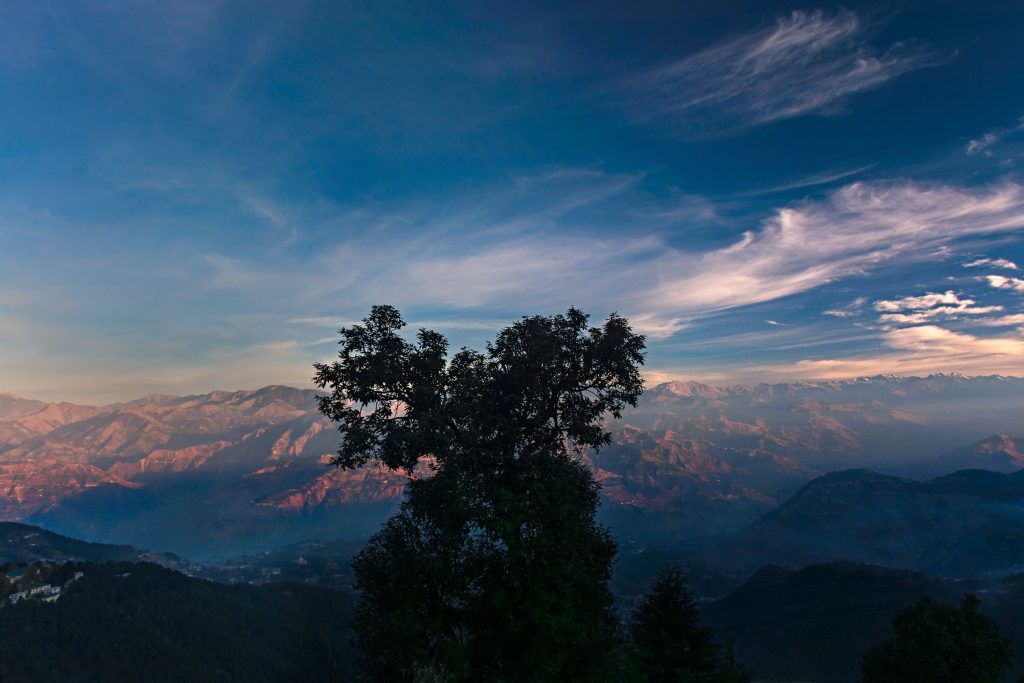 Distance from Gandhi Chowk, the central hub of Dalhousie – 5.3 km (approximately 20 minutes away)
St. John's Church
Built in 1863 during the British regime, St. John's Church is the oldest church in Dalhousie. The structure resembles churches found in England and bears Victorian-era architecture. This is a wonderful site to visit if you generally like visiting old churches. You can also consider seeing a few more churches namely – St. Francis (built in 1894), St. Andrew (1903) and St. Patrick (1909).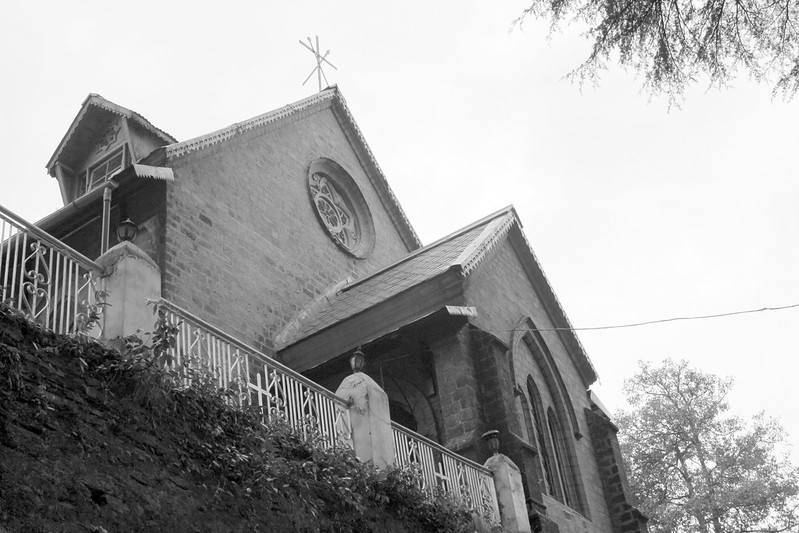 For those history buffs at heart, we even highly recommend that you can drop by the Raizada Hans Raj Memorial Trust Library after you see the church. This library is where you'll find snippets of what Dalhousie looked like back in the day when the British came here to rejuvenate.
Distance from Gandhi Chowk, the central hub of Dalhousie – Minutes away extremely close to the town center.
Ganji Pahari
Want a hill all to yourself with very few people in sight? Then head to Ganji Pahari, and yes, it literally translates to 'Bald Hill'. The story behind this odd name is that the top patch of the hill barely has any trees covering it while the rest does, meaning that it's bald. To an extent it does look like it went bald, but to each their own imagination!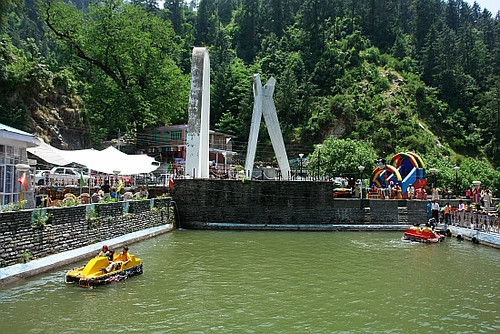 The hike to Ganji Pahari is easy, and once you reach the top you'd be happy that you're not wrestling with passing people or anything else to block your view. For the trek to this bald hill, we suggest beginning at Panchpula (a popular tourist halt in Dalhousie). Most of the treks begin from Panchpula itself so it would be a good point to keep as the base.
Distance from Gandhi Chowk, the central hub of Dalhousie – 5 km away from the town center, extremely close to Bakrota Hills.
Khajjiar
A hill station that sits at an elevation of 6,500 feet above sea level, Khajjjiar is covered by a dense cover of pine trees. You can also see the peaks of Dhauladhar mountain ranges in the distance from here. And sure, this may not be one of the places to visit in Dalhousie per se, but a trip to Dalhousie is incomplete without hopping into Khajjiar.
The best thing to do here after you consume the beauty of the place is to walk barefoot. There's miles of green grass to walk on, just like on a golf course, but you'd even have the company of lush cedar and pine trees. Fresh mountain air, the clear blue sky and flat land makes Khajjiar a comfy little spot to have a picnic.
Did you know? – Envoy Willy P. Blazer, who was the Head of Chancery of Switzerland, was taken aback with the stunning beauty around him when he visited Khajjiar. So much so, that he placed a yellow sign indicating the hill station's distance from the capital of Switzerland (Bern). The resemblance with Switzerland is believed to be uncanny so if you can't make it there, you can still have a piece of its beauty in India.
Distance from Gandhi Chowk, the central hub of Dalhousie – 19.3 km (approximately an hour away)
Conclusion
Dalhousie is a refreshing hill station which is blessed with views of the Himalayas. It's the destination that calls you to unwind, wander and plonk yourself down to bask in the midst of nature. These breathtaking places to visit in Dalhousie only make your experience that much richer.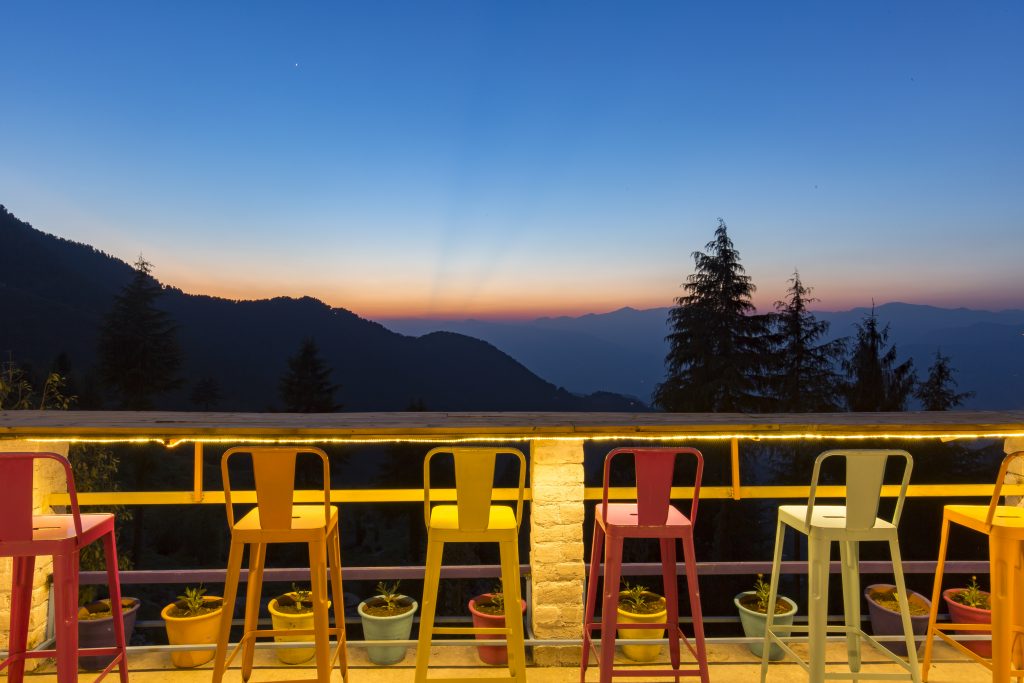 Like any hilly destination, the hills can get eerily quiet. This may seem great at first but for many, it can also be a big downer. Occasionally staying engaged with fellow travelers can keep you in high spirits when the beauty of the place goes silently numb. But you have none of that to worry about when you stay at a goSTOPS Dalhousie. Here you'll always have fellow travelers to start a snow fight with, or go on a short hike with, or just chit chat!
FAQs
Is There Snowfall In Dalhousie?
One of the main reasons people choose to travel to Dalhousie is to experience a winter wonderland. You can see snow in Dalhousie if you plan to visit during the winters from December to February. Temperatures hover around 11°C in the daytime and drop to sub-zero levels at night.
How Many Days Is Enough For Dalhousie?
Dalhousie is an ideal destination to relax and recharge your batteries. 3 nights is sufficient time for sightseeing but you can always extend your stay if you wish to rest for longer.
What Is Famous In Dalhousie?
Dalhousie is referred to as the 'Switzerland of India' and rightly so because the quaint and tranquil surroundings strongly resemble the beauty of Switzerland. It's famous for its picturesque views of the snow-clad mountains. Bakrota Hills, Dainkund Peak, Kalatop and Khajjiar are the top spots to capture the essence of Dalhousie.
How many places are there in Dalhousie?
There are several places to visit in Dalhousie, most of them rich with the bounties of nature. Head to Chamera lake if you want something exciting like a speedboat ride, or hike up to Dainkund peak if hikes are more your speed. The many churches are perfect for the history and architecture buffs, while the ones who love scenic drives should head to Jot pass.