Every once in a while we all look for a break from people in general and that's alright, it's good to cherish the need for solitude. You might want to spend some downtime in the lap of nature by escaping to the mountains. The only downer to this is that too many people are getting a call to the mountains in the North of India. When everyone flocks to the same place, there goes your fantasy of having that perfect offbeat travel experience! But we bring to you a solution and it's Uttarakhand's best-kept secret – Almora! Uninterrupted solitude is just one of the many tempting reasons to visit Almora, so let's go over them all.
To Gaze At The Magnificent Views In Awe
Almora probably has one of the best views of the snow-capped Himalayan ranges. Even if you wander aimlessly within the hill station, you'll easily be able to capture some unblocked views of the ranges. The little town is oblivious to the beauty around but for a nature-starved city-dweller, you'll instantly catch a sense of how insanely pretty the hill station is. Bright End Corner, Kalimath, Zero Point and Martola are points from which you will experience what we talk about when we speak of the stunning landscape of Almora. Forget the food and the temples, this in itself is one of the main reasons to visit Almora.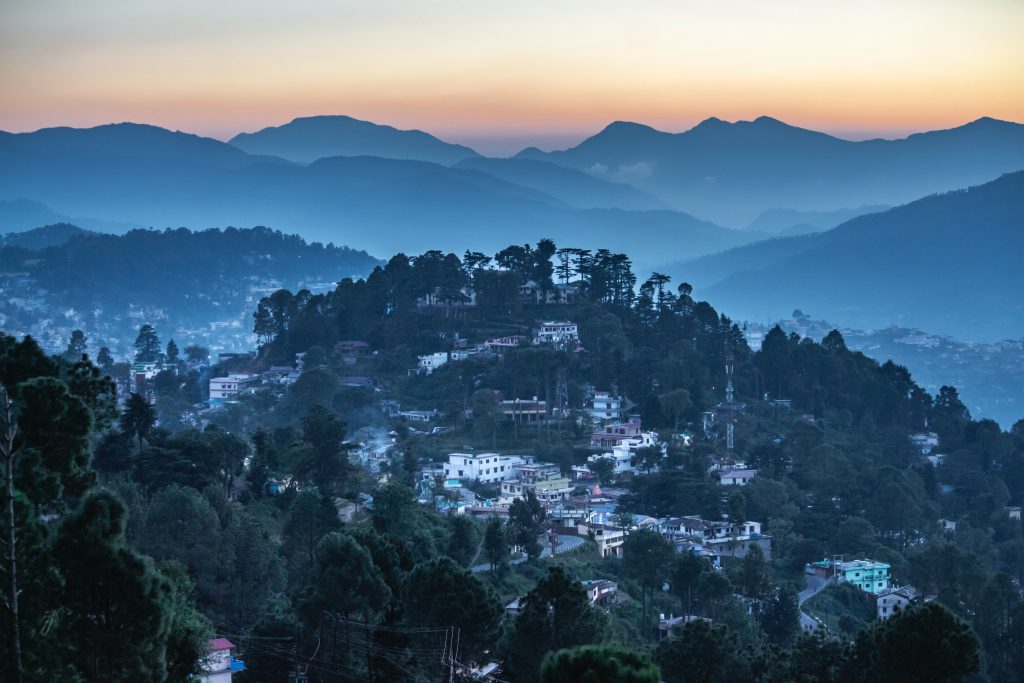 To Marvel At Splendid Temples
Pockets of Almora are filled with religious temples; the most notable ones among them are Kasar and Nanda Devi Mandir. These temples radiate positive energy and a sense of calmness upon their visitors. Kasar Devi Mandir, in particular, sits at a fantastic elevation of 2,116 meters above sea level, giving you spectacular views of the valleys. It's a great place to meditate and it was even visited by Swami Vivekananda in the 1890s for the same purpose. Famous personalities like Bob Dylan, Allen Ginsberg, D.H Lawrence and George Harrison have also been here. 
Pro tip – Don't leave Kasar Devi Mandir without also visiting Crank's Ridge. This ridge is also called the Hippie Hill because it became part of the Hippie trail, predominant in the 1960s. 19 kilometers away from Almora, you'll also find the Sun Temple of Katarmal, it's a 9th-century temple that features the architectural style of its time. Do consider visiting this temple if you have the time. Unlike temples elsewhere, the beauty of seeing temples in Almora is that there's usually barely any rush of devotees, giving you ample space to be silent with your thoughts.
To Savour The Culinary Delights Of Almora
The food in Almora is extremely distinct, and largely reflects the culture of people who live in these mountainous areas. You can stroll the alleys of Lala Bazaar in Almora to experience what we speak of. You'll find several small shops lined up selling delicacies of Almora. When you go, make sure you try Baal Mithai and Singal. These are the two signature sweet dishes of Almora. Lala Bazaar is the main marketplace so do expect a little bit of a hustle and bustle.
Another market that you should definitely check out for some street food is Nanda Devi Market. If you're lucky, you could be invited into the home of a local for a meal and that's the best place to get a taste of the food in Almora. Joga Lal Shah is an iconic local sweet shop that you should drop by as you check all the other local restaurants on Nanda Devi Market. Foodies, have we got your attention? Take it from us, this mouth-watering experience is certainly one of our top reasons to visit Almora.
To Be Fascinated By Almora's History
Almora has a pretty interesting history. Quick history lesson – The town is believed to be founded by the Chand dynasty in the 1560s as the prestigious capital of Kumaon. The Chands ruled until the 18th century; you can find some old buildings left by the Chands in the old town (Lala Bazaar). We highly recommend that you travel back to its past by admiring some of the old colorful buildings you'll find in Lala Bazaar.
Post the Chands, the Gorkhas (soldiers recruited by the British) captured Almora for a short time. The Pithoragarh fort built in 1789, which you can still visit today in Almora, was built by the Gorkhas. You'll also find it interesting to see houses that are centuries-old around the fort area. This is one of those must-visit places in Almora for the history buffs.
If you like visiting museums and learning more about the history of the region you're exploring, do drop by Govind Ballabh Pant Museum and Kumaon Regimental Centre Museum. Almora also has a presence of history that goes all the way back to when the stone age man felt the artistic need to carve on cave walls. You can see some of these old authentic paintings by visiting Lakhudiyar Rock Painting – it's 30 minutes away from the town center.
To Go Bird Watching
You cannot leave Almora without making sure you stroll through the Binsar Wildlife Sanctuary that sits at an elevation of 2420 meters above sea level. Since it sits at an elevation, you will have to trek uphill to get a gorgeous view, but the uphill climb is completely worth it. This place is truly a bird watcher's paradise. With over 200 bird species calling it home, you're bound to hear plenty of birds singing for you. You also get panoramic views of the Himalayan ranges from the Binsar Wildlife Sanctuary. It's no wonder that the Chand kings who ruled Almora chose this to be their summer retreat.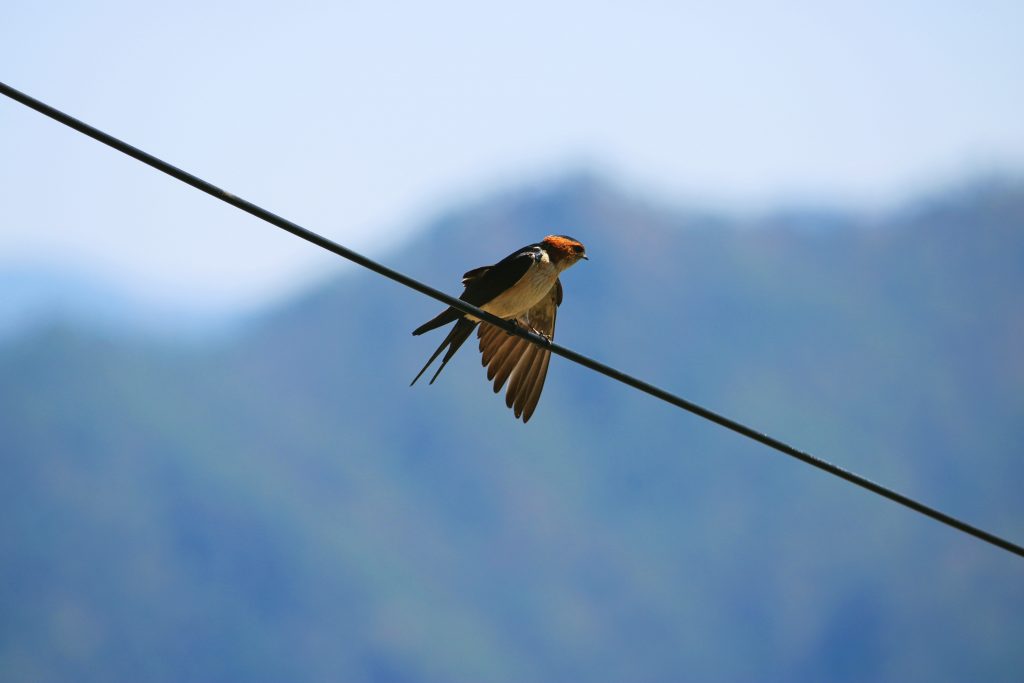 Also make it a point to look out for birds while out on treks; Almora is the base for several treks, and you're bound to spot loads of birds wherever you go.
To Shop Local
Almora is a mountainous town and the people here live super differently from the big cities. Almora is known for its Angora cloth that can protect you from severe cold weather, and for copper vessels. You can also shop for Aipan pieces. Aipan is an art form in Almora done by the locals. It involves paintings of gods, goddesses or geometric shapes done on walls or cloth. Aipan paintings are meant to guard against evil and if you like, you can purchase these decorative art pieces. 
Some of the best streets for shopping include Lala Bazaar, Johri Bazaar and Chowk Bazaar. By shopping, you get to take a little of Almora back home with you and also support locals who depend on tourists for a living. Shopping for a cause – doesn't that simply sound like one of the best reasons to visit Amora?
It's Easy To Reach
The last reason to pick Almora for your holiday in the mountains is that you can get here without having to stress. Even though it's a town that's under the radar in comparison to other destinations in Uttarakhand, reaching Almora is a breeze. From Delhi, the capital of India, Almora is just at a distance of 367 kilometers away and should take you 9 hours to get here by vehicle. Its nearest railway station is Kathgodam that's well connected to cities like Delhi, Kolkata and Lucknow. You can also consider flying into Dehradun airport and then taking a cab or bus to Almora; the journey on the road would be roughly 8 hours or so.
Conclusion
Almora is a small town with not too many residents or tourists. It sits in the lap of nature and enjoys some breathtaking views of the Kumaon Himalayan ranges. Many consider Almora to be a great place for soul searching. Whatever your reasons to visit Almora, if you're making it here, do check out our goSTOPS properties at Binsar and Almora. It's possible that it's just the stay you're looking for. At both locations, our dorms come at prices you'll like, all for a priceless view of Almora and some stellar service as well.
FAQs
Does Almora Have Snow?
Almora does get a fair bit of snow in the months of December and January. Temperatures drop to -2°C and bring snow to the region along with it.
When Is The Best Time To Visit Almora?
Anytime between March to May is considered the best time to visit Almora. It's ideally best to not visit the place during the monsoons (June to September), since the mountainous terrain is prone to landslides. If you enjoy below-freezing temperatures and would like to experience the snow in Almora, you can visit from October to February.
What Is The Height Of Almora?
Almora is at a height of 1,604 meters above sea level, making it surprisingly at a higher elevation than Dharamshala in Himachal Pradesh which is at 1,457 meters above sea level. This height enables it to have some stunning views of the Kumaon Himalayas, and these are one of the reasons to visit Almora for many people.
What Is Special About Almora?
The unobstructed views of the Himalayan mountain range is the most special reason to visit Almora. You can experience this yourself at Binsar Wildlife sanctuary, Martola, Kasar Devi and Bright End Corner.