Almora is one of Uttarakhand's hidden gems and has managed to stay hidden from the sights of mainstream tourism. The few who know of it know what wonders this little district truly possesses. Almora is blessed with foggy hilltops and pleasant weather, and several trek routes weave their way across the landscape of the Kumaon Himalayas for people to discover. Read up about these 4 tranquil treks in Almora, each of which is sure to remind you of how amazing nature's beauty can be.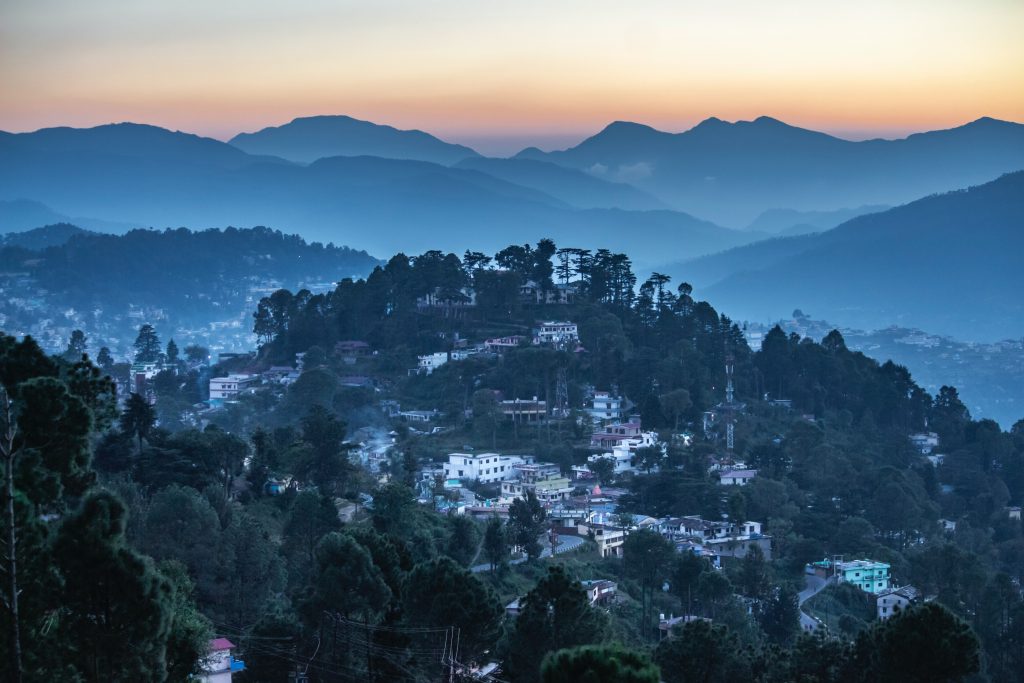 Kasar Devi – Binsar Trek
Difficulty: Easy-moderate
Duration: 4 days
Altitude: 7,900 ft
Trek Route: Almora – Kasar Devi – Katarmal Temple (Sun Temple) – Kasar Devi – Binsar National Park – Jawalbanj – Almora
The Kasar Devi – Binsar trek is actually an alternative route to get to the Kasar Devi Temple. Most people opt to hop into a car and zoom their way up, completely missing out on the serenity around them in the bargain. Choosing this trek is the way to experience that serenity, as it takes you down a quiet, scenic route to the temple. The best part? The trek is well marked and is an easy one for almost anyone at all to attempt. Plus, it is relatively unknown and overlooked, giving it the distinction of being one of the offbeat treks in Almora.
Throughout the trek, you'll be within sights of snowcapped mountain peaks. The alternative of driving means there will be fewer people on the route with you, leaving you a lot more silence and peacefulness in which to enjoy your surroundings. While you rough it out on the easy route in the day, you get to sleep in relative comfort each night, since you can choose a guesthouse over a camp. With the perfect amount of versatility and comfort, this trek is tranquility personified.
Trek Outline
You'll reach the Kasar Devi Temple on your first day itself, and the trek time takes just up to 4 hours. About 500 meters into your trek, you'll be flanked on either side by deodars and stately pines. These remain alongside you throughout the trek and are home to several gorgeous birds. Make sure you keep an eye out for these colorful flitting aviaries! Beyond the treetops, you'll be able to see the tips of snowclad mountains, even on day 1.
A 4-hour trek takes you to the Katarmal Temple, a unique 9th century Surya temple, on day 2. Day 3 will mostly involve a drive to the Binsar National Park, a sanctuary of wildlife and beauty in Almora. Once in the park, you trek to the Jawalbanj village, located in the park itself. Spend a night here, and make sure you fulfill that typical camping dream of eating a steaming bowl of Maggi! Your last day sees you journey back to Almora.
Binsar To Jageshwar
Difficulty: Easy
Duration: 2 days
Altitude: 8,000 ft
Trek Route: Almora – Binsar National Park – Dhaulchina – Jageshwar Temple – Almora/Kathgodham
When it comes to treks for beginners, not all of you may want a 4-day trek. Sometimes all we need is a weekend getaway, a 2-day break from the hustle and bustle. Sounds relatable? Then the Binsar to Jageshwar trek is for you. The trek from Binsar to Jageshwar is yet another easy trek to attempt, and the shorter duration makes it ideal for people on a tight schedule to get back home.
When you go on this trek, you'll be camping under the boughs of deodars with the starry night skies above. Interact with the warm, welcoming locals on the way, getting a glimpse into their lives. Finally, marvel at the Jyotirlinga that is the Jageshwar temple complex, with its stunning 124 crafted temples. Of the treks in Almora that have historical significance, this one tops the list.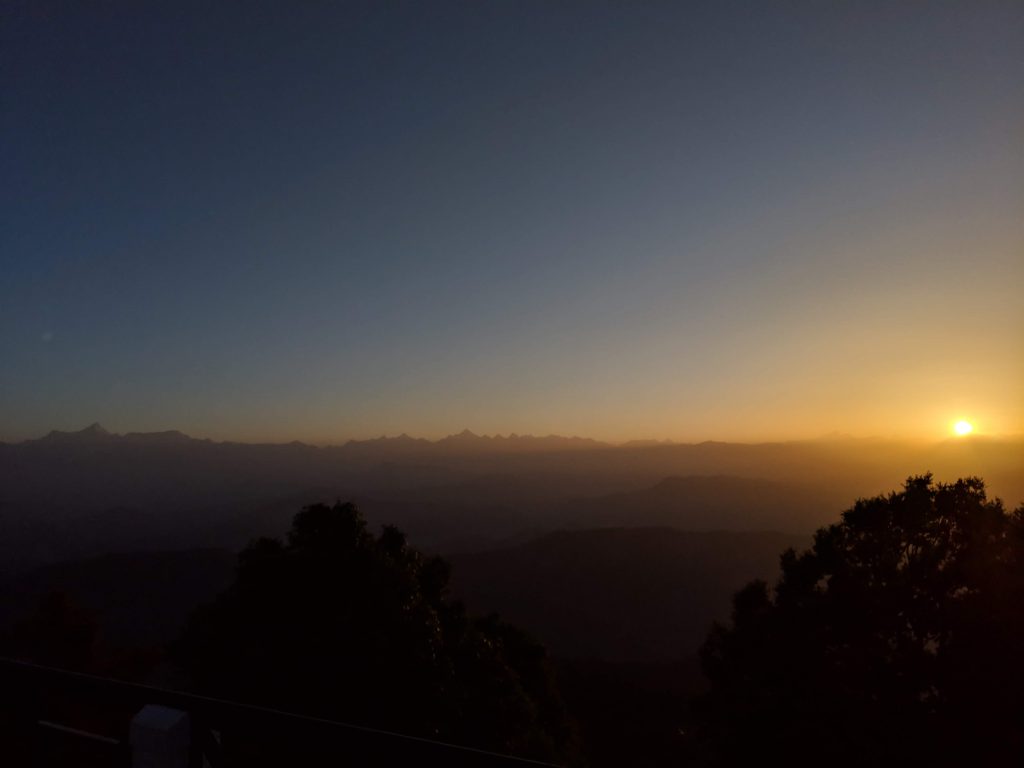 Trek Outline
You start your trek at the Binsar Wildlife Sanctuary, thriving with biodiversity and nature. Some organizers also give you the chance to start your trek from Almora itself if you feel physically capable enough. Walk through a dense pine forest, with nothing but the sounds of your feet, the chattering birds, and the many babbling brooks to keep you company. You make your way to Dhaulchina, where you spend the night.
The next morning you're greeted with a gradual descent up to the Jageshwar temple. Take your time to explore this cluster of temples, constructed between the 9th and the 13th centuries. It happens to be one of 12 Jyotirlingas, so you can pay your respects. You are then driven back down to your trek base, which is mostly Kathgodham. But keep in mind that these details can differ depending on your trek provider.
Pindari Glacier Trek
Difficulty: Moderate
Duration: 7 days
Altitude: 12,000 ft
Trek Route: Loharkhet – Khati – Dwali – Phurkiya – Zero Point – Phurkiya – Dwali – Khati – Loharket
Experienced and avid trekking enthusiasts can gobble up the Kasar Devi trek and the Binsar – Jageshwar trek for breakfast. We've got some good news for you – your search for a challenging trek that remains tranquil through and through ends here. The Pindari Glacier trek is practically a full course meal when it comes to a trek. You have the peaceful trudging through a dense forest covered in rhododendrons, the challenging navigation over streams and ridges, and the slippery steps of spider walls.
Your reward at the end of your trek is in the form of the absolutely mesmerizing Pindari Glacier at Zero Point, stealing people's hearts at 12,300 feet above the sea. And yes, this can't exactly call itself one of the treks in Almora, since it strays quite far from here. But in several cases, Almora serves as the starting point of the trek. You can call ahead and request your trek organizers to start from Almora instead of from Kathgodham, which is a common starting point.
Trek Outline
You may just make your way from Loharkhet to Kharkiya by jeep on the first day, since this offroad track is being used by trek organizers to get to Khati with more ease than before Once at Kharkiya, you trek for about an hour until you reach the village of Khati, a popular base for backpackers looking to explore the region. The trek from Khati to Dwali is a challenging one, with terrain that constantly changes, becoming steep then flat and then rambling over boulders, going straight then curving sharply.
Dwali to Phurkiya is compartively more relaxing. In either case, when your tired bones finally lay down to rest as you camp under the stars, you're bound to forget some of your aches and pains from both days. Day 4 has the most pleasant trek, and also has your reward, as this is when you lay your eyes on the Pindari glacier in all its might. You take the same route back to Loharkhet.
Zero Point Trek
Difficulty: Easy
Duration: 3 – 5 hours
Altitude: 7,940 ft
Trek Route: Binsar Wildlife Sanctuary (routes differ)
The easiest of the lot, the lowest altitude, the shortest, the Zero Point trek could be almost ignored for the other 3, if it wasn't for the fact that it is one of the most popular treks in Almora. Located in the lush, thriving Binsar Wildlife Sanctuary, the Binsar Zero Point trek has the best viewpoint in all of the town of Almora. You look out over the treetops onto the majestic Kumaon Himalayas. Look closer, and you get to see not just one, but multiple mountain peaks! These include the ranges of Nanda Devi, Panchchuli, Shivling, Chaukhamba, and Trishul.
The trek route is far from challenging, and is one that is perfect for families to go on. As you walk along, you get to take in the many lives that co-exist in the Binsar Sanctuary. These include jackals, porcupines, and the ever-elusive leopards. There's no need to leave your parents or baby cousins behind, since everyone can attempt the trek, and everyone is sure to enjoy it. The best time to visit is from January to April, and from September to November.
Trek Outline
Since the trek is a fairly easy one, you won't need to hire a guide. The trail is very well marked, and as long as you stick to it, there's no danger of wandering off. Pay for your entrance at the park gate; the fee is INR 150 for an adult for a day, and head off into the forest. Starting off right from the gate itself gives you a distance of around 11 km to cover. If you're worried about burning out before you get there, hire a jeep at the gate to get you to the Tourist Rest House. You can catch the trail from here.
Once you get to Zero Point, you climb a sturdy watchtower to get a 360° view of the Himalayas. You might just be left feeling surprised, after all, it's unusual to get a view so rewarding after a trek this easy. This is the beauty of this trek, which is also why it's a well known one. But if you're dreading a crowd disturbing your tranquility, don't, since the trek manages to retain its silence and peacefulness despite its fame.
Conclusion
Consider these 4 tranquil treks in Almora to be a precursor to the beauty that the Kumaon range holds. If you'd like to spend some time exploring this hidden region, whether it's on holiday or a workation, we've got you. goSTOPS is present in Binsar as well as in Almora. Both locations have comfy dorms, and our signature fun social places and common rooms, and all for affordable rates.
FAQs
Why Is Almora Famous?
Almora is known as the home of the Binsar Wildlife Sanctuary, attracting many tourists each year. It is also the base to several treks in the Kumaon region. Additionally, it gets its fame for some of the most uninterrupted views of the Himalayas in Uttarakhand.
Is Almora In Kumaon?
Yes, Almora is a district, located in the Kumaon division of Uttarakhand. It is also known as the cultural capital of Kumaon.
Which Is Better Nainital Or Almora?
Both destinations have views that are equally stunning, and it would be unfair to pit one against the other. However, Nainital is a much more popular destination, and owning to the higher footfall, has better accommodation option and amenities. If that's what you need for a good holiday, Nainital would be better. However, Almora has an offbeat charm and an air of being untouched. Backpackers and offbeat travelers would love it here.
Is There Snowfall In Almora?
Yes, Almora sees a bit of snowfall each year during the winters. The snowfall is rarely enough to shut the region down, in fact, the Binsar sanctuary has some stellar views from Zero Point in the winter. The Zero Point trek is one of the few winter treks in Almora that is easy to attempt.