Situated in the scenic splendor of the Western Himalayas, the state of Himachal Pradesh is nothing less than a traveler's paradise. From snow-peaked mountains and lush green valleys to alluring hill stations and soothing monasteries, every location holds a unique charm that enchants travelers from all over.
While there's so much to explore in the 'State of All Seasons', one of the most popular ways of experiencing it is through backpacking. Along with being a budget-friendly option, backpacking is also great for travelers who wish to get a wholesome experience. If you too are interested in backpacking in Himachal, we've got all the relevant information you need. From ideal backpacking destinations to tips for backpacking on a budget, we've got everything covered!
Popular Backpacking Destinations In Himachal
Picture this: walking across an intricate network of mountain chains, breathing in the fresh air, and basking in nature's beauty of lush green valleys with milky cascades to take a dip in. This is exactly how it would feel to go backpacking in Himachal. While nature's marvels are sprinkled all across the state, here are some of the most popular backpacking destinations in Himachal:
Kasol
Nestled in the Parvati Valley, Kasol is a great destination for backpackers who wish to soak in the beauty of nature. It offers plenty of trekking opportunities and often serves as a basecamp for people traveling to higher altitudes.
Kasol is popularly referred to as the Amsterdam of India because of the stellar beauty here. It offers a good combination of thrilling treks, flavorsome food, and welcoming hospitality. Don't forget to spend an evening along the banks of the River Parvati; the roaring river has an enchanting vibe to woo all backpackers.
Dharamshala – McLeod Ganj
Dharamshala has recently gained so much popularity that we bet you've either been here before or have this place on your travel bucket list. A trip to both these wonderful destinations in Himachal is sure to make you fall in love with its charm and beauty. Filled with magnificent views and lively attractions, there's never a dull moment when roaming around the bustling streets of McLeod Ganj.
Backpacking in Dharamshala will also give you a glimpse of the rich Tibetan-Buddhist culture of the region. Plus, a visit to the famous Dalai Lama Temple is sure to calm you with its serene and soothing atmosphere. Its the perfect place to unwind when your legs get sore from all the walking around.
Spiti Valley
Located precisely between the lands of Tibet and India, Spiti Valley is the perfect escape to unwind from the cacophony of city life. It is situated at an altitude of about 12,500 feet above sea level and experiences cool summers but bone-chilling winters. You can indulge in river rafting, fossil hunting, star gazing, camping, and trekking, all at this hidden gem, making it one of the best places to go backpacking in Himachal.
Triund
Located in the midst of the Dhauladhar mountains, Triund is yet another beautiful destination in Himachal that you can't miss visiting. Offering a breathtaking view of the Kangra Valley, Bhagsu Waterfalls, and Gallu Devi Temple, trekking to Triund is ideal for all kinds of people. The trekking trail is lined with towering deodar and oak trees. The picture-perfect view of the snow-clad mountains from atop feels like nothing less than a slice of paradise on Earth. This destination has to find a place in the itinerary of all backpackers in Himachal.
Tosh
Untouched by modernization and the fast-paced city life, Tosh Village in Himachal offers the perfect mix of tranquility and serenity you've been yearning for. The picturesque village is filled with snow-laden mountain slopes and gorgeous waterfalls. Many people also flock to this village to practice yoga and meditation in fresh and peaceful surroundings. The months from April through October are a popular time to visit the quaint village of Tosh.
Best Time For Backpacking In Himachal
Would you prefer exploring this scenic beauty with a lot of sunlight and pleasant weather? Then the summer months from March to June are a good time to visit the state of Himachal Pradesh.
But if you wish to unleash your adventurous side, go backpacking in Himachal in winter. The months from October to January are the best time to experience the fun of ice skating, heli-skiing, and trekking. This state has a charm of its own in both the summer as well as the winter months, so you can go backpacking in the season you most want to experience!
Tips For Backpacking In Himachal On A Budget
You can save considerably on your transportation and accommodation costs by traveling in the off season or shoulder season. In Himachal, the off season is usually between July to September and then again during January and February. If you don't wish to travel during the monsoon, you can also visit Himachal in October and November. This is when the winter peak is just about to start in the state.
If you intend to plan an adventurous itinerary, you'll hardly be spending much time in a hotel room. Instead of spending a hefty amount on hotel rooms, try looking for alternatives like a guest house or a hostel. You can get all your required amenities and accommodation at reasonable rates. If you're traveling in a group, you could also make use of the group discounts available at some hostels. Psst, check our goSTOPS hostel to find some!
To taste the authentic cuisine of Himachal Pradesh, try eating at local stalls and restaurants. You can relish the local cuisine and also save a few bucks at the same time. However, if you're an adventurous foodie looking for some unique cafés, check out our list of the must-visit quirky cafes in Manali.
Try using public transportation as much as possible, especially when traveling from one location to the other within the state. If you're traveling in a group, the other alternative could be to rent a vehicle for the required time period. For long-distance routes, try to pre-book your transportation while also keeping an eye out for seasonal deals and discounts.
Things To Keep In Mind When Backpacking In Himachal
Keeping your luggage to the bare minimum is the main essence of backpacking. Generally, backpacking involves a lot of walking, hiking, and trekking along challenging terrains, that too with your backpack in tow. You'd better pack light and get in some exercise; you need to up your fitness game and build your stamina for the trip.
Ideally, always keep some cash handy as not all places in the mountains will accept cards or other modes of payment. Going to the ATM may also not always be a feasible option, so do be prepared with another alternative. Just be careful of your belongings and valuables especially when you're traveling with a bunch of strangers.
If you plan to go for an intermediate or higher level of trekking, do try and read up a little about the location you're visiting and its prevalent conditions. You will need to pack the required items and accordingly make your necessary arrangements as well.
Ensure you keep all your important documents on you at all times, along with a list of emergency numbers. These include contacts of the police, ambulance, tourist information office, and hostel or hotel you're residing in. Also include a personal contact to reach out to in case of emergencies.
Conclusion
One of the most enigmatic and scenic states in North India, Himachal Pradesh is a treasure trove of nature's hidden gems. Backpacking in Himachal is a one-of-its-kind experience, just like a stay at our goSTOPS hostels. You'll witness amazing hospitality and have plenty of entertainment options to explore. What's even better is that you might even get to meet like-minded travelers to bond with and enjoy the amazing views of the state. If you're looking to backpack in Himachal on a budget, this sure is your chance to grab!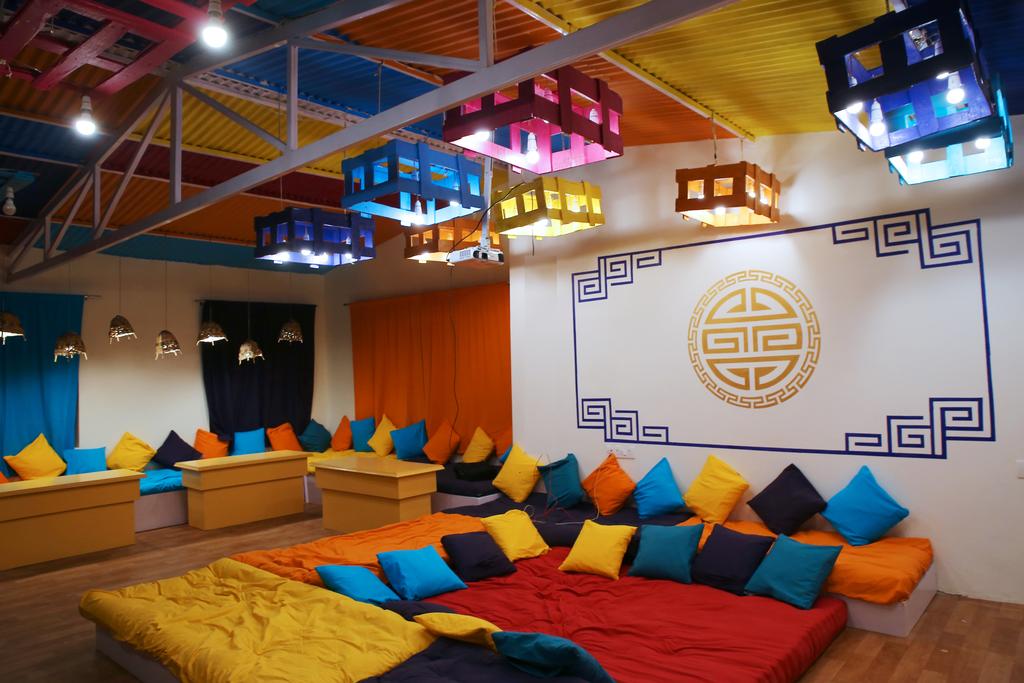 FAQs
Why Is Himachal Pradesh Famous Among Travelers?
Picturesque hill stations, unending sports and adventure activities, lip-smacking cuisine, and soul-pleasing landscapes, the state of Himachal Pradesh has everything a traveler could ask for. Whether you're planning a romantic getaway or are looking for some thrilling adventure, Himachal has a plethora of things to explore for all kinds of travelers. Need we say more about why Himachal Pradesh is famous among travelers?
What Should I Pack For Himachal?
Depending on the season you're traveling in, you should ideally pack heavy woolen clothes or warm clothes, sunscreen, moisturizer, good rubber-soled shoes, and personal medication, for your trip to Himachal. Apart from these, do make sure to carry your ID proofs and keep all emergency numbers handy. If you're traveling during winter, you might also want to pack a windcheater and polarized sunglasses as well. Don't forget to pack your camera with sufficient batteries or memory cards, you wouldn't want to miss out on the perfect Instagram photos!
How Many Days Are Enough For Himachal Pradesh?
Around 7 to 9 days are enough for traveling in and witnessing the best of Himachal Pradesh. You can easily visit all the top places like Shimla, Manali, Dharamshala, Dalhousie, McLeod Ganj, Rohtang Pass, and Khajjiar within this time period. If you wish to explore further, you may even choose to extend your trip to around 15 days or more.
Which Is The Coolest Place In Himachal Pradesh?
Spiti Valley is the coolest place in Himachal Pradesh. The cold desert valley is located at a height of 12,500 feet above sea level, and experiences spine chilling winters, with sub-zero temperatures becoming more frequent with each passing day.