A little farther from Manali, the Himachal destination of fame, there's the tiny ancient town of Naggar. Just head 22 km north from Kullu to find yourself here, surrounded by snow-covered peaks and enthralling waterfalls. Hometown of some of the great Kullu Rajas almost 1,400 years ago, this town has a royal history.
Residing at an altitude of almost 1,800 mts on the bank of the river Beas, Naggar is the former capital of Kullu. The great Raja Visudhpal founded it, and it is home to several temples. But Naggar sure has much more than breathtakingly beautiful views and pristine landscapes. One thing that makes it stand out as a charming, historically significant place is the architectural styles it boasts.
It won't come to you as a surprise that the vast history of this small town has influenced its architecture and made it remarkable till date. If you're keen on exploring it, keep reading as we uncover the charming architecture in Naggar to satisfy your curiosity.
Naggar Castle: Classic Kathkuni Architecture
Known for its exquisite wooden carvings, the Naggar Castle was built in 1460 AD. This castle is a classic example of the Kathkuni or Himalayan style of architecture. An amalgamation of stone and timber architectural styles, the castle will take you back to its glory days. It's definitely one of the most popular sites to admire the architecture in Naggar, so make sure you don't miss it.
Presently, the castle has been functioning as a heritage hotel since the Himachal Tourism District Corporation reconstructed it in 1978. You'll be transported back in time through its history when you take a tour of the castle. But if that's not enough, book a stay for a night here and live out those royal dreams yourself!
One of the most amazing things about this castle is that no nails or iron were used to build it. Questioning the old castle's construction? Then you'll be astounded to know that it withstood a devastating earthquake back in 1905. It has huge doors made of a single piece of wood, giving you those rustic feels as you walk through. It also has a courtyard right in the center, along with arched balconies. From here, you'll get to see the hustle and bustle of the local townsfolk, and the breathtaking, picturesque valley beyond.
Speaking of the interiors of the castle, stone and wood grace the elegant fireplaces and staircases. The Jagatipatt Temple at Naggar can't be forgotten when it comes to its wooden architecture; you can easily drop in since it sits in the courtyard of the castle.
As you take a walk in the castle, you'll find the entire structure made of wooden beams with alternate layers. The splendor and magnificence of this castle have even captured the hearts of many Bollywood moviemakers. Yes, you Bollywood buffs can squeal with delight; famous songs like 'Ye Ishq Haye' and 'Piya O Re Piya' were shot right here at Naggar castle. With its wooden carvings, amazing views, and the lush forests surrounding it, the castle is a feast for everyone's eyes.
Tripura Sundari Temple: Unique Blend Of Conical Shikhara And Wooden Pagoda
The Tripura Sundari Temple is in close proximity to Naggar and is easily accessible from Naggar Castle. This colossal wooden temple boasts the pagoda style of architecture with its three roofs. One thing is certain, any tourist who visits the temple will be blown away. After all, the unique architecture is only complemented by the surrounding scintillating landscape!
This amazing structure is built with deodar wood, and its three-tiered roof adds to its magnificence. The Chhatra or triple umbrella form at the top of the temple is an aesthetic form of art. You can't help but marvel at the slanted roof of the temple where nestles the conical-shaped shikhara. Getting closer, you see the massive wooden doors and pillars with intricate carvings woven through. With detail and artistry everywhere, the temple is truly one of a kind.
As you enter the courtyard of the temple, a carved wooden Ganesha statue will welcome you inside. This temple is worth exploring, not just for religious importance, but also for its exceptionally beautiful carvings. You'll find both stone and wood statues of various deities. If you want to experience the region's rich culture, visit in May when the temple hosts the 'Sharhi Jatra' fair. You can participate in the fair that is celebrated to honor and praise the deities here.
Chamunda Bhagwati Temple: A Masterpiece Of Carvings
Since Naggar is a spiritual hub in Himachal Pradesh, you'll find plenty of temples depicting unique architectural styles, each portraying stories of several Hindu deities. One such impressive architectural structure with great religious significance is the Chamunda Bhagwati Temple. Just a 4 km ride from Naggar, and you'll reach the Nishala village which is home to the Chamunda Bhagwati Temple. This 16th-century temple is located in the Kangra district and is only 10 km away from the famous Palumpur city.
You'll feel like you're daydreaming when you look at this prestigious temple that has a unique, ancient architectural style. It will make you reminisce about the epic mythological stories it immortalizes, as it has several paintings that portray the story of Mahabharata and Ramayana. When you enter the temple, you will be greeted by several idols of Hanuman and Goddess Chamunda Devi. Trust us, an amazing view from the hilltop of the temple awaits you, where the sight of the spectacularly beautiful Chamba Valley will surely blow your mind.
Apart from the paintings and idols in the temple, you also get to see several Hindu shrines. One can't help but amaze at the silver sheets in the temple that have animal carvings on them. An interesting thing to note is that the entire structure of the temple was built only using wood, and the temple has gabled roofs. Another distinct feature that makes this temple a masterpiece is the cave-like structures that depict and showcase the statues of Lord Shiva and Saraswati. An ideal time for you to seek blessings from this temple would be during the Navratri season.
Roerich Art Gallery: An Aesthetic Treat
Going to Naggar and not visiting the Roerich Art Gallery is like going to Amsterdam and not paying a visit to the Anne Frank Home. Your trip to Naggar will definitely seem incomplete if you don't have Roerich Art Gallery on your Naggar bucket list. This art gallery was once the home of the legendary Russian painter Nicholas Roerich. You might probably recognize him as the father-in-law of Devika Rani, the famous actress of Hindi cinema.
It'll take you around 1.5 km from Naggar Castle to reach this enchanting art gallery. One of the best things about taking a walk from Naggar Castle to reach here is that you get to pass through beautiful gardens that lead the way to this two-story house. Just one look at this home and you will feel a sense of tranquility settle inside of you.
You'll see that the ground floor of Roerich's house is now a museum, and is a popular tourist attraction. There's no doubt that you'll be wonderstruck when you enter this art gallery filled with exquisite paintings. Each of these paintings portray different landscapes and mountains, all Roerich's inspiration from the town of Naggar and the Himalayas themselves.
Not to be a killjoy, but tourists are not allowed to enter the rooms on the first floor of the house. But hey, we have somewhat of another option – peek through the beautiful glass windows of the house for a glimpse of Roerich's original furniture and interiors. In terms of architecture, you'll find a marked difference: instead of the detailed wooden carvings of the castle, you find white railings resembling a picket fence. The old vintage car and the stately furnishings speak more of comfort than royalty. After all, the Roerich family did call this their home for several years.
The balconies of this house give you a beautiful view of the surrounding landscapes that will seem to call out to you. Standing here, you can almost see how Roerich fell so deeply in love with the mountains. Doesn't that make you want to go explore this art gallery and refine your aesthetic tastes?
If you're still bummed about not being able to head up on the first floor, head back to the Naggar Castle. The fresh cakes from the Naggar Bakery will turn that frown upside down.
Gauri Shankar Temple: Remarkable Shikhara Style Architecture
If you take the main road below the Naggar Castle, you'll reach the Gauri Shankar Temple, built in the honor of Lord Shiva. Don't miss out on this remarkable monument as it's considered to be one of the last structures of the Gurjara-Pratihara traditions. You'll see that the temple has carved panels and open pavilion styles, true characteristics of the Gurjara-Pratihara traditions. The essence of such a significant place truly comes from its history. Staying true to this, the origin of this temple can be traced back to the 12th century.
Want to know where you can get the best view of the Kullu valley? Well, tourists don't visit the temple for nothing. Along with splendid architecture, you also get to see the snow-capped peaks of the Kullu valley as the temple is located just facing these beautiful mountains. When you have a look at them, it'll remind you of Wordsworth's famous quote from Tintern Abbey 'Nature never did betray the heart that loved her'. Whether you're on a solo trip or with your friends or family, this temple should make it to your go-to places list.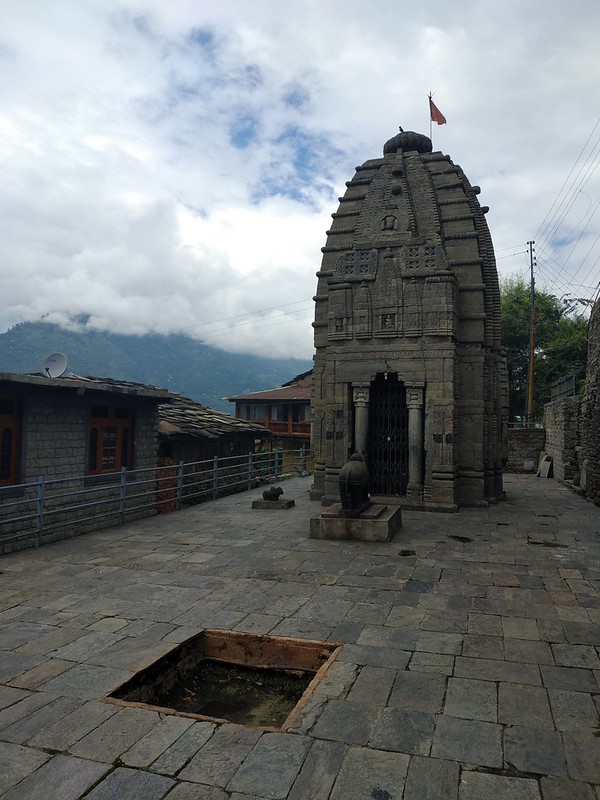 For those who are still giving the place a second thought, here's an insight into what you'll miss out on if you don't pay your respects to this temple. The shikhara-style architecture of the temple makes it totally unique and worth visiting. Just so you know, 'shikhara' is the Sanskrit word for a mountain peak, and this style refers to a spire above the monument with mandapas or halls. The square-shaped base and dome-shaped top of the temple are sure to grab your attention. Other wonders that'll catch your eye are the stone carvings that depict images of God Ganesha, dancing girls, and people playing musical instruments.
One of the best things about this place is that the temple is in close proximity to the Kullu bus stand. You'll find that the temple rests right at the center of the courtyard where the locals carry out several celebrations and festivals. One can know more about the culture and history of the place by interacting with the locals here.
Conclusion
These were just a few handpicked styles of architecture in Naggar that have great significance along with amazing views. Not always will you get a chance to explore such styles of architecture that have a hidden past attached to them. Although Naggar is a small town, the culture of this place definitely cannot be underestimated. This charming little town is a treasure-house of some ancient and noteworthy kinds of architectural styles, making it one-of-a-kind.
Another unique experience you can have is by staying at the goSTOPS Naggar hostel, where bumbling, like-minded travelers bond with each other in comfy dorms and colorful common rooms. Tempted? You should be!
FAQs
Who Built Naggar Castle?
Raja Sidh Singh built the Naggar Castle in 1460 AD. Today, it is also a heritage hotel.
What Is The Shape Of Naggar Castle?
The Naggar Castle displays Kathkani style of architecture, traditionally known as the Pahari style of architecture. You'll find wooden carvings and arched balconies in this beautiful castle surrounded by beautiful landscapes.
Is Kullu A District?
Yes, Kullu is a district in the state of Himachal Pradesh.
Where Is Naggar In HP?
Naggar resides on the bank of the Beas river, in the Kullu district of Himachal Pradesh. It is an ancient town that was once the royal abode of many Kullu kings as well as the capital of the Kullu kingdom.