Once considered to be the capital of Kullu, the picturesque village of Naggar is a hidden gem in the Himalayas. The town sits on the left bank of the Beas River and is a popular destination among people seeking a break from the urban hustle and bustle.
It's offbeat location also protects it from the eyes of tourist crowds that usually flock to the major hill stations of Kullu and Manali. This makes Naggar a rather fascinating destination to scout. If you wish to visit this toytown but aren't sure of what to explore, here's our pick for the top 6 bucket list things to do in Naggar. From ancient stories to delicious cuisine, there's something to please all travelers.
Revisit The History Of Naggar Castle
Built around 1460 AD, the Naggar Castle is one of the most popular places to visit in Naggar. A classic example of the traditional Himalayan Kath Kuni architecture, Naggar Castle is an ancient masterpiece. Today, it serves as both a rest house and a historical tourist attraction.
The castle has a central courtyard and a number of arched balconies offering a picturesque view of the Beas Valley. The alternate layers of wooden beams and proportionate stone walls not only enhance the charm of the castle, but the unique construction has also withstood the test of time.
Bollywood buffs, here's something for you. This splendid masterpiece has also caught the attention of movie makers; songs such as "Yeh Ishq Haye" from the Bollywood movie Jab We Met have been shot in the castle's vicinity. All you Aadityas and Geets can live out your filmy dream here. Currently run by the Himachal Pradesh Tourism Development Corporation (HPTDC), Naggar Castle is now a heritage hotel. It also houses a restaurant and a museum, along with a few rooms for accommodation.
After soaking in the serenity of the castle, you can also visit the Jagati Patt Temple located on the premises. Later, make sure you gorge on some Garhwali food at the small restaurant located within the Naggar Castle complex.
Enjoy Trekking And Fishing
The geographical layout and terrain of Naggar makes it suitable for all levels of trekking. Whether you're a beginner stepping foot into the world of trekking or an experienced trekker who loves to take on challenges, there are several trekking routes to explore in Naggar. For one, the Chanderkhani Trek to Malana in the Parvati Valley is very popular among trekkers. The trek from Bijli Mahadev to Naggar is equally popular among people wanting to soak in the best of nature.
Close to Naggar lie a few enchanting villages that are fascinating for all nature lovers to explore. Rumsu Village, Khaknal, and Sajla Village are among the few towns to name. You can easily access these villages on foot from Naggar, and the locals ensure they are well-maintained. People are also fond of frequenting Jana Village, mainly to enjoy a serene meal under the Jana Waterfalls.
Along with trekking, Naggar is also a popular spot for trout fishing. You can sit on the banks of the mischievous Beas River and enjoy fishing in the gurgling blue waters. There are also a number of freshwater lakes in and around the secluded town, perfect for a morning fishing session. During the nights, if you're feeling adventurous, you can also camp outdoors under the starlit sky. Sure, you'll get that once-in-a-lifetime photo of the stars and constellations, but nothing beats the once-in-a-lifetime memory you'll make.
Go On A Temple Tour Around The Town
Naggar is a spiritual hub in Himachal Pradesh, thanks to the numerous temples sprinkled across the town. We've already mentioned the Jagati Patt Temple located in the open courtyard of the Naggar Castle. The stone-walled structure has triangular wooden roofs and windows. These are lined with intricate carvings of fluid motifs, forming a beautiful pattern. The temple houses a sacred slab of stone from which it derives its name. Legend has it the local deities turned into a swarm of honeybees that carried and placed the slab inside the holy premises. Though we must mention, there aren't any bees hovering around to scare you so don't miss out on it!
Another notable religious structure in Naggar is the Gauri Shankar Temple. Located close to the Naggar Castle, this temple is one of the last structures of the Gurjara-Pratihara traditions. The ancient temple dedicated to Lord Shiva was built around the 11th century, and locals believe it was unearthed in an excavation. It is made entirely of stone, and the finely carved shikharas are a known example of temple architecture in North India. The Archaeological Survey of India (ASI) currently maintains the rich architecture of the Gauri Shankar Temple.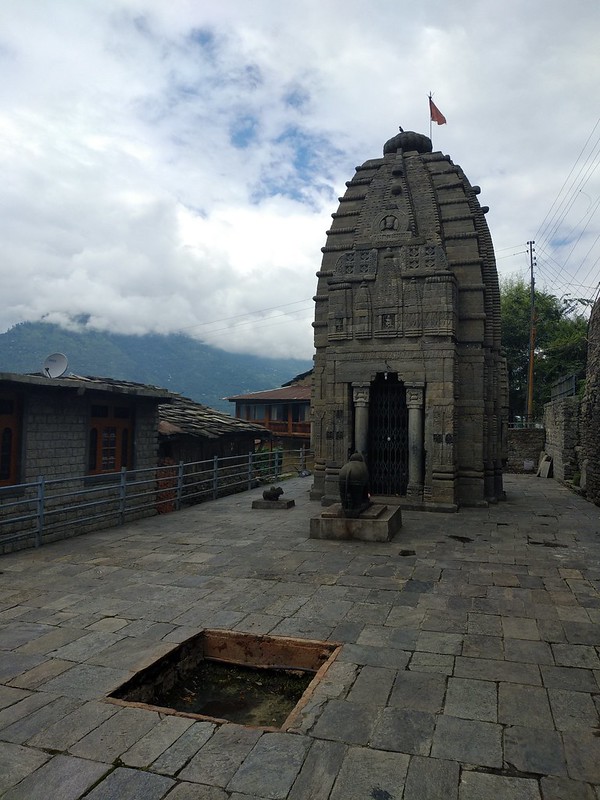 Temple-hopping in Naggar would be incomplete without a visit to the famed Krishna Temple. Popularly referred to as Muralidhar Temple, the structure is believed to be over 1,000 years old and is an example of pyramidal carved-stone temple architecture. The Tripura Sundari Temple is yet another known name in Naggar, and is famous for its pagoda style of architecture with three distinct roofs built completely of deodar wood.
Along with these temples, another establishment that offers peace and tranquility is the Dagpo Shedrupling Monastery. Dedicated to the Dalai Lama, this monastery offers some of the most breathtaking views of the fascinating village. Even if nature is your only religion, do visit these temples for their beauty and historical relevance. The bonus is that you'll find plenty of nature around you as well!
Learn About The Local Art And Culture
One of the most unique aspects of Himachal is its culture and traditions. While Naggar might just be a small town with limited inhabitants, it does house the Roerich Art Gallery that offers a glimpse of Indo-Russian culture. Do you remember the lines of Robert Frost's famous poem, Stopping By Woods On A Snowy Evening? The path leading from Naggar Castle to the Roerich Art Gallery will give you exactly those feels. Lined with tall deodar trees, a stroll through the dense green woods will bring a certain sense of calmness to both your heart and mind.
Nicholas Roerich, after whom the gallery has been named, was a famous Russian painter. He called Naggar home for around the last 20 years of his life. The art gallery houses paintings made by the artist that are wonderful depictions of Himachal's picturesque landscapes. You can't enter the upper floor of the gallery, but you can definitely peep through the windows and get a glimpse of the immaculately kept home.
A short walk away from the gallery is the Urusvati Himalayan Folk Art Museum. The Museum is a research center that studies the history, art and culture of the Himalayan region.
Treat Your Tastebuds With The Local Cuisine
Siddu, bhey, sattu, kodra, jatu, vada… no, these aren't just random words! These are all names of traditional Himachali dishes, each as mouth watering as the last. Though Himachali cuisine is fairly simple, some of the dishes are almost exclusive to the state. One such dish is siddu, a kind of bread prepared from wheat flour, and served alongside vegetables or mutton.
Similarly, as the name suggests, Kullu Trout is another special Himachal dish, best prepared in the Kullu region. The fish is first marinated in very little spice and cooked until it's melt-in-your-mouth soft. It is then served with vegetables or boiled potatoes, and is considered to be one of the most nutritious as well as tastiest foods in Himachal.
Vegetarians needn't be disappointed – dishes like bhey and dhaam are there to tickle your tastebuds too. Bhey is a local dish prepared with lotus stems, onion, ginger and garlic. Dhaam on the other hand includes rice, curd, rajma, and other lentils, and is specifically prepared during festivals and celebrations. Only specialized chefs called 'botis' can make it, since they're well versed with the cooking technique – talk about specialties! To get a taste of the local cuisine, try eating at small roadside shacks and restaurants.
If you have a sweet tooth and are craving some tasty dessert, don't forget to visit the famous Naggar Bakery. Located just across the Naggar Castle, this adorable and cozy bakery offers some mouthwatering cheesecake, and rich, warm chocolate cake. If you fancy quirky cafés or prefer multi-cuisine restaurants, Nightingale Restaurant and Alliance Guest House are some of the popular places to eat at in Naggar.
Shop To Your Heart's Content At The Local Markets
Do Tibetan and Himalayan handicrafts enamor and fascinate you? Or have you always wanted to feel the warmth of Kinnauri shawls and Kullu caps? If you've been longing for these things, the markets of Naggar will surely leave you delighted. Rugs, natural oils, and pullans (shoes made of wool) are some of the unique items to shop for in Naggar. If you wish to buy handicrafts and paintings, Poonam Art Gallery is a famous shop to explore, and for all the other local items, the Himalayan Market is your place to be.
Since Manali is only an hour's drive from Naggar, shopaholics can also choose to visit some famous shopping spots in Manali like the Mall Road, Manu Market, Himachal Emporium, and Tibetan Market. You might just end up filling your bags and emptying your pockets while strolling around the colorful and aesthetic market lanes!
Conclusion
A visit to Naggar doesn't always grab a spot on the itinerary of travelers exploring Himachal. But this quaint little town has something to offer everyone. Filled with numerous temples and ancient vibes, Naggar is sure to help you find your calm in the chaos. It also offers plenty of trekking and fishing opportunities to feed your adrenaline rush.
Moreover, it's close proximity to the major hill stations of Kullu and Manali make Naggar one of the ideal destinations for travelers to explore. This is especially advisable for those who wish to stay away from the mainstream tourist crowd. And if you've decided to take the unconventional route, don't hesitate to switch from the mainstream hotel experience to a livelier and budget-friendly stay at our goSTOPS Hostel. While a bucket list is sure to be subjective, we're affirmative that meeting like-minded travelers will only enhance your overall experience.
FAQs
What Is The Best Time To Visit Naggar?
Naggar experiences a pleasant climate throughout the year, making it an ideal destination to visit during any time of the year. The months from September to November are usually the best time to visit Naggar. The rains subside by then and winter is just about to begin, making it the perfect weather to admire the lush greenery around the town.
How Do I Get To Naggar?
There isn't any airport or railway station situated within the town of Naggar. The closest airport is the Kullu-Manali Airport at Bhuntar while the closest railway station is at Joginder Nagar. You can travel to Naggar through Manali, which has good connections to both the airport as well as the railway station. The other way to get to Naggar is by road. Naggar is at a distance of around 22 km from Manali and around 512 km from Delhi.
What Is Famous About Naggar?
The stately deodars, razor-thin waterfalls, and snow-covered mountain peaks all add a mystical touch to the quaint town of Naggar. The ancient appeal of the town combined with beautiful views and prominent structures such as Naggar Castle, Nicholas Roerich Art Gallery, and the Gauri Shankar Temple, are all the reasons that make Naggar a famous destination in Himachal Pradesh.
How Many Temples Are There In Naggar?
Considered to be one of the most charming religious centers in Himachal, Naggar has several religious places. While it's difficult to pinpoint the exact number of big and small temples, a few famous ones definitely include Gauri Shankar Temple, Jagati Patt Temple, Tripura Sundari Temple, Chamunda Bhagati Temple, and Krishna Temple.