Anyone who has seen the Bollywood movie 3 Idiots has fallen in love with the film for more than one reason. Yes, the cheerfulness and optimistic attitude of Phunsukh Wangdu (a.k.a. Rancho), wins our hearts. But, it's also the towering mountains, sparkling lakes, and clear skies of Leh Ladakh that hit the right spot.
Naturally, these places are on the travel bucket list of people from all over. If you've finally decided to tick these places off your list, one of the important things to figure out will be packing for the trip. The topography and weather conditions of Leh Ladakh make it different from the other tourist places. To help you get started with the planning, here's a few packing tips for Leh Ladakh.
Things To Carry For A Trip To Leh Ladakh
Taking a trip to any location requires a good amount of planning, and packing will inevitably be a part of it. When it comes to Leh Ladakh, you've got to be well-prepared with a lot of things. The region has sparse numbers of a few necessities like mobile connectivity, ATMs, eateries, and fuel stations, which is why preparation is key. Here's a list of all the basic things you need to carry when you're planning a trip to Leh Ladakh.
Clothing And Footwear
The high altitude of Leh Ladakh means the temperature drops frequently and weather changes rapidly. In such conditions, it's important for you to carry suitable clothing and footwear for traveling in Leh Ladakh. Carry multiple layers of clothing to keep you warm and comfortable. Ideally, carry regular full-sleeve cotton t-shirts, sweatshirts, comfortable lowers or track pants, a few pairs of socks, thermals, cap, gloves, mufflers, and jackets.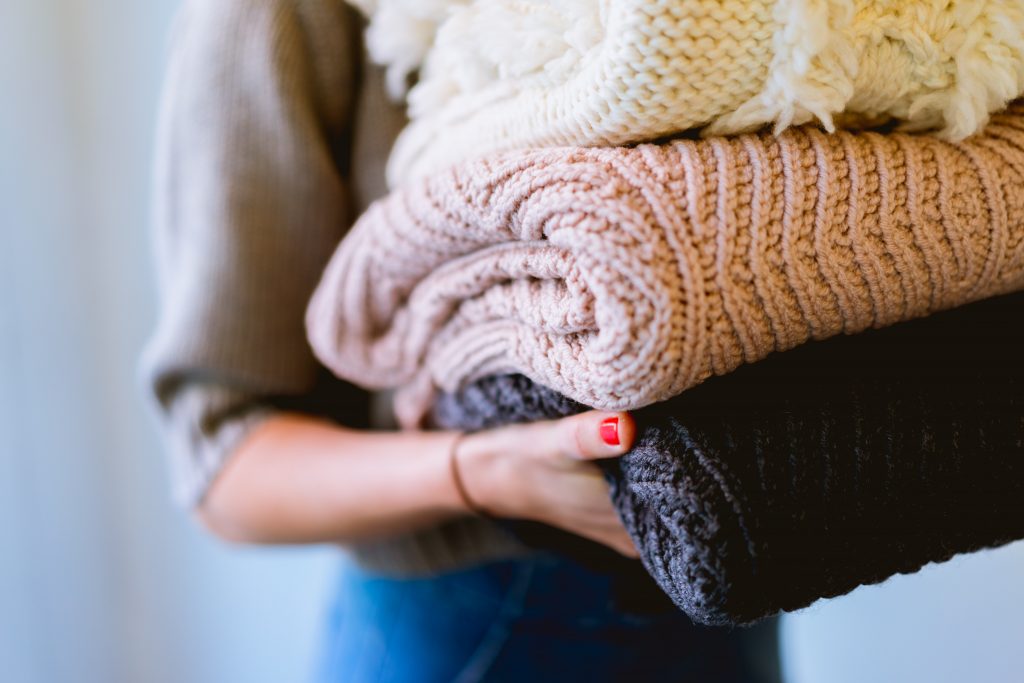 If you're traveling in summer, you can carry a cardigan, a pullover, or a sweatshirt. But for the chilly months of winter, make sure to carry heavy woolens and jackets to keep you warm. Do keep a waterproof jacket or a windcheater with you as well because the weather conditions can be unpredictable. This saves you the hassle of looking blue in the face when you're clicking those perfect pics!
The ideal footwear would depend on the choice of activities you wish to engage in. For instance, comfortable sneakers or sports shoes will be good if you're only planning to go sightseeing. Make sure to carry furry or insulated boots in winters and waterproof boots to navigate across streams in the monsoon. Losing your toes to frostbite is an underestimated threat. So, if you do want to do something whacky like going for a swim in icy cold water, make sure you have a warm change of clothes and shoes nearby.
Accessories
Apart from suitable clothing, you'll also have to carry a few additional accessories to protect your skin from the harsh weather conditions. Sunglasses and sunscreen lotion with SPF 30 and above are a must. You should also carry a good moisturizer, lip balm, and mustard oil to massage your arms and face. And no, this isn't some old wives' tale or recommendation; the mustard oil can be a lifesaver for when your skin starts to dry out. The high altitude and dry conditions can take a toll, so make sure you don't ignore this section of packing tips for Leh Ladakh!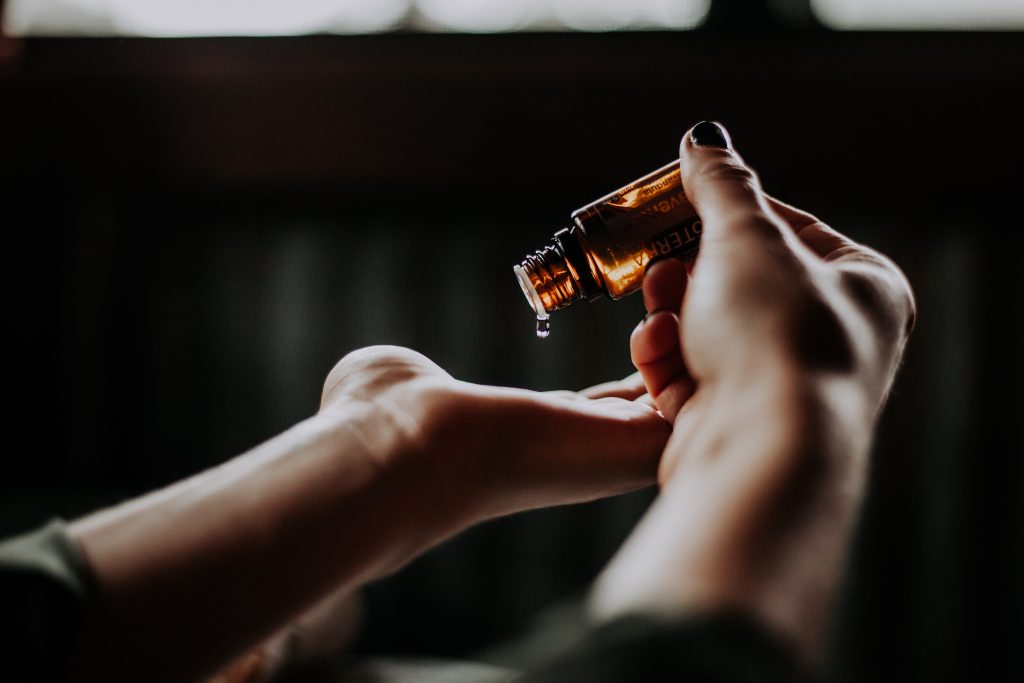 Toiletries
Your toiletries are another essential item on your packing checklist. Tooth brush, tooth paste, soap, comb, facewash, towel, toilet paper, shampoo, deodorant, and tissues are the basic toiletries you should carry. Though some hotels or hostels might provide some of the toiletries to use, it's always better to carry your own, especially if you're a conscious and sustainable traveler.
Medical Kit
When you're traveling to a new and unknown place, you aren't sure of the medical help and facilities available. In such a scenario, it's always better to carry the medicines that you know you will require. For instance, do keep band-aids, Dettol or Savlon antiseptic liquid, and pain balm (Move or Iodex), alongside pills for body pain, stomach ache, and headaches. Stepping out in the cold Leh night to hunt for pills instead of cozying up around a fire? No way.
Diamox is the most commonly used medicine for Acute Mountain Sickness (AMS). If you already haven't, read up about AMS since it's a common problem faced by tourists. Ideally, consult your doctor before taking any medicines, especially if you have any underlying medical conditions. Don't forget to carry glucose, and keep a hand sanitizer handy at all times.
Permits And Documents
Along with important documents like a government issued identity card (Aadhar Card, Passport, Driving License, or Voter ID), you might also have to secure permits to visit certain protected or restricted areas in Ladakh. Indian citizens need to obtain an Inner Line Permit (ILP) while foreign nationals will need a Protected Areas Permit (PAP) to step out of Leh. Make sure to carry multiple photocopies of the permit as well as your identity proof. If you have medical insurance, carry that as well, along with a few passport-sized photos of yourself.
Food And Water
Like we've mentioned before, not many eateries or shops are available at all locations in Leh Ladakh. You can carry a few snacks like biscuits, chocolates, and dry fruits. But do not overpack these things or you will unintentionally end up increasing your carbon footprint. How, you ask? By constantly throwing away the packaging of course! Carry just enough to snack on, and use eco-friendly packaging. Leh Ladakh is a gem that deserves care and protection, so make sure you're considerate of your environment.
Some people consider water in Ladakh to be hard. So, if that doesn't suit you, you can carry bottled water as well. Just make sure to keep yourself hydrated at all times, especially when you're traveling to higher altitudes. These packing tips for Leh Ladakh don't cover all the ways in which you can be a sustainable traveler, but there are plenty, so read up on that as well.
Miscellaneous Items
Leh Ladakh is truly a treasure trove of beautiful landscapes. Wouldn't you want to capture some to put up on Instagram or just adore the pictures when you go back from the trip? Along with these essentials, don't forget to carry a camera to capture your beautiful moments. If you wish to show off the picturesque locations to your friends who haven't been here yet, you should also check out these Insta-Worthy Places To Visit In Leh.
Don't forget to carry enough batteries and memory cards for your camera. Carry your battery charger, phone charger, and your power bank. Along with these electronics and gadgets, you might also have to arrange for a post-paid mobile SIM card. While Airtel does have connectivity in some places, BSNL works in a majority of places. Torch, safety pins, extension cords, and a diary and pen are some of the other miscellaneous items you might want to pack for your trip.
Make sure to carry enough cash when traveling to Leh Ladakh. Firstly, there aren't many ATMs to stroll up to. Even in places where they're present, they might not always be easily accessible. Secondly, the trend of digital payments has not yet caught momentum in these areas. So, if you want to avoid being stuck in ugly, awk situations, do carry enough cash to sustain yourself.
Packing Tips For A Biking Trip To Leh Ladakh
A bike trip to Leh Ladakh is an adventure many travelers look forward to. Navigating your bike through the treacherous Himalayan terrain while soaking in the beauty around you, it's incomparable. If you're getting an adrenaline rush just by imagining the thrill, imagine how exciting it actually can be!
That being said, we don't want to be a spoilsport here, but a bike tour to Leh Ladakh can be as exciting as it is challenging.
Along with preparing yourself mentally and physically, you also have to make sure to pack the right essentials for your trip. In addition to all the items that we've listed above, bikers will also need to carry a nylon rope and bungee cords. Make sure to wear proper woolen or leather gloves and carry enough flashlights or torches. Ideally, carry a detailed route printout along with a physical copy of your itinerary.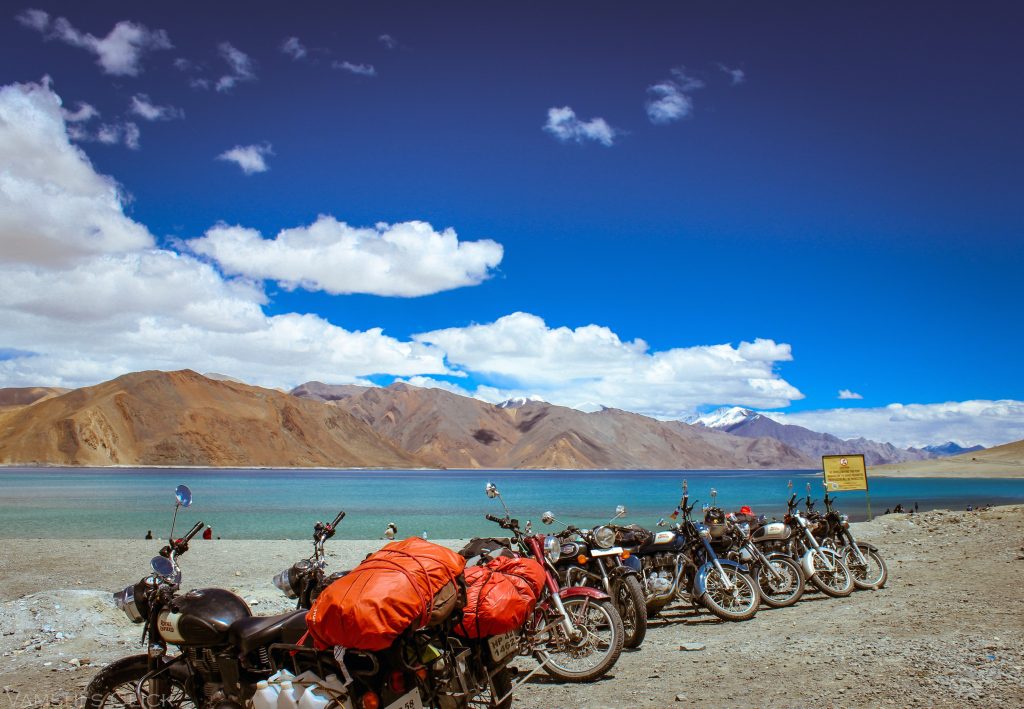 Fuel stations are scarcely available in and around Leh Ladakh. So, make sure to carry some extra fuel for backup. As soon as you spot a fuel station, refill your machine and carry extra for your journey ahead. You won't be sure to find another fuel station closeby. Bikers should try to keep their backpacks as light as possible and not carry an unnecessary load on the trip.
Once you've arranged for all the essential things on your checklist, be ready to begin a fun-filled adventure. Live every moment of your biking trip, after all, you could be narrating this tale to your grandkids when you're old and grey!
Things To Keep In Mind When Traveling To Leh Ladakh
The elaborate packing list that we've mentioned must've already given you an idea of how unique a trip to Leh Ladakh is. From the erratic weather conditions to the tricky terrain, traveling to Leh Ladakh will be nothing less than an adventure. If you've ever been fascinated by Alice in Wonderland as a kid, Leh Ladakh will surely charm you and be your own dreamy wonderland. But just like Alice had to follow a few rules in her wonderland, there are a few travel tips for you to keep in mind when traveling to Leh Ladakh.
Ladakh is a land of contrasts, and its weather follows suit. If you can't withstand the cold even after wearing layers of warm clothes, you should avoid traveling to Leh Ladakh during the winter months from October to February. Summers are pleasant in these areas but you should still carry some warm and comfortable clothes.
Keep all necessary documents and permits with you at all times. Carry multiple photocopies because you might have to give away one at every checkpoint. Do keep a list of all emergency numbers with you to come handy in unforeseen circumstances.
AMS is very frequent in the high altitudes of Leh Ladakh. Make sure to carry all the necessary medications and don't strain yourself if you aren't comfortable going further at any location.
Bike and car rentals are easily available in Leh, and are the most popular way to get around. Unless you're going for some trekking or hiking activity, walking long distances in Leh Ladakh is not very advisable. There are high chances of you draining out faster or getting tired easily because of the high altitude conditions.
Conclusion
Exploring Leh Ladakh is an experience you can't explain merely in words. The alluring views and aura of the entire region have a different magnetic charm, attracting all kinds of travelers. While packing right is essential for all trips, it's especially important for a trip to these high altitude regions.
And now that you know all about the important packing tips for Leh Ladakh, you're all set to create some amazing memories. To enhance your experience further, head to our goSTOPS Leh. With fellow travelers to bond with and cozy rooms to unwind in, there are a lot of things waiting for you to admire and appreciate!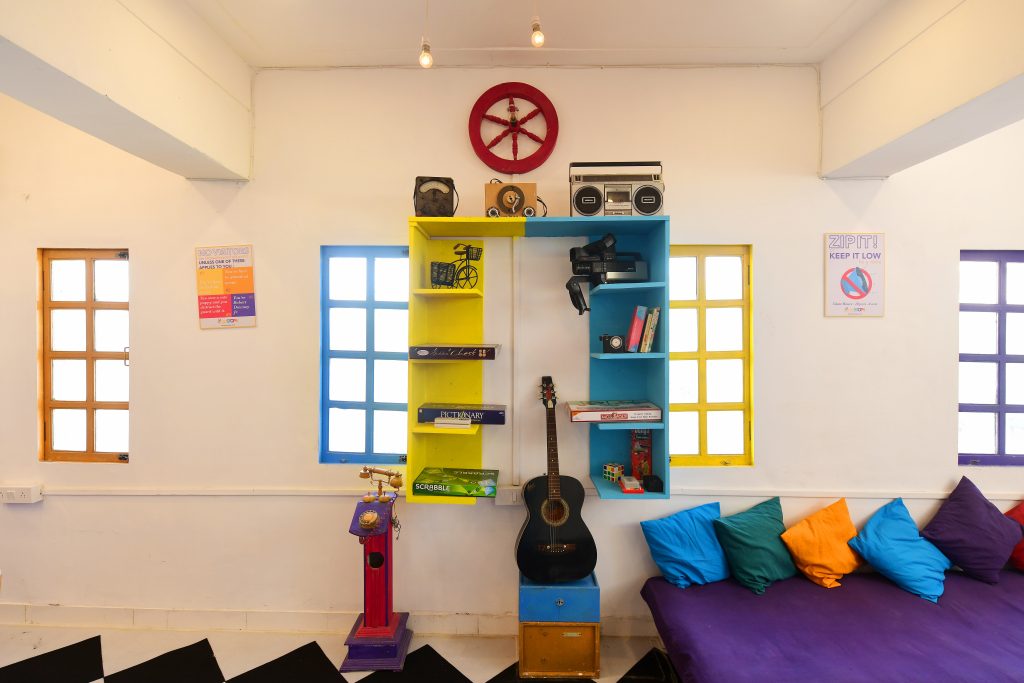 FAQs
How Can I Prepare My Body For Leh?
The year-round low temperatures and the high altitudes at which Leh is situated make the place a little challenging for some. Chances of contracting Acute Mountain Sickness (AMS) are comparatively high here, so preparing your body mentally as well as physically for the trip is important. Practice various breathing exercises and build your stamina before going on the Leh trip. Avoid drinking, smoking, and eating tobacco, before as well as during the trip. The high altitudes can cause breathlessness and dehydration, so it's important to keep yourself hydrated at all times.
How Many Days Are Sufficient For Leh Ladakh?
There are so many attractions and activities to explore in Leh Ladakh that you should at least plan a 7 to 10 day trip to make the most of it. If you wish to indulge in trekking activities or overnight camping, you can extend your stay. The weather can be a little challenging for some, so make sure to add a few days to get acclimatized to the weather and region.
Can We Wear Shorts In Ladakh?
Ideally, you should avoid wearing shorts when traveling in Ladakh mainly because of the ubiquitous cool winds. In winter months, you might require two to three layers of clothing but in summers too, you will prefer wearing warm and fully covered clothes. It also might be inappropriate to wear shorts in particular places such as a monastery, mosque, or temple.
Which Is The Best Month To Visit Ladakh?
The summer months from April to June are the best to visit Ladakh. With cool winds and a good amount of sunshine, this season is ideal for you to enjoy sightseeing and the picturesque beauty of the town in its best form. However, if you have trekking and other such activities planned, you might want to visit Ladakh during the monsoon or winter months. For instance, the Chadar trek is only accessible during the months of January and February, while river rafting can be best enjoyed from June to September. The best month to visit Ladakh would ideally depend on the activities you have planned in your itinerary. Accordingly, your packing tips for Leh Ladakh will change to match the season.
What Is The Famous Food Of Ladakh?
A dumpling filled with meat or vegetables and wrapped in dough is undoubtedly the most famous dish of Ladakh. Don't get baffled by the description, it's the very famous momos that we're talking about. Apart from this, skyu, the traditional soup-based dish made from wheat and root vegetables, and thukpa, the noodle-soup, are some of the most popular dishes of Ladakh. This list will be incomplete without the mention of Ladakhi Pulao and Tingmo, the steamed Tibetan bread. Trying out the different local dishes is definitely one of the best things to do in Ladakh.