"The mountains are calling, and I must go."
Naturalist John Muir spoke words that resonate with us even today. The hills and mountains certainly soothe and relax us, but if you thought that's all they're good for, think again. The snow capped ranges and green hills in Himachal Pradesh have some of the most exciting, adrenaline-packed adventure activities to offer. Read up about these 5 adventure activities in Himachal that make you say YOLO, leave behind all inhibitions, and truly seize the day.
Skiing
Drifting your way across the white sheets of snow always looks like a fun activity. But there's no need to look longingly at the Swiss Alps, since skiing is very much something you can do in India itself. Skiing is one of those adventure activities in Himachal that not too many people opt for in comparison to trekking or river rafting. Due to the need for snow, it can be fairly seasonal, and the complete unfamiliarity can put people off.
But there are multiple places where you can go skiing in Himachal; after all, there's a first time for everything. If you're worried about falling more than skiing, don't be, since you learn the basics by trained professionals before you hit the slopes. Plus, falling into snow is more fun than you think it is!
Solang Valley
From the months of January to March, the Solang Valley becomes a skier's paradise. A state-of-the-art ropeway ensures you don't need to bother painfully hiking your way to the tops of the slopes, and you can instead focus on having a great time skiing down them. The  Solang Valley is located about 15 km away from Manali and is perfect for a fun-filled day trip.
Narkanda
Narkanda is a comparatively less crowded location, but the experience of skiing down the Himalayan foothills remains just as thrilling. Trained professional instructors will help steady you as you get used to the basics, alongside giving you the proper equipment. Narkanda is located about 65 km away from Shimla.
Apart from these, a few other locations where you can enjoy speeding down the slopes are Kufri and Hanuman Tibba.
Paragliding
Paragliding takes the term 'bird's eye view' to a completely different level. Soaring high above the ground, you get to enjoy a view like no other while the professional you're attached to handles all the navigation. There are a couple of spots in Himachal where you can go paragliding, with views that are each better than the last. One of the most popular locations in India to go paragliding is Bir Billing.
Bir Billing
A small town in the Kangra district, Bir Billing gets its claim to fame for its paragliding facilities. When paragliding here, you'll get to see the marvelous Dhauladhar ranges, the green Kangra valley, and the unblemished natural beauty of orchids and other flowers. At a height of 2300m, you start off around 14 km away from Bir and you journey over the land to Billing.
A few other locations to go paragliding are Halan near Manali, Barot in Mandi, Solang Nala near Manali, and Indrunag at Dharamshala.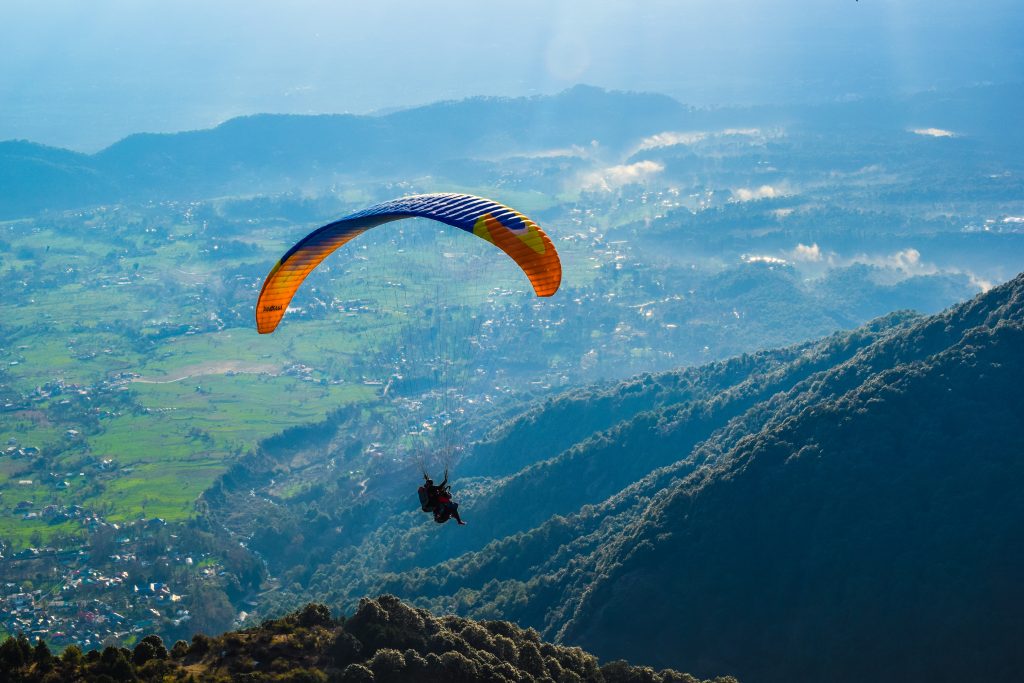 Trekking In Himachal
Unlike several other adventure activities, trekking is one that can be enjoyed by almost anyone. Whether you have a fear of heights, or of fast-flowing water, there are enough treks for you to be able to choose just what you're comfortable with. For instance, Manali's Chandratal Trek is a multi-day trek that can be attempted by anyone, since it's fairly easy. On the opposite side of the spectrum is Leh's Chadar Trek, not meant for the faint hearted. Here's a rundown on some of the popular treks in Himachal Pradesh.
Chadar Trek, Leh
Held during the months of January and February each year, the Chadar trek takes you over the frozen Zanskar river. The word chadar means blanket, and refers to the blanket of snow and ice in Leh during the season. This frozen river trek takes around 8 – 10 days, covers 62 kms, and reaches an altitude of 11,100 ft. The difficulty is moderate to severe, since the high climate, harsh conditions and unstable ice can take a toll on the body.
Chandratal Trek, Manali
With a difficulty level of beginner to moderate, the Chandratal trek in Manali takes 3 – 4 days. It's perfect for beginners who want to lose themselves in the beauty of nature for a short while. The reward waiting at the end of your trek is the gorgeous Chandratal Lake, resting at an altitude of 14,000 ft and perfectly mirroring the skies above it. If the Chandratal Trek is a little too easy for you, opt for the extended 6-day trek which is the Hampta Pass trek. This one is comparatively more challenging.
Triund Trek, Dharamshala
The Triund trek is one of those bucket list adventure activities in Himachal for beginners and pros alike. The trek is easy, and covers a duration of 2 days. Though some parts of the trek are steep, you're well compensated for with stunning views. The Triund trek is easily accessible from McLeodGanj, also known as India's mini-Tibet.
Pin Parvati Pass
An exciting expedition for the seasoned trekkers, the Pin Parvati Pass trek takes you for a range of experiences. From crossing a pulley bridge, navigating marshlands to cold deserts and open meadows, the trek is an entire package of adventure. The difficulty level is high, and the trek takes a total of 12 days. You reach a maximum altitude of 17,457 ft, and the best time for it is from June to September.
Mountain Biking
Apart from trekking, there's one more among the adventure activities in Himachal that keeps you on land. But instead of your feet being grounded, it's the wheels of a bike instead! Mountain biking, or off road cycling, is a fun way for you to go around exploring your destination. It's much faster than walking, and the feeling of the wind in your face as you control your own pace is like no other.
Mountain bikes are much better than regular bikes since they're built to navigate the rocky, rough terrain comfortably. There are so many routes winding their way across Himachal, it'd be ridiculous to count them! But some of the best locations for you to go mountain biking are in Manali, Bir Billing, Leh, Shimla, and Spiti Valley.
River Rafting
There are few things as exhilarating as experiencing the power of water and trying to navigate it. But if you're one of those people who feel their bones chill when they see the chaos that is river rafting, you're not left out! There are plenty of locations to go river rafting in Himachal, and each one has a different difficulty level or Grade. Opt for the tamer rapids of Grade I or II to feel the ebb and flow while still having fun. For the seasoned rafter looking for their next big adventure, Grades III, IV and V await.
Rivers Indus and Zanskar, Leh
Leh is blessed with two mighty rivers that lend themselves to excited travelers looking for that adrenaline rush. These are the Zanskar and Indus rivers, and both have several routes for river rafting. Beginners looking for Grade I and II rapids should consider the routes from Phey to Saspol and from Upshi to Kharu on the Indus. Novices can head to Phey to Indus via the Zanskar for the tougher route and rapids. This stretch takes you to the Sangam or meeting point of both rivers. Another route with Grade III, IV and V rapids is Saspol to Khaltsey.
River Beas, Manali
The Beas river that comes down from Rohtang La pours itself out into the Kullu valley, making for some fun river rafting. Apart from a few months during the monsoon and winter, you can go river rafting in Manali at any time. The best time, however, is during June and July. A 50 km stretch from Manali to Bhuntar is the most popular for its rapids. Head to the shorter, calmer sections for the lower grades, while the 20 km stretch from Manali to Jhiri near Bajaura is perfect for the thrill-seeking professionals.
River Sutlej, Shimla
The untamed river Sutlej in Shimla has a fun stretch of rapids for you to navigate, around the Tattapani region. The easiest and simplest stretch to navigate is at Sunni, stretching on for around 3 km. The second is a 12 km stretch in Chabba with Grade II rapids. The stretch from Patakhra to Pandowa has not just Grade V, but Grade VI rapids to navigate! Pandora to Tattapani is comparatively tamer, with Grade III and IV rapids.
Conclusion
These 5 adventure activities in Himachal are sure to instill a renewed love for life in you – few things are as therapeutic as nature, and getting a rush of adrenaline helps even more. If you're worried about blowing a hole in your pocket, not to worry, since most of these activities are fairly affordable. You can save up on your travel budget by staying at one of our goSTOPS hostels. We're in multiple locations in Himachal, so rest assured you can find us around.
FAQs
What Are The Main Activities Of The People Of Himachal Pradesh?
About 69% of the people in Himachal Pradesh are employed in the agricultural sector. It is the main occupation of the state. Several locals are also employed under various tourism initiatives since tourism is a big industry in Himachal.
Why Are Adventure Sports Prevalent In Himachal Pradesh?
The geographical features of Himachal Pradesh enable it to be perfectly suited for adventure activities. The diverse terrain is ideal for trekking, rock climbing, river rafting, mountain biking, ice skating, angling and skiing.
What Can Be Done In Himachal Pradesh?
When in Himachal, make sure you drop in to the many cafés and eateries to sample delicious food. Also hop into locally owned restaurants for amazing local food. Go sightseeing to the many heritage and natural sites, and definitely partake in at least one adventure activity.
What Is The Best Time To Visit Himachal Pradesh?
The summer season from March to June is broadly a good time to visit Himachal Pradesh. This is when the weather is clear and ideal for most adventure activities. But if you want to go skiing or enjoy the snow, January and February are the months for you.