Would you rather experience the most stunning Kedarkantha Trek with goSTOPS or deal with the guaranteed FOMO you'll experience later?
With fascinating views of the Himalayan peaks, snow paths and pine forests of Govind National Park in Uttarakhand, Kedarkantha Trek is one of India's most sought-after treks. Gear up and wake the adventurer inside you as goSTOPS is all set to start Kedarkantha Treks this coming October.
Make the most of arguably the best time of the year with the festive vibes just starting to kick in. It can't get better than this… or maybe it can. There's only one way to find out ;)
Trek Route
Sankri → Juda Ka Talab → Kedarkantha Base → Kedarkantha Peak → Hargaon Camp → Sankri
Duration: 6 days, 5 nights
Trek Distance: 23km
Maximum Altitude: 12,500 ft.
Difficulty: Moderate
Inclusions: All meals, camping equipment, certified trek leaders
Pricing: INR 6,000
Base cities for goSTOPS: Dehradun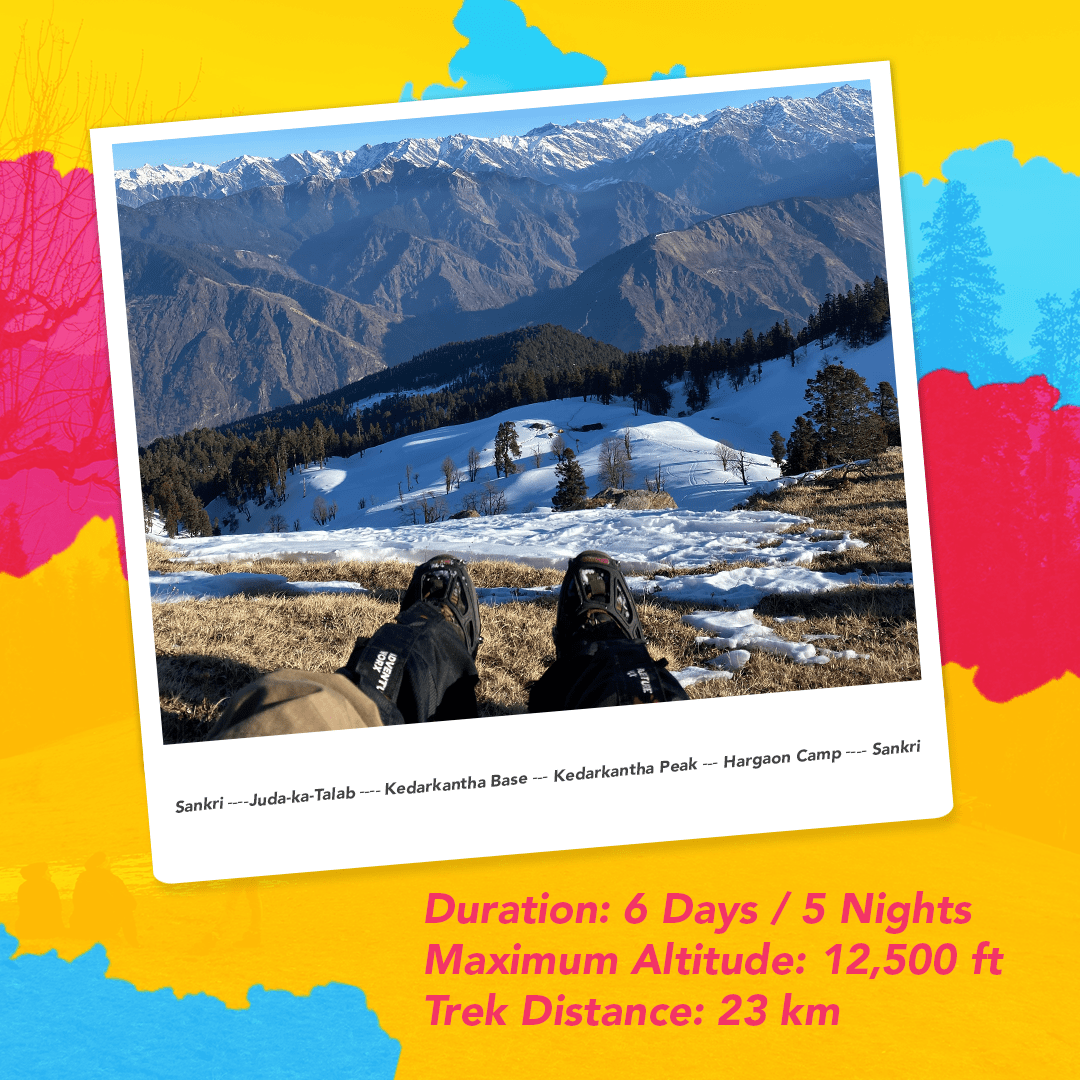 Trek Outline
The journey starts at goSTOPS Dehradun. A 10-hour drive amid some truly mesmerizing views takes you to Sankri Village. You start trekking through the lush meadows and dense forests the next day. It will be Day 4 when you reach and conquer the target - the Kedarkantha Peak. You'll be back in Dehradun by the evening of Day 6 and can plan in advance the direction you want to head in from there.
So what all is going to be there to make you say, "Damn! I can't wait for this trip"? To start with, a long and scenic drive on a national highway, sleeping under the stars in tents, waking up to beautiful views of sunrise and of course, the new friends you are going to meet. Make sure to have a lot of fun as this is going to be much more than just a getaway trip.
There's absolutely nothing for you to worry about for these six days (and otherwise as well). The trip has been designed in a way so you get to rest well and take your time to let the surrounding beauty sink in at every stop. No rush whatsoever.
Fill out some basic information in our form and hit SUBMIT to get a PDF with all the details about the expedition. We'll get in touch with you and get you aboard!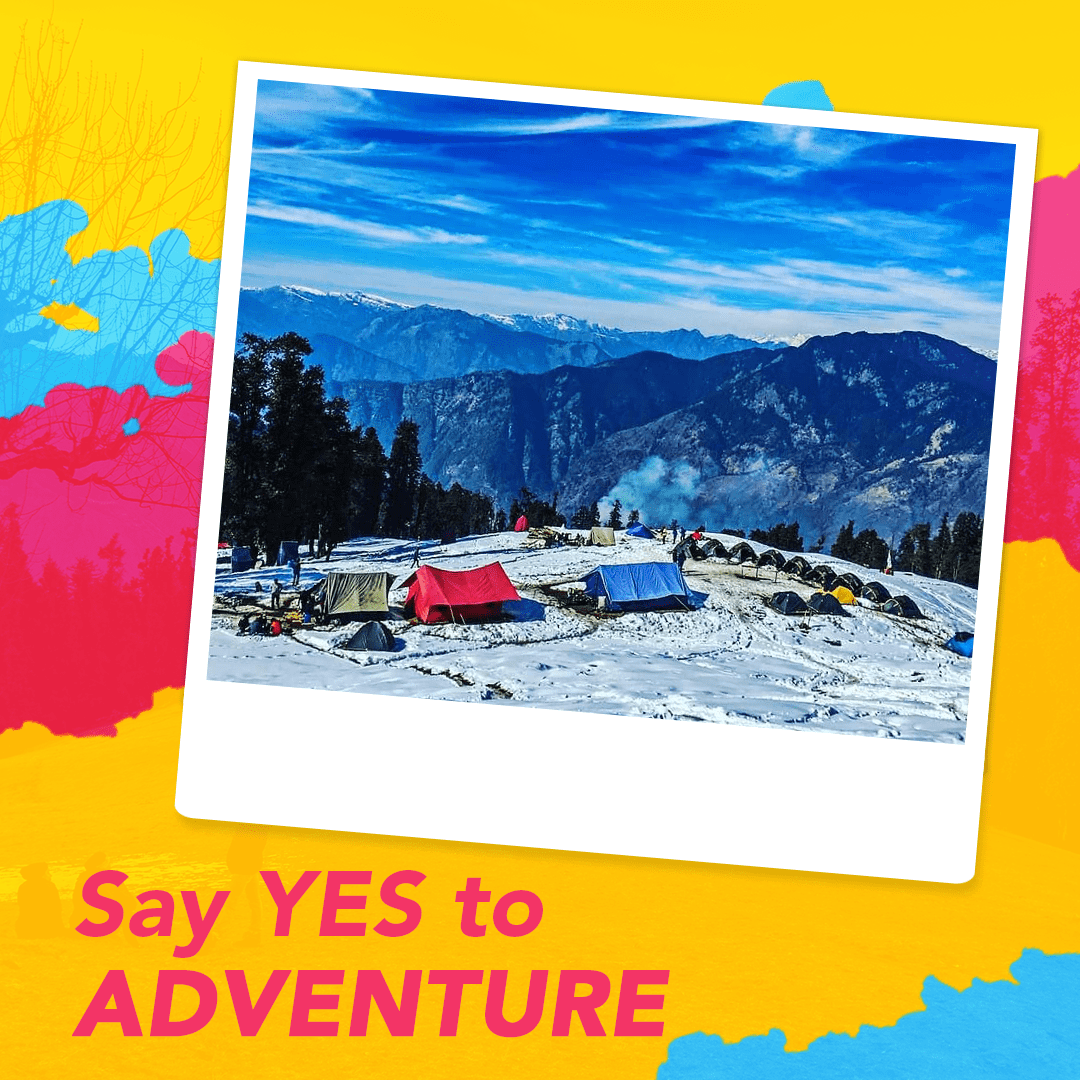 FAQ's
Apart from July and August (monsoon), you can visit Kedarkantha and undertake the trek at any time of the year. Expect a lot of snow during the winters - December to April.
The Kedarkantha Trek is usually an easy one. The difficulty level can go from easy to moderate depending on the level of snow.
The temperature does not trouble you for the first two days since you won't find any snow. Once the snow begins, the sunlight will still balance the weather during the daytime, but you will have to cover yourself in multiple layers as the temperature can drop to -8 degrees at night.
The average walking distance is 5 kms per day and it takes approximately 5 hours to cover the stretch. Since the trek is easy, there won't be a problem in walking for anyone.
NO. But we recommend you to consult your doctor before the trip as there are lots of MYTHs about Diamox.
The trek will be led by professional trek leaders who have completed Basic and Advanced mountaineering courses and are also certified first-aid technicians. Apart from them, there will be a local guide, a cook, a helper and a porter.
Usually, there are 22-24 people (males and females) in one batch. The minimum number of travellers to run a fixed departure is 6 but if it's a customized trip, the size of the group does not matter.
Absolutely. The safety of girls is of utmost importance to us. We create a warm and friendly environment on the trek. All our guides and support staff are carefully chosen. No doubt they are extremely reliable but we would also advise you to take care of your personal belongings.
No. Female trekkers will share tents with female trekkers only. If there is only one girl in the batch, she will get a separate tent for herself.
The minimum age to join the trek is 18 years but the maximum age depends on the fitness of the traveller.
No, but our trek leaders are certified in Wilderness first-aid and are aware of the concerns related to high altitudes. We carry a first-aid kit and necessary medicines with us. Make sure you are medically clear and physically fit for a trek, or take professional advice if you feel you are unable to judge yourself.
We use a Bolero Max or a tempo traveller (13-17 seater).
We serve vegetarian Indian food and eggs during the trek.