Tucked away in the beauty of the Himalayas, away from tourist eyes is the quaint town of Naggar. It is home to a number of temples and the famed Naggar Castle, and in its early history was the capital of Kullu. Serene and peaceful, this town offers a refreshing change from mundane city life. Verdant deodar trees and the gurgling Beas River pleasantly greet you at different locations in the town. But there's a unique charm to discover when you decide to go the offbeat way. Here's your guide to exploring offbeat Naggar that will leave you with an experience you fondly recollect for years to come!
Going Back In Time
Situated on the banks of the Beas River, the story of this quaint town starts over 1,400 years ago. It was founded by Raja Visudh Pal as the Kullu Dynasty's royal seat until the capital was shifted to Sultanpur. Its gem is the famed Naggar Castle, believed to have been built by Raja Sidh Singh over 500 years ago. Interestingly, the Castle as well as a number of other structures in Naggar have survived a disastrous earthquake that struck in 1905.
After the Kullu rulers, the next prominent family to call Naggar home was the Russian family of Nicholas Roerich. For over 20 years before WWII, Roerich had lived in Naggar, immortalizing the mountains in his paintings. Their house has now been converted into the famous Roerich Art Gallery, and people from all over visit the town to witness the blend of = Indo-Russian culture.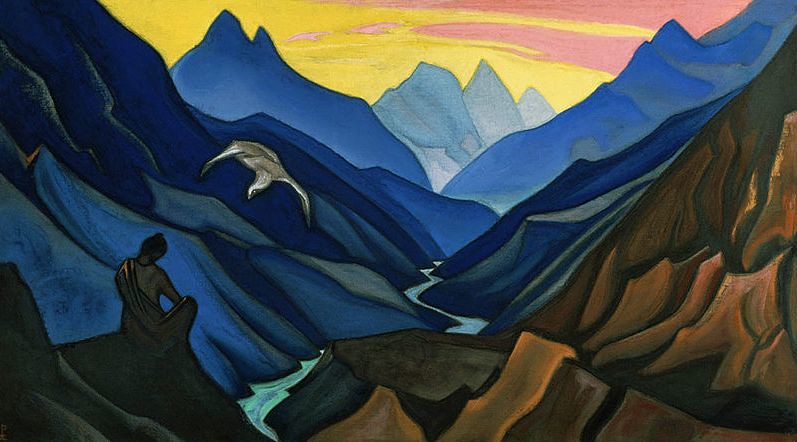 The neighboring hill stations of Kullu Manali often overshadow the small town of Naggar. But its ancient and mystical vibes offer a warm welcome to anyone who decides to drop in. Exploring offbeat Naggar is definitely a one-of-its-kind experience that's sure to delight many travelers.
How To Get Around In Naggar
Naggar is located at a distance of around 22 km from Manali. You can either hire a cab or board a bus to travel between Manali and Naggar. As of now, there isn't any airport or railway station located within Naggar. The closest airport is the Kullu-Manali Airport at Bhuntar and the closest railway station is at Joginder Nagar.
Since Naggar is a small town with a number of narrow lanes, walking is one of the best ways to explore the offbeat destinations around town. Many of the famous attractions such as the Naggar Castle, Gauri Shankar Temple, and the Roerich Art Gallery are all located close to each other and you can easily explore them by foot. Alternatively, you could also rent a bike or a car if you wish to explore places in and around Naggar.
Places To Explore In Naggar
Naggar Castle
The first name to pop when you're looking for tourist attractions in Naggar will definitely be the popular Naggar Castle. A traditional example of the Himalayan Kath Kuni architecture, this castle is made up of wooden beams and stone walls. Head here for some of the most breathtaking views of the Beas Valley. The Castle is currently maintained by the Himachal Pradesh Tourism Development Corporation (HPTDC) and serves as a heritage hotel as well. You can enjoy a meal at the restaurant inside the Castle and pay a visit to the Jagati Patt Temple as well.
Roerich Art Gallery
From the Naggar Castle, you can go on to visit the Roerich Art Gallery, named after Nicholas Roerich. A famous Russian painter and writer, Roerich spent around 20 years of his life in Naggar. The present day art gallery and museum was once his house. You can catch a glimpse of his immaculately kept home and the picturesque paintings made by him and his son. Close to the Gallery is the Urusvati Himalayan Folk Art Museum that acts as a research center for studying Himalayan history, art and culture.
Gauri Shankar Temple
Naggar is a land of many temples and one of the most popular ones to visit is the Gauri Shankar Temple. Built around the 11th century, the ancient temple is dedicated to Lord Shiva and is considered to be one of the last examples of the Gurjara-Pratihara traditions. The temple is made entirely of stone and is currently maintained by the Archaeological Survey of India (ASI).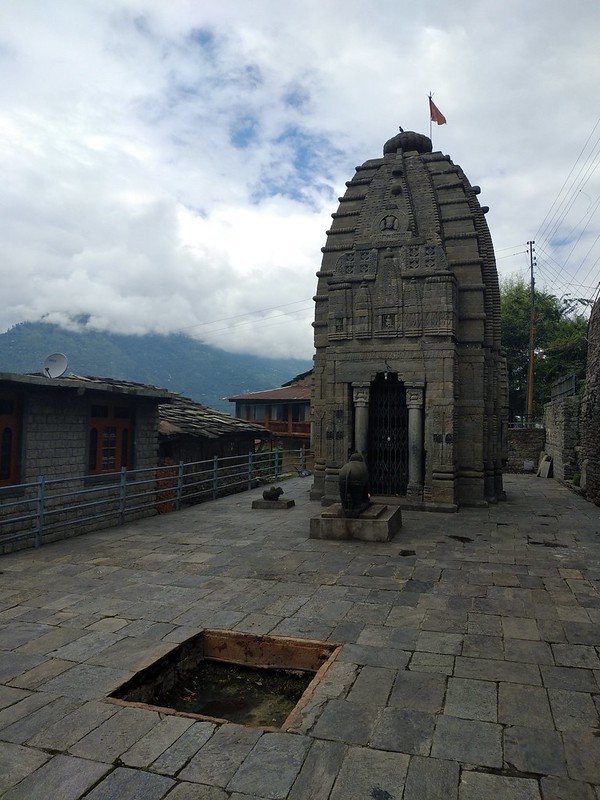 Krishna Temple
An example of pyramidal carved stone architecture, the Krishna Temple is believed to be over 1,000 years old. It is popularly referred to as the Muralidhar Temple, and both devotees and tourists frequently visit it.
Tripura Sundari Temple
This is another popular temple in Naggar and is considered sacred to the local mother Goddess Tripura Devi. It also has stone idols dedicated to Lord Brahma, Vishnu, Ganesha, Shiva, Goddess Parvati, and Goddess Lakshmi. The distinct roofs of the temple are built completely in deodar wood and are a famous example of the pagoda style of architecture.
Jana Waterfalls
Jana Waterfall is located about 12 km from the town center, and we'll be honest, it isn't the best in the state. But people head here more to enjoy a delicious, local meal with a view of the falls than for the falls themselves.
The wooden bridge near the falls and the cluster of rocks around it add to its charm and beauty. Many people prefer grabbing a meal from the dhaba-style restaurant nearby, which is the local meal we mentioned.
Food In Naggar
Can a trip ever be complete without gorging on some popular local dishes? If you're a foodie just like us, your answer is sure to be a no! Himachali cuisine is simple yet exquisite at the same time, and offbeat food in offbeat Naggar is unmissable. Some local dishes are so immaculately delicious that even a bowl full will fill your stomach but not your heart.
A few of the popular dishes that you'll frequently come across anywhere in Himachal include siddu, a local bread prepared from wheat flour. It tastes best when served hot with mutton or vegetables, as per your choice. Bhey is another local dish in Himachal, prepared with lotus stems and a favorite among vegetarians.
During special festivals and celebrations, locals savor dhaam, a healthy and nutritious meal comprising rice, curd, and lentils. Interestingly, only a particular group of Brahmin chefs called 'botis' can prepare dhaam. Mithdee or mitha bhatt is also another commonly made sweet dish, consisting of breadcrumbs and boondis.
When in Naggar or anywhere in the Kullu region, you should try the famous Kullu Trout. The fish is marinated with subtle spices and shallow-fried in mustard oil. It is usually served with boiled potatoes and other vegetables to enhance the flavors of the fish.
Apart from these local dishes, if you're a fan of desserts or quirky café delicacies, you should visit the famous Naggar Bakery. Known for its warm and indulgent chocolate cake and delicious cheesecake, the Naggar Bakery is an adorable home-made bakery located just across the Naggar Castle. For some bacon pizza and other Italian dishes, you should pay a visit to Nightingale Restaurant. Offbeat Naggar certainly has enough food options for whoeever decides to drop by!
Shopping In Naggar
Souvenirs are like tokens of pleasant memories you create throughout your trip. These could be gifts for your near and dear ones or could also be a memento for you to adore later in life. Whether you're a collector of such things or simply love to shop your heart out, the markets of Naggar will definitely not disappoint.
From Tibetan and Himalayan handicrafts to Kinnauri shawls and Kullu caps, there are a variety of things to shop for in and around Naggar. For artsy stuff, handicrafts, and paintings, you can pay a visit to the famed Poonam Art Gallery. If you wish to scour through other local items such as rugs, natural oils, and woolen clothes, the Himalayan Market is also a good place to explore.
For shopaholics who wish to indulge in some serious retail therapy, strolling through the markets of Manali will surely be an exciting agenda. Since Manali is only like an hour's drive from Naggar, you can easily plan a day's trip to visit the different market places in Manali. Manu Market, Himachal Emporium, Mall Road, and Tibetan Market are some of the most popular places to shop at.
Conclusion
Exploring offbeat Naggar is a mix of fun, challenging, and calm moments. The roaring Beas River alongside which this quaint town is located is soothing to all souls in a unique way. The ancient Castle and the numerous temples attract all kinds of visitors to Naggar. Its proximity to the touristy Manali makes it an even better location for those wanting to stay away from the crowd.
Looking for a fellow traveler to explore offbeat Naggar with? Simply want a fun-filled yet budget-friendly place to stay? Head over to goSTOPS Naggar. With warm and welcoming vibes, and plenty of entertainment, it's the perfect place to make those memories.
FAQs
What Is Famous About Naggar?
Like a number of other places in Himachal Pradesh, Naggar is famous for its picturesque beauty and ancient charm. Some of these are the Naggar Castle, Nicholas Roerich Art Gallery and Museum, Gauri Shankar Temple, and Tripura Sundari Temple. Plus, the stately deodars, razor-thin waterfalls, and snow-covered peaks only enhance its beauty.
What Is The Best Time To Visit Naggar?
Naggar experiences a pleasant climate throughout the year, making it an ideal destination to visit during any time of the year. In general, the months from September to November are the most popular time to visit Naggar. The rains subside by then and winter is just about to begin, making it the perfect weather to admire the lush greenery around the town.
How Do I Book Naggar Castle?
You only need to pay an entry fee of INR 15 if you wish to visit the castle or eat at the cafeteria inside. However, if you wish to stay in any of the rooms in the heritage hotel, you can make an online booking on the official website or visit the local HPTDC Office in your state. During the off season, you can book on the spot as well.
How Can I Reach Naggar From Chandigarh?
The road distance between Naggar and Chandigarh is around 294 km. You can take a bus from Chandigarh to either Manali or Kullu, and then proceed to Naggar by cab. You can also hire a cab from Chandigarh and directly reach Naggar. The drive would take around 5 to 6 hours depending on the road and weather conditions.