Famous for its monasteries, Tibetan settlements, waterfalls, and lakes, Mcleodganj is on the bucket list of many. Better yet, this suburb of Dharamshala is a visual treat in the winter. Most tourists visit Mcleodganj in the summer months of March to June, which means you get to see a raw, untouched Mcleodganj in the winter. The bone-chilling temperatures in the night are worth it to see sunkissed snow-capped mountains the next morning.
Temperatures in Mcleodganj can range between 5° and 17° Celsius during winters, so don't forget to pack your hoodies! The white blankets of snow and the colorful bazaars make sure you have an Instagrammable winter in Mcleodganj. Read on for 10 things that make Mcleodganj a perfect winter escape.
Trek To A Snow-Capped Triund Peak
The Triund trek is Mcleodganj's most popular trek. But when we say trek, we don't simply mean touching the peak and coming back. Settle down at a campsite after the Triund trek because winter nights offer you a clear view of the stars. You can sit back and relax after a long, tiring trek, and take in the views of the stunning Kangra Valley.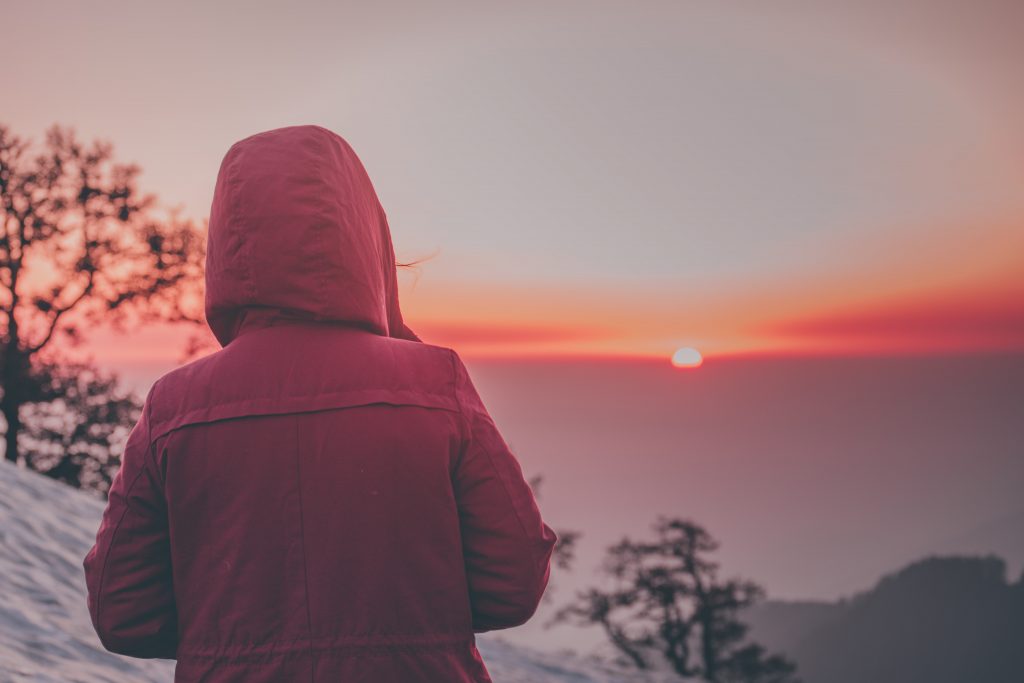 While the whole place is scenic in the winter months, particularly harsh winters make the peak unapproachable. It's better if you visit in November before the winter strikes the mountains of Triund hard. Just carry a thermos of hot water and some food for the trek, because there are no eating outlets as you go higher up. Unlike other offbeat treks, Triund sees a bit of a crowd due to its popularity, but is definitely an unmissable part of what makes Mcleodganj a perfect winter escape.
Escalated Scenic Beauty
Winter is when you can experience snow and sun at the same time in Mcleodganj. This turn in the weather adds a unique beauty to the landscape. Though flowers like rhododendrons bloom in the summer and spring months, winters are special too, with wildflowers dotting the green-white carpets.
Structures like St. John's Church look marvelous in winter – you'll find yourself capturing time lapses when the snow falls around this Neo-Gothic church. Masroor Temple, a group of 15 monolithic rocks, rests amid a snow-capped Dhauladhar range. This place too, makes for a great view in the winter. 
Warm Bookstores And Cafés
What better way to spend your winter than in a warm bookstore as the snow falls gently outside. When you're done buying yourself a novel that fits the mood, walk over to a café and turn pages leisurely over a bowl of Bok Choy Soup. You'll find a café on practically every street in Mcleodganj. As for bookstores, you can find some worthy picks at Bookworm, a tiny book shop on Hotel Bhagsu Road.
If you want a mix of both bookstores and cafés, head over to Illiterati Books & Coffee. The place serves you some gorgeous views and books alongside hot coffee and Italian food.
Bonfire Between The Mountains
Slurping on soupy Maggi out of a steel cup while the bonfire warms your feet is the best feeling ever. Add to it the night view of moonlit Mcleodganj mountains and it will be your most memorable camping experience. An ideal spot to do this is near Laka Glacier. Find a spot right in the middle of the meadow and settle in for a picturesque sunset followed by a cool breezy night spent around a bonfire. Pro Tip: Carry extra pairs of socks, winter trekking often dampens your feet and you sure don't want to catch a chill!
Telescopic View From Naddi Point
While we're talking of mountains and landscapes, Naddi point deserves a special mention. There's no beating the views from this point. Look to your north and you'll see the Dhauladhar mountain range sitting all cozy, wrapped in a white shawl. Look to your south and the Kangra Valley stretches out, entirely lush green with patches of white signaling the arrival of winter. Since Naddi Point is 2000 meters above sea level, a telescopic view offers you some bomb close-ups of the mountain ranges.
Museums Of Mcleodganj
If you don't want to face chilly winds outdoors, you can spend time in the museums of Mcleodganj. They speak lengths about the history of the area, especially Tibetan history. You can head over to Men-Tsee-Khang Museum to learn about Tibetan astrology and medicine. The museum is 3 stories tall, perfect to lose track of time while learning some interesting ancient wisdom.
Another must-visit museum is the Tibetan Museum in the Dalai Lama Temple Complex. It offers you a close look into Tibetan culture, history, and art. The entire experience is almost like being in Tibet, which is just why Mcleodganj is called the mini-Tibet of India.
Ideal Time For Meditation
Winter is when fewer tourists flock to Mcleodganj, which means you get to spend some quiet time in introspection. Drive over to Dharamkot, away from the hustle and bustle of Mcleodganj. Who knows you might end up finding yourself in the Tushita and Vipassana meditation centers? Just keep your camera and mobile away, sit cross-legged and concentrate.
You can even find a peaceful spot to meditate in the Dalai Lama Temple which is minutes away from Mcleodganj's main market. Though it is so close to the market, the only sounds you hear are prayer chants of the monks in the temple.
Festivals In Winter
If you thought the snow was all that made Mcleodganj a perfect winter escape, you're super mistaken! Festivals like Losar, Halda, and the Himachal Winter Carnival are highlights of winters in Mcleodganj. If you happen to visit towards the end of winter, you can witness the 3-day Losar celebration. Make sure you try the changkol (local beer) as it's the best way to celebrate this Tibetian new year.
The Halda festival which falls in January offers you some insights into communal harmony. Join the locals as they drink and dance around the traditional cedar wood bonfire. If you visit in February, don't miss the Himachal Winter Carnival. You can shop for some intricate handicrafts, eat regional food at the stalls and witness the local performances. Start an Insta-live and let your city folks marvel at how 'happening' the mountains are!
Hot Thenthuk And Thukpa
While you can have your share of momos, pakoras, and chai, keep some space in your stomach for some authentic Tibetan dishes. Your winter trip is incomplete without some hot steaming Thenthuk, a hand-pulled noodle soup made with mutton or yak meat. Its spicy flavors warm you after a cold day of Mcleodganj sightseeing.
A winter night in Mcleodganj also calls for some Thukpa, a popular noodle soup in the region. It's very nutritious and comforting in the cold weather, making it more than an Insta-worthy cuisine. Feeling the warmth of thukpa on a freezing cold winter morning, you'll know just why it makes Mcleodganj a perfect winter escape. The influx of other cultures offers you rich choices in cuisines like Korean sushi and Italian pasta, making the street food in Mcleodganj a truly astonishing yet delicious experience.
Shopping For Winter Outfits
Is Mcleodganj a perfect winter escape without any retail therapy? No way! Since Mcleodganj has a pleasantly cool climate year long, the markets have many warm garments to offer. You can find intricately woven shawls, woolen socks, and jackets. You can also take back some leather items or handicrafts as a memento. Walk a little further in the Mcleodganj market and you'll find hand-woven Tibetan carpets.
The best part? You can watch the weavers in action, perfect for making an Instagram reel! You can also see some Tibetan Buddhist paintings called Thangkas. One intricate Thangka is made over a period of 5-6 months, making it an expensive buy. But there's no charge to watch and marvel, right?
Conclusion
If you think we've missed out on more things that make Mcleodganj a perfect winter escape, make sure you write in to us. But we can all agree, Mcleodganj has a unique vibe and character. It's a quiet hilly suburb that welcomes you warmly. The inviting food and sights of Mcleodganj make you wish you could stay longer. If you want a luxurious hill station vacation or a thrilling trekking experience, Mcleodganj is your best bet.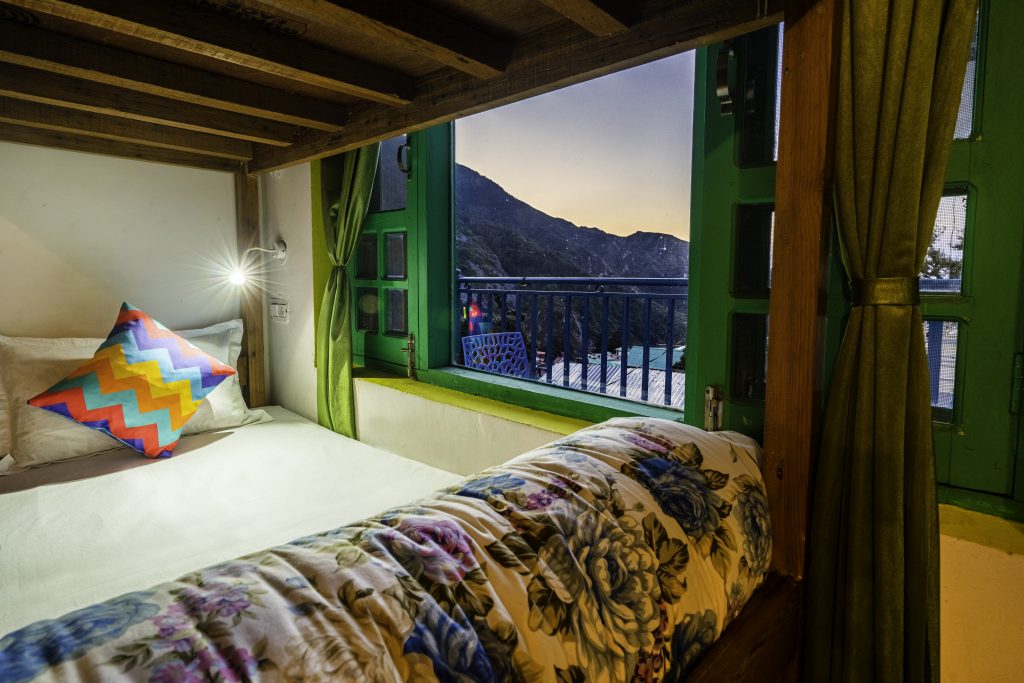 An ideal winter getaway trip makes for a warm cozy nook, and you have the perfect one in goSTOPS Mcleodganj. If you don't want to step out in the cold winter, spend your time in the common room with like-minded people or balled up with a novel in your comfy bed.
FAQs
Are Winters In Mcleodganj Harsh?
No, winters in Mcleodganj aren't really harsh. Mcleodganj winters are perfect for honeymooners because of the snowfall and breathtaking views. While extreme temperatures between December to February can drop between -1° and 7° degrees celsius, it's not that harsh or unbearable.
What To Pack On A Winter Trip?
Thermal wear, jackets, jeans, socks, mufflers, and shoes should be packed on a winter trip. Also, carry a power bank and torch since there can be power cuts in winters. Snowfall can make winter wear damp, so it's better to carry waterproof jackets if you're going in the peak of winter.
What To See In Mcleodganj?
Bhagsu Falls, Nechung Monastery, Masroor Temple, Maharana Pratap Sagar Lake, Minkiani Pass, Namgyal Monastery are some beautiful places to see in Mcleodganj. The museums, art galleries, and markets of Mcleodganj too are worth a visit.
How Many Days Are Enough For Mcleodganj?
3-4 days are enough for Mcleodganj. But if you want to go trekking or visit offbeat places, you'll need more days. Keep a week or two aside for a leisurely long trip to Mcleodganj.
Is A Trip To Mcleodganj Expensive?
No, a 3-day trip to Mcleodganj costs you anywhere between INR 8,000 to INR 15,000 per person. If you're on a budget, booking a hostel instead of a hotel and using local transport instead of a private vehicle makes your trip cheaper.