A gem located in the Kangra district of Himachal Pradesh, nestled in the heart of the Dhauladhar ranges. A microcosm of Tibet, complete with food and cultural treasures. An ideal escape, perfect for the weary millennial or GenZ traveler. We could go on and on, but words fail to capture the essence of McLeodGanj. It is all this and so much more, but one thing's for sure – there are few other mountain escapes as special as this. And a place as special as this deserves accommodation that does it credit! Read on about goSTOPS McLeodGanj, the perfect stay for the perfect place.
Where Is goSTOPS McLeodGanj?
Waking up and looking outside when you're at goSTOPS McLeodGanj means setting your eyes on treetops gilded with the rising sun, a towering mountain to your right. Yet, we're located just off one of McLeodGanj's streets, surrounded by other hotels and stays. Nailing the merge between accessibility and seclusion is goSTOPS McLeodGanj.
Our address is: goSTOPS McLeodGanj, Upper Bhagsu Nag, Mcleod Ganj Dharamshala, Himachal Pradesh, 176219.
Contact us: +91 7428882828
goSTOPS McLeodGanj is 2 km from the city center.
Rooms & Spaces At goSTOPS McLeodGanj
The one word that comes to mind for most people when they hear the word 'hostel' is 'dorm'. While this isn't an incorrect assumption, it isn't exactly true. Replace your image of rows of dull beds in a hall with a warm room and wooded bunk beds, complete with soft pillows, thick comforters, and a colorful throw pillow as well. This isn't some fanciful dream, but our very real (and fairly affordable) dorm at McLeodGanj.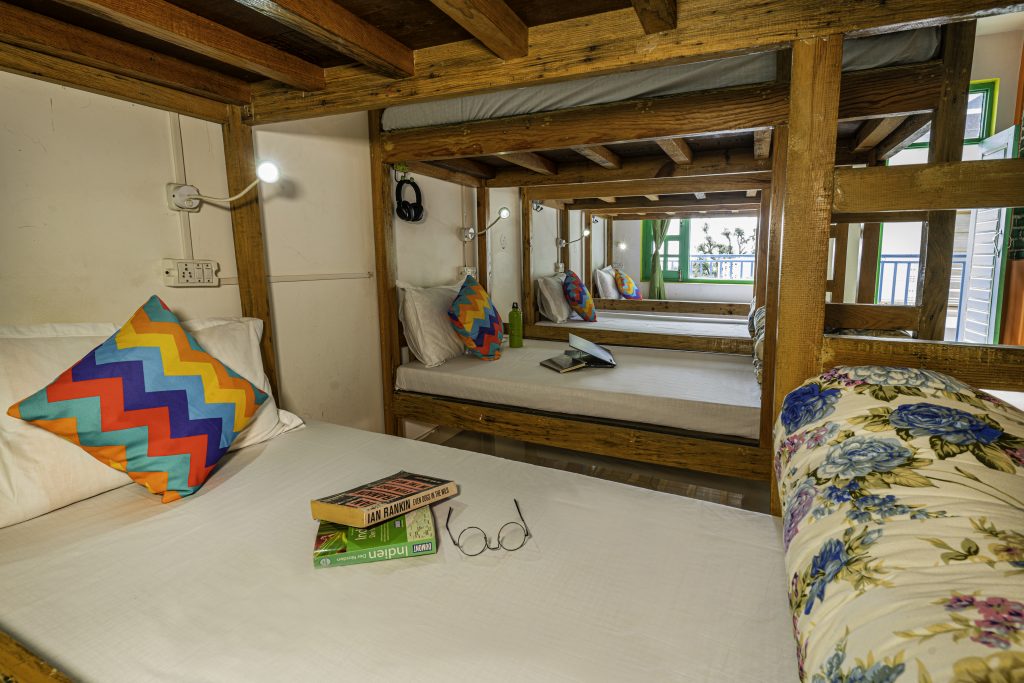 What's better yet is that you can choose a dorm based on your travel style and level of comfort. A group of 4 can book our 4-bed dorm, as can solo travelers who'd like fewer people around them. There's also a 6-bed dorm as well as an 8-bed dorm, both of which are not just snug but also spacious. Feeling cramped isn't something that will happen at goSTOPS! Each of our dorms has lockers to keep your belongings safe and sound, as well as squeaky clean bathrooms.
Extroverts will certainly feel at home here, surrounded by the many like-minded travelers to spark up conversations with. But what about the introverts at heart, for whom even a 4-bed dorm can feel too overwhelming? goSTOPS understands that there are all kinds of travelers walking through our doors, so don't sweat it. If you need complete privacy when you turn in for the night, book our private room.
When you need your fill of conversation, our common room is the place to be. There are plenty of colorful cushions to lean on, and our wide windows ensure you can zone out while staring at the mountains in peace. There are bound to be other travelers chatting together here, but if you find it hard to break the ice, why not turn to some games? That's right, we've got board games to keep you occupied and have some fun with your fellow hostelers! Head to the movie room to catch a film or two for when you're too tired to explore or socialize.
Finally, when you can't get enough of that cool, oxygen-rich mountain air, or just want a better view of the sunrise, step outside onto our broad terrace. There are tables and chairs here as well, so you can enjoy every meal or snack from our café with a view.
Amenities At goSTOPS McLeodGanj
If there's one thing we know, it's that the hustle never ends. But don't wait for a few measly days off to take a break – consider taking a workation instead. The change in location is bound to do you some good, and help you work better. We have enough free, high speed WiFi to go around, so connection should be the last thing on your mind.
As mentioned, every dorm at goSTOPS McLeodGanj has a series of lockers. Each traveler gets a locker number where you can store all your things without worry of theft. Finally, no matter what time of the day or night, our 24×7 front desk can take care of any needs.
How To Get Here
Being on one of McLeodGanj's motorable streets, getting to goSTOPS McLeodGanj isn't problematic in the least. Here's a larger rundown of getting to McLeodGanj to ease the travel planning for your trip.
Getting to McLeodGanj By Air
The Kangra-Gaggal Airport is the nearest airport to McLeodGanj, around 20 km away. You can easily hail a cab to take you to McLeodGanj; the drive will be about an hour long. In terms of flight connectivity, you may not get a flight to Kangra Airport. In that case, you can fly to Chandigarh Airport that has connectivity to practically every major city in India.
Getting to McLeodGanj By Train
The nearest railway station is in Kangra Mandir, around 23 kms away. However, it's unlikely that you'll catch an intercity train making a stop here. Instead, board a train that takes you to Pathankot, which has much better connectivity. You can either take a taxi/bus to McLeodGanj from here, or board the toy train that takes you to Kangra. From there, McLeodGanj is around an hour away.
Getting to McLeodGanj By Road
New Delhi has several overnight buses that take you to Dharamshala, from where Upper Dharamshala or McLeodGanj is only 9 km away. Alternatively, you can also drive up from Delhi. Your drive will take between 10 – 12 hours, and you'll come across hilly terrain with mountainous curves in the last 100 km, from Mubarakpur.
How Far Is goSTOPS McLeodGanj From Sites & Attractions
Where's the fun of having such fantastic spaces and amenities, only to make our hostelers travel for miles just to see the sights? goSTOPS McLeodGanj is located in a way that makes the sights of McLeodGanj easily accessible, so you can take it all in, all at your own pace.
St. John in the Wilderness – St. John's Church is truly hugged by the Himalayan wilderness, and is an impressive sight to behold. Stone turrets loom out between the trees, boasting the neo-Gothic architectural style it was constructed in. The church was erected in 1852, and also has amazing stained glass windows and the gravestone of Lord Elgin. The church is a 30 minute drive away from goSTOPS McLeodGanj.
Bhagsu Falls – Anyone who has visited McLeodGanj will at least mention Bhagsu Falls, if not show you pictures of it. The falls are one of those famous hotspots around McLeodGanj, and the trek to the falls is an enjoyable one. The falls are around a 30-minute trek away from goSTOPS McLeodGanj.
Tsuglagkhang Complex – Home to the Dalai Lama and two gorgeous temples, the Tsuglagkhang monastic village got a mention in our blog on exploring mini-Tibet aka McLeodGanj. Exploring the entire complex can take up half a day. Thankfully, it's a mere 15-minute drive away from goSTOPS McLeodGanj.
Tibetan Institute of Performing Arts (TIPA) – TIPA is the place to head to if you want to see Tibetan culture in motion. Apart from plenty of dance, musical and operatic performances, the Institute also has a number of things you can purchase. All your money goes back into their efforts of preserving their culture, so for once, you can shop guilt-free.
Conclusion
goSTOPS McLeodGanj sure has practically all you'd need for that ideal stay, complete with Insta-worthy lights and views. And when we say we understand you, we truly do; you can get all of these amenities and facilities at fantastically affordable rates. Just want an overnight stay? Walk right in. Want to escape from the city for a good two months? We can be your second home! We've got it all, so make sure you look into booking a stay with us soon.
FAQs
What Are Some Of The Property Amenities At Gostops Mcleodganj?
goSTOPS McLeodGanj has 4, 6 and 8-bed dorms, as well as a private room. Each dorm has locker facilities and an attached bathroom. It also has free high-speed WiFi and a 24×7 front desk to look after its guests' needs.
How Can I Make A Group Booking?
Group bookings at goSTOPS enjoy discounts, so simply head over to our group bookings page and fill out the form. We'll get in touch with you to arrange for the perfect accommodation situation.
What Is The Cancellation Policy At Gostops Mcleodganj?
We have a hassle-free cancelation policy at goStops; you must give a minimum of 72 hours' notice period before the check-in date in order to cancel/ modify the booking. Our check-in time starts at 1300 hrs. For context, if your booking begins on a Thursday and you'd like to modify/cancel it, you have to inform us before 1300 hrs on Monday of the same week.