Imagine a wide cinematic shot of a person walking up to a wall, looking at the map and intoning, 'this is where I am working next'; well, this could be a reality. Workation (Work + Vacation) is a simple concept of working and vacationing. As utopian as it may sound, it is precisely that. The idea of workation may be popularised by a crazy pandemic but it seems like the sanest thing to do – after all these hours working at home. So here's how to choose the best location for your next workation.
Planning a workation? Let's look at how to choose the best location that ticks off all your requirements for the best destination.
Points to consider while choosing a location?
The beauty of India is diversity: in people, culture, terrain, landscapes and so on. It can be slightly difficult to figure out the best location for work.
Here are things you must consider before choosing your next destination:
Beaches or Mountains?
This question has kicked off more travel plans than tourism ads have. The beauty of this question is that the answer changes as per how you're feeling. Do you feel like exploring the depths of vast oceans or the heights of giant hills? Both are remarkable experiences but you must choose one.
Internet
One can only be as remote as the Internet allows them to be. If this was a vacation, the Internet wouldn't even be considered. However, the slightly tricky part about workation is the one in which you have to work.
Budget
If money buys happiness, travel is the closest thing to happiness could be. The perks of working from home are that you could save on rent, travelling expenses, eating out and many other things. You can spend this money on a workation instead. It comes without the obligation of monthly rent and is way more serene than working from home. You need to evaluate what kind of a workation your budget allows and choose accordingly.
Purpose
There may be a lot of things that are great about remote work, but the worst part is that it has eliminated the social aspect of one's life. When you choose to work from a beautiful destination, what do you seek? An amazing experience, quiet working hours, new friends, new adventures, luxury or just a routine escape? Every location is different and each one has its pros and cons. You can't be in Goa and expect to work during the day and party at night!
WFH means Work From Hostels
Here's where we enter the chat. Hostels have been a great way to stay in places that might seem expensive normally. India has way too many places to go to, and definitely way more strangers to bump into. If you're seeking the comfort of a hotel, you can always choose a private room and enjoy your personal space. However, we can not recommend living in dorms enough.
Our dormitories are a powerhouse of diversity, culture, conversations and experiences. Our community members have made lifetime-sort-of-friends here and their conversations can be a podcast. When people from different parts of the world sit down to have a conversation, what comes out is an experience worth remembering.
If this hasn't helped you point out the exact location to book your tickets for, here's some help.
5 Most Budget-Friendly Workation Destinations of India
Today we are set to discover 5 places in India for your next workation that will fit your budget and your heart just right.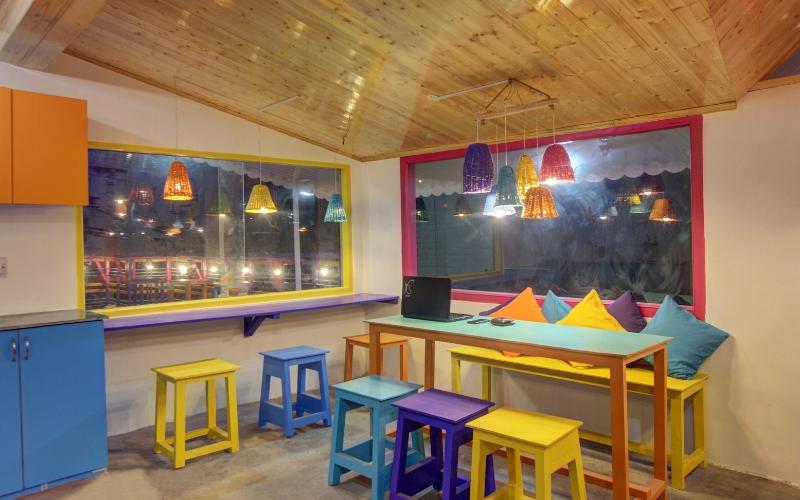 Naggar is an ancient town situated on the left bank of River Beas, between Kullu and Manali in Himachal Pradesh. It was the former capital of the Kullu kingdom. It is known for its rich culture, history, temples and majestic scenery. Naggar can be a dream destination for workation because of how serene it is. It has many tourist attractions like the Nicholas Roerich Art Gallery, the famous Naggar Castle, many temples and Jana Waterfall. Even though there are many attractions, Naggar is not as commercialized as Shimla or Manali. Working from Naggar can be a calming and serene experience. goSTOPS hostels start at as low as INR 399.
Naggar offers adventures like mountain biking, fishing, paddling, camping, or zip lining with the views. It is definitely a great place to start your backpacking experience.
Book your stay here.
The history of Pondicherry is influenced by many European colonists. French architecture and cultural influences are quite prevalent in the region. The goSTOPS hostel is located just outside Auroville, a small township inspired by Sri Aurobindo's vision. An area called the Peace area surrounds the famous Matrimandir, which is known for its divine tranquility and reflective silence.
The best time to visit Pondicherry would be any time from December to March. The weather is usually wet in summers and pleasant in winters. The goSTOPS accommodation in Pondicherry starts at INR 499.
Book your stay here.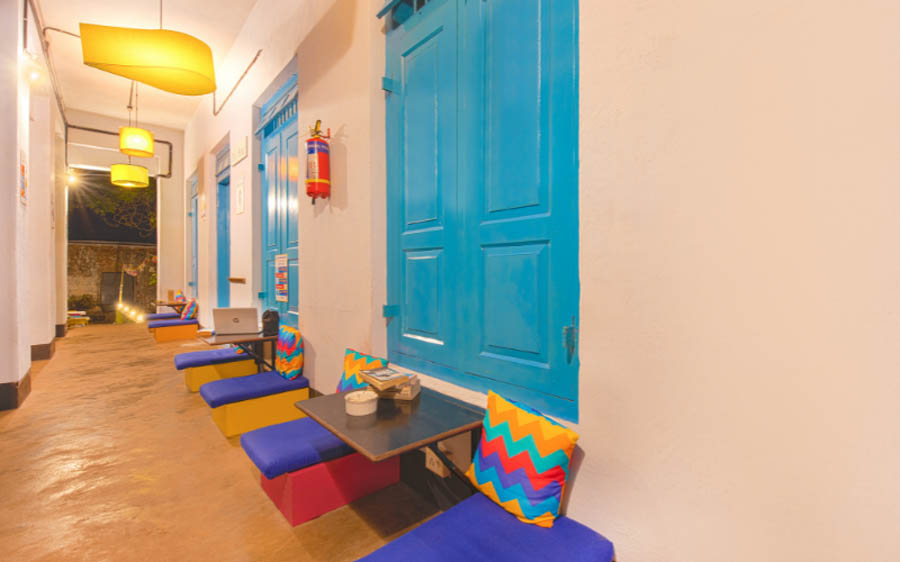 Alleppey or Alappuzha is a beautiful town in Kerala on the banks of the Lakshadweep Sea. It is also called the 'Venice of the East' owing to its extensive network of backwaters and a thousand houseboats. Alleppey is famous for its snake boat races, beaches, marine products and coir industry. The best time to visit Alleppey is from November to February when the temperature is pleasant. The goSTOPS accommodation in Alleppey starts at INR 449.
Book your stay here.
Kasar Devi is a small village near Uttarakhand's Almora. It is widely known for its Kasar Devi temple which dates back to the second century. If you believe in religion or just visiting temples, this place is for you. If you believe in science, then it's definitely for you. The temple lies on the Earth's Van Allen Belt which means that the temple lies amid a massive geomagnetic field and bestows cosmic energies.
It is also called Hippie Hill because of its popularity amongst spiritual enthusiasts. You will also find a lot of inspiration for art and poetry here. The Almora region is a quiet escape to the hills that will render a great working environment and better recreation. The goSTOPS accommodation in Kasar Devi starts at INR 399.
Book your stay here.
Pushkar is a vibrant town in Rajasthan's Ajmer district. It is most popularly known for its annual fair, Pushkar Camel fair. Pushkar is an important destination because of its mentions in the Hindu scriptures, and the several temples and gurudwaras. Pushkar is also known for its architectural heritage in its temples, vibrant fairs and the beautiful Pushkar Rose. Amid the beautiful temples and gurudwaras, there are many modern cafes as well. Pushkar is a great place to visit during Holi; the celebrations are unparalleled. The goSTOPS accommodation in Pushkar starts at INR 249.
Book your stay here.
Since we've grown up, there are no month-long vacations anymore. Workations are meant for you to have off-time while working. These were the five best destinations for your next workation within your budget. If this is your first workation, I would personally recommend Pondicherry and Naggar. Mountains or beaches, whatever you like – this can be your next pick. Both these locations are near relatively commercialised towns and yet away from the hustle-bustle. They are calm, serene and worth a visit.
Hope you have the best workation ever. Tell us all about it in the comments.