The month of December in India is all about celebrations and warmth. It's that time of the year when you dance to the tunes of JINGLE BELLS AND FELIZ NAVIDAD!! With Christmas and New year vibes around the corner, it becomes surreal to witness the holiday spirit in the air. Even though Christmas is not as big a festival in India as it is in the Christian world, many have begun marking it as a season of celebrations with friends and family. While some prefer to celebrate it with their loved ones, others like to explore and unwind in the Christmas spirit of different places. Whether you are a mountain lover or a beach enthusiast, Christmas makes it special wherever you are. So, we have shortlisted some of the best places to celebrate Christmas this year. we have shortlisted some of the best places to celebrate Christmas this year.
Enjoy the Chritsmas Carnival in Goa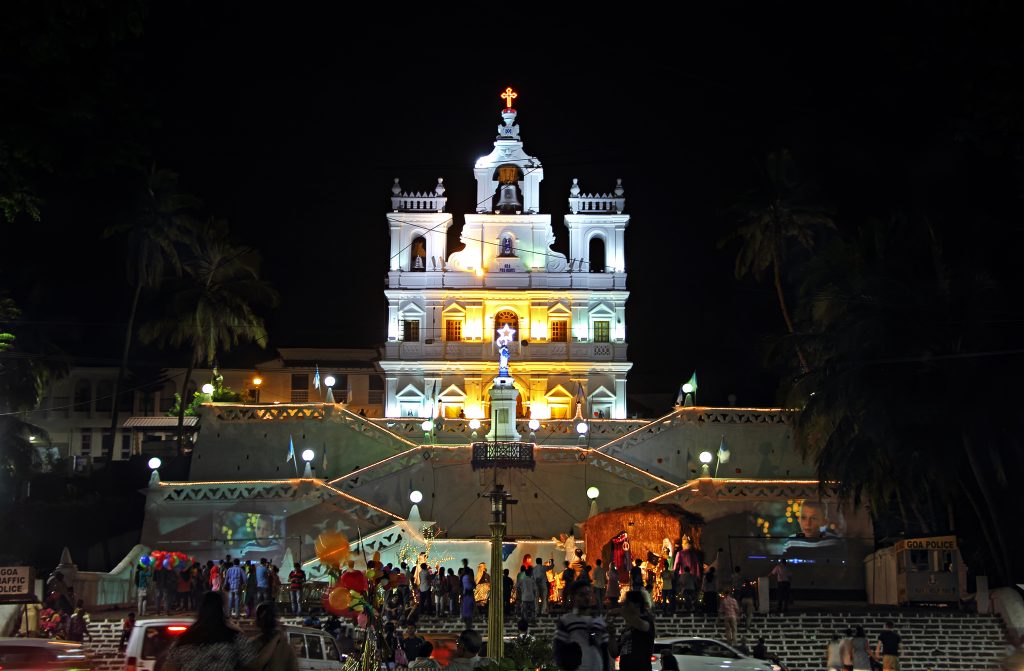 Christmas in Goa is nothing short of a party and a carnival altogether. Being prevailed by the majority of the Christian crowd, celebrations here come to life and are filled with joy. The streets here are all decorated and lit up with shining Christmas trees adorned with beautiful ornaments. From late-night parties and music fests to midnight masses in church, there is a lot you can enjoy in this party capital during Christmas. One can spend the day at lovely beaches witnessing sunsets and can pay a visit to beautifully decorated churches at night.
Experience Christmas in the Little France of India
Pondicherry, the french capital of India is where one can unwind and soak in the laid-back vibes of beaches during Christmas. This little quaint town is home to some amazing churches where you can attend the midnight mass. During the day, one can visit the beautifully lit markets with fairy lights, Christmas trees, and lovely lantern displays. With beautifully decked-up streets, and authentic Christmas feels, Pondicherry is one of the best places to celebrate Christmas this year.
Indulge in the best Christmas delights in Bangalore
Bangalore is also known as the Garden city of India where Christmas is regarded as a great affair. Brimming with holiday fervour, the city comes to life during Christmas celebrations. On this day, people here are dressed in vibrant clothes and waiting for the midnight mass in the church. Christmas celebrations here are rich in culinary delights and soaked in an exuberant festive spirit. Don't miss out on prominent churches for Christmas celebrations like St. Mary's Basilica and Holy Trinity Church to experience the best of festivities and prayers.
Witness merry vibes on the streets of Kerala
If you are a beach lover and think Goa is already taken for this celebration, look out for Kerala's Christmas celebration. In Kerala, the Christmas spirit is unique and is celebrated with great pomp and show. Preparations here begin in early December wherein cakes are exchanged, and feasts are prepared to enjoy with friends and familiy. With exotic flavours of local traditions, gorging on local feasts to witnessing Christmas carols, you can experience a lovely Christmas night in the South of India.
Cosy Christmas celebration in Ooty
Ooty is a place that bestows the best of experiences for the Christmas spirit. If you are someone who is looking for a cosy and peaceful Christmas celebration, then Ooty is the perfect destination. Ooty's cold atmosphere and frost-covered greenery give literal Chritsmas feels. With several architectural churches and a plethora of activities to enjoy, Christmas in Ooty is a different yet best experience one can have in this season.
Conclusion
Travelling and exploring is the best kinda celebration one can have with friends, loved ones or even solo. It is a continuous love affair where the more you travel, the better it gets. This year, if you are seeking holiday escape in a new place for a joyous Christmas celebration, goSTOPS is there to add to on to your Christmas charm at all these locations. This holiday season, celebrate Christmas in its true spirit and unwind in the best places to celebrate Christmas this year.