Alleppey (or Alappuzha), famously called 'the Venice of the East', is a beach paradise situated on the southern coast of India. Now, of course, Venice is all about the Renaissance, the Campanile bell tower, the gothic palaces, the churches and being a culture center. But, you'd be surprised how much Alleppey has to offer as a place both culturally and historically. Built as an architectural marvel, it is one of the oldest, cleanest planned cities built by mastermind Raja Kesavadas in the 18th century. There is also a lighthouse built along the Laccadive Sea coast which is one of a kind.
goSTOPS Alleppey
If I haven't convinced you enough to book your tickets for Alleppey, let me get started with the beautiful, one of its kind goSTOPS hostel in Alleppey. Built right across a beautiful canal, it is a heritage property you must plan a stay at.
Location: Cullen Rd, Sea View Ward, Alappuzha, Kerala 688012.
Accommodation starts at as low as INR 450 ($5.50).
Timings: Check-in: 1:00 pm and Check-out: 10:00 am
How to reach goSTOPS Alleppey?
By Air: The nearest airports from Alleppey are Cochin International Airport (82 km away) and Trivandrum International Airport (150 km away). Both airports are functional, and you can find regular flights operating from both airports.
By Road: You can then take a bus or a train to Alleppey from Kochi or Trivandrum. Taking a cab from the Kochi airport would cost around INR 2500 (US$ 30.58).
By Train: Trains run along the coast of Kochi,Varkala, and Trivandrum towards Alleppey. You can catch a train from one of these cities. The railway station is 2 km away from the goSTOPS hostel. You can also take a cab or auto from the station to the hostel, it shouldn't take more than INR 80. You can use Cullen Bridge as a landmark, it is 40 meters from the property. 
If you can't find a direct train to Alleppey, take a train to Kochi and then to Alleppey (59 km from Kochi) from there. You can even take a cab from Kochi, it will cost you around INR 2000 (US$24.47).
By Bus: You can take a bus from Thiruvananthapuram, Kochi, Bangalore or Chennai, as these are the main cities around Alleppey. These cities also have regular buses running to and from Alleppey. They will drop you off at one of the major bus stands in Alleppey (which are not more than 3 km away from the hostel). You can then take a rickshaw to the hostel which will cost not more than INR 80 (US$ 0.98).
Why this hostel is one of a kind?
goSTOPS Alleppey is a vintage find, a British-era 100-year-old property renovated into the modern-day, vivacious accommodation. The property was once a godown and then it was taken over by the Akashvani Radio Station. Interestingly, there used to be a mushroom lab in the property and even a recording studio. It was then made into a police station; after which we discovered it, and turned it into the goSTOPS hostel it is now.
It is located 40 meters away from the Cullen Bridge which is a major tourist attraction. It is also where you will find eateries and restaurants to relish delicacies of Alappuzha.
The property is just 400 meters (5 minutes walk) away from Alleppey Beach. Something I suggest would be waking up before the sun and going to the beach to see the sunrise.  
You can even see the beautiful canal and the tranquil waters from the hostel balcony, making it a postcard moment. 
The houseboats are an experience but the alleys are truly worth exploring. Lose yourself in the beautiful alleys and

Rooms and Spaces
The hostel has AC dormitories (Mixed and Females). We also have Deluxe Double-bed AC Rooms with attached Bathrooms, in case you're seeking more personal space. Dorms start from INR 449 (US$ 5.49) and Private rooms start from INR 1599 (US$19.56).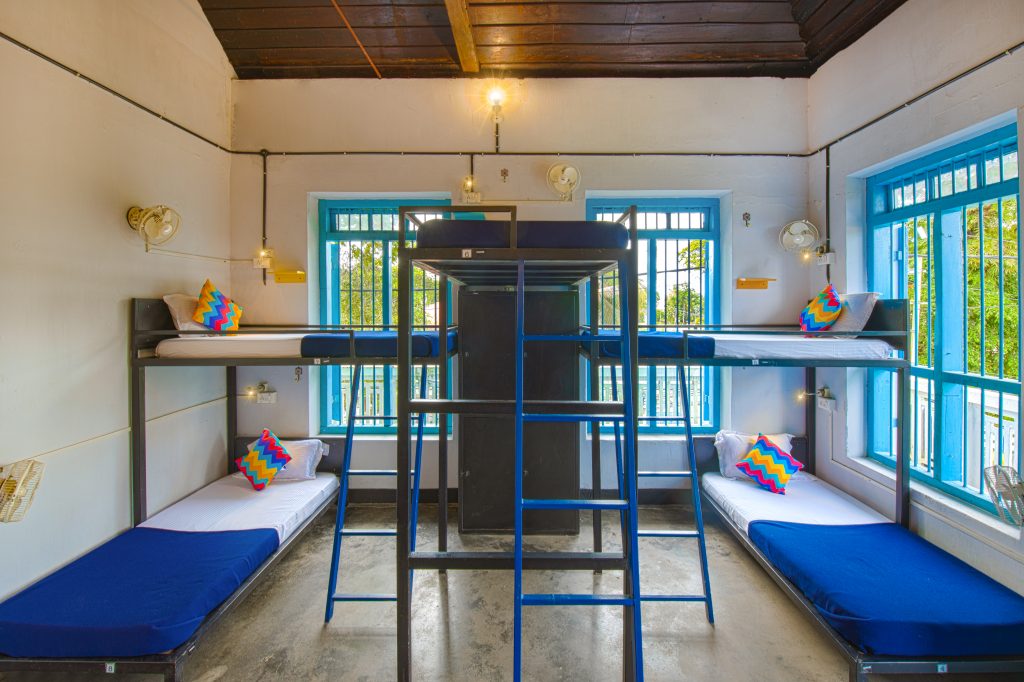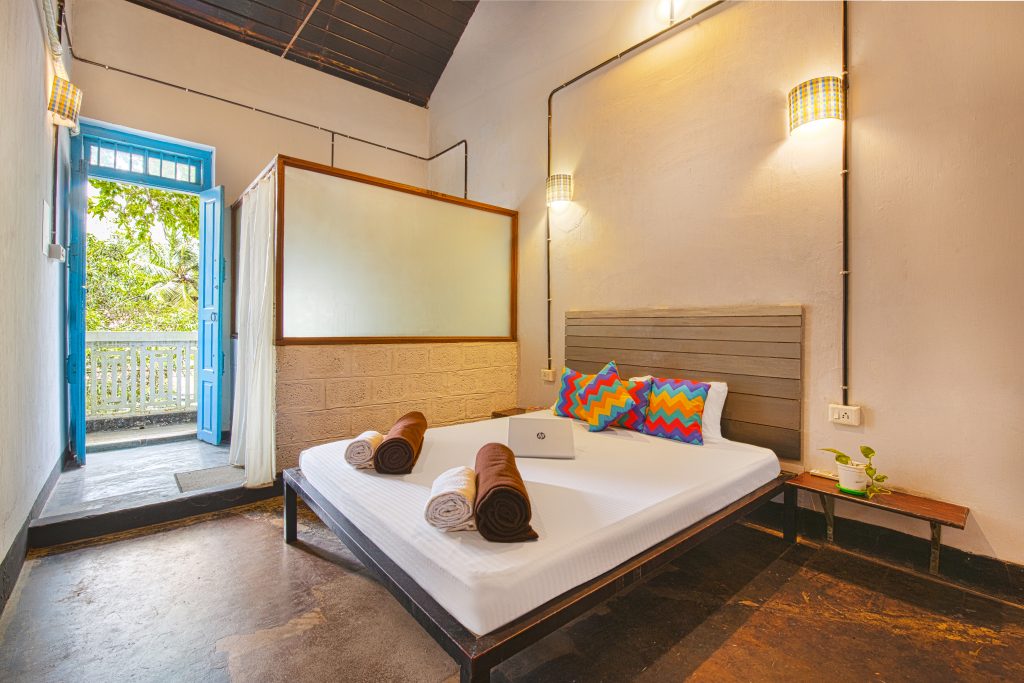 Here is a list of amenities available in the hostel:
Free WiFi
Free Parking;
24 hours running hot water
Indoor Games in the Common Area
Lockers in the dormitories
Luggage Room
Towel
Heaters
Laundry services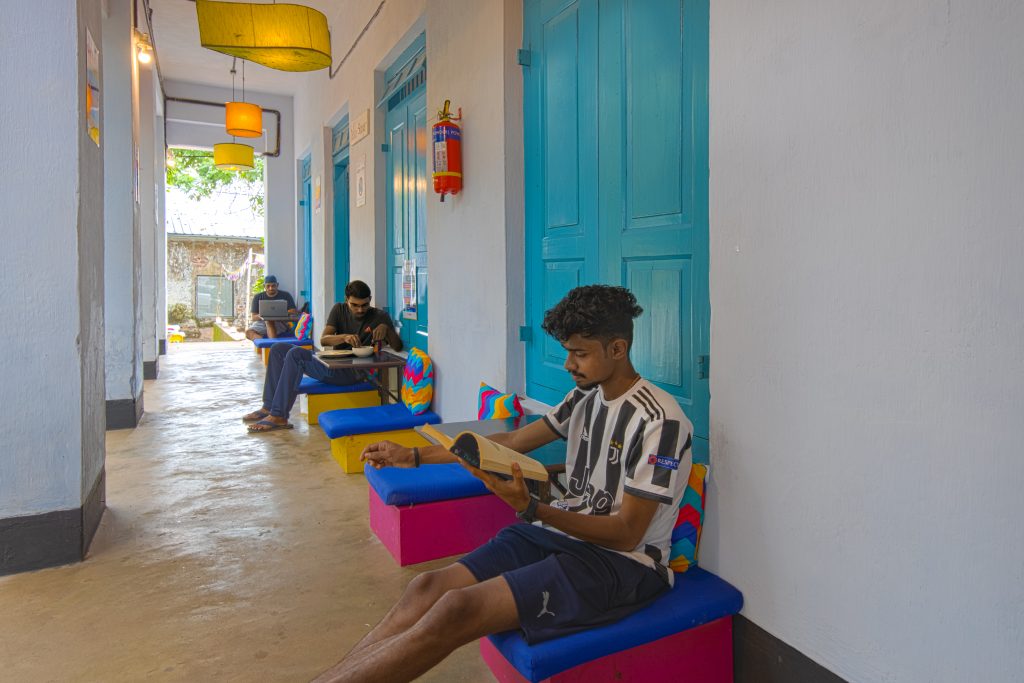 Here are some general guidelines to follow if you're planning a stay at goSTOPS Alleppey: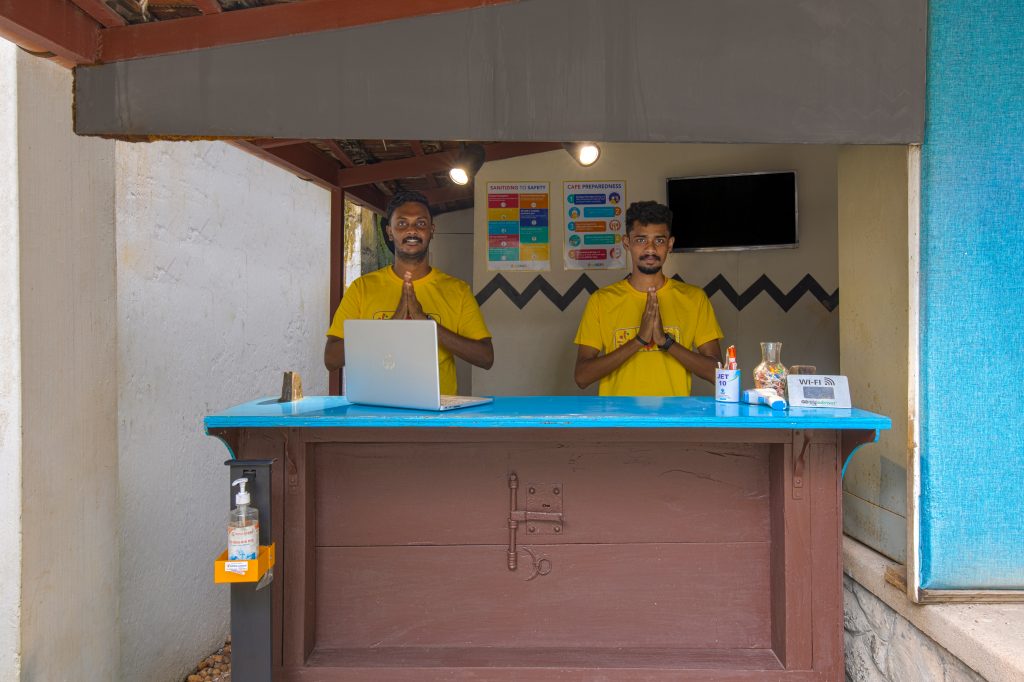 Carry Aadhar Card (government issued identity proof); PAN may not be valid.
Minors are not allowed on the premises, even if they are accompanied by adults.
Toiletries are not provided, carry your own.
Alcohol consumption is allowed only in common areas.
Conclusion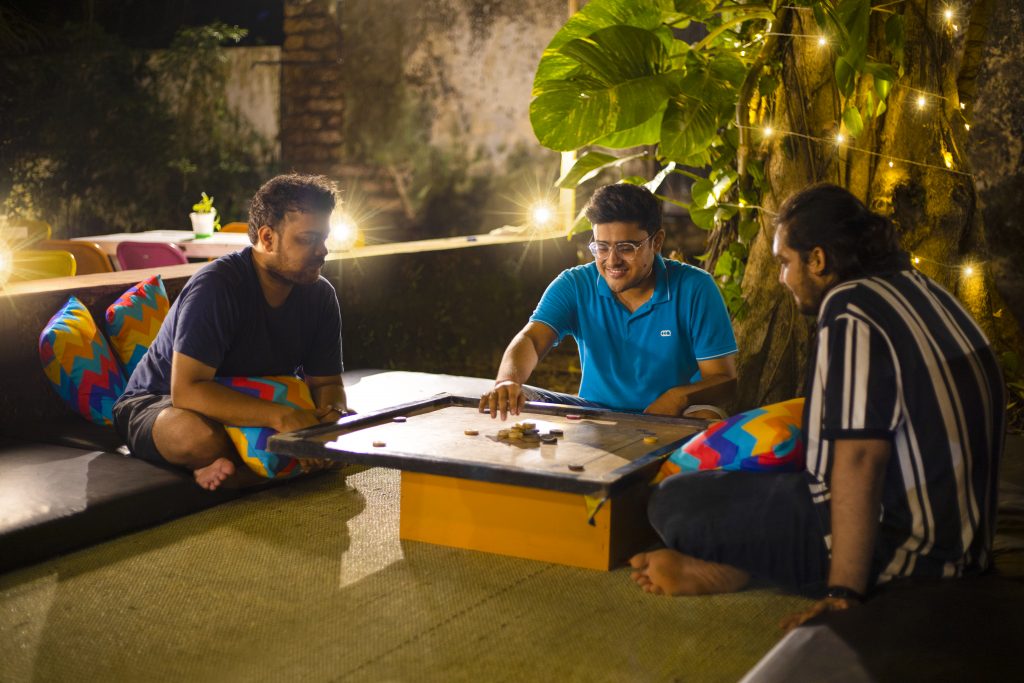 On a parting note, goSTOPS Alleppey is your next bucket list destination to check off. It is a hub for backwaters and canals, making it a truly brilliant location for backpacking. The hostel is one of its kind, and we would love to host you there.