We're not going to lie to you, skiing for the first time can be terrifying. It's similar to when you learn to ride a bike or skate for the first time ever, where you keep losing your balance. Come to think of it, skiing is just you sliding off a snow-covered mountain with two tiny sticks attached to your feet. It makes you wonder, did I really voluntarily sign up for this? But don't worry it's not all downhill! (figuratively speaking). 
Once the nerves settle down and you gain confidence with your balance, skiing gets highly addictive. This extreme sport will have you hooked in no time. But before giving it a go, let's take you through these 8 ski tips for beginners you should know about for a great experience.
Pick A Skiing Destination
Northern India is the first name that comes to mind when you think of a place to ski in India and rightly so. It's home to the Himalayas, and gets an abundance of snow in the winter months, creating the perfect landscape for skiing. Besides the obvious states which are Uttarakhand and Himachal Pradesh, the lesser-known states that you can pick for skiing include Arunachal Pradesh, Sikkim and Kashmir.
In terms of towns, a special mention for skiing goes out to beautiful Auli situated in Chamoli district in Uttarakhand. It is becoming an increasingly popular choice for winter sports in India. Other notable places for skiing in India are the winter wonderland towns namely – Kufri located in Shimla and the gorgeous Gulmarg in Kashmir. Remember that the best ski-son to go skiing is from December to February, these are the peak winter months in India. Consider the destination options you have and figure logistics to get there well in advance.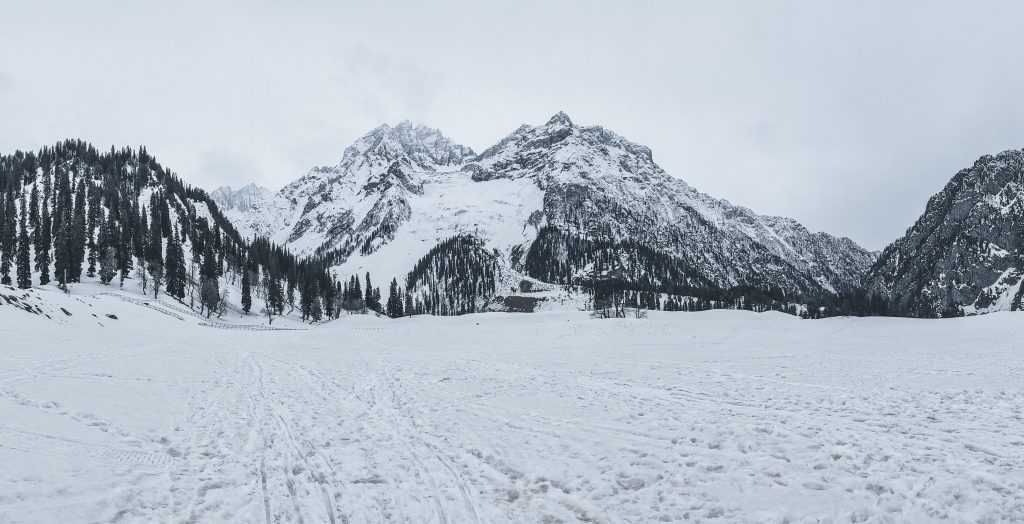 Get Your Attire Right
When you go skiing, looking fashionable takes a back seat and your main focus should be on keeping yourself warm and comfortable. Here is the order of clothing items you'd need to go skiing – 
Woolen Thermals – To start with, you'd have to put on a pair of thermals. Make sure your thermals aren't made of cotton as cotton retains moisture, keeping you feeling damp. 
Long-Sleeve Woolen Top – Over your thermals, throw on a warm woolen top. Depending on what the weather looks like you can pick a bulky woolen top or a lighter one if you get hot often.
Breathable Jacket – The third layer of clothing that goes on you is your jacket. Make sure the jacket you wear is waterproof and can withstand the wind you'll face when going downhill. The jacket in no way should restrict your movements. Basically, you should be able to robot dance even if you have 3 layers of clothes on you.
Full-Length Pants – Once again your pants would have to be waterproof and should be extremely comfortable. Don't wear pants that are tight because you want to be able to bend your knees without much effort.
Other Items That Will Complete Your Ski Attire Are – 
Knee-length Socks
Ski Boots
Gloves
Helmet
Goggles
Neck gaiter
Do note that the helmet and ski goggles in most cases are items that can directly be rented out from the place you're skiing.
Warm Up And Become Familiar With Equipment
Before you ski, walk around and see if you're feeling comfortable enough on the snow in your ski boots. Pick up your skis, understand how heavy they are and learn to carry them without injuring yourself or anyone else. Also, learn how to put on your skis, lock them in and walk around in circles just for practice. It's all about taking baby steps just like you would if you were learning to skate for the first time. Just spend some time becoming familiar with how it feels to be on skis; this is one of the initial ski tips for beginners the world over.
Start On Easy Terrain
When you're just starting out with skiing, head to beginner-friendly slopes and just try going in a straight line. Be easy on yourself and take your time to understand how skiing works. Don't be in a hurry about taking turns and making shapes when you're just starting out. Keep practicing the straight line till you get a gist of being on skis. You can also consider paying for an introductory lesson by a professional instructor because that's the most efficient way to learn the sport. 
Take the advice of a professional on body posture to maintain if you wish to sway left or right when gliding. You will soon learn that you have to keep your legs flexible at all times, be ready to bend your knees as you glide down slopes. Refrain from keeping your legs stiff as a board because you won't be able to dodge obstacles that come your way or have control of the downward glide if your legs are ungiving.
Fall Correctly When Skiing
Falling is inevitable when skiing for the first time so don't be shy about it. (Clumsy people unite!) Till you get your balance right, you might fall a couple of times but you've got to fall correctly to avoid injuring yourself. At the time of falling, you should also try your best to not fall on your back. It's easier to get up when you've tumbled sideways or on your limbs.
As you're gliding at full speed, look for an empty open space to fall into as soon as you get an indication that you're losing control. If you feel stuck after falling and can't get up on your feet, decide to take off your skis immediately. When you remove your skis, keep them in the horizontal position behind you, never vertically, or it would just glide down the slope by itself and escape. After that, dust the snow off, pick yourself up and give it another shot!
Know How To Stop On Skis
When you ski, you've got to understand the various methods used to stop when going downhill. This will be among one of the first ski tips for beginners you learn. The three most used techniques are – The pizza, the wedged turn stop, and parallel hockey stop. 
The Pizza Stop – Easily done by beginners, the pizza stop is about forming the shape of a pizza slice to break the momentum of gliding at full speed. You keep forming these triangles till your speed reduces and then find a moment when you can stop completely.
Wedged Turn Stop – The wedged stop is all about having good steering control. It's a stop method where you change to a parallel direction by putting more pressure on one leg. You can use the dominant leg to turn the direction of your ski slowly and steadily.
Parallel Hockey Stop – Best for seasoned skiers, this stop technique involves you turning sideways parallel to the slope with force, bringing yourself to a complete halt immediately. It will take a while to get a hang of this one.
Look Ahead At All Times
It's easy to get into the habit of looking at your feet and your skis when gliding down but it's best to refrain from doing that. Look forward and see where you want to go. It's similar to driving where you keep your eyes on the road at all times and your feet work on the accelerator, brake and clutch.
Take Sufficient Breaks
This is one of those ski tips for beginners that you shouldn't take for granted. When you ski, you put immense pressure on your knees. Even though you might want to keep going at it, we highly recommend taking some time out to stretch. Your muscles will feel extremely sore the next day if you don't take breaks or hydrate enough when skiing. Listen to what your body is saying at all times and even if you have lots of time to ski, take a call to stop when you're exhausted. 
Keep Calm And Ski On
The best of the ski tips for beginners is to keep calm and have fun as you learn to get a hang of skiing on a beautiful snow-covered mountain. It's nerve-wracking, but a great way to spend your winters outdoors. Not a winter sports enthusiast? Then you can curl up indoors at one of the many goSTOPS hostels set in the northern mountains of India to gaze at a pristine snow-dusted scenery from your room.
FAQs
Is Skiing Hard For Beginners?
Skiing is not hard for beginners if you have with you a qualified teaching instructor. The sport is not as tough as it looks but you'll only know once you hit the slopes.
Can I Teach Myself To Ski?
With YouTube on our hands, you can teach yourself to ski by watching sufficient videos on how it's done. But if you wish to master the sport it's best to take training lessons on-site.
How Long Does It Take To Ski?
It's possible to learn the basics of skiing in a day but not master it completely. It's best to give yourself 3 to 5 days to ski like a pro. Don't push yourself to get it in a day as it can take a toll on your legs.
Are Ski Trips Expensive?
Ski trips are relatively expensive winter sports because the gear you need does not come cheap whether you rent it or buy it. In addition, you also have to account for the ski teaching lesson and the fare of the chairlift.