In the land of culture and diversity, it is quite a surprise when some one talks about adrenaline filled water sports in India. For international travelers, even navigating through cows or bargaining with an auto driver can be an adventure by itself. But if you're the special one and your adrenaline levels find the chaotic cities to be an easy challenge, dive into a myriad of water sports the country has to offer. So if you're wondering whether to raft downstream or what water sports to try on Indian beaches, here are 5 water adventure sports in India you should definitely try while visiting the country. Do not worry about the best season, cos we got that covered as well!
1. White Water Rafting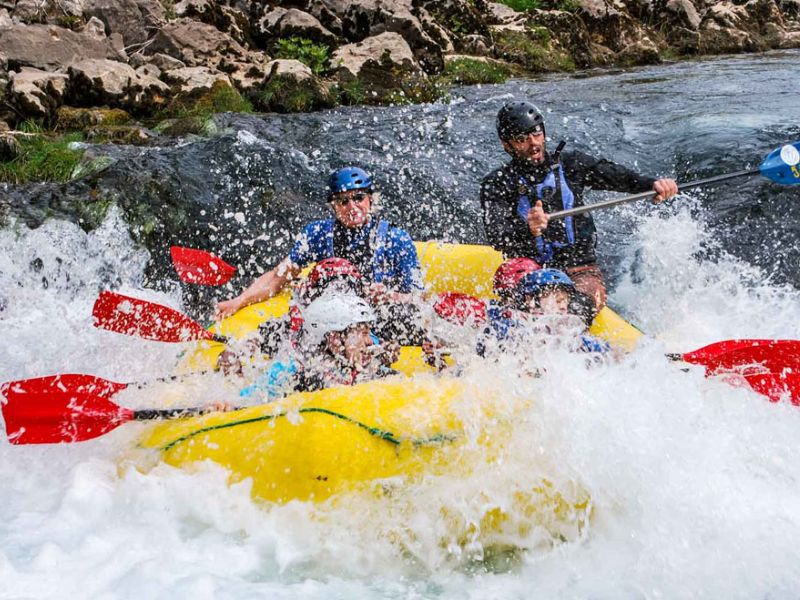 Image Courtesy: Tour My India
Becoming popular in the 1950s, this adventure sport encompasses navigating your raft through whitewater or varying degrees of rough waters. The adventure sport comes with erratic risks depending on the classes of white water and requires strong teamwork. Each technique implied is as important as the last technique you'll ever apply. White-water rafting will surely give you an experience that'll be difficult to forget throughout your life.
Where?
Rishikesh: Located in the state of Uttarakhand is considered the best in India for rafting.
(Best season for rafting: September to June).
Brahmaputra River: If you're looking for something offbeat; something less crowded, nothing tops Brahmaputra River Rafting Expedition. The mystifying 180 km river cuts through the Himalayas and goes into the Tibetan region. The rafter is exposed to hillside tribal settlements in thick rain forests and unparalleled sceneries.
Zanskar: Located in the state of Jammu & Kashmir is another place, often favored for rafting. The Zanskar River is 12,000 ft. above sea level.
(Best season for rafting:  July to August).
2. Kayaking
Image Courtesy: TravelTriangle
If you tend to trust yourself more than any team member, then Kayaking is the sport for you. A kayak is a low-to-the-water boat in which the paddler faces forward with his legs in front and uses a double-bladed paddle. Most of the kayaks have a closed deck, even though open and inflatable ones are getting popular.
Where?
Brahmaputra River:  Located in the state of  Arunachal Pradesh. It is the best river for those seeking a natural high on adventure.
(Best seasons for kayaking: November and March).
Andaman and Nicobar Islands: White water kayaking is also popular in the islands of Andaman and Nicobar although it's not as thrilling. However, it turns out to be a great way to explore islands and the marine life.
Ramganga : Packed with youthful action, Ramganga is an ideal place for many water based activities. Kayak down the mild surfs and do a couple of rolls or just zip line across the river from one bank to another.
3. Kitesurfing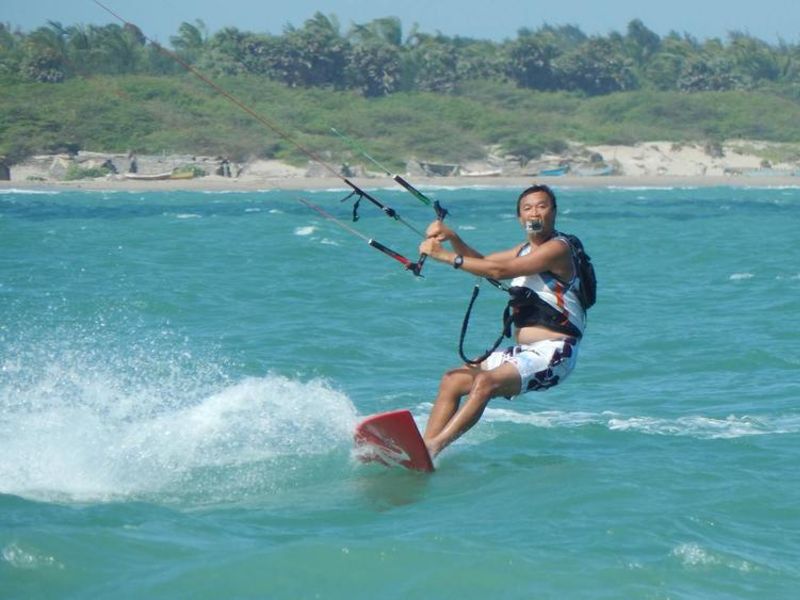 Image Courtesy: Kitesurfing Holiday
Also known as kiteboarding, this is one extreme sport with a cocktail of various aspects of surfing, windsurfing, paragliding, gymnastics, and snowboarding. In short, it's FREAKIN AWESOME! A kiteboarder uses the power of the wind with a large controllable kite to be propelled across the water. There are various styles of kiteboarding, including freestyle, free-ride, down winders, speed etc.
Where?
India has a great coastline and as a peninsula has the benefits of trade winds on all three sides.
Manapad and Rameswaram Islands: The two top destinations for kite-surfing are located in Tamil Nadu.
(Best seasons for jet skiing : June to September and December to March).
4. Jet-skiing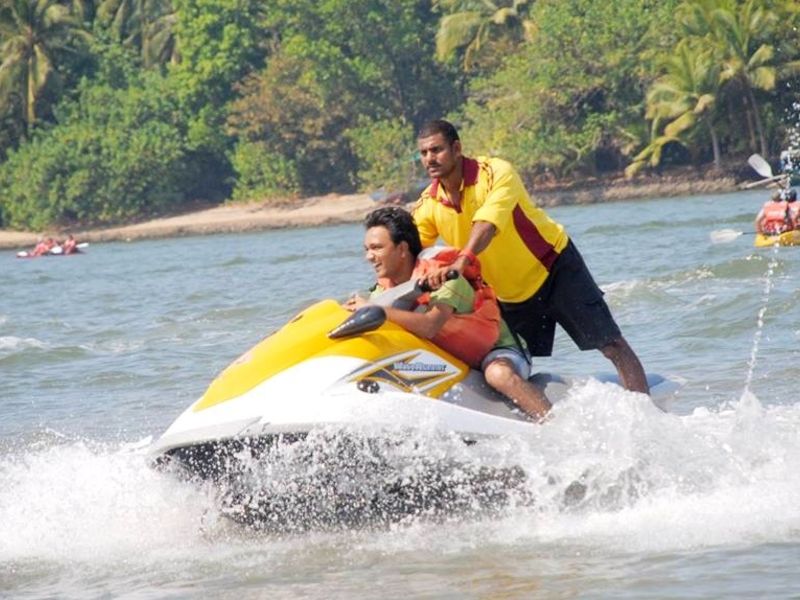 Image Courtesy: GetMyBoat
Jet skiing is one of the more common water sport in India. Get ready for some speed and thrill while slashing your jet ski through the water. The typical jet-skis can go up to the speed of 65 mph.
Where?
Candolim Beach in North Goa: The ultimate destination for jet skiing; this is one of the longest beaches in Goa stretching up to 15 kms.
Havelock Island in Andaman: One of the most stunning islands to jet-ski around is situated 57 kms from Port Blair. The white sands and turquoise-blue waters of the Havelock island is a paradise for water sports enthusiasts and a favorite among jet skiers.
5. Scuba Diving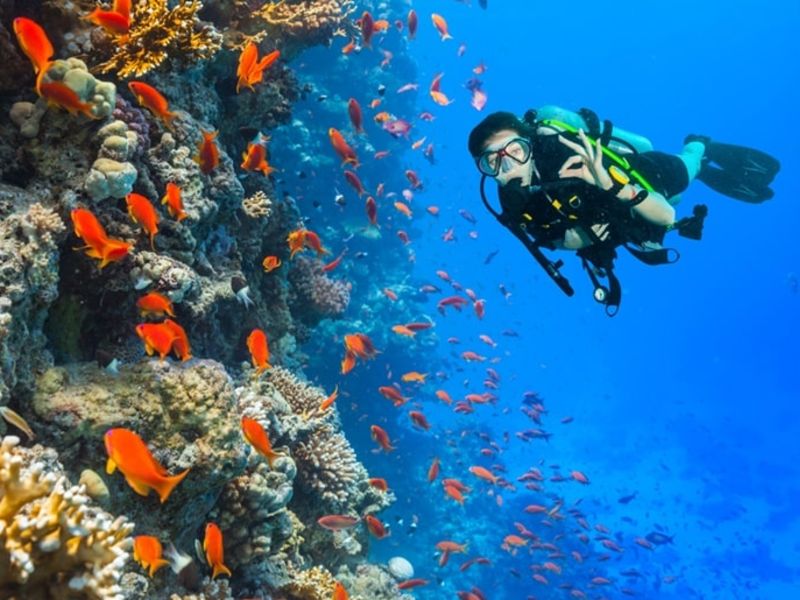 Image Courtesy: Holidayrider
When talking about water sports, diving is one sport that cannot be missed. When diving in India, you can expect an abundance of amazing dive sites that offer unbelievable underwater diversity.
Where?
Goa: the smallest and richest state on India's west coast, has easy access to the Arabian Sea. Diving off of Goa provides divers with the chance to slide over plush coral gardens and pinnacles, as well as to see a variety of shipwrecks!
Lakshwadeep: a remote archipelago off India's south-western coast just above the Maldives. Dive sites near Lakshwadeep offer colorful reefs, overhangs, and big fish action.
Andaman and Nicobar Islands : This remote group of islands brags off animated coral reefs, huge schools of fish and untouched dive conditions. In this overcrowded country, you'll find underwater discovery as fascinating as exploring India's rich heritage and culture!
(Best seasons for diving : March-May and September-November)
With geographical features ranging from rapid rivers, active coral reefs, and strong coastal trade winds, the Indian subcontinent becomes a playground for all adventure enthusiasts to dive head-on into danger and experience the ecstasy of life in all its chaos and beauty!
Featured image courtesy: Adventure Fanatic
Read more blogs on this series :