Festivals in India are a huge deal. There is always some or the other festival being celebrated in its nooks and corners. Now, why is that? You might wonder that Indians doesn't work at all, for their lives are always centered on some rituals and customs. Well, my friends, Indians are one hard working lot; no wonder there are 2 billion of us already. The thing is that we are a humongous ball of celebration and festivities which is made from diverse cultures and groups. This is the reason why it's always fun and frolic in here, mostly the unusual and the bizarre kind. With so many cultures and religions comes in a plethora of legends that have given birth to such crazy events. Get started with our West India Edition to know more about these larger than life occasions.
1. Immersing Oneself in Barrels of Water – Varuna Yajna – Maharashtra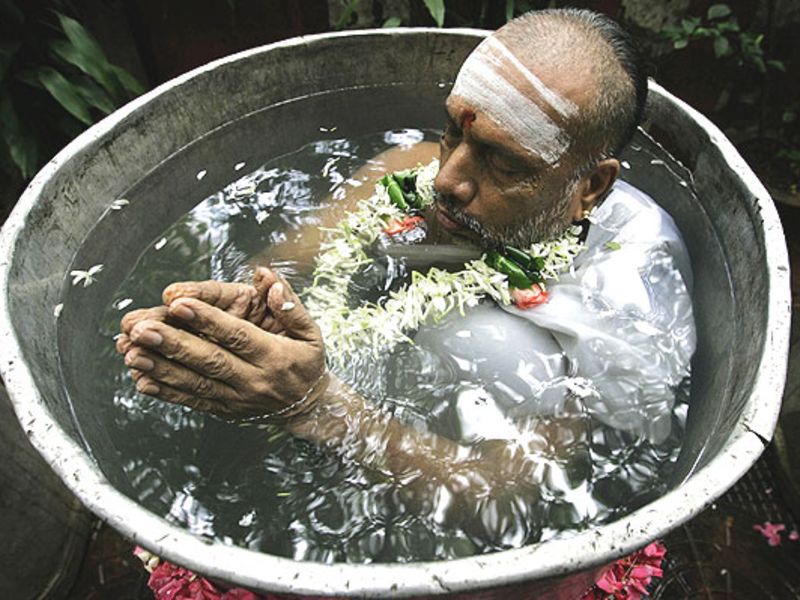 Image Courtesy: Outlook India
Yes, you read that right. Immersing oneself in barrels of water is one of the many unusual rituals practiced in western India. This act forms a part of a grand event called Varuna Yajna, a series of purifying rituals to appease the God Varuna, the Hindu God of water. Since India is primarily an agricultural economy and most of the households run on the crops and greens it produces, rain becomes a really important factor. If it doesn't rain, there will be no food and no one likes no food. Food is life!
To appease the gods, a purifying fire is lit and the chants are performed by the temple priests. They then immerse themselves in the barrels of water and incant Lord Varuna's name 1 lakh times.

When : Every year before the rainy season begins. India experiences monsoon mainly from June to August.
Where : Maharashtra and the southern Indian states of Karnataka and Tamil Nadu.
2. Getting Trampled by the Cows – Govardhan Pooja – Maharashtra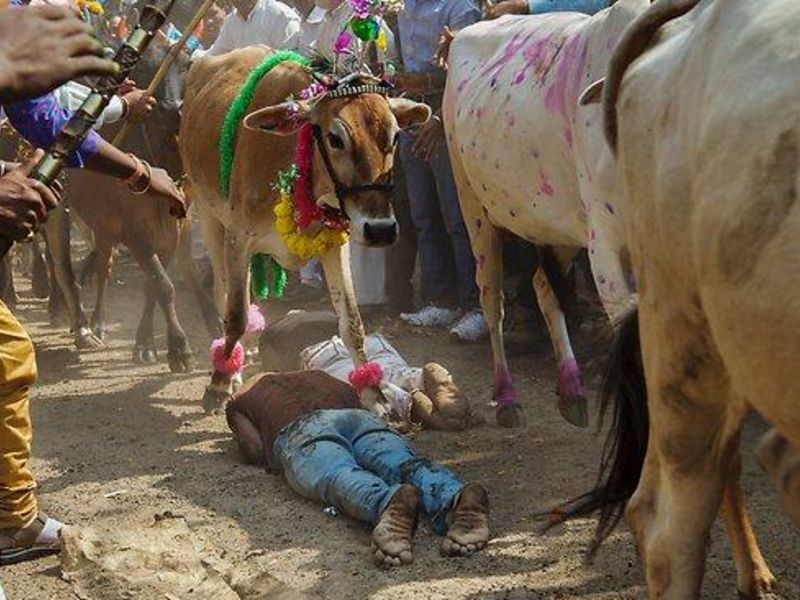 Image Courtesy: DesiNema
You might go lengths to experience a place – hop on an overcrowded train, tantalize your palette with the weirdest of the dishes and even hitchhike your way to the destination, but would you ever put your life at risk deliberately and get trampled by a heavy animal? Maybe not, maybe yes! The Indians surely do!
In a village in Maharashtra, people go an extra mile while celebrating the festival of cows called Govardhan Pooja. The cows are worshiped and given offerings. The situation starts to take on a garb of bizarre and crazy when the villagers lie down in front of a herd of cows and let the animals trample their bodies. All of this is done after completing a five-day long fast by the people who want their mannat (wish) fulfilled. The whole affair is a grand spectacle and almost everyone from the village comes and joins the festivities, either as participants or spectators.
When : On the day of Enadakshi, a day after Diwali.
Where : Bhiwdawad village in Maharashtra.
3. Marriage Festival – Bhagoria – Madhya Pradesh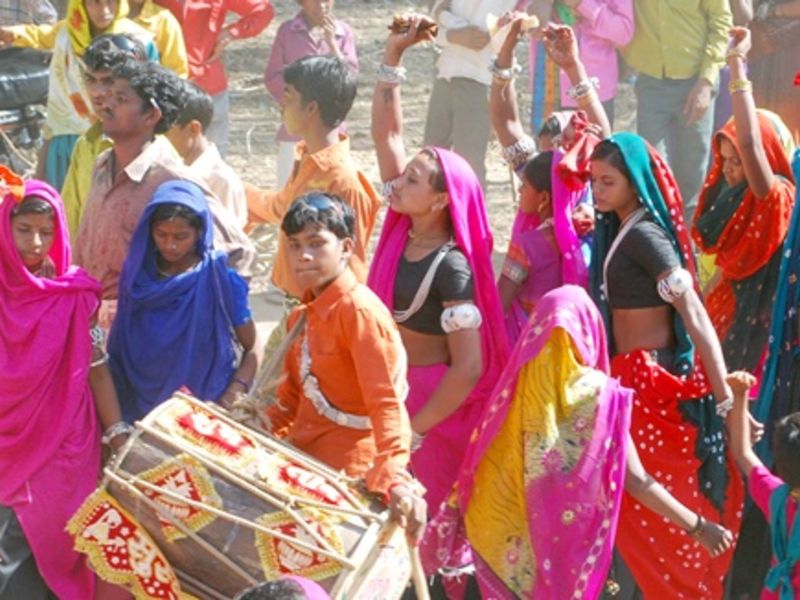 Image Courtesy: NaiDunia
We all have heard of festivals of lights, colours, flowers and even Beer, but did you ever know there is a festival/fair for the institution of marriage as well? You've got to admit that India tops the list when it comes to such bizarre and unusual customs. Known by the name of Bhagoria, this festival can be an awesome and easy deal if you are looking for love, however, it would be the most detestable of the events if you aren't the one who's likely to marry.
Celebrated by the Bhils and the Bhilalas tribes of Madhya Pradesh, this day is used an opportunity by the boys and the girls (who may or may not have met before this day) to look for their perfect life companions. During the rituals, if a guy likes a girl, he smears the gulaal (colored powder) on the girl's cheeks and if she does the same in return, the marriage is fixed. They then elope together and return to finally get married in a proper traditional manner. Basically, the day is all about bringing the love buds together without the interference of the parents and relatives, which mostly happens otherwise, if not anywhere but in India.
When : For around 10 days on various market days before the beginning of the Holi Festival.
Where : The districts of West Nimar and Jhabua, Madhya Pradesh
4. Fun by Deception – Dhinga Gavar – Rajasthan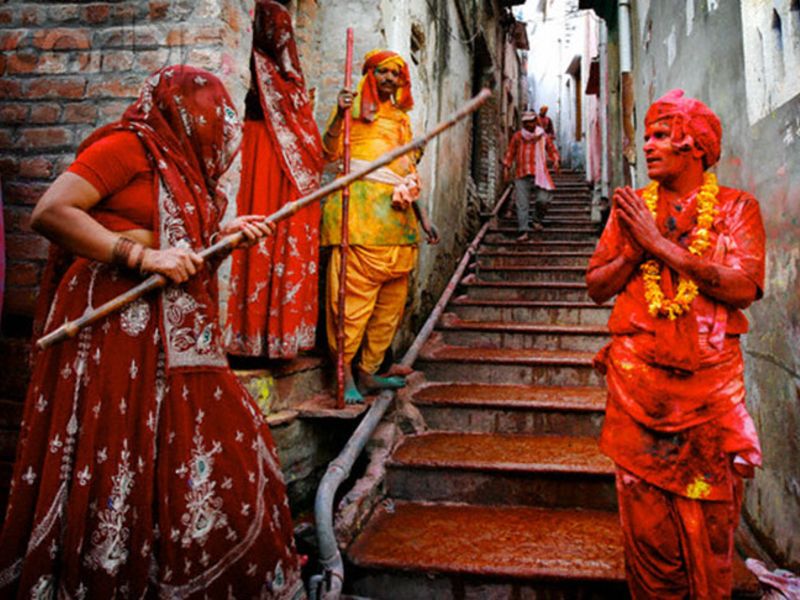 Image Courtesy: Firkee
Dressing up as characters and taking part in fun parades is amazing. There are many festivals around the world that have these parades and processions as a part of the festivities. India, however, celebrates a more twisted and unusual version of it on a festival called Dhinga Gavar. The day is all about dressing up as characters and being a part of the procession, but with a few idols of the Goddess laden with kilos of gold.
The amazing thing about the festival is that only women get to dress up like Hindu Gods and Goddesses, police, saints, dacoits and a whole lot of interesting characters. All dressed up, they carry lathis (sticks) to protect the 11 statues of Goddess Parvati decked up with up to 30 kilos of gold and large offerings of cannabis. These idols are put up at various locations around the city after the sunset. The fun and frolic start with the parade and you can bet on all your Gods and Goddesses that these women don't spare anyone coming in their way. All the thrashing is considered holy, especially for the unmarried men whose prospects of getting married are said to increase after getting thrashed.
The Goddess Parvati (Gangaur), wife of Lord Shiva had once playfully teased him by dressing up as a tribal woman. To celebrate the playful side of Gangaur, called as Gavar, this festival is celebrated every year in the colorful Indian state of Rajasthan.
When : On the day of Teej (July-August)
Where : Jodhpur, Rajasthan
5. Human Pyramid – Dahi Handi – Maharashtra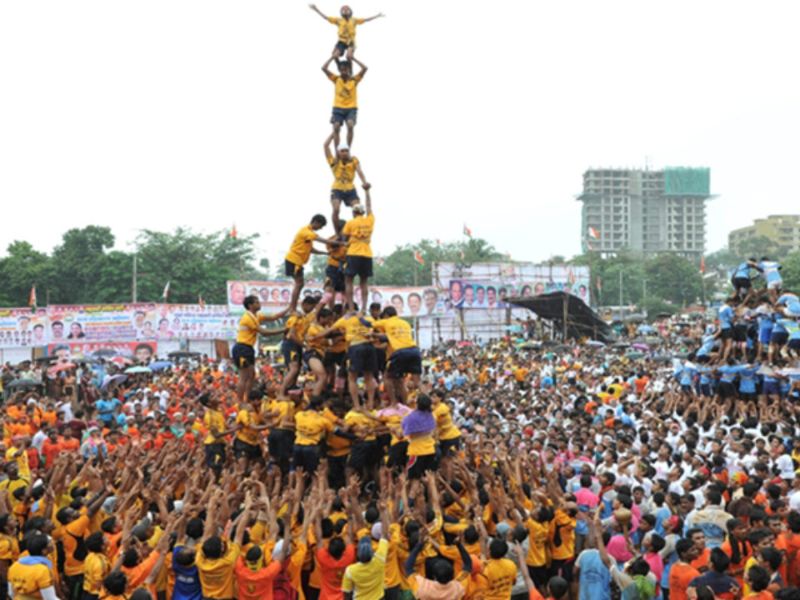 Image Courtesy: The Bridge
If having the first wonder of the world; 'The Taj Mahal', wasn't enough for India, it brought another one to the scene. Not the actual one! Duh! The human version of the pyramids in Egypt. Making a human pyramid is one of the crazy rituals that take place on the festival of Gokulashtami or Janmashtami, the birthday of Lord Krishna.
This is done to reach the reward in an earthen pot (handi) hanging at a considerable height. There is milk, curd, butter, ghee, fruits and other dairy products or simply some cash. The men who perform this risky task (called as Gokuls) practice for months before the actual day and go on breaking as many handis as they can. In return, they receive prizes sponsored by brands, societies and sometimes the people living in an area. There is music, dance and a whole lot of cheer along with the handi-breaking. The scene is so charged that it is hard for anyone not to enjoy it.
This ritual is performed to denote the love of Lord Krishna towards butter and dairy. The creative ways using which he used to steal the butter as a kid are effectively depicted through Dahi Handi. Take lessons people! Take lessons!
When: Gokulashtami or Janmashtami during the month of August (The date varies every year and is ascertained through the Hindu calendar).
Where: Maharashtra and nearby regions.
If this isn't bizarre, God knows what is! Get on your exploring shoes and experience these festivals for yourself. India won't disappoint you in the least when it comes to the craziness associated with its many rituals and customs.
Featured Image Courtesy: The Telegraph