The traveler community around the world is becoming increasingly dynamic, with newer styles of travel emerging every other day. The recent years have seen sustainability become a big focus among us travelers; we're now ensuring we do our part to reduce harm to the world we so love to explore. An easy way to go sustainable is by backpacking, but we bet you've already got an image of a big, heavy backpack in your mind. Busting a sweat to lug it around isn't appealing in the least bit.
But leave all that weight behind for the convenience of ultralight backpacking! You drop the weight of your backpack, making your journey so much easier to enjoy. But ultralight backpacking takes some smart packing since you don't want to land up without essentials on your journey. Read on for these 15 tips for an ultralight backpacking trip to be prepped like a pro.
What Is Ultralight Backpacking?
As the name suggests, ultralight backpacking is a style of backpacking where you carry the least and lightest gear as much as possible. Some backpackers argue that ultralight backpacking has no clear definition, and is more a mindset than anything else. However, a widely accepted margin is that a backpack with a base weight of less than 7 kg is an ultralight backpack. Traditional backpacks can reach weights of over 14 kg, and sometimes even 25 kg for the month-long expeditions.
Ultralight backpacking's most obvious advantage is that it makes the journey a whole lot lighter on the backpacker. It takes a lot longer to get tired, your shoulders, thighs and heels suffer less strain, and you can actually appreciate the journey instead of being burdened under the weight. However, ultralight backpacking doesn't come cheap; the equipment is expensive, and there's no way to DIY it without at least purchasing some basics. The flip side also happens to be the good side – think of it as an investment that will benefit you for a couple years and backpacking trips.
Embrace The Philosophy Of 'Less Is More'
This is what really lays the foundation for the other tips for an ultralight backpacking trip to work. When we say embrace, we really mean all-out, bear hug, won't-let-go embrace. And we aren't exaggerating. The aim here is not just to carry fewer items of less weight, but to cut down on weight wherever you can. This even goes as far as only carrying spare socks and underwear, and cutting off half your toothbrush handle to shave off weight.
Every tiny milligram of weight needs to be taken into consideration, and every single item you use needs to be there only after much deliberation. Ultralight backpacking is only successful when you've put in all the planning effort, so get into that Marie Kondo mindset, 'cause you've got some purging to do.
Focus On Multi Use Items
The few things that are there in your backpack will be multitasking, playing many roles instead of one. What roles they play is your job to determine. Look at everything you carry and make sure you can maximize it in every way possible. For instance:
Dental floss can double up as sturdy thread for when you need to stitch/tack something.
Stuff sacks can be used as pillows when you stuff a jacket into them.
Pants with zips mid-way are perfect for unpredictable weather; zipper them off into shorts for when the sun is out, and you're saved an extra pair of pants.
Cut Out Non-Essentials
Think long and hard about whether the things you're carrying are truly essential. For instance, do you really need a different set of clothes for every single day? Clothing should be sparingly packed, and the only real need to carry spares is with socks and undies. Will you be completely helpless if you carry one cooking pot that can double up as a bowl? A sharp razor blade can double up as a handy knife, so drop that one piece of cutlery.
Embrace the Stank
Behind those amazing photos of backpackers are hours of trudging, painstakingly setting up camp, and of course, loads of sweat. Backpacking isn't exactly the easiest, and with so much physical activity you're bound to work up a good sweat. But carrying deodorant for an ultralight backpacking trip is just a no-no.
On a trip where you're being advised to cut off half your toothbrush to shave off weight, deodorant falls into the category of non-essential items. They'll take up space and add weight – something you want to avoid when every milligram matters. Plus, deodorants tend to attract a lot of bugs and in some cases, bears. Go 'au naturel' when in nature, and embrace your stanky side.
Drop The Weight On The Big Three
Frequent backpackers will know exactly what the 'big three' stands for. But for all you newbies, here's the explanation – the 'big three' in backpacking is your tent, sleeping bag and backpack. Making changes to your big three doesn't come cheap, but these changes have a big impact on your total weight. Plus, like we said, it's an investment that will definitely serve you well if you're keen on getting into ultralight backpacking. Overall, you should aim to keep the weight of your big three to under 4.5 kgs.
Tent: Generally, tents weigh between 0.5 to 1.5 kgs. When purchasing an ultralight tent, consider the weather in which you backpack the most. If you head out in clear weather, purchase a tent that's made of lighter material. Several also enable you to use your trekking poles as tent poles, making that one less item to carry. Burly material is a must to escape the rain, but there's a range of ultralight tents you can choose from.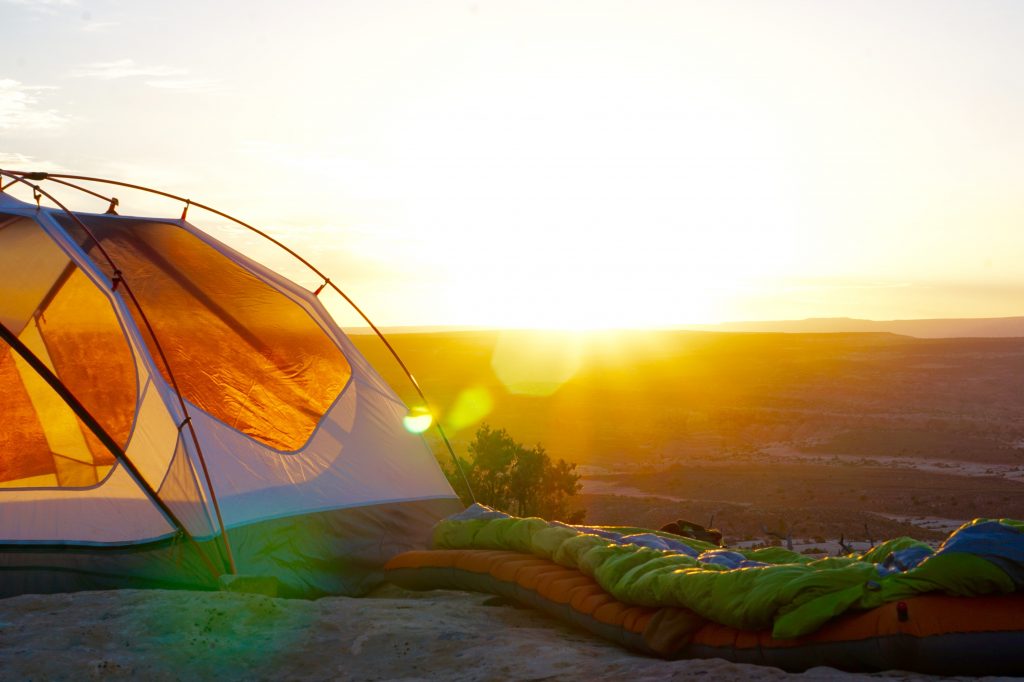 Sleeping Bag: Look for a merge of warmth, weight and price when it comes to your sleeping bag. The lighter it is, the less space it can take up since you can compress it into a small size. Once again, make sure you consider the night temperature of the region where you're backpacking before you invest in one that insulates a lot but costs more.
Backpack: Remember that the weight of your backpack adds to the total weight you lug around. While backpacks with loads of straps and pockets and whatnot can seem exciting, every unneeded, unused piece of fabric or plastic is unnecessary weight. Invest in a sturdy ultralight backpack to cut down the drag.
Choose Your Materials Wisely
Do a little research to make sure you spend money on material that is lightweight, convenient and durable. Skip out on cotton clothes for your backpacking trip and instead opt for nylon. It is lighter than cotton, and dries up much quicker. Once you've changed into your dry clothes for the night, simply hang out your nylon clothes for an hour or so and they'll have dried up. Avoid denim completely – it's heavy, and heavier still when wet. Wool socks should be chosen over cotton. Wool insulates even when it's wet (cotton doesn't).
Organize Your Clothing
The secret to carrying minimal sets of clothes is to organize when and how you wear them. Stick to short-sleeved nylon clothing for the sweaty parts of your day i.e. the day time. Keep a set of long-sleeved clothes to change into for the night, when you've dried off and will stay dry while you sleep. Remember that sweaty clothes are heavy to carry around, and the more sets you carry, the more you'll wear, the more weight you have to lug around.
Food Tips For An Ultralight Backpacking Trip
Making bowls of Maggi over a fire is a dream most of us want to fulfill, but an ultralight backpacking trip isn't where you should do it. You'll need food that is easy to carry, easy to prepare, tasty and nutritious, as well as being durable to a certain extent. A good tip is to use a mix of freeze-dried meals, dehydrated meals and fruits, and certain packaged items like snack bars, nuts, and trail mix. Repackage all your food into sturdy, air-tight Ziploc bags. The bags can also later be repurposed once they start to empty out.
Carry Vaseline
Good old Vaseline will prove to be quite the handy helper, and it's one of the most underrated tips for an ultralight backpacking trip. The obvious use is as a moisturizer for your lips and skin. Apart from that, apply it liberally on blisters or sore skin to reduce friction and help it heal. Got a fresh wound? Apply a lot of Vaseline and use duct tape to hold it in place. It won't harm your wound, and will help keep it safe from outside infections. Preventing wounds from getting infected has to be a top priority, so don't underestimate carrying Vaseline for when push comes to shove.
Don't Overdo The Water
Yes, running out of water when you're tired, sweaty and parched is a valid fear. But liquid is one of the heaviest things you carry when you're off trekking. Do your research and get the latest information on the trail so you're informed about where your water sources will be. This should be able to help you plan in advance how much water you'll need between stops. Drink heartily at every stop for water, look at where your next stop will be, and only carry as much water as you'll need to make it there.
Use one-litre plastic bottles to carry and store your water, the type with few to no frills. You can also get water bottles with filters in them that are still lighter than a lot of the other bottles you can buy. Carrying multiple bottles also helps you distribute the weight better instead of having to deal with one big, heavy bottle.
Say Goodbye To The Tech
This one should be obvious, so you better not be cribbing about it! Sure, carry a camera, and a phone. But leave behind the extra phone, the iPods, the Kindles, the watches, and all the other tech you want to tug along. Enjoy your time-out from technology. Hell, make it a tech detox if you want to and don't carry a phone either! But make sure your friends, family and local officials know you're setting off on a route, and inform them of when you should be returning.
Small Yet Efficient
Don't get distracted, this isn't a 'That's what she said' moment – we're referring to the utility items you carry along with you. You should be carrying the smallest and lightest things that perfectly meet your needs. Bulky, metal pocket knives can be replaced by lighter, more nifty ones that are still sturdy enough to do the job. If you're carrying a book along with you to read, take off the bulky cover. Better yet, buy the most compact one you can find. The smallest things make a difference, so stop at nothing.
Take Just Enough Gear
You're probably thinking 'Wow, this couldn't get more vague'. And truth be told, it is a bit vague. But that's because it depends on you. One of the most important tips for an ultralight backpacking trip is to know what not to carry. The fear of running out makes us overdo the packing, and that's just what we have to face. You're going to find yourself on the fence with a lot of items. When you do, ask yourself what's the worst that could happen if you didn't have that one item or piece of gear with you. Most often, you'll realize you'll be A-Okay.
Properly Measure Weight
As mentioned, there's no real hard and fast rule about how much weight qualifies as ultralight backpacking. How much you eventually carry will come down to how much your ultralight backpack can hold. But if you plan on taking ultralight backpacking seriously, we recommend getting a digital scale. This helps you truly get to the nitty gritties and shave off weight wherever you can help it. Plus, it helps keep track of the minute details about how much weight you carry. All those extra milligrams of weight definitely add up, and getting a scale to measure it all can help loads.
Get Healthy
This may seem like a silly suggestion, but let's face it, getting fit before a big trip makes a load of difference to how you handle it. Your ultralight backpacking experience will only be that much more enjoyable when you have the stamina and strength to tackle a much heavier backpack. This leaves you considerably more relaxed at the end of each day, and leaves your mind free to appreciate the nature around you instead of being occupied with how much you ache.
Conclusion
While these tips for an ultralight backpacking trip should be enough preparation, make sure you also book some accommodation for your destinations. goSTOPS hostels are located in over 19 places in India, so we can provide that affordable yet comfortable stay for when you're too weary and in need of a break.
FAQs
What Is A Good Base Weight For Ultralight Backpacking?
You're considered an ultralight backpacker if your base weight is under 4.5 kgs. Traditional backpackers have a base weight of under 14 kgs.
What Do I Need For Ultralight Backpacking?
Among the list of things you need are ultralight camping equipment, raincover, sleeping shelter, waterproof compression sack and firestarters.
How Do You Pack A Lighter For Backpacking?
There are many good lighters you can carry with you on a backpacking trip. Make sure they're water and weatherproof. In addition, ensure they're sturdy and can handle being tossed around a bag for hours.
Is Ultralight Backpacking Necessary?
No, ultralight backpacking is far from a necessity. It proves advantageous if you're looking to cut down on the weight of your pack, but by no means is it a compulsion.