In the mind of a traveller, the word "India" spurs out thoughts of colourful diverse cultures, spirituality, spicy gravies, the Delhi-Belly that comes after, cows on the roads and above all CHAOS! If you're reading this while planning to come here or even better, if you're already here, then be aware that this is one of the most diverse potfuls you'll ever find when it comes to cultures, religions, languages, beliefs, traditions, lifestyle and people.
We know you're short on time and you've got that "Southeast Asian circuit" to cross off of your map; so it can be extremely difficult to embrace the whole of India in all of its madness and variety. But Hakuna Matata amigo! What if we told you if you could get a wholesome experience of India within the short timespan you're here for! Introducing, (drumroll) FESTIVALS! One of the most interesting times to visit India is during one of its grandeur festivals. Here are a few of them.
1. Puri Rath Yatra – Where the Gods visit their birthplace!
Image Courtesy: Deccan Herald
The Jagannath Rath Yatra is one of the most awaited festivals in all of India which is held annually in Puri, Orissa. This festival is more than 5000 years old and is considered spiritually very significant. It's believed that every year, Lord Jagannath wishes to visit his birthplace for a few days. In order to fulfil his desire, devotees carry the temple deities on a rath (chariot) from Jagannath Temple to Gundicha Temple. The grand procession of the chariots is adorned with colourful decorations and flower garlands, that are followed by other processions with a diverse range of cultural acts.
When : June – July
Where : Puri, Orissa
 
2. Durga Puja – It's Gala time!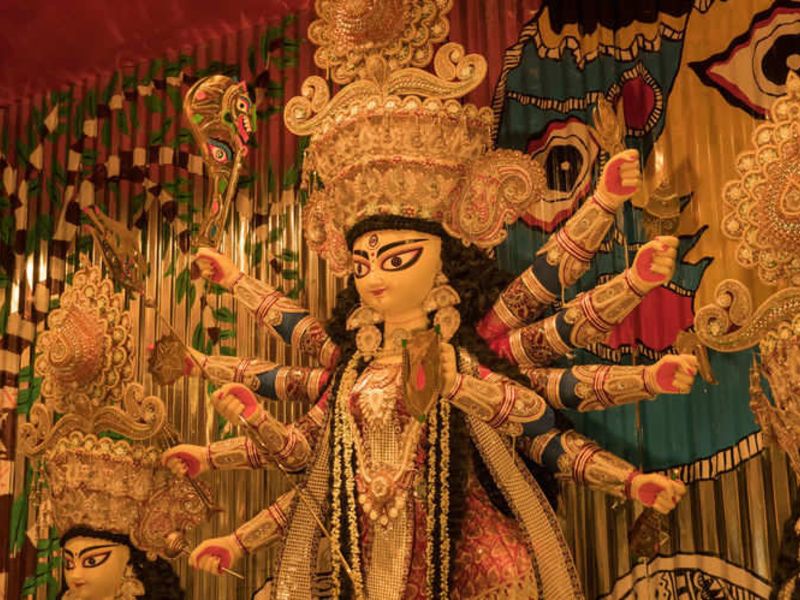 Image Courtesy: Es Live!
Durga Puja marks the beginning of one of the most joyous times in the calendar, especially for North Indians. The first 9 days are called Navratri (literally, 9 nights) and the 10th day is called, 'Dussehra' in western and central parts of India and 'Vijayadashami' in Eastern parts. In eastern parts, the festival culminates by celebrating the homecoming of Durga's (an Indian goddess) after her victory over Mahishasura (the powerful buffalo demon). On the other hand, the western and central regions celebrate it glorifying Rama vanquishing Ravana, ultimately symbolizing the victory of good over evil. Throughout the entire period of the festival, various theatrical acts like dance, drama, music and other cultural performances are held.
When : September – October
Where : All over the country but the most jubilant in Kolkota, West Bengal 
3. Onam – It's time for some Snakeboat race!
Image Courtesy: TripSavvy
The story behind Onam is that when King Mahabali, famous for his nobility and generosity, proudly boasted that Vaamana could avail anything under the sun in his kingdom, Vaamana demanded three paces of land. When Vaamana measured twice with his tiny feet, he conquered everything. When asked where to place his third feet, the noble King bowed down to offer himself. Thus King Mahabali was sent to the underworld, but on one condition of fulfilling his desire to visit his subjects once a year. That's when Onam is celebrated.
Keralites prepare to welcome their dear most King every year in August-September. Ten days before Onam, the front yards of homes are decorated with floral carpets. Boat races, floats carrying legendary figures, tiger dance known as "Puli Kali" are the other specialities during this festival. Onam marks its ending with a grand feast in a plantain leaf. Head down south and relish in the gala.
When : August – September
Where : All over Kerala
 
4. Ganesh Chaturthi – And thus, all obstacles were moved!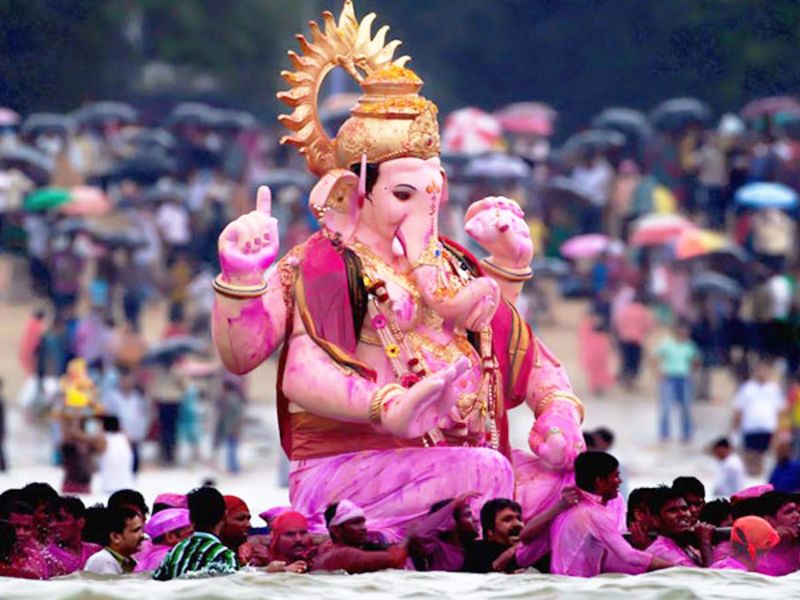 Image Courtesy: EaseMyTrip
This spectacular festival is observed to celebrate the birthday of Lord Ganesha, the elephant-headed deity known to remove obstacles. This 11-day festival is celebrated with gusto and fervour all over India, especially Maharashtra. Idols of Ganesha in all sizes are made out of clay or metal and is worshipped all the 11 days. Families and friends get together to offer prayers as well as materials to the deity. On the last day, the idol is taken out in a ceremonial parade and is immersed in sea, river or lake nearby.
When : August – September
Where : All over India but most grandeur in Maharashtra
 
5. Holi – Let's forget the past and splash some colours!
Image Courtesy: CNN
Marking the arrival of spring, Holi spreads hues, fragrance and happiness all over India. Also known as the festival of thanksgiving for a good harvest, Holi is an opportunity to come together, forget and forgive and splash each other into the colour of festivity.  Celebrated in the month of March, Holi is a religious festival, symbolizing the victory of good over evil. Mathura, Vrindavan and Barsana are 3 cities which never fail to amuse people in terms of the grandeur of celebrations. Water guns (pichkari) and water filled balloons are used to smear colour at each other. Fun and merriment take the form of singing, dancing, drinking "bhaang" (cannabis based intoxicant) and feasting on various eatables.
When : March
Where : All over India but the most vibrant ones in Mathura, Vrindavan and Barsana
 
6. Makar Sankranthi – Kites All Away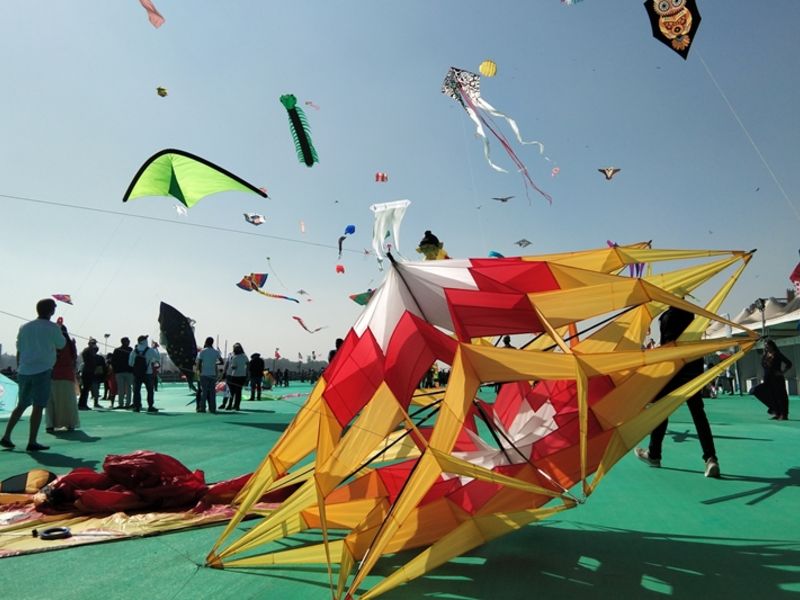 Image Courtesy: The Financial Express
This harvest festival is observed in January in various states of India in different names – Pongal in Tamilnadu, Bihu in Assam, Lohri in Punjab. It signifies the seasonal changes on earth after the winter solstice. The Sun God is worshipped to welcome the start of longer days. Tamilians celebrate Pongal for three days – Bhogi, Thai and Maattu Pongal. The international kite festival in Gujarat is the highlight of this festival. Kites of myriad shapes, colours, themes and sizes are manufactured days before the festival. People from different states of India and other countries participate in this kite festival. The best place to enjoy this competition is at the Sabarmathi Riverfront.
When : January; after winter solstice
Where : All over India; mainly in Tamil Nadu, Punjab and Assam 
If these 6 festivals don't make you want to visit this wild and jubilant country and soak in its culture, we don't know what will. Head over!
Featured Image Courtesy: HelloTravel