Considering how shopping inevitably becomes a part of the city tour, you definitely can't miss that if you find yourself in the stunning and unconventional state of Rajasthan. One of the perks of being in any heritage city of Rajasthan and especially Jodhpur lies in the perks and essentiality of being around the possibility of grabbing the most exquisite, colorful and intricately crafted pretty things you could lay your eyes on.
Mochi Bazaar
Image Courtesy: MakeMyTrip 
True to its name you'll find all arrays and varieties of shoes and jutis here in this market. Known as the 'Cobbler's market' it has a splendid display of all things embroidered, chic and colorful! "Mojri Jutis' or 'Mojaris' are the most popular jodhpuri jutis you will find yourself falling in love for. Available in almost all shoe sizes, and different range to suit the purse weight, you will not feel missed out if you can't go for something from a higher range, because all ranges have almost the same collection available, barring a few. They also hold immense popularity not just in India and also abroad, and a lot of collections are exported.
Umaid Bhavan Palace Market Road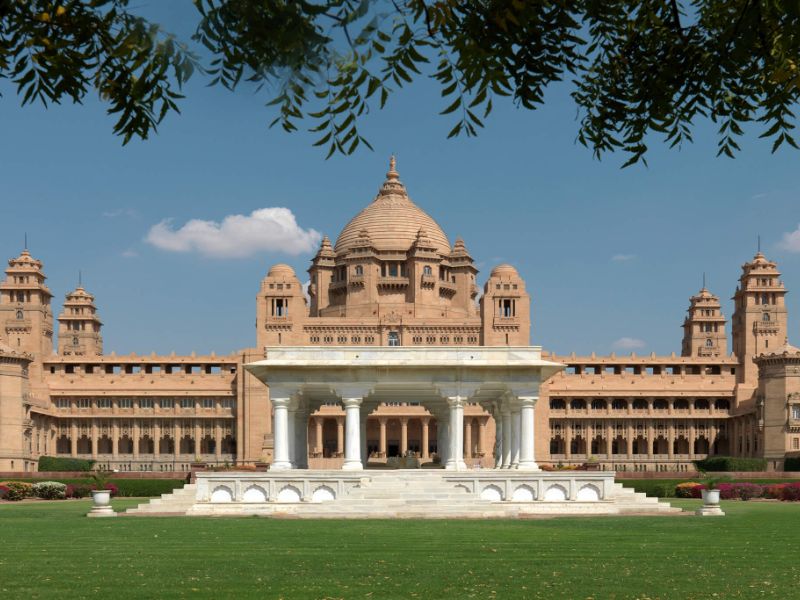 Image Courtesy: MakeMyTrip
If you're the one who finds themselves in home depot more often than not, looking for exquisite, old-worldly charm or antique pieces, this place is right for you. The entire road spans the length of Umaid Bhavan to Ajit Bhavan which is the most popular road and full of hustle bustle. Most of the sellers in this market work on the idea of 'one price', but that won't necessarily burn a hole in your pocket, considering most of the prices are pretty decent and reasonable. Designer furniture? Check that off the list.
Kapraa Bazaar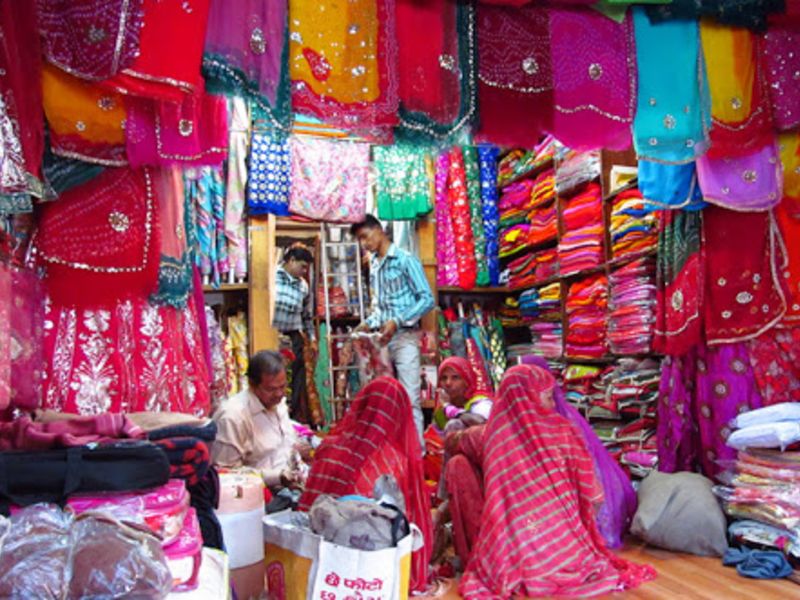 Image Courtesy: RajasthanBlog
This is the one for the ladies! Colorful Rajasthani apparel has this one definite destination in the city of Jodhpur. The 'clothes market' has everything from leghnas, chunris to striking Kurtas for the men (yes, we are not leaving you out still). The origin of the quintessential lenghna choli was in the city of Jodhpur, and what better place to go shopping for the tradition wears than here. Go around on a shopping rampage in the tiny shops, and find yourself different textures, fabrics and colors.
Sarafa Bazaar
Image Courtesy: Flickr
Craving the jewels? Sarafa bazzar in Jodhpur holds a tremendous collection of all things exquisite, delicate, silver and golden. Trinklets, rings, necklaces, earrings, and lovely nath's for the to-be-brides. This place is jewellery haven! And if you're looking for small souvenirs' this place will provide you with plenty of options. Junk jewellery, royal jewellery, or even the casual accessories that can be worn in a day to day basis is found available in plenty. You will find different varieties and a range of artifacts to suit your needs, need not be too extreme!
Mathaniya's Red Chilli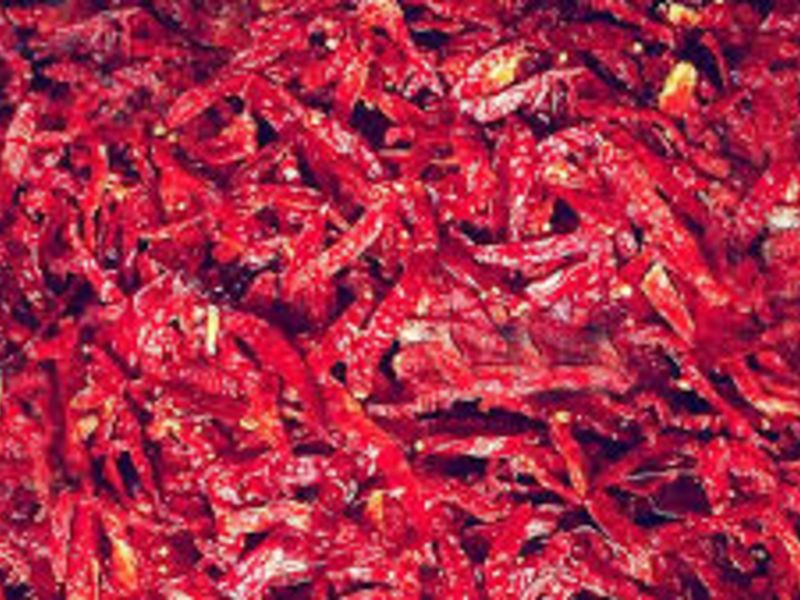 Image Courtesy: The Luxe Cafe
There is nothing that quite tastes like Rajasthani food, and the one at play are always the plentiful spices. And one big shopping misses out, if you go to Rajasthan and do not come back with bags of spices for that special magic in your cooking when you return back home. Mathaniya's deep red chilli with a color to surprise you is exported all throughout the world and not just this but you can find yourself a different collection of spices to suit every taste.
Clock Tower Market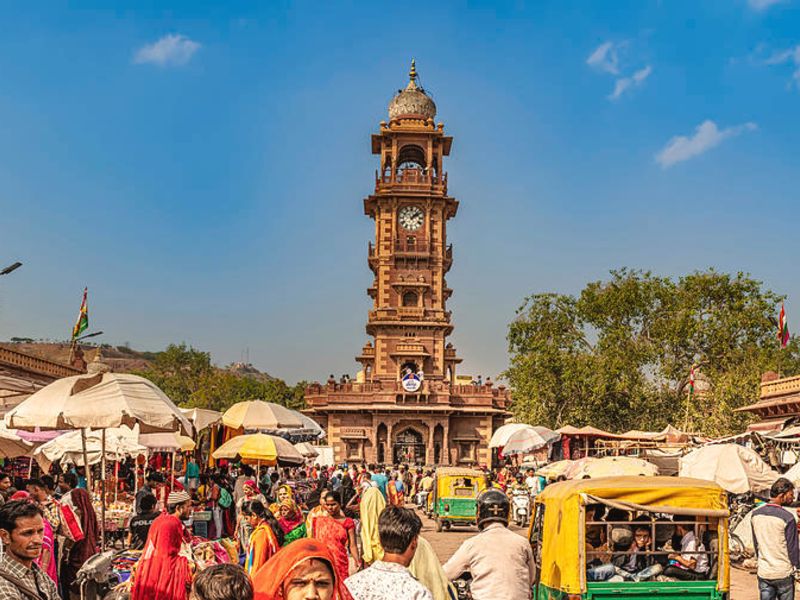 Image Courtesy: Fine Art America
Clock Tower Market lane in Ghantaghar is one of the best shopping sprees to go on, for if you ever find yourself in Jodhpur. The things that you can buy for yourself from this market range in prices and variety. You can find classic jewelry, antique furniture, and also delicious Rajhasthani food to gorge upon after a fun and tiring day of shopping and strolling. Don't be afraid to negotiate with a flair, so that the shopkeepers skip recognizing you as one from the outside, but one from the town.
Tripolia Bazaar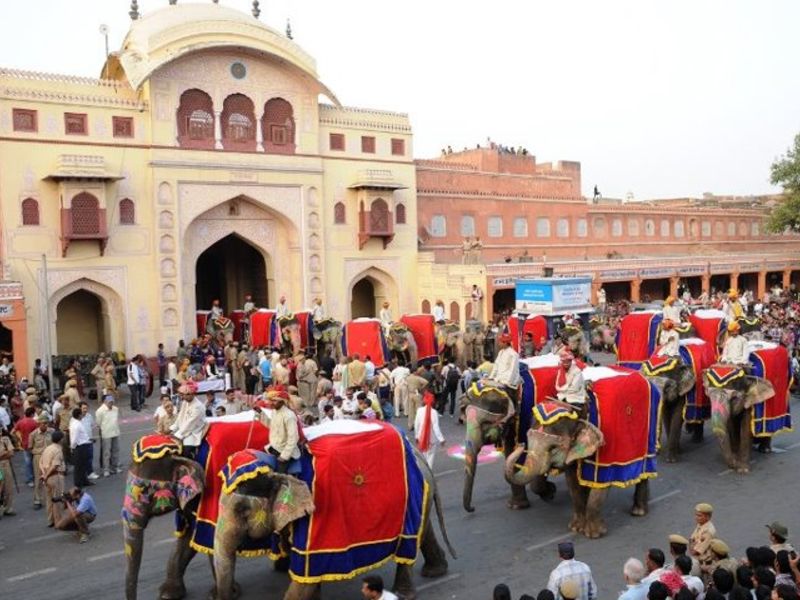 Image Courtesy: Rex Tours

The Tripolia Bazaar would be a cool catch if you have a fair interest in handicrafts and traditional artifacts. There are more than a few itema available on display, with the market opening around 9 A.M on most days and closing down around 7 P.M. If you ever find yourself in Jodhpur, this is definitely not the place to miss !
Featured image courtesy: MakeMyTrip