Varanasi means different things to different people. For the culturally aligned, this ancient city is figuratively brimming over with events, cultural activities, and sundry melas.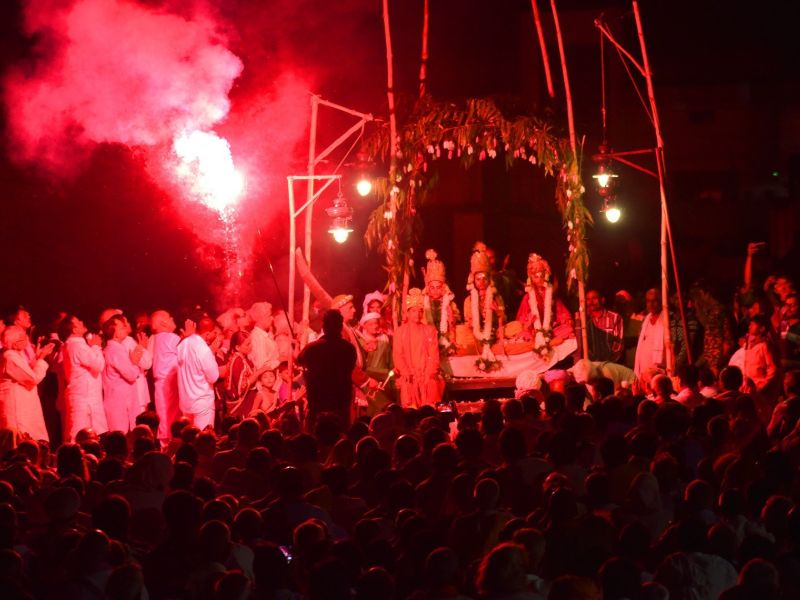 Picture Credits
Most of these festivals in Varanasi happen during October and November. If you are planning to be in Varanasi during these months, then there is a good chance for you to attend some of these festivals. Or maybe you could attend just one festival that goes on for 31 days! Yes, you read that right; 31 days of celebration!
Ramnagar Ki Ramlila
Have you attended a Ramlila yet? If you haven't then we suggest you partake the visual delights of this ancient dance drama of India. The storyline of a Ramlila goes like this.

There was a mighty king; Dashrath, who had 4 sons of whom Rama was the eldest one. Rama was virtuous and obedient and was the successor to his father as the King of Ayodhya. Unfortunately, Rama had to spend 14 years in the jungle because his father wished him to. Sita, Rama's wife, and Lakshaman, his younger brother, joined Rama in their 14-year exile.
While in the jungle, Rama slew Ravana, the King of Demons, who had abducted Sita. After defeating Ravana, Rama , Lakshaman and Sita returned to Ayodhya and resumed their normal lives. In Varanasi, the local folks celebrate the return of Rama to Ayodhya by way of the Ramnagar ki Ramleela.
Uniqueness
This story is celebrated in numerous Ramlilas around the country. But the Ramnagar ki Ramlila is unique. This Ramlila is being played for the past 233 years in the Ramnagar Fort of Varanasi and the duration of each edition is 31 days! Normally, a typical Ramlila takes just 10 days from the start to finish.
Another feature of this Ramlila is that it does not use artificial lighting and sound systems at all. The artists have to make use of natural settings and props while playing their roles. This means there are no halogen lamps, no loudspeakers, and no artificial aids.

The artists also do not apply artificial makeup to their bodies and faces. And if you are wondering about the qualifications of the main artists, then here is a shocker. The main characters of this play, Rama, Lakshaman, Bharat, Shatrughna, and Sita are played by young boys below the age of 16! And that is not all, they must speak Sanskrit properly and clearly to make the cut. Everything about this Ramlila is culturally driven with little scope for error.

The King of Benares or the Kashi Naresh takes an active interest in this Ramlila. He not only provides the costumes, gems and jewellery to the event organizers but also plays an active role in the selection of the characters. No wonder, the Ramnagar ki Ramlila is considered as an intangible UNESCO heritage because of its strong cultural moorings.

During all the 31 days of this world famous Ramlila, the artists keep performing in various parts of Ramnagar. So, one day, you will see Ayodhya being recreated in one corner of this city, while the next day, the troupe will move to another part. You will see all the major locations associated with Rama in a 4-kilometer perimeter within the city. This again is unique because almost all the Ramlilas that I have seen were enacted in one central place.
History
Unconfirmed reports say that it was Sant Tulsidas who started Ramlilas in Ramnagar. He was one of the most important poets in Hindi and is known for Ramcharit Manas, or the Story of Rama. Written in a local dialect, this poem is recited daily by millions of Hindus who seek purity and peace in their lives. The Ramnagar ki Ramlila uses the lyrics of the Manas and many people say that this form of Ramlila is also the creation of Tulsidas.
According to some accounts, it was Raja Udit Narayan Singh, the erstwhile king of Benares, who started this form of Ramlila in 1776. Since then, his descendants are the chief patrons of this Ramlila, which is one of the most important festivals of Varanasi.
Events Galore
Varanasi throbs with festivals and melas particularly during the winters. Some of the events in Varanasi that will delight you are Dev Deepawali (October/ November), Mahashivratri (February), Festival of Varanasi, and of course Holi.
You may also like to enjoy temple darshan while enjoying a boat ride on the Ganga.

Feeling spiritual? In that case, join a Yoga class run by qualified Yoga practitioners.

Have a sweet tooth? Go sweets hunting in the Gudauliya and Maldahiya areas of Varanasi.

Saris on your mind? Then there is no better destination than the various bye-lanes of this ancient city for sari hunting.

For people interested in Buddha and his philosophy, Sarnath is the place to go to. It is here where Buddha delivered his first sermon.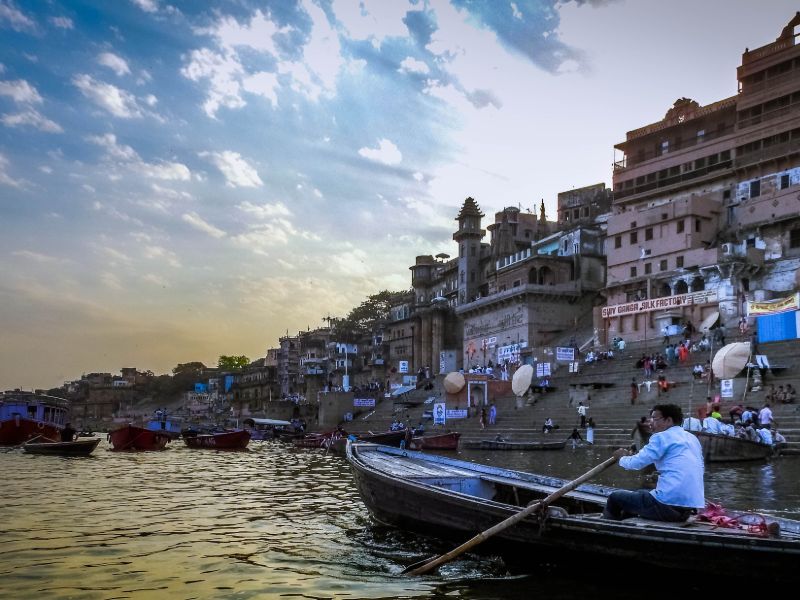 You will be amazed at how much the ancient city of Shiva has to offer to you. Oh, and if you're looking for an awesome place to stay in Varanasi, we've got you covered! Varanasi is calling you. Where are you?