Maheshwar echoes Varanasi!
This city of Shiva is perhaps as old as Benares and is as rich in folklore as the 'eternal city'. Maheshwar is many things to many people. For ladies, it is the city of the famous 'Maheshwar Silk Saris' while for the spiritually inclined, it is the land of Shiva. And if you are a great fan of the ancient folklore of India, then Maheshwar is the town for you to head to. Fortunately, unlike Varanasi, Maheshwar is not that crowded. This dusty Madhya Pradesh town is still beyond the gaze of the average Indian traveler. If you are looking forward to spending a few days in peace and reflection, then consider Maheshwar as your next offbeat destination.
A Bagful of Stories
The word, 'Maheshwar' means Shiva but this city is not just about The Lord of Death; it hides several stories in its bosom. A trip to this town will be incomplete without soaking up on some of its beautiful stories.
Maheshwar: Where Ravana's Pride was Busted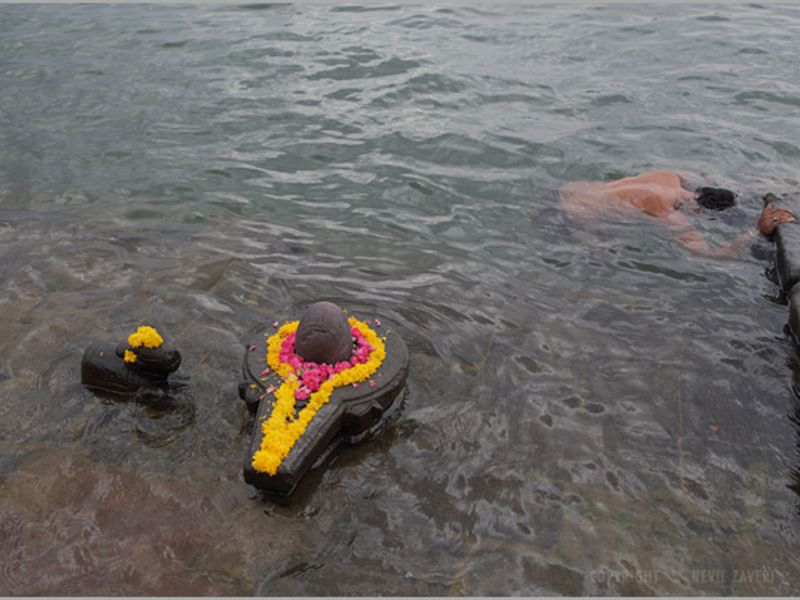 Picture Courtesy: Ramani's Blog
So you thought that It was just Rama who had conquered Ravana? We advise you to revise your opinion here. Here is an interesting story about Ravana and Maheshwar. Several thousand years ago, there lived a mighty king, Sahastrarjuna who had 1000 arms. This monarch had 500 wives and was quite a ruthless personality.
One day, this king decided to have a small picnic with his wives. The King and his ladies proceeded to enjoy themselves in the cool waters of Narmada. As Sahastrarjuna cavorted with his ladies, in came Ravana, the King of Lanka.Since Ravana was an ardent devotee of Lord Shiva, he placed the Shivalinga on the ground and dammed the river. Now the river bed became dry and this infuriated the thousand arm king. He demolished the dam and let the water flow again. Alas, the Shivalinga has swept away and this made Ravana very angry.A battle ensued between the two fierce kings but it only resulted in Ravana getting defeated and bound in ropes by Sahastrarjuna. Isn't this a hauntingly beautiful story?
Maheshwar : The Land of Liberated Women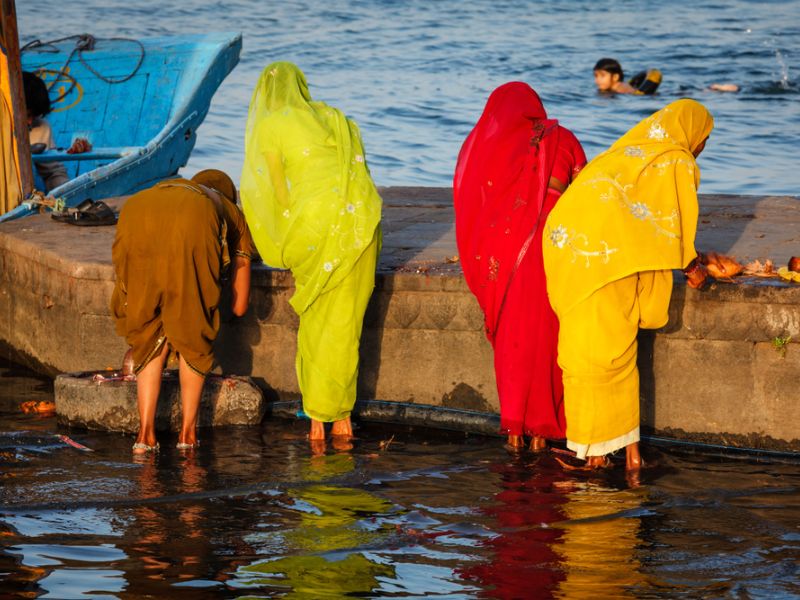 You will be surprised to know that for a long time, the Maheshwar society allowed ladies to lead lives of their choice! Love marriages were common and any young woman was free to choose her husband! Did you know that this ancient Indian town was the capital of the Mahishmati kingdom? Yes, the same kingdom which features in Bahubali!
The Rishi-King Conflict
Maheshwar is also known as the place where Rishi Jamdagni lived. He was the father of the redoubtable Parashuram and also the proud owner of a cow which could fulfill all the wants of anyone.One day, Sahastrarjuna passed by the Rishi's ashram. The King was tired and wanted rest. When the Rishi heard about the King's arrival, he came forward and offered his cow's services to the King and his army.Like all greedy men, Sahastrarjuna wanted the cow for himself but the Rishi refused to cow down. Enraged, Sahastrarjuna killed Jamdagni and carried the divine cow away.
When Parashuram heard this terrible news, he rushed after the King and a fierce battle ensued.
Parashuram was a terrible fighter and there was no way that he would let the King go away scot free. After a long fight, Parashuram beheaded his foe and avenged his father's death.
The City of the Warrior Widow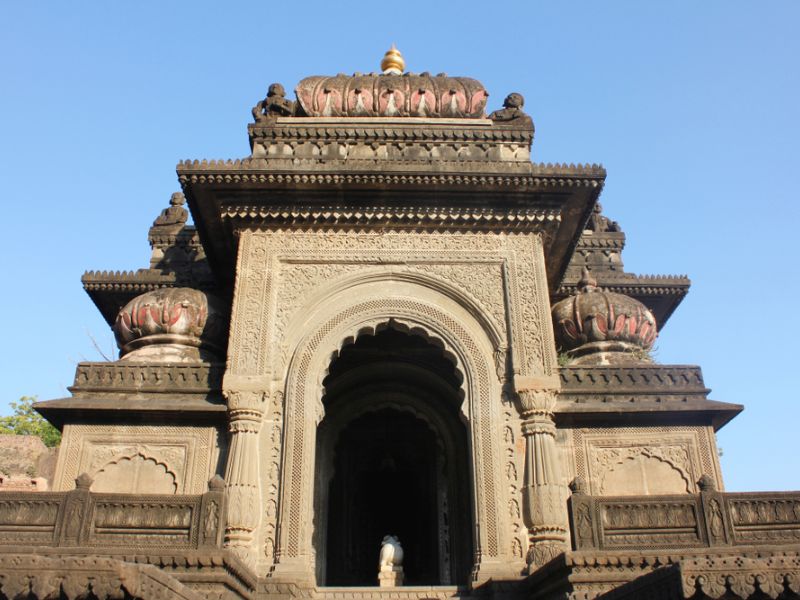 Maheshwar is also associated with Rani Ahilyabai Holkar. She lived in the late 18th century and was a brave but pious queen. Ahilya became a widow early in her life but this did not deter her from defending her kingdom from foreign attackers.
Ahilyabai was not just a brave queen but a social reformer as well. She built several temples all across India and some of her buildings still stand proudly in Maheshwar along the Narmada. When you visit this quaint town, make it a point to spend a quiet evening on one of the ghats (steps) along the Narmada.


Maheshwar is famous for not just the ghats, its temples, and history, but also for its saris.
The Famous Maheshwar Silk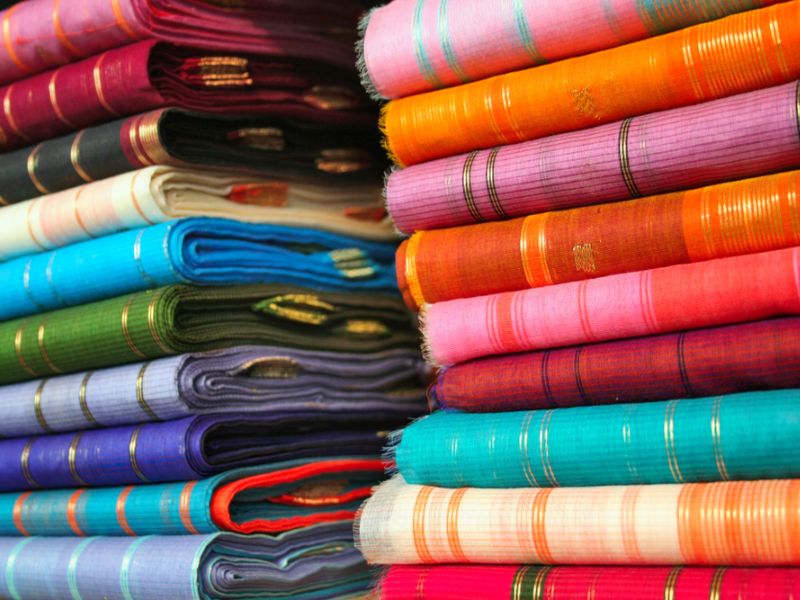 The famous Maheshwar Saris from this part of India has always captivated Indian women. This famous product is in the same league as the Benarsi Silk, Mysore Silk, and the Kota Sari.Maheshwar Saris are the product of the brilliant imagination of Ahilyabai Holkar. It is said that she brought weavers and artists from Surat in Gujarat and introduced these saris to Maheshwar.
Though made of cotton, these saris look as if they are made of silk. Each sari has an unique 'pallav' which has five stripes- two white and three colored. The field area of the saris is filled with geometrical designs.
The Holkars were not just rulers but were patrons of fine arts and handicrafts as well. The beautiful saris from this town are the result of the Holkars' keen desire to give back to their ancient kingdom.
Places to visit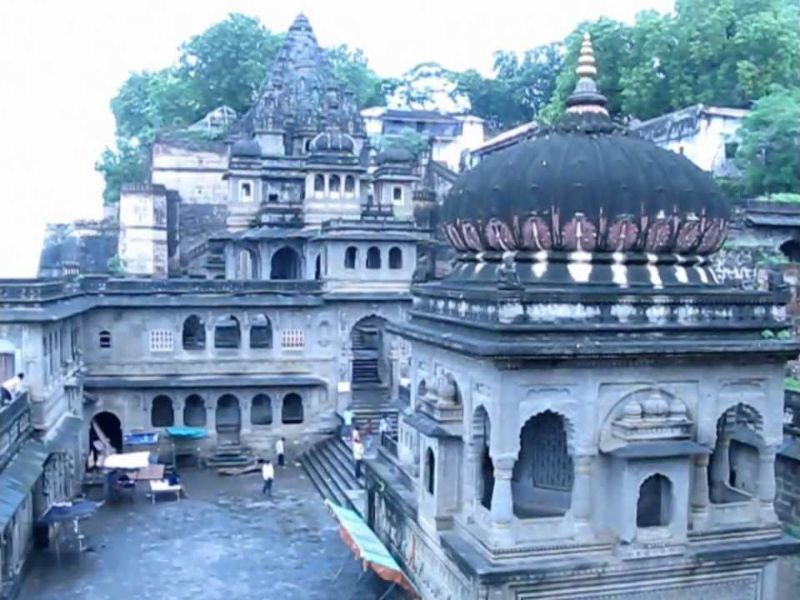 Picture Courtesy: YouTube
Maheshwar is dotted with more than 100 temples. Some of them are indeed very old, though their construction seems to be of recent origin. For example, the locals claim that the Sahastrarjuna Temple is more than 5,000 years old. There are other temples too like the Chabutra of Ahilyabai, the Chhatri of Vithoji, Kashi Vishwanath Temple etc. A Chabutra is basically a memorial dedicated to the king or queen of the area.
Your visit to Maheshwar would be incomplete if you did not take a tour of the Ahilya Fort. Watch the Narmada flow lazily and the sun goes down from the walls of this 16th-century fort.

Accommodation
If you are thinking that this small town would not have any decent accommodation, then you will be pleasantly surprised. Maheshwar has no less than 10 hotels and most of them are suited for budget travelers.
Popular Hotels :
Hotel Devarshi Maheshwar
Hotel Royal Residency
Ahilya Fort
Best Time to Visit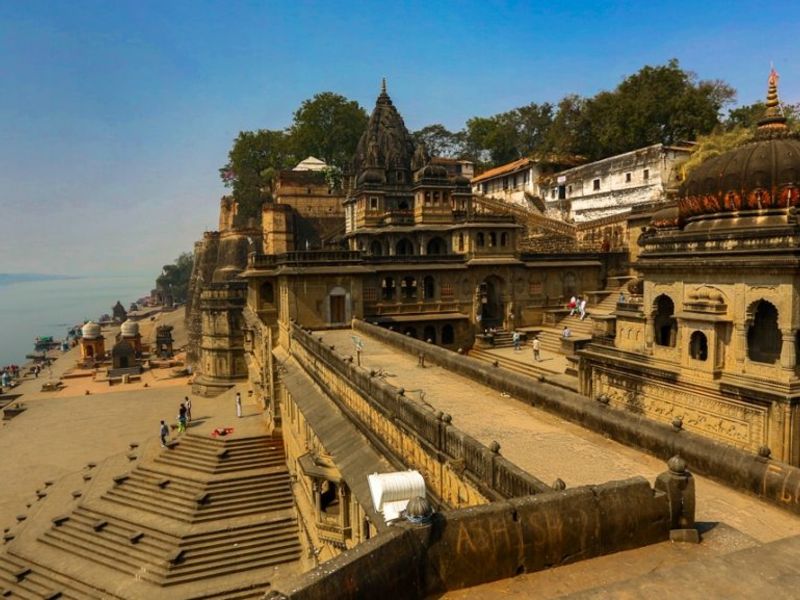 Picture Courtesy: District Khargone
We would urge you to schedule your visit to Maheshwar during February and March. This way, you can club your trip to Ujjain with Maheshwar. Ujjain is home to Lord Mahakal (Lord Shiva) and is an important religious town for many Indians. Maheshwar is close by, so it is preferable to club both the towns in your circuit. Most pilgrims visit Ujjain and Maheshwar during the spring season as it becomes exceedingly hot during summers.
How to reach Maheshwar
Reaching Maheshwar is very easy. All you have to do is book a train or plane from your city to Indore and then take a taxi to Maheshwar. It takes 4 hours to reach Maheshwar from Indore(91 kms). We advise you to keep adequate food and drink with you while driving to Maheshwar. Indore is well connected by train with major Indian cities like Delhi, Chennai, Bengaluru, and Mumbai. There are daily flights that connect Indore with Delhi and Mumbai.
On a final note, if Madhya Pradesh is in your mind, then do consider Maheshwar as one of your destinations. This little town is a mini Varanasi of sorts and packs a lot of history, folklore, and art; and the best part, wait for it, it's way less touristy! We are sure you will be happy with this decision!