The mighty river Ganges in Rishikesh provides river rafting opportunities that give you the feeling of being on an episode of Fear Factor. It certainly gives you an adrenaline kick far superior to garnering the courage to speak with a stranger!
It's also without a doubt a thrill-per-minute activity to be attempted in Rishikesh, as there's a float for every type of traveler looking for a dose of adventure. There are beautiful river stretches perfect for first-timers, families, and graduated adrenaline junkies. You can go for full day, overnight, or half-day rafting in Rishikesh; whatever type of rafting you're looking for can be found here. But before you actually attempt this and cross it off your bucket list, let us run you through our complete guide to river rafting in Rishikesh.
Understand The Grades For Rapids
Before you go river rafting, you will have the choice to select which grade you'd like to attempt. The higher the grade, the more difficult and challenging the waves of the river gets. To break it down, here are the categories – 
Grade I – The waves in this grade aren't fierce and barely have any obstacles. You can probably make that call to your mom and tell her you're going river rafting. In fact, she can even think of joining you with more of your other aunts and relatives!
Where to go for a dose of Grade I river rafting? – Brahmpuri
Grade II – The waves act more difficult than usual in this grade but it's still fairly manageable. To cut to the chase – you can phone your mom, inform her you're going river rafting, and she won't be worried.
Where to go for a dose of Grade II river rafting? – Shivpuri
Grade III – In Grade III, things get real. It's no longer just a short walk-in-the-park type of river rafting activity, but it upgrades to becoming an obstacle race. Your mom will definitely need a boatload of convincing if she sees Grade III rapids!
Where to go for a dose of Grade III river rafting? – Marine Drive
Grade IV – Grade IV is the ultimate fear factor river rafting experience. You have to gather all your strength and get the guts to experience the fierce waves and obstacles, and even be prepared for the chances of the boat flipping over. In short, you'd not get permission to step into Rishikesh if you tell your mom you're about to attempt grade IV river rafting. The good news is Grade IV rapids are only left for the professionals and the seasoned rafters, so you can stick to Grades I and II until you get there! 
Where to go for a dose of Grade IV river rafting? – Kaudiyala
Know The Names Of The Rapids
Once you understand the grade you're attempting, learn about the rapids that will come your way on the river stretch. Before you enter the boat, your instructor will inform you about the rapids you're about to meet en route. It's good to know the names so you know what's coming your way on the river. (Plus, you can also boast about which rapid you went over on Instagram).
Major Rapids In Rishikesh
Grade I Rapids
Black Money
Sweet Sixteen
Good Morning
Body Surfing
Grade II Rapids
Club House
Initiation
Double Trouble
Hilton
Terminator
Shivpuri Rapid
Grade III Rapids
Three Blind Mice
Cross Fire
Roller coaster
Golf Course
Return to Sender
Grade IV Rapids
The Great Wall (waves so strong that boats can flip over)
Finally! Where To Go For A Dash Of River Rafting In Rishikesh?
There are a good number of commercially rafted rivers in Rishikesh. The most popular option for tourists is Shivpuri, Brahmpuri and the Marine Drive river stretch. The cost for river rafting at these junctions is budget-friendly and these locations are less than an hour from Rishikesh. For river rafting at these top spots, expect to spend between INR 500 to INR 1500 per head. These three stretches are great for novices and first-time river rafting enthusiasts. Seasoned adrenaline junkies can attempt the Kaudiyala and Devprayag river stretch where the rapids are way more challenging.
You can always enquire about which routes are the best for you once you actually get to Rishikesh. Or, simply channelize your inner Monica and pre-plan everything, down to the last detail!
Best Time For River Rafting In Rishikesh
The best time for river rafting in Rishikesh is from September to mid-October. If you wish to plunge into ice-cold waters, you can opt for white river rafting that happens from mid-October to March.
What To Carry With You For River Rafting In Rishikesh
You're going to get drenched while river rafting. That's why an extra pair of clothes and a towel will come in handy.
It's best to avoid carrying valuables but for things like your wallet and phone, carry a waterproof bag.
Although your tour operator will carry a first aid kit for the group, you can also carry things like a band-aid, cotton, and a pain relief cream just to be safe.
Bonus Tips
Dress For The Occasion – When you go river rafting, make sure you're dressed in an outfit that can dry quickly and is comfortable. For shoes, don't opt for flip-flops but wear something more sturdy like sneakers or a sandal with straps. Before you sit in the float, also double-check that the helmet and life-jacket aren't loosely fitted. 
Listen To The Commands – Pay attention to the instructions your guide gives you. Your guide is the captain of the float, so follow their commands and paddle according to the instructions that they will shout at you. You will also be instructed on how to hold the paddle before entering the float. If you don't understand, don't feel shy to ask again.
Have A Safe Thrilling River Rafting Experience – Remember that your safety comes first. Each stretch of a river behaves differently in different seasons. After arriving at the spot if you personally feel that the river is acting up or if you're uncomfortable with your gear, you're in every power to drop the idea completely. You can swap it with other calming activities by the river such as kayaking or body surfing where you just float in the water leisurely with your life jacket on.
You're Ready For River Rafting In Rishikesh!
Now you're all equipped with everything you need to know, all boiled down into our guide to river rafting in Rishikesh. Go ahead and get psyched about riding through the chilled, gushing waves with friends or family. You'll definitely need the company of people in the float as there aren't rafts that take single people on it. But that's something you won't have to worry about if you're staying in the very social goSTOPS where you'll most likely meet other adventure junkies saying a loud YES to river rafting in Rishikesh!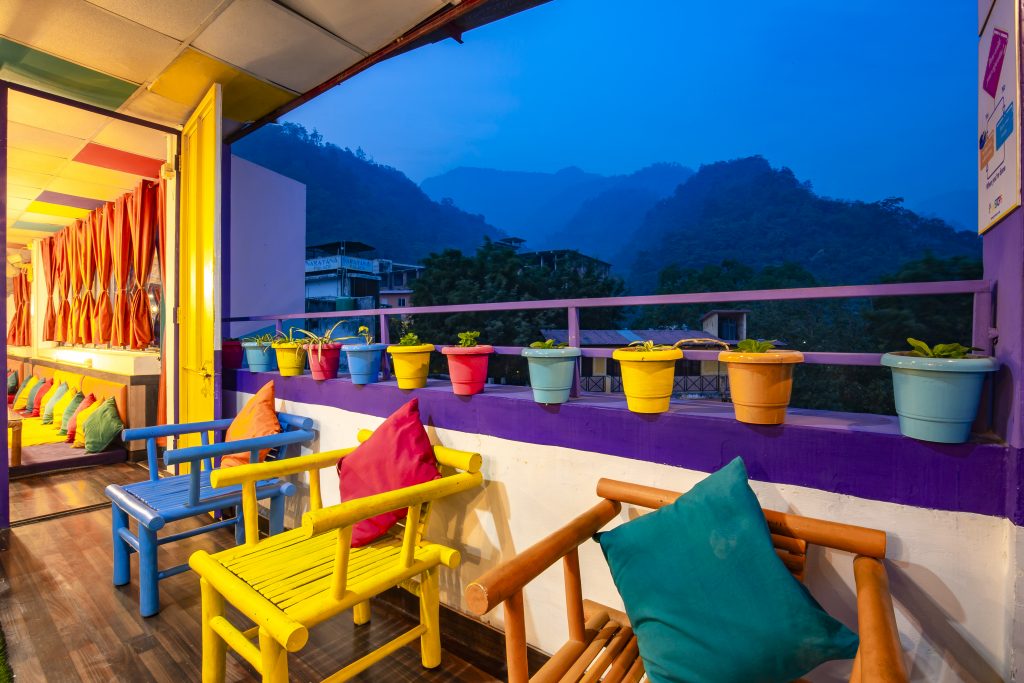 FAQs
Is Rafting Safe For Non-swimmers?
You can go river rafting if you don't know how to swim provided that you wear your life jacket at all times. But it's better to opt for Grade I and II rapids if you are a non-swimmer as the waves are way more timid in these grades. Go through our guide to river rafting in Rishikesh to get an idea of what the grades are like.
How Long Is River Rafting In Rishikesh?
River rafting in Rishikesh can last for 1 to 2 hours if you cover a shorter stretch of the river. A popular spot for this is Brahmpuri. If you wish to stay on the water longer for 2-3 hours, you can opt to do river rafting at Shivpuri. The duration all depends on how much distance is being covered.
What Is The Best Time For River Rafting In Rishikesh?
Late September to mid-October is considered to be the best time for river rafting in Rishikesh. For white river rafting, plan your trip between mid-October and March.
How Much Does Rafting In Rishikesh Cost?
You can do river rafting in Rishikesh for a mere amount of INR 600. This is the starting price at which you can engage in this adventure spot. But costs can go up to INR 2500 if you cover a longer distance of the river.