Right in the center of Himachal Pradesh, you will find a quaint village called Bir. Bir is known for its numerous monasteries and paragliding escapades against the serene backdrop of the Himalayas. It has been India's hidden gem for decades and boasts many prized possessions, one of which is the Tibetan colony on its outskirts. Upon reaching the colony, you will find yourself unraveling in the calmness and serenity which is then carried to every nook and cranny of Bir. Want to know how to make the most of this serene environment? Let us explore the Bir Tibetan Colony and find what makes it one of Himachal's most visited vacation spots.
Brief History Of The Bir Tibetan Colony
The Bir Tibetan Colony has a pretty interesting history about its genesis. During the 1960s, China conquered Tibet. As a result, many Tibetans including the Dalai Lama had fled over the Himalayas for asylum. To preserve the Buddhist faith and culture, many monasteries and Tibetan settlements mushroomed, teaching its philosophy for a better, fruitful life. Apart from the Colony (which is what the locals call it), you will find many famous Tibetan settlements in the country. The most famous of these is at Dharamshala and McLeodGanj (a.k.a. India's mini-Tibet) where the Dalai Lama resides.
Coming back to the colony, it was established in 1966 by the third Neten Chokling, coming from the Nyingma lineage. He settled in Bir with his family, and after receiving some foreign funds, he managed to buy 200 acres of land. This became the foundation of a Tibetan settlement that today houses a plethora of Tibetan families who in turn have built numerous homes and monasteries. The Bir Tibetan Colony still thrives to this very day. Quite a story, ain't it?
How To Travel To Bir
To get to the Colony, you need to travel to Bir first. Unfortunately, there are no direct flights or rail lines to Bir, but that shouldn't dishearten you from visiting. Here are some modes you can take to travel to the town:
Getting To Bir By Plane
Bir is situated at a high altitude and having an airport at such heights brings along a range of complications. That's why there are no direct flights to Bir. You will have to fly to the Kangra-Gaggal Airport, which is the closest airport to Bir. Almost every major airline such as Air India, SpiceJet, and GoAir regularly fly to this airport, so you don't have to worry about frequency.
From there, you will have to travel by road to get to the village; the drive will take you around 2 hours, and you should be able to get a taxi or bus. Alternatively, if you prefer a scenic route, you can travel to Indira Gandhi International Airport in Delhi and then drive the 12-hour stretch to Bir. Of course, it will be tiring and you'll need breaks, but if you're adventurous, then there's nothing like it.
Getting To Bir By Road
Have you been yearning for a road trip? Now is your chance to have one! Numerous national highways connect to Bir, making road travel less complicated. Since Bir is situated at the foothills of the Himalayas, expect a picturesque view as you drive there. Stick your hand out of your vehicle to feel the chill air bouncing off your palms. Of course, a road trip is only feasible from say, a destination like Delhi.
Numerous overnight buses from the Inter-State Bus Terminal in Delhi ply to Bir, but they are slower and you might take a little longer to reach. Buses from Dharamshala or Palampur are available as well.
Getting To Bir By Train
Again, rail lines directly to Bir are unavailable due to it being at a high altitude. The Ahju Railway Station which is located just 3 km from Bir might seem the best option but not many trains from major cities ply to this station. A more far-off yet feasible option would be getting down at the Pathankot Railway Station (143 km from the village) since trains from major cities do stop at its platforms. From there, take a cab or a bus to reach Bir.
Once you reach Bir, the Colony is just a 20-minute walk or a 5-minute cab drive away!
Best Time To Visit The Bir Tibetan Colony
Since our main focus is on exploring the Bir Tibetan Colony, any season would be ideal to visit the place. But if you want to indulge in Bir's outdoor activities such as paragliding and hiking, stay away from the monsoons as the terrain is slippery and dangerous. October to June is a good time to go paragliding in Bir, and it's also a good time to explore the Tibetan Colony here.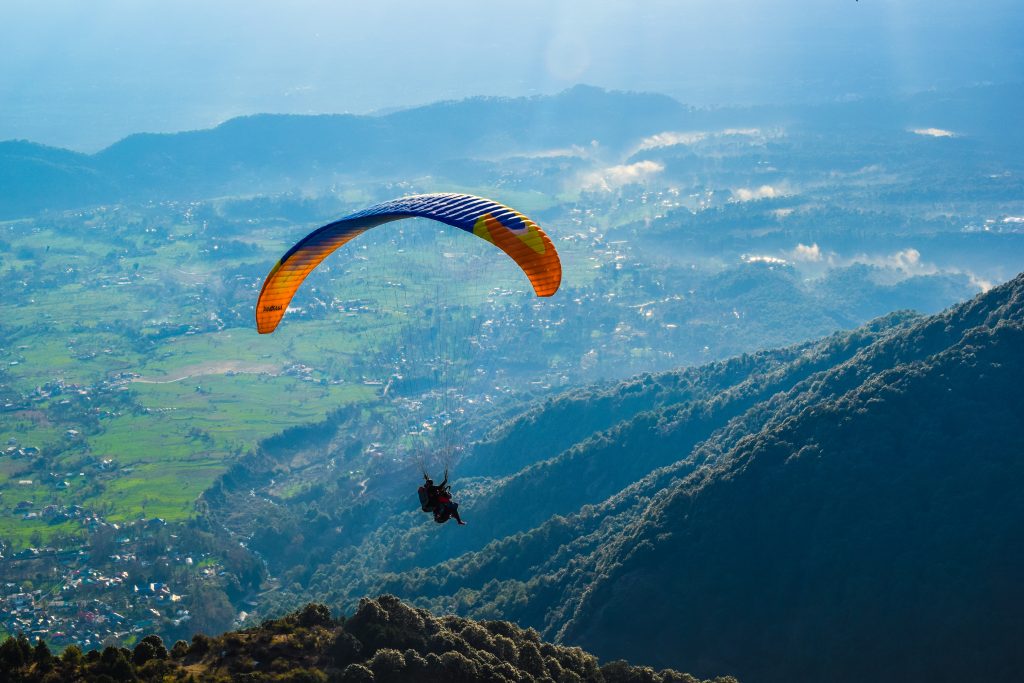 If you want pleasant temperatures to scout the streets of the Colony, then visit during the summer season. The average high daytime temperature stands at a comfortable 27°C and drops to 13°C during the nighttime. Winters hit subzero levels especially between December to February with immense snowfall. If you'd prefer leaving behind a couple of snow prints while admiring the monasteries, then visit Bir during these months. Otherwise, October and November see temperatures between 19°C to 10°C- sometimes even -11°C during nighttime. So pack a couple of woolen clothes and a pair of socks.
Monuments To Explore At The Bir Tibetan Colony
The Deer Park Institute
By far, this place is regarded as one of the best institutions to learn about Tibetan Buddhism, philosophy, and some tenets of Indian culture. The Institute is a center meant for the study of classical Indian wisdom traditions, and it sure looks the part. You will not only stand in awe of its colorful and intricate structure implanted in a palette of rising mountains, but also of the serenity of the place. Decorating the roofs of the institute, you will find numerous colorful prayer flags traversing from one end to another. This is the perfect spot to be still and disengage from the world around you, or delve neck-deep into knowledge.
The Chokling Monastery
One cannot complete exploring the Bir Tibetan Colony without visiting the Chokling Monastery, also known as Pema Ewan Chogar Gyurme Ling Monastery. This structure has drawn many to appreciate its magnificence; it houses a massive stupa as well as an alluring sculpture of Padmasambhava, a well-renowned 8th-century Buddhist thinker. You will find this statue right in the center of the temple with many other sculptures surrounding it.
Sculptures and monuments are just one part of the Chokling Monastery. You have the monks performing various rituals and prayers which are allowed to be viewed by visitors. If you're lucky, you might even witness a couple of ritual dances by these monks if you want to get closer to Tibetan culture. A 3-year retreat center and the monks' living quarters are present in the area as well.
Nyingyang Monastery
Located just a few kilometers from the Bir Landing Site, this quaint monastery may not be as colossal as the others, but it's certainly glamorous and flamboyant in its own right. The finesse artwork done along the borders of the wall paint, and the lush lawns overlooking the monastery speak volumes of its immense charm. If you enjoy the sound of the echoing of prayers and recitals, the best time to visit this place is when priests are reciting or performing them. Indeed, this place will soothe your soul.
Conclusion
The Bir Tibetan Colony can be termed as an area of enchantment due to its rich history and magnificent monasteries. You will surely feel your spiritual quotient increase and will leave the place feeling better than before. If you're seeking accommodation closer to all these colossal monasteries, check out our goSTOPS property in Bir. You will need a warm and cozy place to crash in after a long day of exploring the Bir Tibetan Colony, and complete with comfy dorms and fun common rooms, we've got all you need and more!
FAQs
Is The Bir Tibetan Colony Worth Visiting?
If you're looking for a place to rejuvenate from work life, then you need to visit the Bir Tibetan Colony. With its monasteries carrying a serene yet vibrant environment, you can be sure that this place will indeed be an offbeat visit.
Which Is The Best Time To Visit The Bir Tibetan Colony?
Ideally, it would be the summer since the temperatures are pleasant. If you wish to explore the place with a hint of snowfall, then visiting during the winter months (December to February) would be ideal.
What Is Famous In The Bir Tibetan Colony?
The Bir Tibetan Colony is famous for its numerous temples and monasteries established in various parts of the area. Adding to that, the handicraft center and the Tibetan herbal clinic are well-known tourist attractions as well.