After a week full of hustling and clocking in the productive work hours,

our minds and bodies need some amusing and refreshment to take away the mundaneness of the daily monotony. Instead of spending those hours in bed watching TV, why not explore a side of the city that is authentic to be fun. To satiate this desire to explore every nook and cranny of the city, we have jotted down a few fun things to do in Delhi. Hop on our fun bandwagon and get set to explore some new yet old places on a lazy yet crazy Sunday in the bustling city of Delhi.
1. Food Fiesta at Chandni Chowk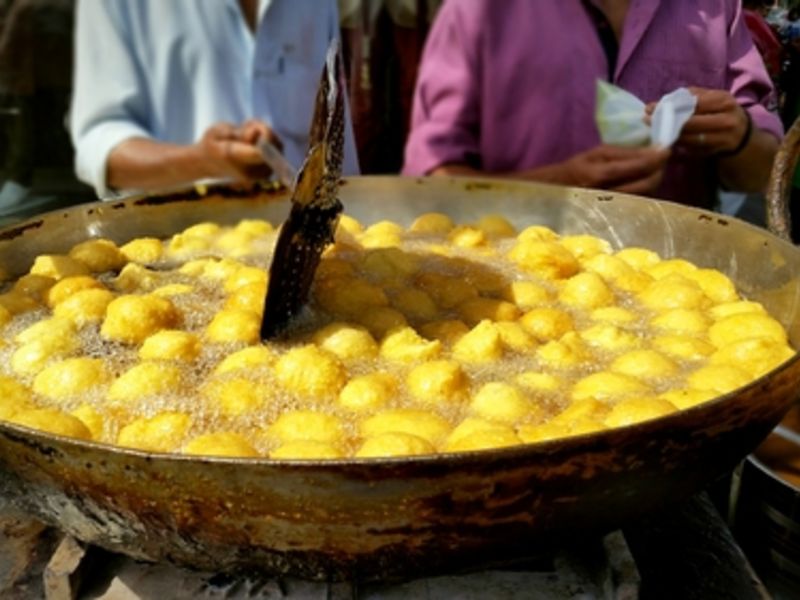 One of the topmost places to visit on Sunday in Delhi is Chandni Chowk. Located in the oldest part of the city, the area has an old-world charm to it. You would find dilapidated houses and shops here in the narrow, winding and never-ending lines.
The one most important thing that seems to bring people here from far-off places is food; the endless amount of drool-worthy and yummiest of all food in the country. Amongst the many popular dishes are the likes of street food items, scrumptious kebabs, and other non-vegetarian items.
Our Recommendations :
Al-Jawahar and Karim's for NihariKhameeri Roti, Kebabs, Tikkas and Phirni
Natraj for DahiBhalley and AalooTikki
Paranthey Wali Gali for the yummiest of the Paranthas
Giani's for Lassi and Faluda
2. Picnic at Lodhi Gardens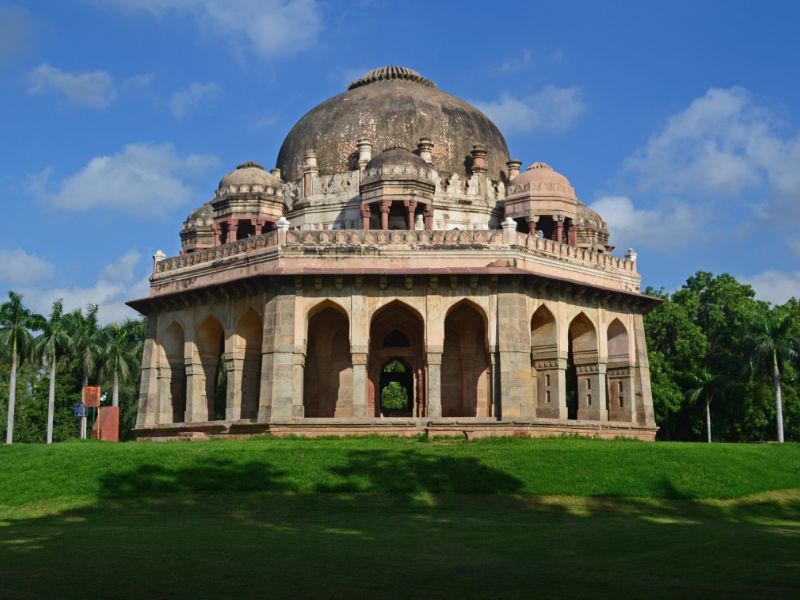 Instead of going for the cliched places to visit in Delhi, try bringing your energy down a notch and indulge in some relaxation. You don't have to break the bank to do so. Having a picnic brunch at the Lodhi gardens can be equally comforting and relaxing.
The garden is sprawled over a vast piece of land and has a rich history to its name. There are tombs of the Lodhi dynasty rulers, some great architecture, a lake with hundreds of ducks, cute pet dogs and an abundance of greenery to soothe your soul. You could bring your own food and drinks or eat at the exquisite restaurant in the garden itself. For cheaper options, get some food delivered or buy some from the food van right opposite to the main gate. You can also bring a board game along when with friends, or a book for the lone escapades.

3. Graffiti and Mural Spotting at Lodhi Colony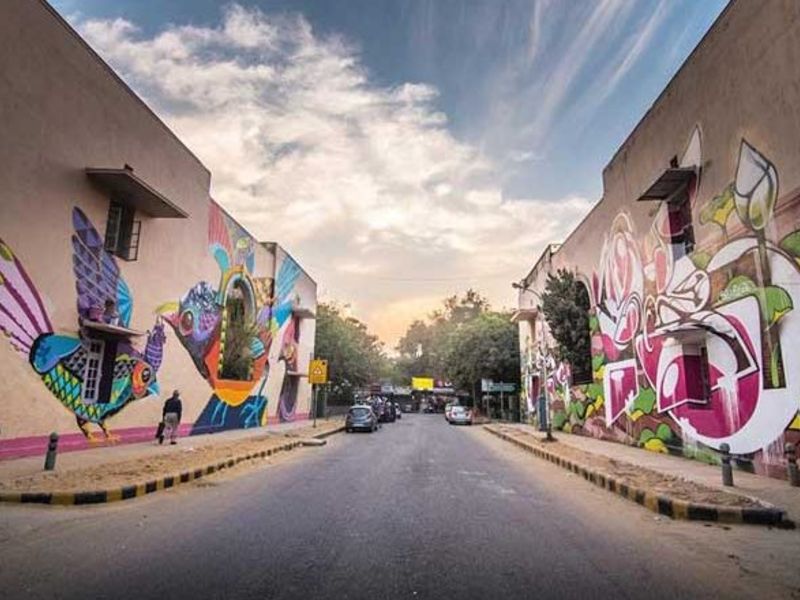 Picture Courtesy
Art survives in the nooks and crannies of this city. All you got to do is look for it. One of the most popular places to visit in Delhi, Lodhi Colony or popularly known as the Lodhi Art District. It is a hub for the graffiti and mural art in Delhi. In reality, it's just a government residential colony with similar-looking buildings, quarters, shops and community centers. But with the onset of a street art festival in the city that takes place every year, the colony got a makeover.
A plethora of street artists from around the world and even the inner recesses of India came together to create graffiti and murals on the walls of these buildings. Each art piece here has something to tell or mirror – as a story, representation of a world problem or the truth of life. There more than 25 pieces all over. It starts from the Meherchand Market on one side and ends with Khanna Market on the other side.

4. Shopping Indian Handicrafts at Delhi Haat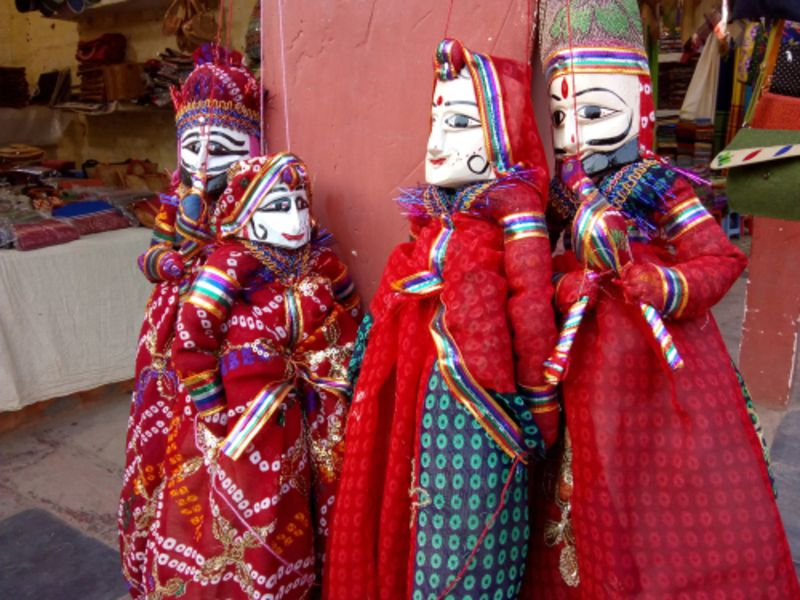 Out of all the fun things to do in Delhi, shopping at the Delhi Haat has to be the best. Why is that so? This is where all Indian handmade things are available under the same roof with loads of sumptuous food to gorge over. Delhi Haat is an initiative started by the Government of India to open market for the cottage-level artisans who can sell their products directly to the public without any interference of a middleman.
You can buy ethnic bags, jewelry, food items, clothing, home décor and even accents for your home and garden. Don't forget to stop at one of the state-centric food stalls to try the local delicacies of that area. The Nagaland and Maharashtrian stalls are said to be the most popular ones. Recently, the Haat has come under scrutiny for letting the traders take over because of poor vigilance. This makes it more important for the public to go and spot the good artists at the venue and support them.

5. Read and Sip at Cozy Bookcafes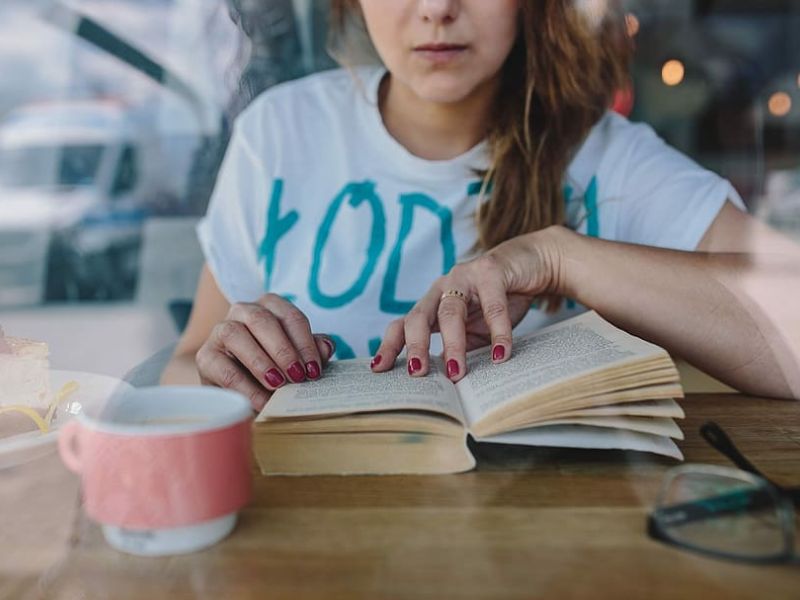 Despite being a busy monkey because of the constant hustle and bustle, Delhi keeps safely in its bosom, its truest of gems; the cozy bookstores. There are many stores all over the city that boasts a great selection of books. Although, only a few provide a cozy feeling of being around books and making you feel welcome and cared for.
You could try the Oxford Book Store and enjoy some tea while reading at its in-house café called Cha Bar. If your pocket allows a little more, we suggest spending some time with the books at the Full Circle Book Store. The place has a café right that serves some amazing quiches, pizzas, cappuccinos, desserts and hot chocolate. Bahrisons Booksellers and Faqir Chand are two more classic bookstores in the vicinity.
It can be rightly said that Delhi is a humongous world with many small worlds blossoming within its soul. All you got to do is call for the right one and enjoy the fruits it delivers. We hope you use these ideas and make a day out of your Sunday in this amazing city.