Travelers fancy Himachal Pradesh for the company of towering mountains along with uninterrupted quietness. But with many people sprinting towards Himachal for a workation or a mountain getaway, where can you find your own slice of peace? The short answer – Palampur.
Palampur is a hill station in Himachal that's hidden away from the crowd. It's offbeat, at a high altitude, and in the lap of several tea plantations. Now the reasons to visit Palampur are many but the presence of irresistible stays are few. So for those lost on the internet in search of accommodation, we bring to you our colorful goSTOPS hostel in Palampur.
Where Is goSTOPS Palampur?
goSTOPS Palampur is set against the backdrop of the beautiful Dhauladhar mountain range in Himachal Pradesh. The location is definitely well thought out, which is why you'll have views of endless valleys covered with thick pine trees and fluffy clouds floating around.
Our Exact Address Is: goStops Palampur, Tank Road, Bundla, Palampur, Himachal Pradesh 176061.
To Book Contact Us On: +91 8627815283
goSTOPS Palampur is just 1 km away from the city center.
Rooms & Spaces At goSTOPS Palampur
At goSTOPS Palampur, you don't have to strain your eyes too far to see the beautiful green mountain ranges as they'll be right out your window. In the wee hours of the morning, you can enjoy the pleasure of walking barefoot on the cool dew-covered grass of the property.
Top Property Features
An Outdoor Lounging Area With Cozy Seating, A Bonfire, And A Projector For Movies
The outdoor seating area is the cozy spot to sit down for a cup of hot coffee or Kangra chai (the specialty in Palampur.) In the evenings, the glow from the string fairy lights and the bonfire transforms the yard area into a perfect place to chill after the sun goes down.
You can chat, share meals and even have a movie night with fellow travelers in the courtyard.
A Stunning Glass Reading Room
For all those of you that have carried books you wish to read on your travels, you'll be happy to know that the property also has a glass reading room! Yes, you read that right, this nook has glass walls and comfy hammocks, and of course, plenty of books.
In the glass reading room, you'll have 360° views of the outdoors and a comfortable hammock on which you'll probably call dibs as soon as you enter.
Variety Of Rooms
When you pick goSTOPS Palampur, you will have a variety of rooms to choose from. If this is your first solo female trip and you're uncomfortable with the idea of staying in a mixed dorm, the property features a female-only dorm that you can book. For couples, you have the option of a private double bedroom with an ensuite bathroom too.
If you're backpacking and want to keep things within your budget, your best option is the shared dorm. You'll save on costs but won't have to worry a minute about having to compromise on quality! The dorms are in top-notch conditions with clean mattresses and pillows on which you'll sleep as well as a baby.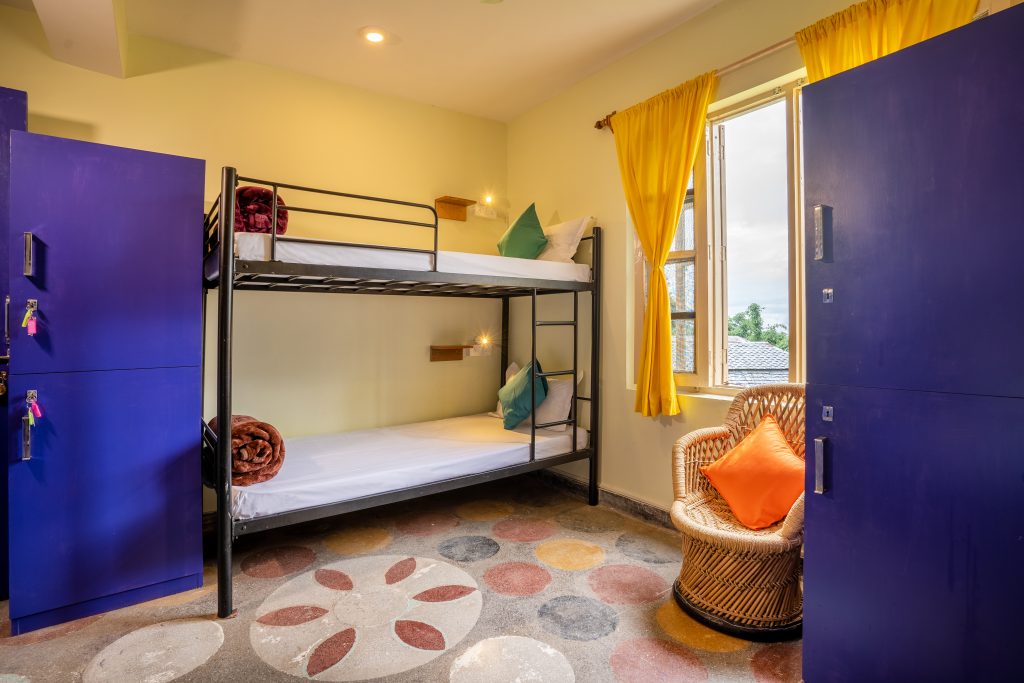 Also, if you're on a solo trip and want a private room just for yourself, you can book the single private room. This room is perfect for when you want a mix of your own privacy but also like the idea of socializing with others in the common areas.
As you can see, we love spoiling you with choices.
Amenities At goSTOPS Palampur
Like other properties of goSTOPS, at the one in Palampur, you'll enjoy free Wi-Fi during your stay. So if you're coming on a workation, having no internet to rely on will be one of your last worries.
At goSTOPS Palampur, you will have access to lockers to keep your valuables, and the property also has 24×7 security. For quick bites and coffee, you don't have to drive or walk far as there's an in-house cafe at which these needs will be met. For when you're bored, you can head to the common area for a game of foosball or carrom. There's plenty of board games that you can pick up to break the ice with friends you make at the hostel. 
Also, if you're taking a road trip to Palampur, you won't have to worry about parking because there is ample parking space at the property as well.
How To Get To Palampur
Getting To Palampur By Train
The railway station closest to Palampur is Pathankot. If you are taking the train, make sure you have plenty of time to kill because this is a long journey. After you get down at Pathankot, it will take you slightly over 3 hours to reach Palampur.
Getting To Palampur By Bus
If you keep Delhi as your base city, it's fairly easy to reach Palampur by bus. You can avail the Himachal Roadways bus service on which you can take a comfortable air-conditioned bus to Palampur. If you wish to travel on a budget, the local bus service is HRTC. On average the bus journey would be 10 hours or so as the distance being covered is 510 km. An alternative 6-hour bus journey that you can take would be from the city of Chandigarh.
Getting To Palampur By Flight
In Himachal Pradesh, the nearest airport to Palampur is Kangra Airport (also known as the Dharamshala airport.) From here, it should take you about slightly over an hour to reach Palampur city center.
Getting To goSTOPS Palampur
goSTOPS Palampur is at a convenient distance from the city center of Palampur. It's pretty close to landmarks like Neugal Khad bridge and the famous ecological park Saurabh Van Vihar.
How Far Is goSTOPS Palampur From Sites And Attractions
We very well know that it's not all that's on the inside of our room that counts but the outside as well. So location-wise, goSTOPS Palampur is settled at a perfect distance away from the hustle of tourist traps at the city center. We're also close enough to sights you'd want to visit such as – 
Neugal Khad
Neugal Khad is a stream just minutes away from the hostel. Just like ocean waves at a beach can instantly relax you, the clean stream at Neugal tends to have the same effect on visitors.
Tashi Jong Buddhist Monastery
Tashi Jong Khampagar is a beautiful monastery just 40 minutes away from the hostel. It's a place to spend quality time meditating and self-reflecting. You will find monks studying and living within the monastery. If you strike up a conversation with them, they'll be able to guide you on the architecture.
Palampur Tea Garden
Palampur is famous for its soothing Kangra tea that will have you addicted to it. If you wish to see where the tea is cultivated and buy some packets of the original tea, you can head to Palampur Tea garden. The tea gardens are on Hotel T Bud-Neuggal road which is just 20 to 30 minutes away from the hostel.
Andretta Village
For local souvenirs to take home and to try your hand at pottery, you can make a visit to Andretta village which is an artisans village. The village is roughly 30 minutes away from goSTOPS Palampur. On your way here, also consider making a visit to Sobha Singh Art Gallery to see masterpieces of this artist.
Conclusion
goSTOPS Palampur could become your all-time favorite hostel experience within minutes of entering the place. It's cozy, has perfect views, and best of all you get to see a different side of Himachal Pradesh from here.
FAQs
Does goSTOPS Palampur Offer Long-term Accommodation For Hostelers?
Yes, we welcome long-term accommodation at goSTOPS Palampur and you can even avail discounts depending on the duration of your stay. You can use regular facilities like water, internet, and electricity at room cost (we won't make a fuss, but keep your stay comfortable).
What Are The Check-in And Check-out Times At goSTOPS Palampur?
The check-in time is 1 pm and check-out time is 10 am at goSTOPS Palampur. You can check in early if there's an availability of beds. But you would have to bear a fee (i.e. 60% of the cost of a 1-night stay) for early check-in.
Which Popular Attractions Are Close To goSTOPS Palampur?
goSTOPS Palampur is situated at a distance of 1 km away from the city center of Palampur. So if you're not completely cut off from the hub of Palampur. Popular sites that are close to the property are Neugal Khad Bridge, Tashi Jong Monastery, Andretta Village and Palampur Tea Estate.
What Are Some Of The Property Amenities At goSTOPS Palampur?
Free Wi-Fi, ample parking space, an outdoor seating area with a bonfire plus a projector for movies are some of the amenities you get to enjoy at goSTOPS Palampur. A feature that stands out at the property is the glass reading room with hammocks to sit back, read and relax.