Amazing weather, serene landscapes, Insta-worthy backdrops, and tons of adventure activities – are these some of the criteria you look for when deciding a holiday destination? There's one beautiful little hamlet nestled in the lap of the Kumaon hills in Uttarakhand that easily checks all these boxes for you. Yes, it's Mukteshwar that we're talking about. This town is comparatively a newbie among popular tourist destinations but that just means there's so much left to explore in this underappreciated place. To give you a headstart in your itinerary-planning process, here are 6 thrilling outdoor activities in Mukteshwar that no travel enthusiast would really want to miss out on! From trekking to nature walks to heritage viewing, there's enough to tickle the likes of anyone who comes here.
Feel Free Like A Bird While Paragliding
If you've ever experienced the thrill of paragliding then you probably know what this expression truly denotes. But if you are yet to experience the thrill, know that this isn't really an exaggeration. When you glide amidst the clouds and float above the valleys, catching a 360-degree bird's eye view of the entire area, you just feel like you're flying around over the world! Undoubtedly, paragliding is one of the most thrilling outdoor activities to enjoy in Mukteshwar.
Along with an adrenaline rush, paragliding gives you a feeling of euphoria and exhilaration. It's an experience that will stay with you for a lifetime. Paragliding in Mukteshwar is usually offered in a camping package along with several other adventure activities. However, even if you wish to enjoy it as an individual activity, you can enquire about the same from the various tour companies. The summer months from March to May are the best time to enjoy paragliding as well as a number of other exciting outdoor activities in Mukteshwar.
Challenge Yourself With Rock Climbing And Rappelling
Rock climbing and rappelling are two of the outdoor activities in Mukteshwar that all adventure junkies would truly enjoy. It's a specialty of this town and the best part is that it has the topography to suit all levels. Basically, there are several rocky outcrops and cliffs in Mukteshwar that are suitable for varied difficulty levels.
Whether you're a beginner trying to set your foot in the adventure world or an expert who loves to take on challenges, you'll surely find a rock climbing spot in Mukteshwar that satiates your thirst for adventure. Either way, you can also take assistance from professional guides, whenever needed.
Chauli Ki Jali in Mukteshwar is the place for you to be if you want to indulge in some rock climbing and rappelling. It's considered a hotspot for enjoying such adventure activities. You can also just sit quietly and enjoy the view of the valley and the horizon, and let yourself admire the beauty of nature. Keep your cameras ready and eyes open because you might even spot some Himalayan birds here.
A sense of pride (after completing the rock climbing activity) mixed with a certain sense of calmness is what you'll feel after spending a day at Chauli Ki Jali. If you go in the evenings, you might even catch a glimpse of the beautiful sunset and all your sweat will instantly be worth it in that moment.
Connect With Yourself While Trekking In The Mountain Air
The list of outdoor activities in Mukteshwar isn't complete without the mention of the trekking paradise that this seemingly quaint town is. There are a variety of hiking and trekking trails for you to choose from based on your stamina and expertise. Peora to Mukteshwar, Peora to Almora, Binsar to Altora, and the riverside trek (Raata Quedel trek) are among the most popular treks here. You can choose the trek as per your preference, but what remains unchanged is the thrilling process of enriching your mind and soul.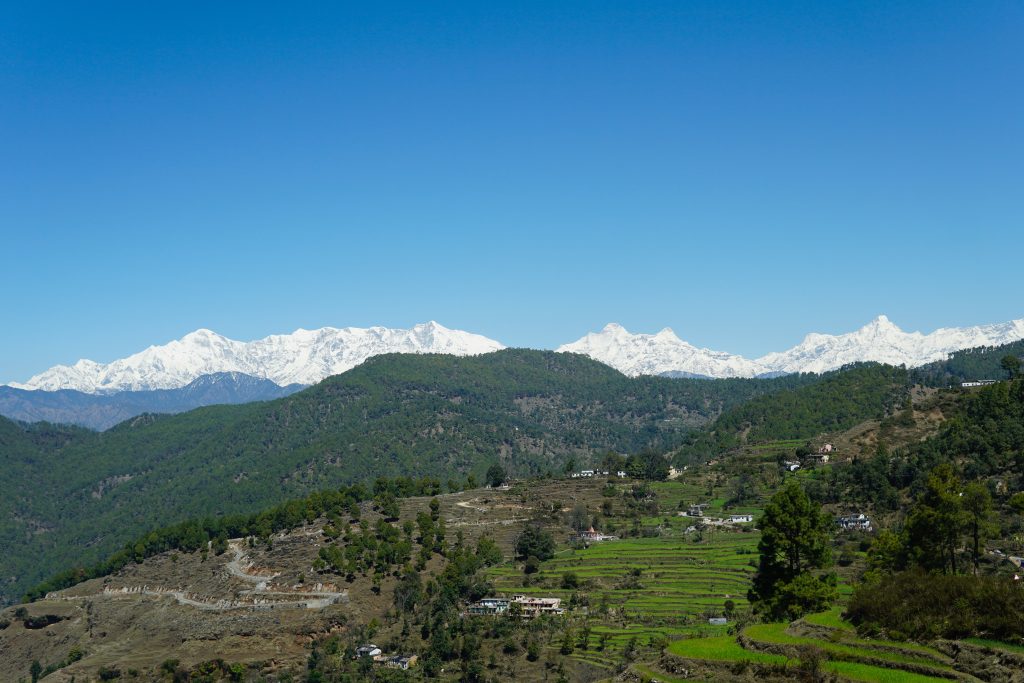 But trekking isn't all – you can also make the most out of your camping adventures in Mukteshwar. You can camp in or around the woods with a bonfire and spend a magical evening under the twinkling stars. One destination that you definitely should visit when in Mukteshwar is Nanda Devi. It's the second-highest mountain peak in India and stands as tall as 7,816 m above sea level. The mesmerizing view of the tangerine hues of the sunrise here is a sight for your eyes to behold. Its beauty cannot merely be explained in words but it'll surely be a once-in-a-lifetime experience. Plus, the delicious food in Mukteshwar makes for the ultimate reward once you get back!
Unfold Secrets With Some Heritage Viewing
When you get to dig deeper into history, you might pleasantly be surprised with thrilling facts you never knew. This isn't just for the history buffoons out there but for anyone who's ever been intrigued by the past – visiting the Indian Veterinary Research Institute is easily one of the activities to do in Mukteshwar. The site is a legacy of the British reign in India and it's one of the country's premier institutes, conducting research on livestock. It was established around 1885 and is spread over a vast area of over 3,450 acres of land.
The location of the Institute adds to the scenic beauty of the entire place as it's situated at the height of about 2,322 m, on the intersection of the Gagar and Lohaghat ranges of the Kumaon hills. Do try and visit the library and museum located within the Institute as the entire site holds a rich history for you to explore. To get a glimpse of the British heritage and the colonial architectural style, you can also visit the PWD inspection bungalow located on the premises.
Soak In The Beauty Of Nature Walks
You've come to Mukteshwar and you don't enjoy a nature walk? That doesn't seem very ideal. Don't confuse a nature walk with trekking. Though the two activities are similar, nature walks are comparatively less tedious and can be considered a very simplified version of trekking. Mukteshwar is blessed with a number of orchards and forests, and has vast natural surroundings.
You can enjoy early morning nature walks to experience the pleasant weather and admire the unmatched beauty of the mighty Himalayas. But don't worry if you aren't really a morning person (we get you!), you can enjoy a nature walk at any time to rejuvenate your mind and feel refreshed.
If you wish to add thrill to your nature walks, do check out Bhalu Gaad Waterfalls in Mukteshwar. It's a hidden treasure near Dhari Village, around 7 km from Mukteshwar. You can drive up till a certain point and then start your 30-45 minute walk through dense forests and mountain streams. The end destination is nothing less than a paradise for nature lovers and bird watchers. Make sure to carry an extra pair of clothes so you can have fun in the natural clear water pool here.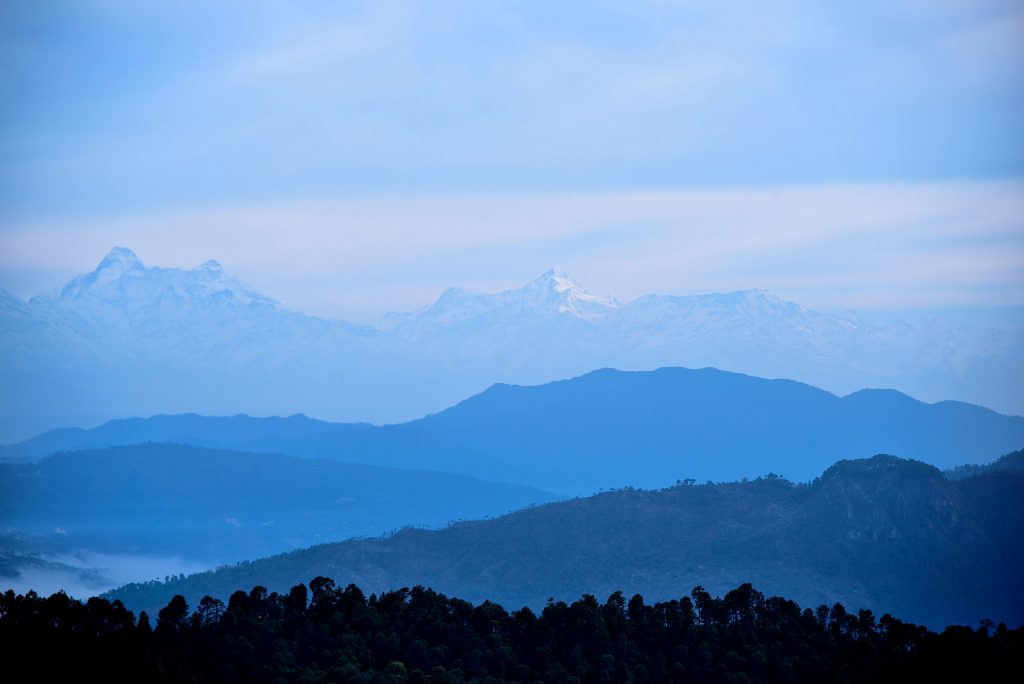 Enjoy The Thrill Of Visiting Ancient Temples
You might be wondering why temple hopping is on the list of thrilling outdoor activities in Mukteshwar, but believe us, there's a different charm to temples in the mountains. Mukteshwar has a lot of age-old temples dedicated to different deities. They're not only popular among locals but also among tourists who are here on vacation. There's the Shiva Temple, Brahmeswara Temple, Rajarani Temple, but the most popular is the Mukteshwar Dham Temple. Interestingly, this temple is also known as the "Gem of Odisha Architecture".
Dedicated to Lord Shiva, Parvati, Ganesha, and Nandi, the 350-year old Mukteshwar Dham is perched on top of the highest point in Mukteshwar. It lies approximately 2313 m above sea level and offers a breathtaking view of the mighty Himalayas. To enjoy more of nature, you may even choose to trek your way to the hilltop where the temple is located. You'll be passing through fruit orchards and forests frequented by locals and you'll take about 2 hours to reach the top. The trek isn't a very challenging one, so even beginners can walk their way up. The months from February to April are the best time to visit the temples.
Conclusion
Mukteshwar hasn't yet grabbed a spot on every traveler's list but it's time for people to know about the treasures of this hidden gem. There's so much to explore and uncover in this town that boredom would be the last item on your travel itinerary. And with all these outdoor activities in Mukteshwar that you've just discovered, you're all set to make the most out of your visit.
When you've taken efforts to chalk out an interesting itinerary, why not look for some cool accommodation that enhances your travel experiences further, right? Check out goSTOPS Mukteshwar! From lively common rooms, interesting dorms, to cozy private rooms, and exciting entertainment options, there's everything to suit your preferences.
FAQs
What Is Special In Mukteshwar?
A small hill town with a touch of the colonial era is what makes Mukteshwar special. From waterfalls to rolling meadows to fruit orchards and coniferous forests, the beauty of nature that reflects in Mukteshwar is truly special in every way. And of course, there are tons of adventure activities and exploration sites that make the town even more special.
Why Is Mukteshwar Famous?
Mukteshwar is famous for paragliding, rock climbing, rappelling, trekking, and many other adventure activities. Apart from this, the town is also famous for its ancient temples, an abundance of nature, and scenic views. People from all over flock to this town to find solitude and a sense of freshness in the lap of nature.
Is There Any River In Mukteshwar?
Yes, River Ravi flows along the town of Mukteshwar. The famous Mukteshwar caves and temples are located along the banks of this river.
How Many Days Are Enough For Mukteshwar?
Around 2-3 days are enough to explore the activities in Mukteshwar. You can try out the various adventure activities as well as spend some quality time with nature. You may choose to extend your trip for a day or two if you're looking for a more relaxed and laid-back holiday.
Is Mukteshwar Worth Visiting?
If you love spending time in nature and indulging in adventure activities, then Mukteshwar is definitely worth visiting. It has plenty of activities to explore that are sure to enhance your travel experience. Away from the hustle and bustle of city life, a visit to this hill town will be like a relaxed and refreshing break.